Travel Nepal Like its Your Home
For Travelers Who Want Something Different..
These custom tours in Nepal are different from your regular cookie cutter options with other tour and trekking companies. These personal, tailor-made tours are decided and loved by you. No one tour is the same!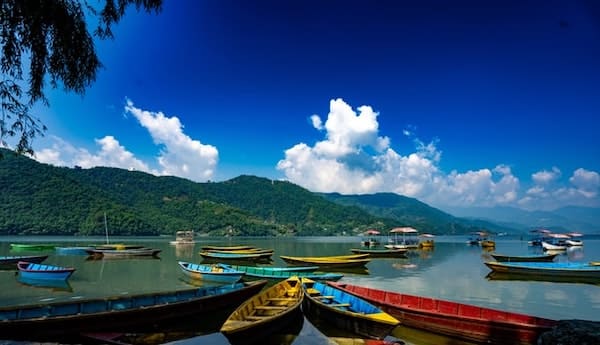 Are you ready for your one of a kind trip?
My tours are designed to match your desires and enriched by my unique perspective. I'm Hayden, and I have worked and lived in Nepal for over six years. I have learned about, seen and experienced everything Nepal has to offer – just as a local would.
Want a trip in Nepal no one has had before?
Who are Custom Nepal Tours For?
Solo Travelers:
Find the Hidden Secrets of Nepal
---
Explore the unknown, and secret local spots throughout Nepal. The packages will take the guessing work out of where to go and what to see.
Families:
Only Smiles and Laughs in this trip
---
Need a trip that is fun and safe for the entire family? No problem, sit back and enjoy the smiles, while I deal with the headache of planning!
Couples:
See what you both love
---
Are you an adventure seeking couple? Or looking for something romantic? Take the planning out of the trip, and just enjoy each others company!
Why Custom Tours in Nepal?
So you can experience everything there is to see… Without the headache of planning. I take the pain out of choosing destinations, figuring out how and when to go, and the guessing game of how much things should cost.
Need something during your trip? Don't worry I am only a message away. I'll be available for questions, suggestions or any problems you may have during your trip.
You get the tour guide, without actually needing to be with the tour guide. In other words, you get the freedom to enjoy your trip when and how you want.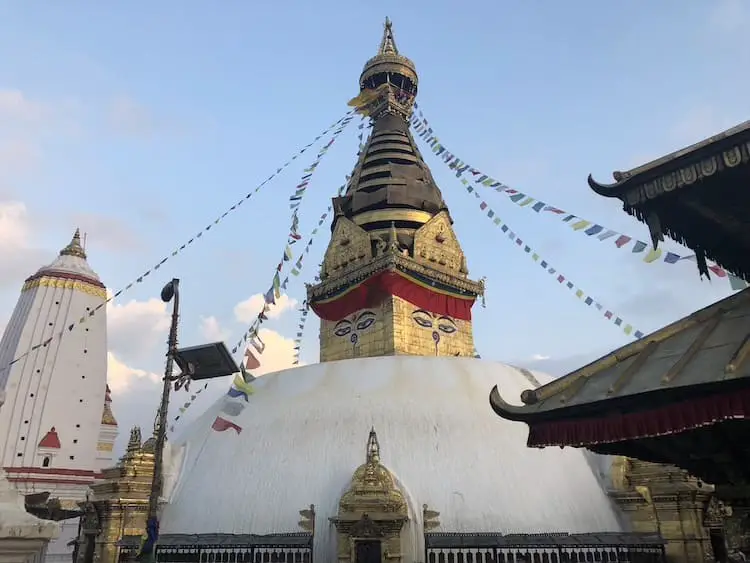 Basic Plan
Start to Finish Itinerary
---
Through your questionnaire I provide you with a detailed trip plan – from the moment you step off the plane, to the moment you leave the country, I give you the steps to have the best trip in Nepal no matter where in the country you end up traveling to!
Plus Plan:
Basic Plan + 24/7 Trip Support through Whatsapp
---
Want the detailed trip plan plus support whenever you need it? No matter if you need new ideas, want to know how much something costs, or just a new suggestion for dinner, you can message me! I am here to help with all of your in-country needs.
Premium Plan:
Plus Plan + Photographer for 2 days in Kathmandu
---
Want to capture all of your memories while in Kathmandu? This plan gives you the opportunity to have a professional photographer with you for two days while you explore the city.
How are these Custom Tours Different?
Unlike typical tour packages, my custom tours in Nepal are personalized to fit your desires. From start to finish, the itinerary is custom made for you. As a foreigner who has lived and worked all over Nepal for six years, I bring to the table a unique perspective, and knowledge to fully customize everything about your trip, by listening to your wants and needs for your trip in Nepal.
Typically, traditional tour operators offer predefined itineraries, but my tours are designed to align seamlessly with your aspirations and preferences. By delving into your desires through my tested questionnaires, I make experiences that are as unique as you are. Whether you're an adventurous spirit seeking heart-pounding escapades, a couple in search of romantic seclusion, a family longing for authentic cultural immersion, or a group of friends with a thirst for off-the-beaten-path exploration, my tours cater to diverse tastes and travel styles.
Every interaction you'll have, every celebration you'll partake in, and every breathtaking landscape you'll encounter is infused with the essence of a true insider – someone who has lived like a Nepali, is fluent in Nepali, and fostered connections throughout the country. With me, you're not just touring Nepal; you're experiencing it from a lens that only a seasoned local could offer. The result? A one of a kind adventure that resonates with your soul, defies the ordinary, and leaves an indelible mark on your journey.
What I Provide:
---
Stat to finish itineraries throughout Nepal
Questionnaire to determine your wants and needs during your trip
Two revisions of your custom tour in Nepal schedule
24/7 Whatsapp support (Plus Plan only)
What I Don't Provide:
---
Bookings of any kind
A tour guide throughout your trip (Can help with guides for trekking)
How Are These Custom Tours in Nepal made?
The process of building these custom tours in Nepal is simple. Remember, the whole goal is to remove the headache of planning your trip. I have broken down the process into five easy steps.
1. Questionnaire
I provide you with my tried and tested questionnaire. The questionnaire that you will complete during the planning phase gives you the ability to select every aspect of your trip. It includes the types of activities, the cities you want to see, places you want to stay, budgets, all the way down to the type of food you want to eat.
2. Complete the Questionnaire:
You fill out the questionnaire and return it to me. Simple as that.
3. I Process your Answers:
I process your answers and information and begin constructing your detailed custom itinerary for your entire trip in Nepal. Including information about your hotels, restaurants, transportation, activities, tickets, guides, and everything else you need to have a headache free trip.
4. Provide You With Your One of a Kind Trip:
After I complete your personal itinerary, I provide you with the details of your trip, and everything that I have put together for you. You then go over it, and check your tour package to make sure you enjoy all of the aspects of your trip. If something is not right, or needs to be changed, we move on to step five! But if you like it, then happy travels!
5. Revisions to the Tour and Re-Submission:
In order to ensure you get that perfect trip, I provide everyone with two revisions of the schedule. My priority is to give you the best trip possible, and if that means redoing it twice, I am happy to do so! In order to do this, I ask for your feedback from the previous iterations, and then I add, drop, reorganize, and replan the trip so it is just right!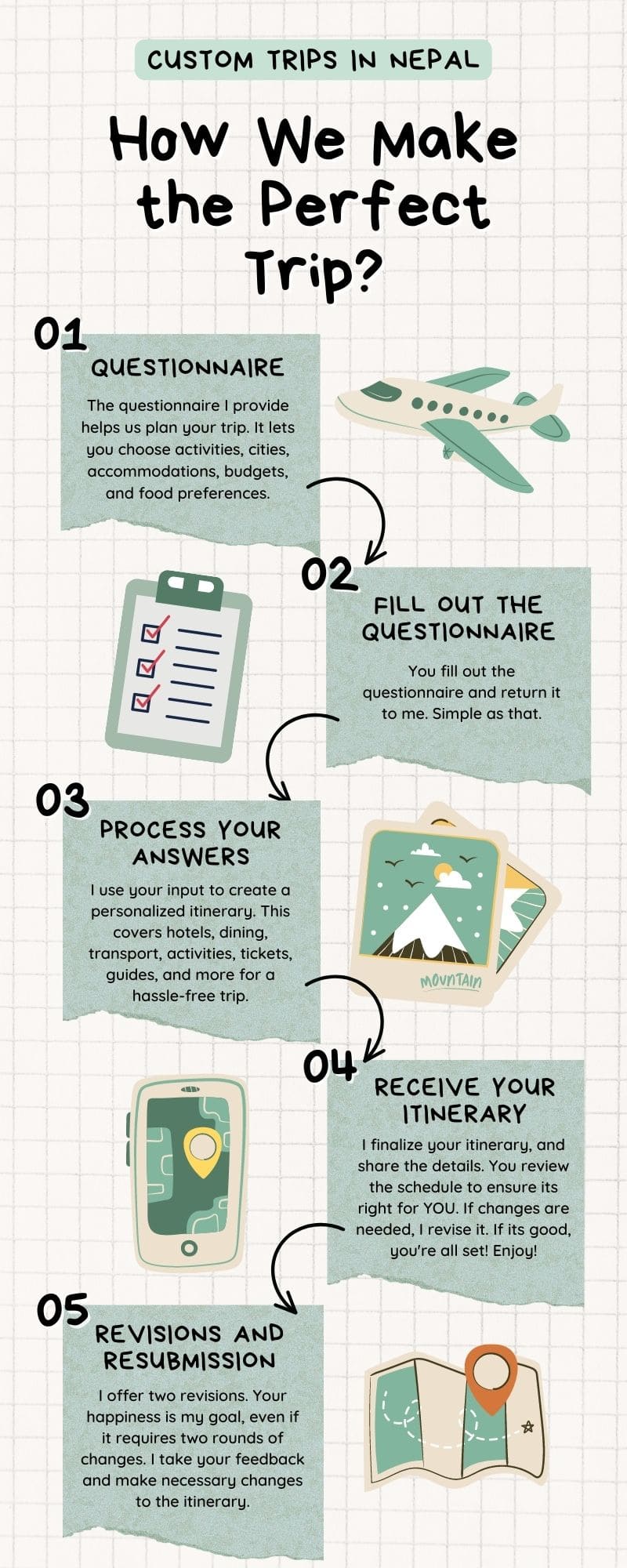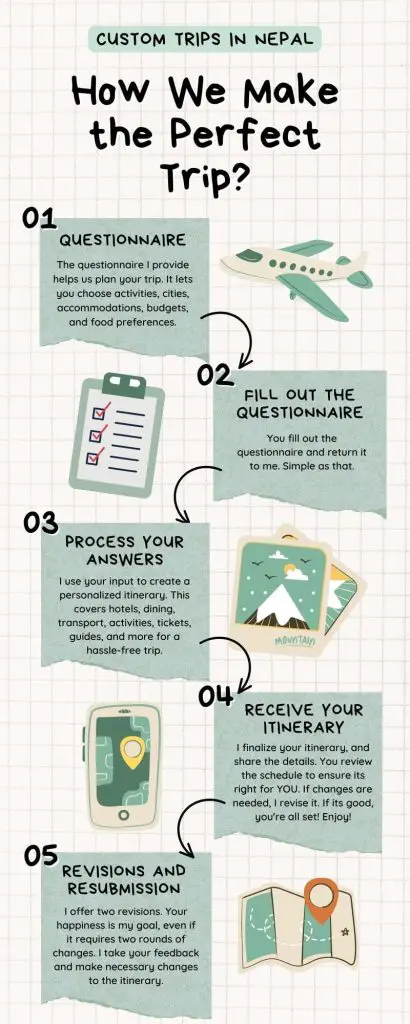 Why plan your vacation in Nepal with me?
Because no one tour package is the same. Everything you do during your trip in Nepal, is decided by you, with none of the headaches of planning.
Reveal Nepal's Hidden Treasures:
---
Picture delving into the heart of Nepal's culture, from the vibrant pulse of Kathmandu's bustling streets to the tranquility of villages nestled amidst the Himalayas. With an intimate understanding of Nepal's nuances and an insider's insight, I'm your key to uncovering the charm that only a local can reveal.
Elevate Your Adventure:
---
My tours redefine what adventure means. Whether you're a solo traveler seeking solitude, a couple eager to kindle romance amid stunning landscapes, a family yearning for shared memories, or a group of friends wanting to bond over new horizons, my diverse array of packages caters to every type of explorer.
A Genuine Connection to Nepal:
---
My journey across 30 districts in Nepal, my fluency in Nepali, and the relationships I've made along the way enable me to offer you an experience that's authentically Nepalese. Immerse yourself with locals, partake in age-old celebrations, and grasp the heartbeat of Nepal in a way that goes beyond surface-level tourism.
Adventure on Your Own Terms:
---
Flexibility lies at the heart of my service. Choose to let me orchestrate every detail, leaving you free to savor the adventure. I provide the perfect itinerary so you can see and experience Nepal, like you have lived here your entire life. The adventure is yours, but the pain and trouble of planning is mine. Take the stress out of getting everything you can out of your trip.
Choose Your Own Adventure: Where in Nepal is Calling You?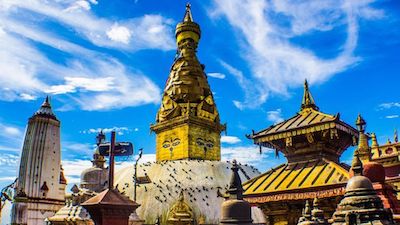 Kathmandu
---
Want to know the secrets of Kathmandu? Or maybe the perfect itinerary for seeing everything in the Kathmandu Valley in just a few days? Then let's plan that perfect trip!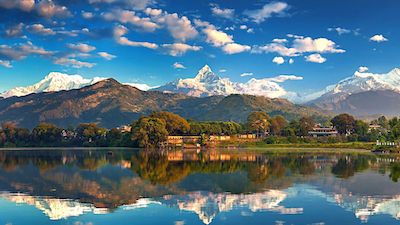 Pokhara
---
Everyone visits Pokhara, but do they really experience everything they should? Let's make sure you see things no other tourist has before!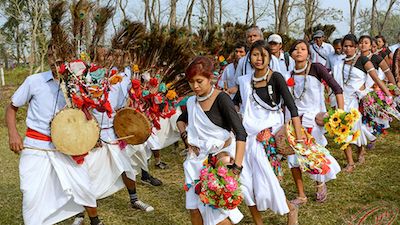 Chitwan
---
Chitwan has a lot more than just animals and safaris. But do you know where to find those hidden gems in the city?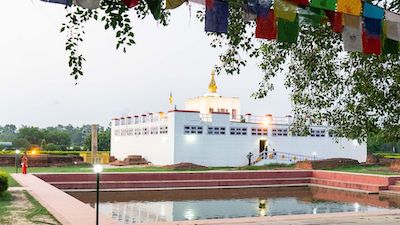 Lumbini
---
Most people think Lumbini is only the sacred garden. But what about the other major Buddhist heritage sites in the area. Do you know about Siddhartha Gautama's palace?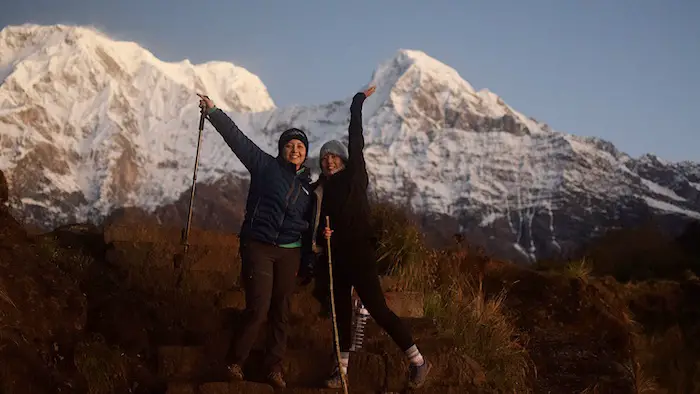 Trekking
---
So many treks in Nepal, but which one is the best? Maybe just a quick two day trek will suffice. Or maybe you want to explore the western lakes of Nepal?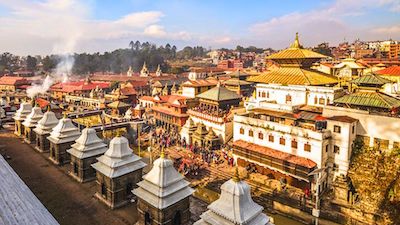 Something Else?
---
Looking for something different altogether? Something more cultural? Or a little of everything? No matter, let's make sure you've seen more than all the other tourists!
Ready For Your Custom Tour in Nepal?
Join us in transforming the ordinary into the extraordinary.
Are you prepared to embark on a journey that will redefine your perception of travel? Let's establish a connection and co-create an adventure that resonates with your wanderlust. Reach out to me and prepare to experience Nepal through a lens that few have ever glimpsed.