Travel is undeniably one of the most exciting parts of our lives. And Americans like to travel – A lot! According to the US Travel Association overview, U.S. domestic travel increased 1.7% from 2018 to a total of 2.3 billion person trips in 2019. Whether you plan to visit Nepal and visit the tallest mountains in the world, or if you want to relax and take it easy in Pokhara you will want to ensure that you can safely enjoy your vacation. Traveling the world to do new things, and experiencing the unknown can expose you to risks and unpredictability, and that's why travel Insurance is important. 
Especially if you decide to trek in Nepal, you will need to get insurance to go trekking in the Himalayas. However, many people that have never got travel or trekking insurance for their travels may not know where to start with the whole process. 
Don't fret my friends, this blog will help you build a solid foundation of understanding what travel insurance is and covers, why it's important, how it works, and the different types of travel insurance there is.
What is Travel Insurance?
Travel insurance provides you security against the risk of unfavorable events during the journey or any event related to the journey. You are protected against certain financial losses i.e. delayed suitcase, last-minute trip cancellation, adventure activities (such as trekking), and even medical emergencies. 
Travel insurance is essential to ensure that you are covered from any mishaps that occur during your trip domestically or overseas. Whereas, for foreigners traveling to Nepal who want to go trekking, it is mandatory to have travel insurance that covers adventure sports and activities. Travel insurance will help cover any emergency costs if you get injured while trekking in Nepal. 
It is important to note that not all insurance plans cover all aspects of your trip. It is essential to read the small print and understand what your travel insurance package covers. More on this below!
To get a full run down of specialized travel insurance like trekking insurance, read our blog covering what is trekking insurance.
Why do I need Travel Insurance?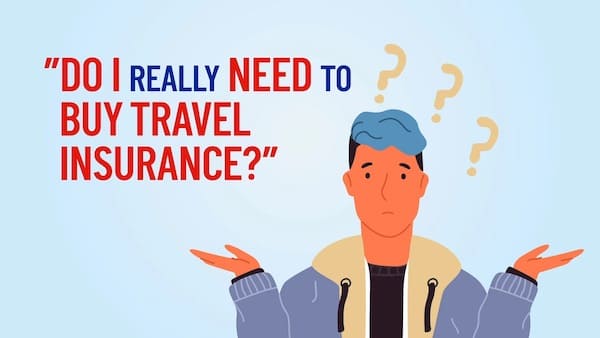 We don't want to think the worst, but better be prepared than sorry! Sometimes even on the best planned trips something can go wrong. Without travel insurance or trekking insurance, emergencies or unforseen events could throw a wrench in your plans and cost you more than what you invested in the trip in the first place. 
Still wondering why you need travel insurance? Here are a few reasons why we recommend making sure you are covered during your trips:
1. Travel insurance comes in handy when you have to cancel your trip:
You can get compensated for prepaid  tickets and arrangements, when you must cancel for a "covered reason". Covered reasons include situations like serious injury, illness of the policyholder, death, or even natural disaster that makes your destination uninhabitable (unfortunately natural disasters are frequent in Nepal. For example, the 2015 trekking season, as well as travel during Covid-19, were completely canceled due to natural disasters and a pandemic.)
2.
Medical emergencies are expensive, especially when you're traveling overseas.
Your travel coverages include emergency medical benefits. It will help you pay for medical emergencies that occur during your trip. The medical coverages will pay for the medical transportation to the nearest medical facility and your home. This is extremely important in Nepal and during trekking. Whereas, the Himalayas can be unforgiving at times, resulting in injuries to climbers.
3.
Don't let small mishaps ruin your trip.
Travel insurance will provide you compensation for additional accommodation and lost prepaid expenses due to delays of six hours or more.
4. Travel Insurance saves a lot of time and money!
If you can spend a hefty amount of time looking for the perfect destination, affordable travel insurance is also easy to find. Insurance looks expensive, but it can save you a lot of time, energy and money. You're already paying a significant amount of money for your vacation. Therefore, why not get yourself protected. So you can enjoy your travels completely!
5. Travel insurance is mandatory for some activities.
For example, in order to get a trekking pass (TIMS card) in Nepal, it is required for you to have travel insurance. This is a precautionary step to protect trekkers and hikers while climbing some of the tallest mountains in the world! Better coverage of trekkers and hikers has resulted in many lives being saved at high altitudes. For an account of how trekking insurance coverage has helped save lives, check out our article on High Altitude Sickness: Dangers of Thin Air.
How does Travel Insurance Work?
How travel insurance works is pretty straightforward. You file a claim! 
However, I would even take a step back and say the first thing you need to do is understand exactly what your travelers insurance covers. There are a multitude of companies providing insurance to trekkers, that all cover something slightly different. Therefore, in order to keep yourself safe, make sure that the trekking insurance plan will cover everything you plan on doing in Nepal, as well as other destination countries.
Once you understand your coverage, and purchase it, you will be fully covered and protected. In terms of how your travel insurance works, is that it covers a certain set of issues and emergencies. Moreover, your coverage will have certain aspects that are exempt from you claiming. One example of this is trekking and other adventure sports as they are typically high risk activities that put you at great risk.
If something unfavorable does happen during your travels, you will need to file a claim to be compensated. For example, your baggage got delayed or lost during transit. Therefore, you will need to buy extra clothes, hiking boots for your trek and toiletries, for this you would need to file a claim to get a reimbursement.
When you begin the claim process, you will need to gather the necessary documents, such as your airfare receipts and information about any refund you received or not – or documentation of whatever your emergency/travel issue may have been. Different travel insurance providers have their own packages and reimbursement process. However, according to Allianz Travel Insurance, some travel insurance providers may pay your expenses up front if you require emergency medical treatment or emergency transportation while traveling overseas! This is where knowing your coverage plan will come in handy for your hiking experience in Nepal.
Types of Travel Insurance Coverage:
There are different types of coverage that come with travel insurance plans. It is important that you are aware of what you are buying and what you will cover in case of an emergency. Below I have highlighted some of the different types of travel insurance coverage.
1. Delayed or Lost Baggage
We know how it feels to lose your baggage, especially when you're going for a trip you have just arrived at your destination, or when coming back home with all your gifts. Luggage that gets delayed, lost or even damaged is one of the most frequent travel issues. Which can significantly hinder your ability to explore your travel destination. A 2018 report from SITA Baggage Insights, shows that 24.8 million bags were mishandled (delayed, stolen, lost or damaged) worldwide!
To save you from all that hassle, travel coverage protects lost, stolen or delayed baggage during your trip. Depending on your coverage, many coverages consist of protection during, to and from a destination. Most airlines compensate the traveler for their lost baggage due to their blunder. 
This is important while traveling in Nepal as you will be traveling from place to place frequently, with your bags in the hands of many different people. Getting to your destination and finding out your luggage and all your hiking gear is missing, can be detrimental to your trek in Nepal. 
2. Travel Delays and Cancellation
The Bureau of Transportation Statistics, 2019 data shows that 19% of US flights were delayed and 2% were canceled. This can mean you missing your trek dates in Nepal with some treks costing over 20,000 USD, this is a huge issue! The issue of delayed and canceled flights is not unique to the United States, whereas it is a frequent issue in the United Kingdom and Australia as well. 
The good news is that travel insurance will compensate travelers and cover expenses to the maximum amount, determined by the minimum number of hours delayed. Travel insurance review shares that the coverage offers an insured traveler between $100 and $1,000 dollars as reimbursement for unexpected expenses like hotel stays, cab rides, meals, and more that are the direct result of the traveler not being able to get where they were going according to schedule. The coverage can be extended to cover events like trekking dates, or other flights that you may miss because of the delay as well.
3. Accidental Death and Flight Accident
Travelers insurance will also cover an accidental death and flight accident. The money will be paid to the traveler's family. Moreover, the insurance will also cover any disability or injury that is sustained during a flight. Flight accident policy provides coverage for deaths or accidents occurred during flight. If you already have a life insurance policy, accidental death coverage is not necessary.
Unfortunately, Nepal has one of the most dangerous airports in the world at Lukla, with accidents happening from time to time. Therefore, having an insurance policy that covers plane accidents, and death, can help support the trekkers family.
4. Short and Major Term Medical Coverage
You can find traveling and trekking insurance for different periods of time. Whereas, depending on your needs, you can get short-term coverage or long term coverage. This is extremely useful when it comes to trips where you plan on only traveling for a short period of time. This way you don't have to commit to a long-term travel insurance policy, that may or may not go used depending on your travel plans. 
You can find trekking insurance policies that will cover you for a few days, all the way up to a year. These types of plans provide flexibility and allow for tourists to purchase exactly what they need and make sure that they are covered throughout their entire trip. Moreover, these plans will easily let you add additional days to them in case you decide to extend your trip. This type of insurance will help protect you while trekking in high altitudes and ensure that you have medical coverage that can cover doctor's fees, healthcare facilities and other necessary medical expenses. 
Every policy, package and price vary with the provider. For example, the U.S. government urges Americans to consult their medical insurance providers before traveling to other parts of the world in order to determine whether their policy extends its coverage abroad or not.
For example, medical insurance may cover the insured in the U.S. and Canada, but not in Europe, says Investopedia. This is also the case for many countries in Europe, and the European Union looking to travel across seas or to other continents. So make sure you understand what and where your coverage works. And, if you end up needing additional trekking and traveling insurance, opt for a service provider that offers short duration of coverage. 
5. Adventure Activities, and above a Certain Altitude
This point is important for people looking to get involved in trekking in Nepal, or other adventure sports around the world. Whereas, some insurance providers will not cover sports and activities that put the traveler at great risk. For example, trekking at high altitudes, or paragliding can break the terms of your policy leaving you unprotected in case an emergency happens.
Finally, the last thing you will want to watch out for is till what altitude your insurance will cover you till. As some of the policies may have a cut off point, which will leave you unprotected when you are trying to go for a summit push on mountains like Everest!
Therefore, make sure to read the small print and find out if you will require additional coverage or not. When planning a vacation that focuses on adventure and activities that have increased risk, you will want to ensure that you are protected from anything and everything that could happen. 
How to choose a Travel Insurance Plan?
Every travel insurance company will have different packages, deals and price ranges. Making it difficult for you to know which is the right one for you. The first step is to get a quote from various insurance companies if you are looking for long term providers. Or, if you are looking for some short term travel and trekking insurance providers you can have a look at our roundup that compares some of the best trekking travel insurance providers!
No matter what you are looking for, or what your trip's duration is going to be, you can find a plan that will cover you. As travel insurance providers continue to grow, and compete, you will be able to find great fits for what you are looking for. For instance, even for a budget conscious traveler, if you dig a little deeper and take the time to research your possibilities, you will find the best insurance package and benefits at an affordable rate!
Get the most from your Travel Insurance!
Getting travel insurance is a great way to protect yourself and the investment you made on your trip. Additionally, when it comes to adventure activities, and trekking in countries like Nepal, it is mandatory to have. 
With new options and policies coming out, it is easy to find trekking insurance that will cover everything you need, for any particular duration of time. This makes it easy and stress free for you to get insurance for your next big trip. No matter if you are traveling to Nepal to climb some of the tallest mountains in the world, or looking to tackle some of the easy day hikes in Kathmandu, it is always a good idea to protect yourself and your family.
If you are looking to get travel or trekking insurance for your next big trip, have a look at our best travel and trekking insurance providers blog, and find a travel insurance policy that is best for you!