Is travel insurance worth the cost? This question hinges on several factors: the about to refund aspects of your trip, your destination, the availability of health coverage at your chosen location, and the extent of coverage provided by your credit card. When asking, why do I need travel insurance, it is essential to delve into these key considerations.
Determining the likelihood of needing insurance while traveling is a difficult task. It involves assessing your willingness to take risks and your overall travel schedule and activities. The potential loss faced by each traveler is unique and can vary significantly in terms of finances and ability to be safe, especially when it comes to trekking insurance.
Take these factors into careful consideration, explore your options, and make a well-informed decision regarding coverage for your trip. To help you with tis process, let's take a deep dive into why travel insurance is important.
Why Do I Need Travel Insurance?
Travel insurance provides coverage for various risks that may occur during your travels, including but not limited to loss of passport, coverage for personal belongings, and loss of checked-in baggage. By having these risks covered, you can enjoy an added layer of protection against potential financial losses.
Moreover, it provides protection for your vacation investment if unexpected circumstances arise. Whether it's a sudden illness, a flight cancellation, or a lost baggage incident, travel insurance offers financial coverage, ensuring that you don't bear the full burden of these unforeseen events. 
Insurance while traveling acts as a safety net, allowing you to navigate unfamiliar territories with confidence, knowing that you have a reliable support system in place. Additionally, it can include emergency medical evacuation coverage, which can be crucial in case of an accident or medical emergency while traveling. This is especially true when it comes to adventure activities, and other high-risk activities. But note, that many standard coverages don't cover these. 
Overall, getting covered while traveling is a valuable investment that safeguards both your finances and your well-being, making it an indispensable component of any travel plan. Here are 8 reasons why you should consider travel insurance while traveling.
8 Reasons Why You Need Travel Insurance: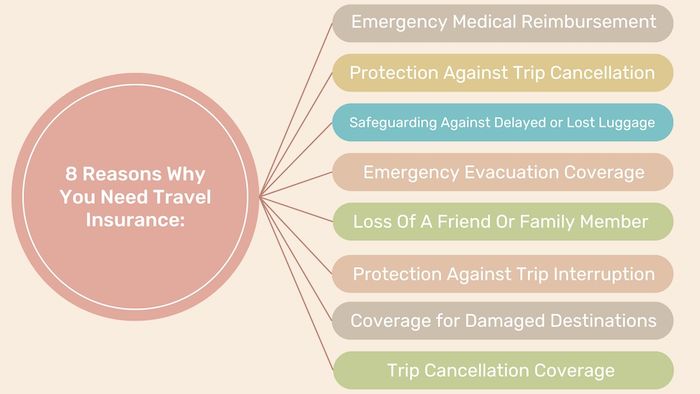 When you invest in airfare, accommodations, and various activities for your trip, often paid for in advance, it becomes crucial to consider the worth of insuring these valuable components against unforeseen issues that could potentially jeopardize your travel plans. Here are the top eight reasons why you should consider travel insurance:
1. Emergency Medical Reimbursement
By opting for travel insurance with emergency medical coverage, you extend the protection of your health insurance in most cases. These plans often serve as secondary insurance, covering the gaps left by your primary health care insurance. While some travel medical plans can act as primary insurance, they generally offer fewer travel-related benefits.
2. Protection Against Trip Cancellation Due to Illness:
Illness is a common cause of disrupted vacations. If you or a travel companion fall ill before your planned trip and need to cancel, you could face the loss of your entire trip cost. Similarly, if a medical emergency arises during your journey and you need to return home earlier than expected, you may not be eligible for reimbursement without travel insurance. Having insurance in such situations can prove invaluable as you can file a claim to recuperate money you invested in your travels.
3. Safeguarding Against Delayed or Lost Luggage:
When you check in your luggage, there's always a risk of the airline misplacing, redirecting, or causing damage to it. This is particularly concerning for frequent travelers, or digital nomads around the world, that carry a significant amount of equipment and gear. Moreover, for adventure enthusiasts like trekkers, you may have a lot of expensive specialized gear you want to protect. The best trekking insurance providers can help cover the costs of necessities purchased while waiting for delayed baggage or replacing damaged belongings, with coverage limits varying by plan.
4. Emergency Evacuation Coverage:
In the event that you require emergency transportation to a hospital or need to be evacuated from a dangerous area, the cost of helicopter transport alone could amount to thousands of dollars. Travel insurance may offer coverage for these types of expenses.
For emergency evacuation coverage, I would recommend checking out our Global Rescue review. Global Rescue provides a great service that will help you no matter where you are in the world. This is extremely important when you are trekking in Nepal (like me!) as they will prioritize your wellbeing and safety before everything else. 
5. Loss Of A Friend Or Family Member
In the unfortunate event of the loss of a close friend or family member shortly before your departure, trip cancellation coverage can provide you with the option to cancel or postpone your vacation due to the tragedy.
6. Protection Against Trip Interruption:
Natural disasters such as hurricanes or winter storms can lead to airport closures, preventing you from reaching your intended travel destination. This could result in the loss of airfare, side trips, and prepaid resort expenses. By purchasing travel insurance at the time of booking, you increase the likelihood of reimbursement for these costs.
7. Coverage for Damaged Destinations:
When a hurricane, winter storm or other unfortunate events renders your destination inaccessible due to airport closures, you may face the risk of losing not only your airfare but also the expenses incurred for side trips and prepaid resort accommodations. Buying travel insurance when you book your trip can help you recover these costs.
8. Trip Cancellation Coverage:
If you need to cancel your trip for a covered reason, a comprehensive travel insurance plan can assist in reimbursing your lost trip costs. Each plan includes a list of covered reasons for both cancellation and interruption.
If these reasons don't align with your needs, you should consider a plan that offers "Cancel for Any Reason" coverage (note that specific eligibility requirements apply). As you plan your trip, now is the ideal time to seriously consider purchasing travel insurance to protect yourself.
When is Travel Insurance Not Necessary?
Travel insurance may not be necessary as it primarily provides coverage for two aspects of your trip: reservations and medical expenses while traveling.
Therefore, if all your reservations can be canceled without incurring any penalties, then trip cancellation or trip interruption coverage may not be needed. Additionally, if your trip involves inexpensive flights and hotel stays, the cost of insurance may outweigh the potential benefits, although it is still worth considering getting a policy for medical situations.
Medical coverage may not be necessary if you have a health insurance policy based in the United States and you are traveling within the country. In such cases, your existing health insurance likely provides sufficient coverage for illnesses or injuries encountered during your trip.
When is Travel Insurance Worth It?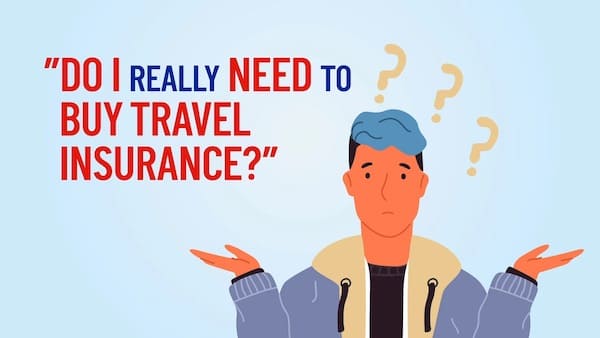 Even if it's not obligatory to have travel insurance for your destination, it is worth contemplating as a valuable asset. Consider it a financial safety net that provides peace of mind during your trip. While it's likely that your itinerary will proceed smoothly, unforeseen incidents can occur, potentially leaving you responsible for unexpected expenses.
Travel insurance can prove valuable in two key scenarios: protecting your trip and safeguarding your health. If you have made prepaid arrangements for your trip and cancellation without penalty is not an option, purchasing a policy for your travels is highly recommended. This coverage will protect you if your trip gets canceled or interrupted due to reasons covered by the policy, providing financial protection for your reservations.
When planning a trip to a destination prone to weather-related issues like hurricanes in the Caribbean, travel insurance can safeguard non-cancelable reservations. Some policies even offer emergency evacuation services to ensure your safety during hazardous situations. It's important to note that attempting to purchase a policy after a storm has become a recognized risk is unlikely to offer protection.
While U.S. based health insurance policies generally provide coverage within the country, they may not extend the same benefits internationally. In the event of illness or injury during international travel, your health insurance, such as Medicare, may not cover the expenses. Furthermore, even if your health insurance does offer coverage abroad, medical providers at your destination may not accept it.
If you already have certain travel insurance protections through your credit card (e.g., trip cancellation, trip interruption, baggage delay), it is still advisable to consider purchasing a separate travel medical insurance policy. This additional coverage will ensure you are financially protected in case of medical emergencies during your trip.
Does Travel Insurance Cover Coronavirus-Related Claims?
Yes, travel insurance covers coronavirus-related claims. However, it depends on the individual provider, and you will need to read the policy to ensure that COVID-19 is covered in the plan.
If you are looking for travel insurance that provides COVID-19 coverage I would recommend checking out SafetyWing. They include COVID-19 in their coverage, and is one of the most digital nomad, traveler friendly options out there. They provide short to long term coverage depending on your specific need. You can read more about what SafetyWing has to offer in our SafetyWing Insurance review.
Ultimately, the best thing to do is check the policy of the coverage you decide on choosing, to ensure they provide COVID-19 coverage or not. 
What is Excluded From Travel Insurance?
Common exclusions include pre-existing medical conditions, high-risk adventure activities, acts of war or terrorism, self-inflicted injuries due to drugs and alcohol, and illegal activities. It's essential to carefully review the policy details to understand the specific exclusions of your travel insurance plan.
The most common exclusion is pre-existing medical conditions, which means that claims related to those conditions may not be covered. However, some policies offer coverage for pre-existing medical conditions if certain criteria are met. For instance, if you purchased the policy within a specified time frame (e.g., 14 days) after paying for your trip and if you were in a suitable health condition to travel when you made the booking.
Engaging in high-risk activities like mountain climbing or trekking during your trip may result in limited or no coverage from many insurance policies. However, if you are looking for insurance to cover these types of activities you can check out our review of the best mountaineering and trekking insurance.
Finally, many insurance providers will exclude "Cancel For Any Reason" from their coverage. If you desire the flexibility to cancel your trip for any reason, you will need to seek a policy that offers a "Cancel For Any Reason" (CFAR) add-on. This additional benefit allows you to cancel your trip for any reason and typically provides reimbursement for around 75% of your nonrefundable prepaid trip expenses.
So Why Do I Need Travel Insurance? To Peace of Mind and To Stay Protected!
The importance of travel insurance cannot be overstated. By securing travel insurance, you gain peace of mind, knowing that you are protected against unforeseen circumstances and potential financial losses. 
Whether it's safeguarding your belongings, covering medical expenses, or providing assistance during emergencies, travel insurance offers a layer of security that allows you to fully enjoy your journey. So, whether you're embarking on a solo adventure or traveling with loved ones, investing in travel insurance ensures that you can travel with confidence, knowing that you are prepared for whatever comes your way.
FAQs: Why Do I Need Travel Insurance?
Below are the most frequently asked questions regarding the importance of travel insurance and if you need it or not.
1. Is it OK to not have travel insurance?
Yes it is ok to not have travel insurance. Travel insurance is not mandatory for traveling abroad. The choice to buy it ultimately depends on your willingness to take on risk.
2. Is travel insurance mandatory?
Travel insurance is not mandatory to travel abroad or to a foreign country. However, some countries or activities may require the traveler to purchase insurance.

For example, while trekking in Nepal, trekking insurance is mandatory to purchase climbing passes. There are other countries around the world that require insurance to receive a visa. It is best to check with the specific country's embassy website.