Joseph Brown CBE, was a pioneering figure in the world of mountaineering. He left his mark during the 1950s and early 1960s as a climber that broke social barriers. Hailing from a working-class background, Joe Brown rose to prominence alongside his climbing partner, Don Whillans.
In an era dominated by upper and middle-class professionals, Brown's skills and determination propelled him to become one of the most outstanding post-war climbers in Britain. Notably, he was the first person to conquer the third-highest peak in the world during the 1955 British Kanchenjunga expedition.
This blog looks at the life of Joseph Brown and mountaineering career throughout the twentieth century.
Joe Brown's Personal Life: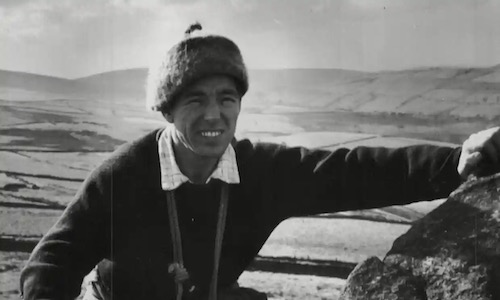 Brown, the youngest of seven siblings, was born into a humble family in Ardwick, Manchester, England. Tragedy struck early when his father, a builder and merchant seaman, passed away when Brown was just eight months old. Left with financial struggles, his mother had to take up washing before eventually becoming a cleaner. Brown's rebellious nature was evident early on when he refused to participate in a church parade and was subsequently banned from the Scouts.
Around the age of 16, Brown's life took a turn when he encountered Kinder Downfall. Inspired by Colin Kirkus' book, "Let's Go Climbing," he decided to embark on his own climbing journey using old rope he managed to obtain by repurposing his mother's old washing line and by acquiring some from a roadworks site.
After completing his schooling, Brown pursued an apprenticeship in plumbing and general building. However, his path took a different turn in 1949–50 when he was conscripted into the Royal Army Ordnance Corps for 18 months. Despite the demands of military life, he used his free time to indulge in climbing adventures with friends. However, during one unfortunate incident, Brown suffered a serious leg injury in a scuffle. Brown showed remarkable resilience as he was able to return to climbing just three months after the accident.
Joe Brown tied the knot with Valerie Melville Gray on 17 February 1957. They welcomed their first daughter, Helen, into the world in 1960, and six years later, Zoe joined their family. Tragically, on 15 April 2020, Joe Brown passed away at the age of 89 in his home in Llanberis.
The Climbing Career of Joe Brown – The Human Fly!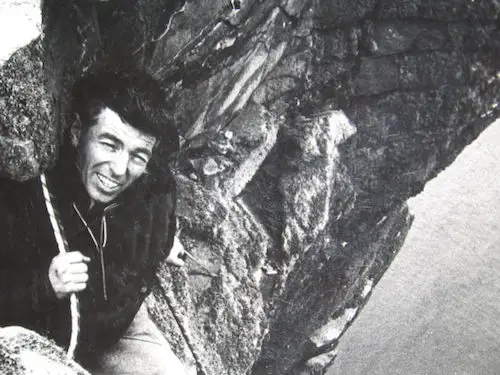 During the 1950s, Brown earned the nicknames "The Master" and "The Human Fly" for his extraordinary climbing ability. Additionally, he was a member of the Valkyrie Climbing Club and one of the founding members of the Rock and Ice Club. In Ken Wilson's Hard Rock, Brown's exceptional abilities were praised, with Wilson highlighting his unique blend of qualities: enthusiasm, patience, strength, technical prowess, a keen eye for routes, competitive spirit, and above all, a mysterious and magnetic charisma.
Early in his climbing career, Brown found a companion in Don Whillans, hailing from nearby Salford. Together, they represented a new generation of climbers from working-class backgrounds. Their skills and attitudes towards climbing distinguished themselves from the pre-war dominance of upper and middle-class climbers. Brown's reputation was so widespread that a letter addressed simply as "The Human Fly, UK" would find its way to him, thanks to his recognition.
Brown's impact extended to Snowdonia and the Peak District, where he established cutting-edge routes that pushed the boundaries of difficulty. Notable examples include "Cenotaph Corner" (1952, graded E1, with Doug Belshaw) and "Cemetery Gates" (1951, E1, with Don Whillans) on Dinas Cromlech in the Llanberis Pass.
Beyond the UK, Brown's mountaineering feats extended to the Alps and the Himalayas. In collaboration with members of the Rock and Ice climbing club, he accomplished numerous ascents during the 1950s. Notably, in 1955, he achieved the historic first ascent of Kangchenjunga, the world's third-highest mountain, in the Nepalese Himalayas, accompanied by George Band. Another milestone was reached in 1956 when Brown and Ian McNaught-Davis made the first ascent of the west summit of Muztagh Tower in Karakoram.
Joe Brown's Contribution to Climbing Safety: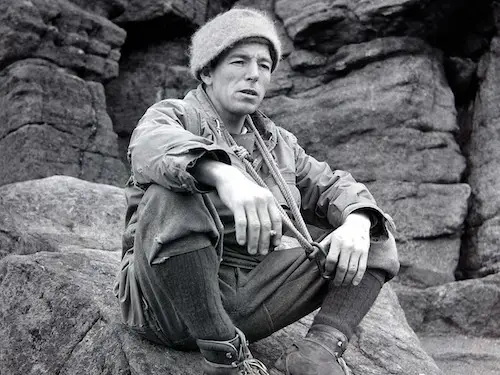 Apart from his groundbreaking climbs, Brown contributed significantly to safety advancements in climbing. He was instrumental in developing innovative types of "protection" to ensure safer climbs. Notably, he is credited with creating some of the first "nuts" by modifying engineering nuts and threading the center with a sling. Finally, in 1966, he established a shop that has since grown to include three stores in Snowdonia and an online presence.
You can read more about Joe Brown's shop at the new owners website The Climbers Shop article 'Big history'.
First Ascent of Kangchenjunga by Brown and Band: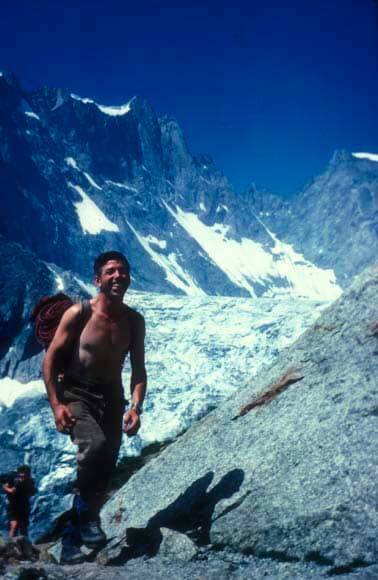 Kangchenjunga, standing tall at 8,586 meters (28,169 feet) above sea level, is located on the border between Nepal and the Indian state of Sikkim. Its challenging terrain, coupled with unpredictable weather conditions, had thwarted several previous attempts to conquer its summit.
In the spring of 1955, a British expedition led by Charles Evans set out to undertake the formidable challenge of reaching Kangchenjunga's summit. Among the members of the expedition were Joe Brown and George Band. Both highly skilled climbers known for their tenacity and mountaineering prowess.
At 14:45 on 25 May 1955, after weeks of difficult climbing and bivouacs at high altitudes, Joe Brown and George Band, reached the summit of Kangchenjunga. The achievement was monumental not only because it marked the first ascent of the mountain but also because it was the first time a team had successfully climbed one of the world's 8,000-meter peaks.
Reaching the summit, Brown and Band were met with breathtaking views of the surrounding Himalayan peaks. However, in respect for local religious beliefs, the two climbers stopped meters short of the true summit as agreed upon with locals before they set out for their climb.
Reaching the summit was only half the challenge, as the climbers faced further challenges during their descent. They were unable to descend directly to Camp V due to dangerous conditions, thanks to Brown struggling from snow blindness. They eventually met with Hardie and Streather at the advance camp. The four then shared a two man tent for the night before they could descend to base camp. Where their success was celebrated with joy and admiration.
Joe Brown: The Extraordinary Life of 'The Master'
Joe Brown, "The Master" and "The Human Fly," will forever be remembered as a pioneer in mountaineering and rock climbing. From his early beginnings exploring the countryside and quarries to the historic first ascent of Kangchenjunga, Brown's journey was one of resilience and adventure.
Brown's influence extended beyond his own achievements, as he opened up climbing to a wider audience and not just the upper- and middle-class. Moreover, he contributed to the development of climbing gear and safety techniques, leaving an enduring impact on the sport. With a magnetic charisma and unwavering passion, he inspired generations of climbers to push their boundaries and explore new heights.