Global Rescue is a leader in medical evacuation and travel insurance. Although they are not your typical travel insurance, Global Rescue has a more robust coverage. They are more than financial protection, they are a company that puts your safety and security above everything else. And in this Global Rescue Insurance review, I cover everything there is to know about the company. So we can make sure you can make the most informed decision about if they are right for you!
This is only the start when it comes to how Global Rescue is different from other insurance providers. And that is exactly why they have made my list of the best travel and trekking insurance providers!
Medical evacuation is something few travelers are aware of. Resulting in people not being aware of the difference when it comes to medical evacuation and regular travel insurance. In this Global Rescue Insurance review, we will go over the benefits, cost, testimonials, and everything else you need to know about the medical evacuation company!
Disclaimer: This post contains affiliate links. If you purchase Global Rescue insurance through my link, I will earn a small income! Just enough for a coffee, so thank you!
Who is Global Rescue Insurance?
Since their establishment in 2004, Global Rescue has emerged as a leader in the travel services sector. They excel in delivering integrated services, encompassing medical assistance, security, travel risk management, and crisis intervention. They have a dedicated team made up of critical care paramedics, physicians, nurses, and military special operations veterans. The team helps ensure the highest level of care for their customers.
They have exclusive partnerships with institutions such as the Johns Hopkins Department of Emergency Medicine Division of Special Operations, Elite Medical Group, and Partners HealthCare. These partners offer them top-tier medical advisory and evacuation services.
Additionally, they have an amazing track record. It has helped them become one of the leading choices when it comes to travel insurance for government agencies, prominent corporations, universities, nonprofits, and tour operators worldwide.
Global Rescue has a simple mission: to provide unwavering support precisely when it matters most.
What's the Difference between Travel insurance and a Global Rescue membership?
A Global Rescue membership goes beyond mere financial protection. While travel insurance only focuses on safeguarding your finances, Global Rescue insurance offers much more.
No one wants to envision an emergency situation while traveling abroad. However, in the event of the unexpected, you can rely on the expertise of Global Rescue's dedicated team of medical and security professionals. Who are always on standby to support you no matter where you are in the world.
Their service of ensuring a traveler's rescue, or being taken care of no matter where they are in the world, has helped Global Rescue gain over one million members. These members also include organizations such as NASA, U.S. Ski & Snowboard, and National Geographic.
The main way Global Rescue differs from other insurance providers is that they are ready and willing to get you out of any scenario. They are not solely here to refund the expenses that you may have incurred during your travel, but to ensure your safety and wellbeing. This is extremely important when it comes to travel and trekking in some of the most remote areas of Nepal, and the world!
Here is a comparative table that highlights the difference between travel insurance and a Global Rescue membership!
Differences between Travel insurance and Global Rescue
Global Rescue Membership
Travel Insurance
Claims Process
No claims to file, no deductibles or copays, and no reimbursements to request when you have a Global Rescue membership. Instead, all Global Rescue membership services are included in the cost of your membership.
Travel insurance costs and policies vary on the value of your trip, length of trip, and possessions. With insurance you pay a policy fee, any upfront costs, deductibles or copays for any potential claim, then you must submit a claim for reimbursement.
Advisory services/travel assistance
Global Rescue's in-house expert teams of paramedics, nurses, physicians and military special operations and intelligence veterans are available 24/7 to help.
Whether it's a medical question, a language barrier during an emergency abroad or a lost passport, Global Rescue can help.
Travel Insurance policies typically do not provide advisory or emergency services, leaving it up to you to research and identify your own resources or be referred to a third party to help with language barriers, medical and pharmaceutical concerns, legal needs and emergency rescue.
Field Rescue and Emergency Evacuation
We will send help directly if you are unable to get to a hospital and are in urgent need of care. With no distance-from-home requirement, field rescue services are available whether you're close to home or on the other side of the world. This includes global Covid-19 transport.
Travel Insurance policies may not pay for field rescue or medical evacuation in the event of an emergency, which can cost you tens of thousands of dollars or more in out-of-pocket expenses. Arranging rescue and evacuation is typically up to the insured.
In-House Expertise
Speak to an in-house Global Rescue expert on the first call. Direct communications, recommendations and support continue until your emergency is resolved. Our TotalCareSM memberships provide worldwide access to our team of physicians who can help diagnose and recommend treatment for your condition, in addition to prescribing medication, ordering labs and imaging in the U.S.
Typically travel insurance calls are directed through a call center, which can lead to critical holds and delays in an emergency.
Table reviews the differences between travel insurance and Global Rescue
Why would I choose travel insurance or emergency rescue over the other?
Combining trip insurance and Global Rescue protection provides a comprehensive solution to safeguard your trip expenses and ensure preparedness for emergencies. Trip insurance covers incidents like lost luggage, flight delays, and trip interruption or cancellation. On the other hand, Global Rescue protection focuses on your personal safety and well-being.
The pandemic has highlighted the limitations of traditional trip insurance and emphasized the significance of standalone medical assistance and evacuation safety nets. The importance of traveler protection for emergency medical services and evacuation has transitioned from being optional to obligatory. Travelers have come to recognize that emergency rescue and evacuation services are often essential, whether it's due to COVID-19, natural disasters, civil unrest, or any other situation requiring immediate assistance during travel.
Do You Need Both Medical Evacuation and Travel Medical Insurance?
When traveling abroad, it is wise to obtain both medical evacuation travel insurance and travel medical insurance.
Durazo from Allianz emphasizes the importance of purchasing travel insurance that includes emergency medical coverage and transportation benefits if you are not willing to cover all your medical expenses personally.
For those traveling outside the United States, having travel medical expense insurance is often crucial. As domestic health insurance plans may offer limited or no international coverage. Make sure to contact your health insurance company to determine if your plan provides global coverage and if it is considered "out of network." As it is always important to understand your coverage and what your policy includes. Additionally, senior travelers should be aware that Medicare is not accepted abroad.
If you are looking for a more traditional travel insurance, then make sure to check out my blog about the best travel and trekking insurance providers.
Review of what Global Rescue Offers:

When it comes to reviewing insurance like Global Rescue, it is essential to know what they offer their travelers. This is even more true when reviewing Global Rescue, as unlike other coverages, they provide emergency evacuation instead of generic travel insurance. 
Some of the things that are offered include:
Help from the point of your emergency – regardless of where you are: Field rescue means that they will send help if you are unable to get to a hospital or are in danger.
The right hospital, not the closest: If you do have to be hospitalized, Global Rescue has the ability to transport members back to their home hospital of choice. Global Rescue's in-house staff can travel to your bedside to help improve your care and coordinate your evacuation.
Medical and security advisory services: Their operations centers are staffed by experienced nurses, paramedics and military special operations veterans. Global Rescue also has partnerships with the Johns Hopkins Emergency Medicine Division of Special Operations, Elite Medical Group and Partners HealthCare, the Harvard Medical School affiliate.
Call Global Rescue, not a call center: Speak to a real expert at Global Rescue on the first call.
Travel prepared: Destination reports for 215 countries and principalities worldwide include entry requirements, detailed health and security assessments and required immunizations. They can help keep you up to date on health and security events worldwide.
My Global Rescue Mobile App: Global Rescue services at the touch of a button. Keep track of the people you care about with GPS tracking and messaging.
Travel Assistance: Whether it's a language barrier during an emergency abroad or a lost passport, Global Rescue travel assistance can help with unexpected issues. Global Rescue can also provide referrals to legal representation in more than 160 countries.
Global Rescue Insurance Membership Types:
Global Rescue Insurance Memberships are made for Personal Memberships (Individuals and Family), as well as for Enterprises (Businesses and Governments). The various memberships for security and rescue can be seen below.
Personal Memberships (Individuals and Family):
Travel Memberships: Provision of medical advice and evacuation services, along with field rescue and intelligence assistance. For travelers over 100 miles away from their home.
TotalCare Telehealth Memberships: All Travel Memberships benefits plus 24/7 access to virtual healthcare, including urgent and specialty consultations.
Extended Plans: For travelers 75 and older.
Enterprises (Businesses and Governments):
Global Rescue's Enterprises memberships provide worldwide rescue and security for businesses and governments. Moreover, they assist with travel risks, crisis management, COVID services, and staffing solutions. The overall plan includes medical, security, and intelligence support.
What Does Medical Evacuation Insurance Cover?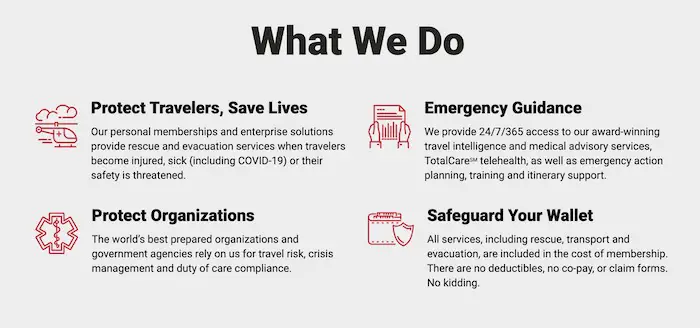 A hospital trip abroad is a nightmare for any traveler, especially one involving medical evacuation. Nearly 3% of all wayfarers out of their home country end up needing emergency care — far more than one might think. Regardless of how much you travel or how far away you travel, waiting until it's too late is the last time you want to think to yourself "Am I going to need to be evacuated?" Read more.
Some of the benefits and what you can be covered for with Global Insurance Membership can be seen in the list below:
Trip cancellation — up to $100,000
Trip interruption — up to 150% of trip cost insured
Emergency medical coverage — up to $100,000
Common carrier AD&D coverage — up to $100,000
Rental car damage — up to $40,000
Lost luggage/baggage delay — up to $2,500
Sports equipment rental — up to $2,500
Flight cancellation and missed connection services
Initial claims assessment within 24 hours
Pre-existing condition waiver (no cost)*
Cancel for any reason coverage — 75% of trip cost insured (optional upgrade)*
Interrupt for any reason coverage — 75% of trip cost insured (optional upgrade)*
*Items marked with '*' are only available if purchased within 20 days of making the initial trip deposit or payment.
Global Rescue Insurance Review by Consumer Advocate:

I typically include the Trustpilot review for each of the companies I do a review for to show you feedback from existing customers. However, Global Rescue doesn't seem to have a page. Therefore, I have included their Consumer Advocate's review page instead.
Global Rescue currently holds a 3.9 out of 5 rating. Unfortunately, the page does not include the number of reviews submitted, the total number of comments, or what the commenters rated their time with Global Rescue.
That being said, I have included the two comments that were available. The reviews can be seen below:
First Review – 11/29/2022: Global Rescue was exactly what I needed when my husband died at sea in a very remote part of Indonesia. They escorted the body to the hospital to be embalmed, then proceeded to escort myself and my husbands body though 3 airports to the crematorium to be cremated. They checked in repeatedly to make sure I was okay to see if they could assist me further. Global rescue took the most stressful experience of my life and made it palpable. They were kind, compassionate and wonderful.
Second Review – 3/3/2020: I just had the worst customer service ever. Totally unexpected. lost all confidence in global rescue.
Note: These reviews are copied and pasted from the Consumer Advocate page, and are unaltered. You can see the entire review of Global Rescue from Consumer Advocate here.
How much does Global Rescue Memberships cost?
While reviewing Global Rescue memberships and insurance, I have compiled a table of the costs associated with their memberships available. Make sure to go through the table and understand which option is right for you.
They offer an array of different length of memberships, at different costs. The table below includes the Global Rescue cost breakdown of different membership lengths.
| GLOBAL RESCUE MEMBERSHIPS* | INDIVIDUAL MEDICAL ONLY | FAMILY MEDICAL ONLY | INDIVIDUAL MEDICAL & SECURITY | FAMILY MEDICAL & SECURITY |
| --- | --- | --- | --- | --- |
| 7 Day Membership  | USD 139 | USD 229 | USD 260 | USD 445 |
| 14 Day Membership | USD 179 | USD 329 | USD 350 | USD 655 |
| 30 Day Membership | USD 259 | USD 429 | USD 515 | USD 855 |
| Annual (up to 45 days per trip) | USD 359 | USD 639 | USD 720 | USD 1,270 |
Review of the Global Rescue Insurance costs
Please note that additional memberships are available. For members adventuring to higher altitudes, our High-Altitude Evacuation Package provides medical transport services to members who travel above 15,000 feet or 4,600 meters at any point during their trip (excluding airplane travel) and who require emergency transport due to injury or illness.
Global Rescue Insurance Review: Is it right for your travel needs?
Global Rescue is more than just insurance. It is an emergency evacuation service that prioritizes your wellbeing and safety over safeguarding finances. Unlike other insurance providers when a traveler uses Global Rescue, there are no claims processes, as the emergencies are already covered.
I love Global Rescue as there are no restrictions on where you can be covered. No matter the elevation or remoteness of where your accident occurs, you will be covered. This is great when it comes to trekking in Nepal, and taking on some of the highest treks in the world. However, it is important to remember that their coverage is different from regular travel insurance. If you are searching for more traditional insurance, then make sure to check out my roundup of best travel insurance providers.
Finally, before buying Global Rescue, or any other insurance, it is important you completely understand the coverage and policy that they offer. You want to make sure that you will be covered if an unfortunate event takes place. This Global Rescue review serves as a starting point to equip you with information about the company and their service. 
I want you to have the best experience possible. So make sure to do your own research and look into their policies and coverage carefully! This way, you can feel confident throughout your trip that you will be ready no matter what happens.
FAQs: Global Rescue Insurance Review
Below are some of the most frequently asked questions regarding Global Rescue memberships and insurance.
1. Is Global Rescue a rescue insurance?
Global Rescue includes rescue insurance and is a comprehensive destination for all your travel insurance needs with the introduction of their latest product, Signature Travel Insurance. This all-in-one solution provides you with 1) global emergency evacuation coverage and 2) financial security throughout your journey.
2. What is rescue insurance?
In the unfortunate event that a traveler becomes lost, disoriented, or goes missing during a recreational activity on their trip, the Search and Rescue insurance covers the expenses associated with locating them. This benefit is specifically designed to cover the reasonable costs incurred during the search and rescue process.
3. What is rescue coverage?
Rescue coverage is used in case a traveler gets lost, disoriented, or goes missing while engaging in a recreational activity during their trip, and will take care of the expenses related to locating them. The Search and Rescue benefit ensures that the reasonable costs incurred during the search and rescue operation are covered.