The Granite Gear Blaze 60 pack skillfully achieves a delicate balance between weight, comfort, and features, making only minor compromises. During our trek through the Annapurna region of Nepal, we were genuinely impressed by the pack's outstanding performance. The way the backpack handled and stayed comfortable during the entire trek, puts it among the best trekking backpacks we have seen.
Not only does the bag design prioritize comfort with its exceptional adjustability and comprehensive features, but it also does so without adding unnecessary weight, as it weighs a mere 3 pounds. In the following sections, we provide a full review of the Granite Gear Blaze 60's overall performance. Moreover, we compare the Blaze against other backpacking packs and women's backpacking packs!
Disclaimer: This review contains affiliate links which earn us a small commission! If you think the Granite Gear Blaze 60 is right for you and purchase one using our links, we will get enough money to buy a caramel latte while we write our next review!
Quick Facts about the Granite Gear Blaze 60: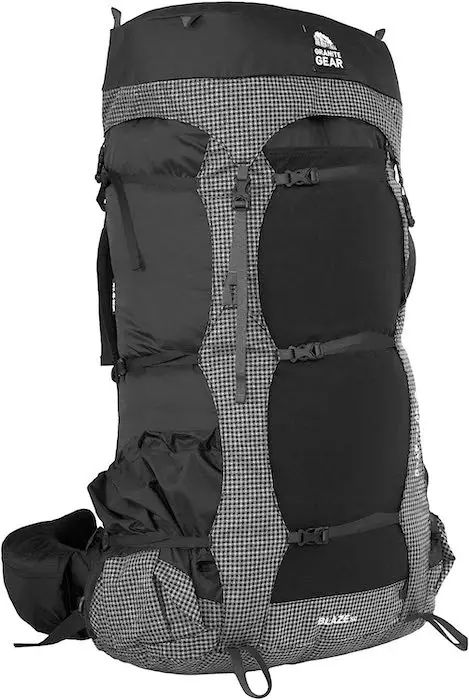 Price: $270
Weight: 3 lbs. (women's regular)
Fabric: Robic nylon (100D & 210D)
Capacity: 60L
Amazon Rating: (4.7/5) 115 Reviews
REI Rating: (4/5) 17 Reviews
What we like about the Granite Gear Blaze 60
The Blaze 60 excels in hauling weight and provides exceptional comfort even during long distances.
Convenient features such as massive side pockets, a removable top lid, and a hidden front panel zipper allow easy access to essential gear while on the trail.
The pack's numerous compression straps enable you to secure and adjust the pack according to your load, whether it's a partial or maximum capacity.
What we don't like about the Granite Gear
The back panel of the pack, although well-padded, lacks the breathability of mesh-heavy designs and can become warm during use.
Adjusting the fit of the shoulder straps and hip belt requires time and practice to achieve the desired comfort and support.
The women's pack is available in only one colorway (black and teal), which may be polarizing to some individuals.
Performance of the Granite Gear Blaze 60: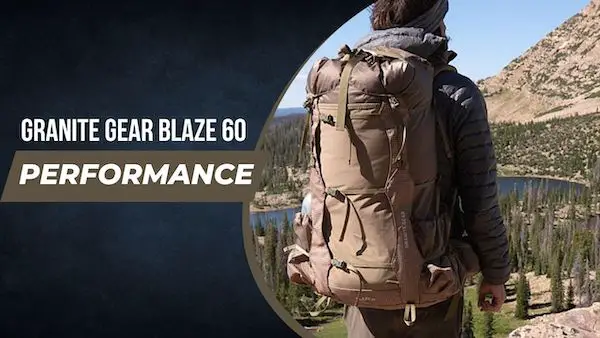 Let's start the Granite Gear Blaze 60 review by looking into the overall performance of the hiking backpack. As one of the top rated trekking packs out there, it is a great choice for hikers looking for a bag that has a higher carrying capacity while maintaining its comfort.
Let's start by looking at the comfort of the bag.
1. Carrying Comfort of the Granite Gear:
Despite its relatively lightweight construction, the Granite Gear Blaze 60 offers exceptional comfort. I must admit that I initially had reservations when I first saw the specs on the Blaze. Having been accustomed to the heavily cushioned and supremely comfortable Osprey series, I was skeptical that the Blaze, with its seemingly flimsy shoulder and hip belt straps, could measure up. 
However, after some initial struggles with adjusting the torso and waist belt, I managed to find a good fit. Surprisingly, even when loaded with four days' worth of food, gear, and water, the pack carried exceptionally well. I was pleasantly surprised as I never experienced any discomfort, never felt off-balance, and its padding comfortably supported weights of 35-40 pounds during multiple 10-mile days (the Blaze is rated for 50 pounds).
The Blaze 60 offers the flexibility of removing certain components to reduce weight and create a more streamlined pack. However, it's worth noting that this may affect the overall carrying comfort. Starting from the top, the lid can be completely removed, and the top can be secured with a cinch-and-roll closure and cross webbing. Additionally, the pack's sternum strap and the entire hipbelt, including two attached pockets, can also be detached. While I can envision removing the top lid for short backpacking trips, I intend to continue utilizing the pack's full range of features on most outings, considering its impressive lightweight design already.
2. Granite Gear Blaze 60 Weight:
Weighing in at just 3 pounds for the regular size we tested, the Granite Gear Blaze 60 delivers impressive performance in a lightweight pack. While true ultralight packs like the Zpacks Arc Blast 55 (1 lb. 4.6 oz.) and Granite Gear's Crown2 60 (2 lbs. 5.8 oz.) weigh even less, they come with significant compromises in terms of carrying comfort and durability. More suitable comparisons can be made with the Osprey Eja 58 (2 lbs. 8.5 oz.) and Gregory Maven 55 (3 lbs. 6.6 oz.), yet we still believe the Blaze outshines them all as the best all-around option. 
If you're willing to carry some extra weight, the Osprey Aura AG 65 comes in at 4 pounds 5.4 ounces, but whether the added weight is worthwhile depends on your priorities (the Aura excels in ventilation and comfort, whereas the Blaze doesn't sacrifice much in terms of organization and hauling capabilities).
All in all, the Blaze manages to undercut most packs with similar features by a pound or more, making it an impressively lightweight choice.
3. Organization of the Granite Gear Blaze 60:
Granite Gear has meticulously considered every aspect of organization in the Blaze, making it challenging to find another pack that excels in this area at such a weight. Boasting a total of six external pockets, including one on the top lid, two spacious side pockets, a front mesh pocket, and two large hipbelt pockets, I had no difficulty finding spots to store my extra gear and equipment I needed in a hurry.
The top lid can be completely detached, the hipbelt pockets easily accommodate larger smartphones, and each of the mesh side pockets comfortably holds two 32-ounce water bottles – perfect for Nalgene bottles. Additionally, the pack includes a standard hydration sleeve and port.
One outstanding feature is the hidden front zipper along the side of the mesh pocket, providing easy access to the main compartment. This proved incredibly convenient, particularly when we reached camp each night. I could lay the pack flat, unzip the front zipper, and retrieve my sleeping bag and down jacket without disturbing the rest of my belongings.
Lastly, the Blaze offers an abundance of front and side compression straps, allowing for secure attachment of extra gear to the exterior. These straps also assist in cinching the pack down to accommodate the size of the load.
4. Backpack Ventilation:
While the Blaze impresses with its supportive and comfortable molded foam back panel, it falls short in terms of breathability compared to designs that feature ample mesh. This became apparent on the trail, even in moderate 50-degree temperatures. Having used Osprey packs for the past few years, I hardly noticed them on my back. However, my experience with the Blaze was quite different. Within just a couple of miles of hiking, I could feel sweat accumulating on my back, and the pack felt uncomfortably damp against my body. Even removing layers couldn't alleviate the lack of breathability.
If optimal ventilation is a top priority for you, consider checking out Osprey's Aura AG. Its Anti-Gravity mesh back panel sets the standard in breathability, and we have yet to find a pack that surpasses it in this aspect.
5. The Granite Gear Blaze 60 Build Quality and Durability: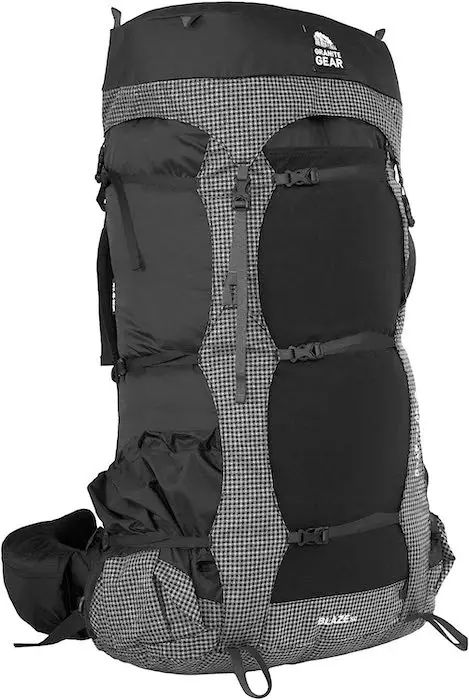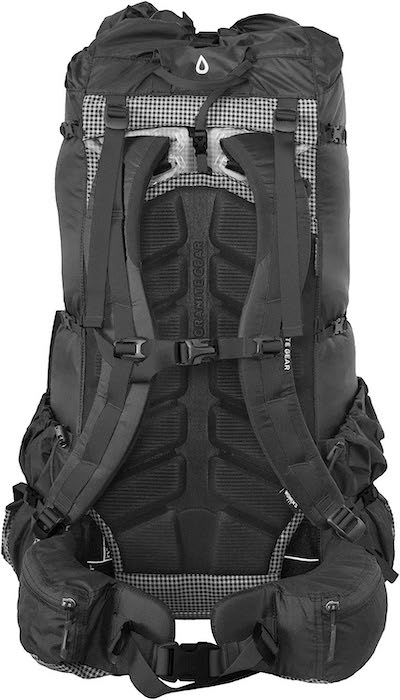 Crafted from a blend of 100- and 210-denier Robic nylon, the Granite Gear Blaze 60 is purpose-built to withstand the challenges of backpacking. Our experience testing packs like the Gossamer Gear Mariposa 60 and ULA Circuit 68 has shown us that Robic nylon is an impressively durable and resistant fabric. While lighter options like Dyneema packs such as the Zpacks Arc Blast have their advantages, they are more susceptible to punctures (although they excel in tear resistance).
The Granite Gear Blaze 60 also features a durable water repellent (DWR) coating on its body and zippers, enhancing its ability to keep the contents dry even during sustained rain. However, it is important to note that a DWR finish is not a substitute for proper waterproofing. 
It is advisable to use a pack cover or liner in heavy rain to protect your gear. That being said, I was pleasantly surprised to find that after a wet day of hiking, my Ziploc bags containing electronics and other essential items in the top lid remained completely dry on the outside. Even my phone, which I left unprotected in the hipbelt pocket, remained safe and dry.
6. Fit and Sizing:
Achieving the perfect fit with the Blaze 60 requires some practice and patience due to its high adjustability. In my experience, fine-tuning the torso length and waist measurements by toggling the hipbelt and shoulder straps was a meticulous process. Specifically, it involved reaching behind the framesheet to remove and reinsert the shoulder strap clips, while the hipbelt required careful pushing and pulling to slide back into place.
However, once I had successfully dialed in the fit, I had no further concerns. The women's Blaze 60 offers options for short (15-18 inches) and regular (18-21 inches) torso lengths, and with ample room for adjustment, most backpackers should be able to find a comfortably snug fit no matter their body type.
7. Other Versions of the Granite Gear Blaze:
We extensively looked at the women's-specific Blaze 60 in our review – which complements the unisex model. Both the male and female backpacks share identical design, weight, feature set, and customization options. However, it's worth noting that the unisex pack offers an additional long torso length size (21-24 inches; weighing 3 lbs. 1.6 oz.).
While we haven't personally tested the unisex Blaze, we anticipate that it provides a very similar fit. Furthermore, the unisex version offers more color options, including plain black and tan, which may be preferred by some individuals over the bright teal accents featured on the women's pack.
Granite Gear Blaze 60 Competition: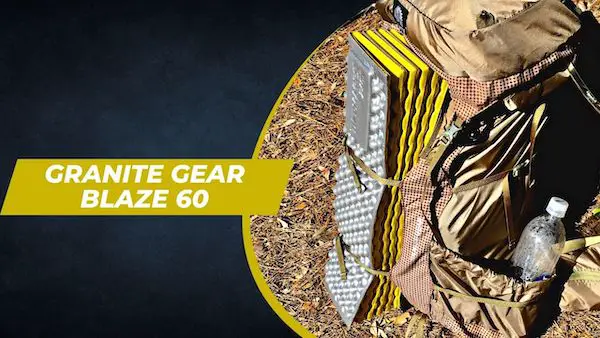 The Granite Gear Blaze 60 competes with some of the top backpacking packs on the market, striking a balance between comfort, organization, and weight. One notable contender is the Osprey Eja 58, which comes in $50 cheaper than the Blaze. The Eja excels in carrying comfort, weighing under 3 pounds (2 pounds 8.5 ounces), and featuring a tensioned mesh back panel that provides superior ventilation. However, durability has been a concern with the Eja, as tears have been observed in the similar Osprey Exos 58 pack. In comparison, the Blaze's Robic nylon construction offers better puncture resistance and a more extensive feature set, including hipbelt pockets and additional lash points.
For those considering ultralight packs, the Circuit 68 stands out. Priced $15 lower than the Blaze, the Circuit impresses with its durability, thanks to a 400-denier Robic nylon build, and weighs 2 pounds 9 ounces. It offers high customizability with various removable features. However, the Circuit has a lower weight rating of 35 pounds, less padding on the shoulder straps and hipbelt, and fewer compression straps compared to the Blaze. 
Within Granite Gear's lineup, the Crown2 60 presents another ultralight option. With a price tag $70 lower than the Blaze ($200 total) and weighing only 2 pounds 5.8 ounces, the Crown2 offers functional features, including generous compression straps, ample storage, a removable lid and back panel, a roll-top closure, and an adjustable hip belt similar to the Blaze. However, the Crown2's thinner padding on the shoulder straps and hip belt may limit its ability to handle heavier loads compared to the Blaze. Moreover, it lacks the option to adjust the torso length, which is a convenient feature of the Blaze for achieving a personalized fit no matter your body type.
For those seeking enhanced comfort and ventilation, the Osprey Atmos AG 65 is a popular choice. It should be noted that the Atmos is a fully featured premium pack, differing from the Blaze's ultralight focus. With thick padding along the shoulders and an Anti-Gravity mesh back panel for excellent breathability, the Atmos offers superior comfort. However, it is significantly heavier, at nearly a pound and a half more than the Blaze. The ventilation and added cushioning are appealing, but whether the extra weight is worth it depends on personal preferences and the type of hiking and trekking you will be doing.
Granite Gear Blaze 60 Review is it worth it?
The Granite Gear Blaze 60 pack emerges as a remarkable investment for hikers seeking a well-rounded and reliable companion. Our firsthand experience trekking through Nepal's Annapurna region showcased the pack's exceptional performance, demonstrating its ability to strike a harmonious balance between weight, comfort, and features. Throughout the entire journey, the backpack's impressive handling and unwavering comfort made it stand out among the best trekking backpacks available.
Notably, the bag's design prioritizes comfort with its remarkable adjustability and comprehensive features, all while maintaining a lightweight construction of just 3 pounds. In our comprehensive review, we highlight the Granite Gear Blaze 60's overall performance, comparing it to other backpacking packs and women's backpacking packs, further solidifying its status as a superior choice for avid hikers.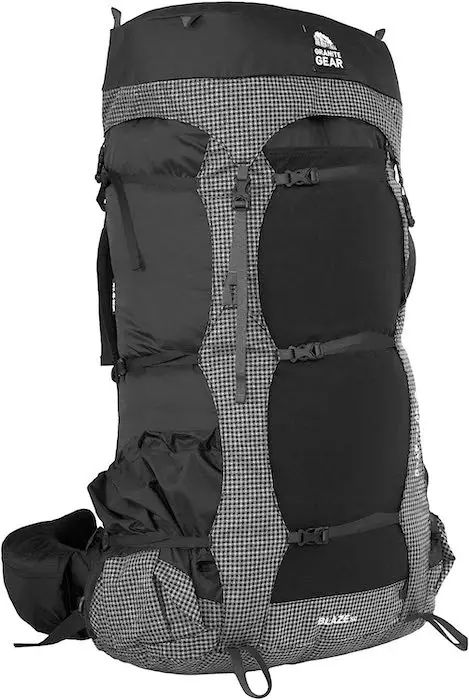 Price: $270
Weight: 3 lbs. (women's regular)
Fabric: Robic nylon (100D & 210D)
Capacity: 60L
Amazon Rating: (4.7/5) 115 Reviews
REI Rating: (4/5) 17 Reviews