The Osprey Atmos AG 65 has consistently been a top-rated trekking and hiking pack for several years now. As one of the best trekking backpacks out there, it continues to impress and surpass the competition. Even in spring of 2022 Osprey surprised us all with a significant update to the bag. 
This time around, they took a comprehensive approach to address the criticisms trekkers had about the previous model. Notably, they have added more padding to the hip belt, improved access to the main compartment, included a rain cover, and incorporated a greater amount of recycled materials. The result is an impressively well-rounded design that particularly appeals to comfort-conscious backpackers. 
Even though the Osprey Atmos AG 65 is a go to backpack for many hikers, you should still do the research and ensure it is the right pack for you. To help you make sure you get the perfect bag for your adventures, check out this review where we cover everything you need to know about the Osprey Atmos AG 65!
Disclaimer: This post contains affiliate links which earn us a small commission! If you think the Osprey Atmos AG 65 Backpack is right for you and purchase one using our links, we will get enough money to buy a caramel latte while we write our next review!
Quick Facts about the Osprey Atmos AG 65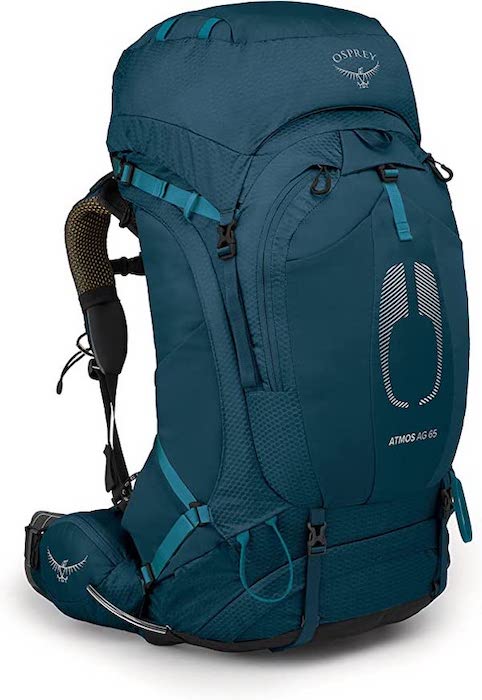 Price: $300
Weight: 4 lbs. 9.8 oz. (size S/M)
Capacities: 50, 65L
Amazon Rating: (4.9/5) 1,449 total reviews!
Google Rating: (4.7/5) 1,243 total reviews
What we like about the Osprey Atmos AG 65
Excellent weight distribution and all-day comfort for loads up to approximately 40 pounds thanks to generous padding, a well-executed suspension system, and a full metal frame.
The suspended mesh back panel promotes superior airflow compared to other packs we have tested so far.
The latest Atmos model features dual side zippers, providing excellent visibility inside the pack and enabling quick retrieval of items.
Abundant organization options including numerous pockets, lash points, and gear loops.
Now manufactured using recycled fabrics that are bluesign-approved, and features a PFC/PFAS-free DWR coating.
What we don't like about Atmos AG 65
The Atmos weighs 4 pounds 9.8 ounces, making it not particularly light. It is ideal for those who prioritize comfort over weight reduction.
It is priced at $300, which is a $30 increase compared to the previous-generation model. However, it now includes a rain cover.
Individuals engaged in light mountaineering or carrying heavy loads of 40+ pounds may favor a sturdier design.
It is currently available in only two sizes, although there is ample and prompt fit customization.
Osprey Atmos AG 65 Performance: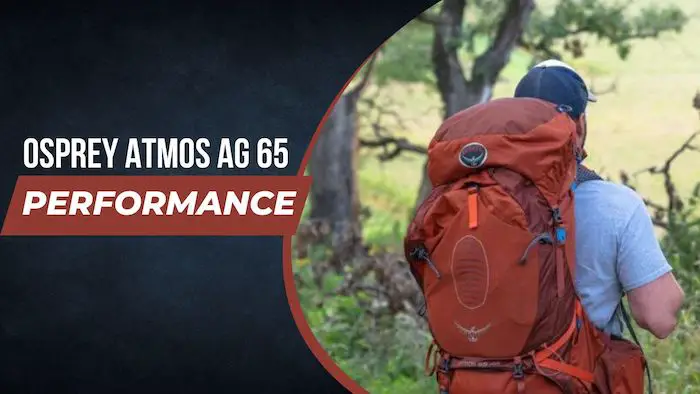 Let's start the Osprey Atmos AG 65 review by looking into the overall performance of the bag. As one of the top rated bags out there, it is a great all-rounder bag that mixes comfort, durability, with great organization. 
Let's look at the comfort of the bag, as well as the fit and organization while carrying it.
1. Carrying Comfort:
Upon trying on the Osprey Atmos AG 65, I was immediately impressed by its exceptional fit. The mesh back panel and hip belt naturally curve inward, resulting in a pack that fits perfectly to your body. 
The initial impression of comfort remained consistent throughout the long hike while carrying a load of about 25. A notable improvement in the newest model is the resolution of a stiff hip belt that would occasionally create pressure points by rolling inward. With the updated Atmos, there have been no such problems, likely thanks to the slightly redesigned hipbelt shape and enhanced foam cushioning.
It is worth mentioning that Osprey has reduced the recommended load range for the Atmos to 30-40 pounds, whereas the previous model was capable of carrying up to 50 pounds. During my trip, I reached a maximum weight of approximately 35 pounds after loading up with water, and it still handled well while maintaining its comfort. 
The robust full-metal frame, comprehensive side compression strap system, and well-integrated suspension effectively distribute the weight, ensuring a balanced and secure feel, even on steep trail sections or challenging creek crossings.
Based on my experience, it seems that the Atmos is capable of hauling a similar maximum weight as its predecessor. However, it is evident that Osprey considers their Aether collection, which features thicker padding and a more rugged construction, as the preferred option for heavy-load carriers (the Aether Plus is rated to carry up to 60 pounds). Ultimately, the Atmos should provide ample comfort for most backpackers.
2. Atmos AG 65 Weight:
The Osprey Atmos AG, with a small/medium frame, weighs in at 4 pounds 9.8 ounces, which places it around the average weight range for what we consider a luxurious backpacking pack. It's important to note that the construction and features of backpacks can vary significantly, even among packs with similar capacities. 
On one end of the spectrum, there are ultralight models weighing around 2-3 pounds, which have minimal pockets and are constructed with thin materials. On the other end, there are traditional packs with premium features and thick, durable fabrics that often approach 5 pounds.
The Atmos AG leans towards the premium side, and other packs in this category have comparable weights, such as the Gregory Baltoro 65 and Osprey's Aether 65 (which we reviewed as well), both weighing 4 pounds 14.7 ounces. 
Considering its durability, excellent organization, and its ability to comfortably handle a 35-pound load, we believe the weight of the Atmos AG is reasonable for those who prioritize comfort.
3. Organization of the Atmos AG 65:
For those who prioritize organization, the Osprey Atmos AG 65 offers a well-thought-out array of pockets, lash points, and gear loops. 
Starting with the top lid, you'll find two generously-sized zippered pockets, along with two mesh water bottle holders, a dedicated sleeve and exit port for a water reservoir and drink tube, and a large mesh stuff-it pocket along the front of the pack. Additionally, there's a specific compartment at the base for a sleeping bag, although with the newly added dual side zipper access, the necessity of the sleeping bag compartment seemed somewhat diminished. 
When it comes to carrying trekking poles, Osprey has included two loops on either side of the mesh pocket at the front, as well as a unique trekking pole attachment point on the left shoulder strap, allowing for convenient storage that frees up your hands when needed.
Among the features we found particularly convenient are the tall zippered pockets flanking the large mesh front pocket. These pockets are quite spacious and easily accommodate bulky items like a water filter, or rain jacket. Additionally, the two hip belt pockets are generously sized—larger even than those on the previous generation Atmos—and comfortably hold an iPhone 14 in its case!
Perhaps one of the most noteworthy changes in the new Atmos AG is the increased accessibility to the main compartment. The long, curved side zippers allow for excellent visibility into the interior of the pack, proving invaluable when searching for tucked-away items on the trail or at camp.
Overall, Osprey has made some great improvements to the bag in terms of organization. We found it easy to organize, locate and even load and unload all our gear no matter where it was in the pack.
4. Backpack Ventilation:
Similar to its predecessor, the latest Osprey Atmos AG 65 retains one of its defining features: a spacious suspended mesh panel that covers the entire back area and a significant portion of the hipbelt. Known as the Anti-Gravity system (hence the 'AG'), even the shoulder straps incorporate the same open webbing design to minimize the buildup of sweat. 
In practice, this feature truly delivers: we have yet to experience another backpack that promotes such remarkable airflow and ventilation while carrying it. You can genuinely sense the refreshing breeze against your back, providing a welcomed relief, especially during hot weather. Furthermore, the mesh-centric, trampoline-like construction significantly contributes to the pack's exceptional comfort and carrying capabilities.
5. The Atmos AG 65 Build Quality and Durability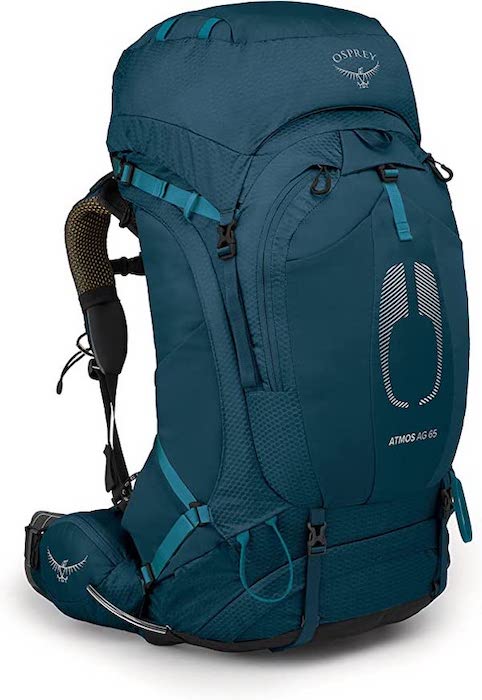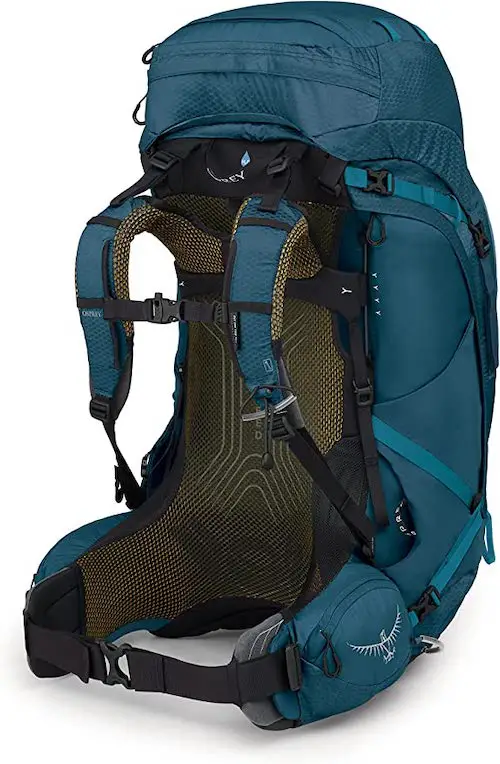 What sets the Osprey Atmos AG apart and elevates its ventilating design from good to exceptional is the fact that it doesn't compromise any other aspect of the backpack. It embodies the high-quality standards synonymous with Osprey: the pack delivers outstanding comfort while carrying multi-day loads, offers thoughtful organization, and is constructed with durable materials (210D nylon for the main body and 500D on the bottom) that exhibit no signs of excessive wear. 
These materials, noticeably thicker than lighter-weight alternatives (such as the 100D), are built to withstand the rough terrain of hikes and treks. I had no reservations about placing the pack on rough granite or maneuvering through dense branches off the trail. Additionally, it's worth noting that Osprey now includes a rain cover, conveniently stored in a dedicated pocket located at the bottom of the pack. While the latest 65-liter model's price has increased, the inclusion of the rain cover helps justify the price jump.
6. Fit and Sizing:
In the new Atmos AG 65, Osprey has streamlined their size options from three to two. However, the latest model actually provides more opportunities for personalized fit adjustments compared to its predecessor, effectively bridging the gap. 
The backpack naturally conforms to the contours of your back, and fine-tuning the shoulder strap height to match your torso length is easy and intuitive. Furthermore, Osprey has implemented their Fit-on-the-Fly padding for both the hipbelt and shoulder straps, allowing you to shift the padding to achieve an optimal position (which securely fastens with Velcro). 
Ultimately, this heightened level of customization made it effortless for me to achieve a comfortable fit with the small/medium size, perfectly accommodating various torso lengths.
7. Sustainability:
One notable update in the latest version of the Osprey Atmos AG 65 pack is the integration of more environmentally-friendly materials into its design. The entire pack is now crafted using recycled nylon that is also bluesign-approved, ensuring that the chemicals and materials employed meet stringent environmental, worker, and consumer safety standards. 
Additionally, the durable water repellent coating applied to the pack is free from PFCs (perfluorinated chemicals) and PFAS (per- and polyfluoroalkyl substances), indicating a commitment to avoiding harmful fluorinated compounds. This enhancement further bolsters an already well-rounded design, and we commend Osprey for their efforts in advancing their collection with sustainable improvements.
To be honest this is one of my favorite parts of the review for the Osprey Atmos AG 65. It is always good to see these sustainability enhancements when it comes to products like this. Way to go Osprey – keep going!
The Smaller Osprey Atmos AG 50: Capacity and Fit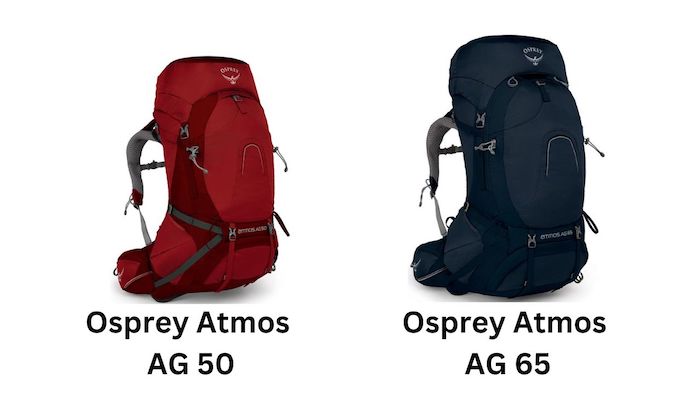 In addition to the 65-liter version reviewed here, Osprey offers the Atmos in a smaller 50-liter variant. My friend used this while doing the Mardi Himal Trek in Nepal, and she loved it! It was a perfect size for the 3/4 day trek, as it gave ample space for everything she needed without being too bulky or heavy.
The Atmos AG 50 comes with a slightly lower price tag of $280 and trims approximately 5 ounces of weight (in a size S/M). And despite the reduction in size, it maintains all the storage options found in its larger counterpart, along with features like the Anti-Gravity mesh back panel, side zippers for easy access to the main compartment, a floating lid, lower sleeping bag compartment, and well-padded hip belt and shoulder straps. 
While reviewing, we believe the 65-liter version provides greater versatility and is worth the additional $20 investment. However, for shorter trips and individuals accustomed to packing light, the Atmos AG 50 presents an excellent option for saving weight and cost!
Osprey Atmos AG 65 Competition:
The Atmos AG from Osprey holds the title of their premier backpacking pack, while the Aether takes things a step further as a heavy-duty hauler with enhanced comfort and features.
Although the Aether 65 no longer shares the Atmos' Anti-Gravity back panel, its AirScape design still offers decent breathability. It provides ample adjustability, attachment points, a J-shaped zipper for convenient access to the main compartment, and includes a rain cover. However, it does come at the cost of weight (4 lbs. 14.7 oz. for S/M size). The Aether serves those carrying substantial loads or seeking additional features. For most other scenarios, we recommend the lighter Atmos.
Another appealing option for carrying a fully loaded pack is the esteemed Gregory Baltoro 75. The Baltoro offers a central U-shaped opening to the main compartment, surpassing the convenience of the Osprey's side zippers. It boasts generous padding, good ventilation, excellent organization, and a hip-hugging suspension with pivoting shoulder straps that maintain stability on uneven terrain. Both options excel for long days on the trail, but our breakdown is as follows: If heavy-hauling comfort takes priority, go for the Baltoro. However, for most overnight and multi-day trips, the Atmos is the lighter and more versatile choice.
The Granite Gear Blaze 60 is another comfortable and fully-featured option worth considering, particularly for its weight. At only 3 pounds, it is significantly lighter than the 4 lb 9.8 oz Atmos. However, going lighter with the Blaze does entail some compromises. The Atmos offers superior padding around the shoulder straps and hip belt, more pockets, and a mesh-heavy back panel that provides better breathability compared to the Blaze's simpler foam design. For an additional $30, we consider the Atmos to be the more well-rounded pack, but the Blaze is a suitable choice for those who prefer a minimalist approach.
Osprey Atmos AG 65 Review is it worth it?
The Osprey Atmos AG 65 is an amazing all around trekking backpack. Its a pack that doesn't compromise on comfort, weight, durability, or organization. At the price point of around USD 300, it is a pack that you can take on short one day hikes, and even multi-day longer treks.
It has a great capacity, that can handle around 35 lbs, which is sufficient to carry everything you would need for a multi day trek. Moreover, even when you get to the weight limit, it still handles well and feels comfortable, even on the most difficult terrain.
We absolutely love this pack and would recommend it to beginners all the way up to experts. While reviewing this pack, we knew Osprey always came through on their promises to having superior packs – the Atmos AG 65 was no different!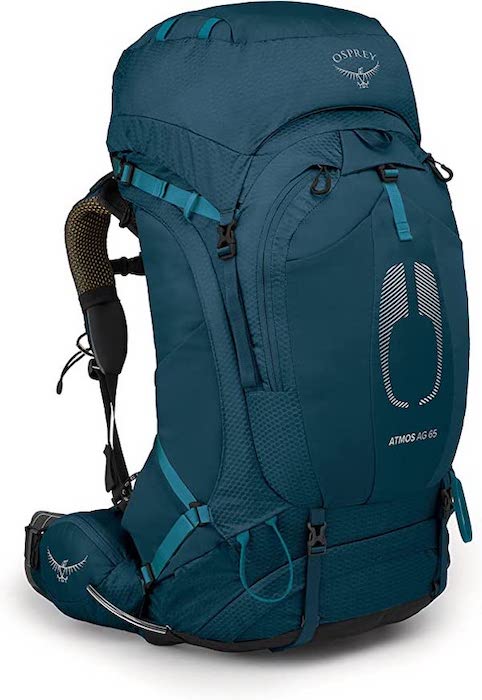 Price: $300
Weight: 4 lbs. 9.8 oz. (size S/M)
Capacities: 50, 65L
Amazon Rating: (4.9/5) 1,449 total reviews!
Google Rating: (4.7/5) 1,243 total reviews