The Aether line from Osprey is renowned for its creation of comfortable packs, and it stands as one of their finest packs. Recently, Osprey made significant adjustments to the collection, introducing a division within their core options: a standard model and a feature-rich, slightly more expensive Plus variation. However, the Osprey Aether 65 is still one of Osprey's finest bags, and one of the best trekking backpacks on the market in 2023.
The standard Osprey Aether 65-liter thoroughly impressed us with its performance. It boasts a robust suspension system, exceptional carrying capabilities, and an incredibly durable construction. Although it weighs nearly 5 pounds (far from being lightweight) the latest Aether model remains a top choice for those who prioritize comfort and require a pack with exceptional hauling capabilities. 
In this review, we dive into our experiences with the Aether 65 and talk about every aspect of the backpack so you can make an informed decision about if it's right for your hiking needs!
Quick Facts about the Osprey Aether 65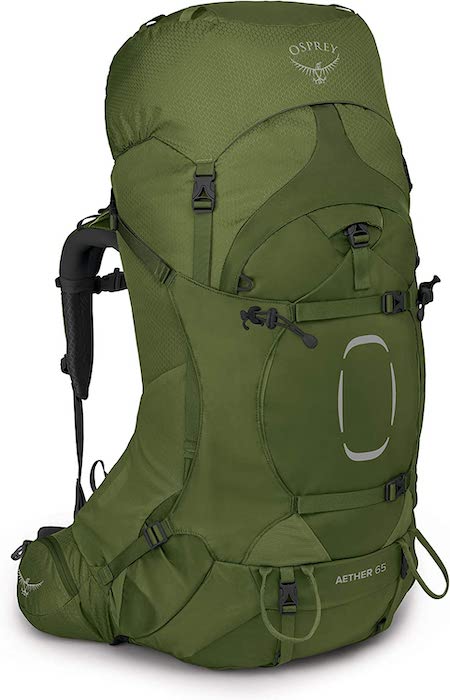 Price: $280
Weight: 4 lbs. 14.7 oz. (size S/M)
Fabric: Nylon (210D & 420D)
Capacities: 55, 65L
Amazon Rating: (4.5/5)
Google Rating: (4.7/5) 969 Reviews
What we like about the Osprey Aether 65
The latest Aether offers exceptional comfort and outstanding durability for transporting heavy loads across rugged terrain.
The Fit-on-the-Fly system allows easy adjustment of the shoulder straps and hipbelt padding, effectively customizing the fit for maximum comfort. This snug feel minimizes movement, even in challenging terrains.
The backpack boasts premium build quality with durable fabrics, a tear-resistant nylon shove-it pocket (unlike other designs that often use thin, easily damaged mesh), and sustainable materials.
The J-shaped zipper running along the front provides convenient access to the pack's main compartment.
What we don't like about the Aether 65
The Aether weighs close to 5 pounds, making it a heavy pack that exceeds the needs of many backpackers.
Given its feature-rich construction and high price, additional exterior storage options would be appreciated (consider upgrading to the more expensive Aether Plus for improved organization).
The AirScape backpanel provides slightly less ventilation compared to the previous generation's Anti-Gravity design, but it still offers decent breathability for most conditions.
Unfortunately, the Aether is only available in capacities up to 65 liters, which may be limiting for backpackers embarking on longer or gear-intensive trips.
Osprey Aether 65 Performance: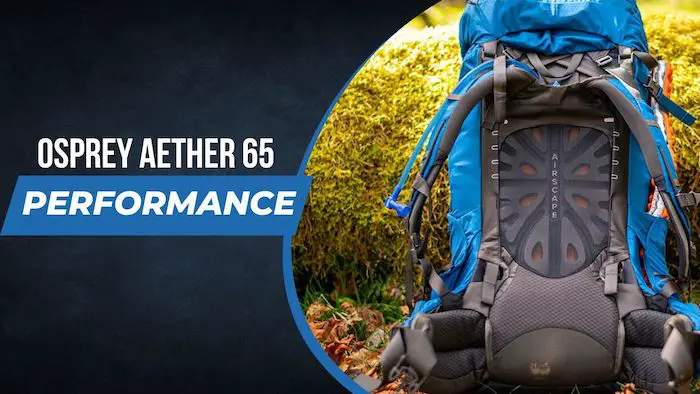 Let's start the Osprey Aether 65 review by looking into the overall performance of the backpack. As one of the top rated bags out there, it is great for trekkers looking to carry heavy loads on multi-day treks and hikes.
Let's look at the comfort of the bag, as well as the fit and organization while carrying it.
1. Carrying Comfort
Over the course of its existence, Osprey's Aether pack has established itself as a highly capable and dependable heavy-duty backpack, and the latest iteration upholds this reputation. I personally use this bag for all of my travel needs and longer treks in Nepal. And the 65-liter model has passed every test I have given it, even when I was carrying upwards of 45 pounds of gear!
The pack exceeded expectations in almost every aspect. The robust frame effortlessly accommodated and distributed the weight, while the firm yet incredibly supportive padding on the hipbelt and shoulder straps provided day-long comfort. Moreover, the pack's easily adjustable design ensured it remained snug against my back, even while navigating challenging off trail sections and obstacles on the trek.
A pivotal aspect of the pack's comfort lies in its upgraded and highly customizable fit system, known as "Fit-on-the-Fly." This innovative feature enables you to adjust the positioning of the padding on the hipbelt and shoulder straps using a rip-and-stick Velcro design, allowing you to find the most supportive and comfortable configuration for your body (Osprey provides helpful instructional videos to assist you with this process). 
Combined with well-placed lumbar cushioning and a well-ventilated mesh back panel, the Osprey Aether 65 fit snugly against my body and moved with exceptional agility, exhibiting minimal bounce or unnecessary movement. It is worth noting that the pack does come with a weight penalty, weighing in at nearly 5 pounds. In comparison, Osprey's lighter Atmos AG 65 model remains comfortable up to a 40-pound load. However, if you require a truly heavy-duty backpack for year-round use, extended expeditions, or trips with substantial gear, the Aether's reinforced construction and efficient weight distribution make it a worthwhile investment (rated to handle up to 60 pounds).
2. Osprey Aether 65 Weight:
Although it is slightly lighter than its predecessor, the Aether AG 70, weighing in at 4 pounds 14.7 ounces, the Aether 65 maintains its strong emphasis on durability and comfort rather than prioritizing weight reduction. However, it remains competitive within the heavy hauler category. 
It's important to note that many backpackers can opt for lighter designs such as Osprey's Atmos 65, weighing 4 pounds 9 ounces, or Granite Gear's stripped-down yet heavy-load-ready Blaze 60, weighing 3 pounds and rated to handle 50 pounds. However, for those seeking a luxurious and confidence-inspiring backpack, that you can carry heavy loads with ease,  the Aether's additional pound or more is worthwhile.
3. Organization of the Aether 65:
The organization of the Osprey Aether 65, while good, falls short of greatness. Starting at the top, there are two zippered pockets on the lid, although one of them houses the rain cover, resulting in a slight loss of capacity. The front of the bag features a large pocket, known as the "shove-it" pocket, constructed primarily with durable nylon to resist tears and abrasions (unlike most packs that use less sturdy mesh). However, it includes mesh strips along the sides for stretchability and ventilation. This space proves to be very useful for storing various items, ranging from jackets to a compact set of snowshoes. 
Moreover, the J-shaped zipper provides excellent accessibility to the main compartment, and the two hipbelt pockets are adequately sized to accommodate an iPhone 14. Finally, there is a convenient zippered sleeping bag compartment at the bottom of the pack, complete with a removable divider.
As expected, the Osprey Aether 65 also offers reliable water storage options. The two water bottle pockets provide both top and side access, making it easy to grab a bottle without removing the pack. Furthermore, the stretchy material of the pockets can securely hold a Nalgene bottle even when the interior of the pack is full, a problem we saw with some other designs we recently tested. On the interior, the Aether has the standard hanging loop, sleeve, and exit port for a hydration reservoir.
Despite these positive aspects, we do have a few minor issues about the storage features. Ideally, we would have liked to see an additional pocket or two along the front of the pack, for better distribution of gear. We also found the hipbelt pockets to be positioned quite far back along the sides, requiring more effort to access compared to what we are accustomed to. This inconvenience is largely due to the Velcro waist adjustment system and may not affect everyone (it depends on the fit).
Finally, the latest version of the pack no longer includes the Stow-on-the-Go trekking pole attachment system on the shoulder straps, a feature present in the previous generation (though the pricier Aether Plus still retains this feature). Nevertheless, the pack does provide two sets of loops and bungee cinches along the front to secure items such as poles.
4. Backpack Ventilation:
Deviating from the AG (Anti-Gravity) back panel of its predecessor, the latest iteration of the Aether pack introduces Osprey's AirScape design.
The AirScape design incorporates less suspended mesh in the middle of the back, resulting in reduced airflow between the pack and your body. Our fellow trekkers have stated that the new system falls short compared to the previous model and Osprey's Atmos AG pack (which still utilizes the Anti-Gravity design). 
On a positive note, the breathability remains decent, thanks to sizable cutouts in the foam along the back and sufficient mesh to facilitate airflow. Given the intended uses of the Aether pack, we believe that the slight decrease in ventilation is far from being a deal-breaker.
5. Weather Protection:
The Osprey Aether 65 has well-thought-out features that make it an excellent choice for trips in challenging weather conditions. The combination of robust fabrics, a durable water repellent (DWR) coating, and the inclusion of a rain cover ensures its solid performance. 
While some packs go the extra mile with waterproof paneling and fabrics, such as Hyperlite Mountain Gear's Dyneema packs and the Bora AR 63, we still consider the Aether pack to be a highly reliable option for all four seasons.
6. The Osprey Aether 65 Build Quality and Durability: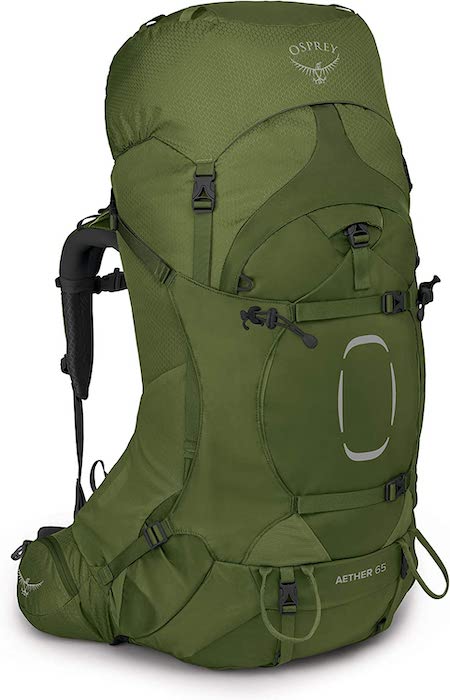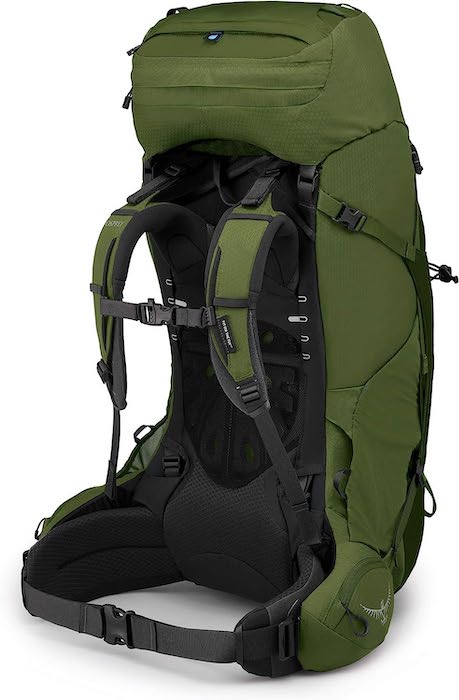 In contrast to our experiences with lightweight backpacking packs on similar trips, we approached the Osprey Aether 65 with little concern for treating it roughly. The pack's construction incorporates strategically placed, durable 420-denier (D) nylon along the front, top, and bottom, offering maximum resistance against tears and abrasions. Additionally, a lighter yet still robust 210D material is utilized in other areas to reduce weight. 
In practical terms, the Osprey Aether proved to be exceptionally rugged and fully capable no matter what we threw at it during our trip. Even the spacious front pocket is reinforced with thick nylon instead of the more common mesh, which tends to be a vulnerable point on many packs. 
Through our limited testing, we have found that the Aether does a great job standing up against the harshest terrains, and it seems to be a bag that will be durable long-term.
7. Fit and Sizing:
Achieving the perfect fit in a backpack often entails trying on multiple models consecutively, yet we continue to be amazed by the exceptional fit of Osprey bags. When it came to testing the fit on the Aether we tried it on with both an 18-inch torso and a 20-inch torso. We found the small/medium Aether 65 to be an excellent match. 
The adjustment system for the shoulder straps and hip belt padding proved to be well worth the effort in fine-tuning the fit. Despite being available in only two sizes (while many high-end designs offer three or more), the customization options provided by Osprey make it effortless for most backpackers to attain a close, snug, and comfortable fit.
8. Sustainability of the bag:
In the latest Aether series, Osprey has implemented some notable changes towards using more sustainable materials – which we were really excited to see! This includes the adoption of a PFC-free DWR coating and the utilization of bluesign-approved fabrics. 
By eliminating perfluorocarbons from the pack's water-repellent treatment, Osprey has taken a proactive stance in removing harmful substances that have long-lasting environmental impacts. Additionally, the bluesign-approved certification assures that the materials used in the Aether's construction meet stringent safety standards for workers, consumers, and the environment. 
Other Versions of the Osprey Aether:
For this Osprey Aether 65 review, which is part of a collection that also includes a smaller 55-liter model. When compared to the 65L pack, the Aether 55 offers a lower price and weight at $260 and 4 pounds 13.2 ounces, respectively. However, most features remain consistent, including the Fit-on-the-Fly adjustment system, included rain cover, trekking pole loops, and durable fabrics. 
Additionally, Osprey offers "Plus" models within the collection, which provide extra exterior storage, convertible top lids that double as daypacks, and come in capacities of 60, 70, 85, and 100 liters. Completing the collection is the Aether Pro 70, a streamlined variation designed with removable features for mountaineering and alpine climbing purposes (the medium size weighs 3 lbs. 15 oz.).
Women's-Specific Osprey Ariel: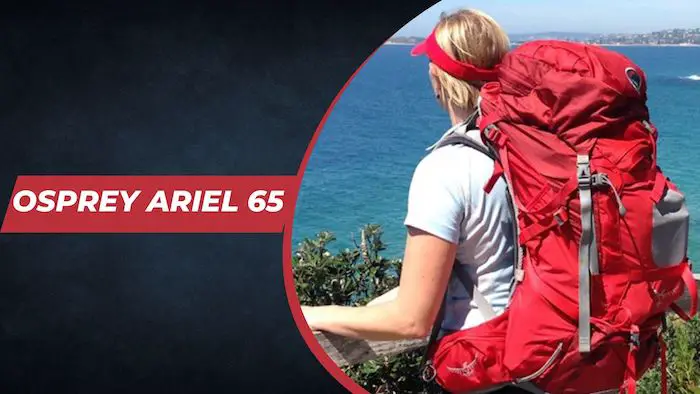 The Aether pack has a women's-specific counterpart called the Ariel, and much of the collection mirrors the men's models. Within the standard Ariel lineup, you have the choice between 55- and 65-liter capacities. The key distinctions include available color options, lighter weights, and unique sizing options tailored to accommodate smaller frames. For instance, compared to the Aether 65 pack reviewed here, the women's Ariel 65 weighs in at 4 pounds 13.6 ounces and is available in XS/S or M/L sizes. 
Similar to the Aether range, the Ariel collection also offers beefed-up Plus variations in capacities of 60, 70, and 85 liters. Additionally, there is a 65-liter Pro option within the Ariel lineup, designed specifically for alpine adventures or those seeking a lightweight pack.
The Osprey Aether 65's Competition:
The pursuit of lighter gear in backpacking doesn't negate the demand for luxurious packs, and Osprey's Aether has maintained its popularity for good reason. Its closest competitor in terms of price and intended use is the Gregory Baltoro 75. Both packs excel at carrying heavy loads over long distances with exceptional padding and organization. The Baltoro sets itself apart with a pivoting hipbelt, superior exterior storage including two large zippered front pockets, and a slightly lighter weight (the medium size weighing 4 lbs. 13.4 oz.). Gregory offers the Baltoro in higher-capacity options of 75, 85, and 95 liters, catering to longer expeditions or those requiring more gear.
As mentioned earlier, Osprey's Aether lineup includes the Aether Plus, available in capacities ranging from 60 to 100 liters. Compared to the standard Aether 65, the Aether Plus 70 comes with an additional $80 cost but addresses some of the previous concerns. It offers extra exterior storage, notably the dual front panel zippered pockets, and the aforementioned higher capacities. Extras like a convertible top lid that serves as a daypack and the Stow-on-the-Go trekking pole attachments are included, although they may not be essential for everyone. However, these additions do come with a weight penalty (the Aether Plus 70 weighs 5 lbs. 9.7 oz.), but the added storage and space may make it worthwhile for some trekkers looking to carry heavier loads.
Another option worth considering is Osprey's highly popular Atmos AG 65. As previously mentioned, the Atmos has a lower weight carrying capacity compared to the Aether (comfortable up to 40 lbs.) and lacks zippered access to the main compartment. It also forgoes the Aether's Fit-on-the-Fly adjustment system for fine-tuning the shoulder strap and hip belt padding, although it still offers plenty of customization. With a weight of 4 pounds 9 ounces, the Atmos is considerably lighter, and its suspended mesh back panel provides a snug fit and excellent ventilation. Ultimately, both the Atmos and Aether are exceptional and well-crafted Osprey designs, but most backpackers will likely prefer the lighter and still highly comfortable Atmos.
For those seeking an ultralight alternative to a heavy hauler, Granite Gear's Blaze 60 is worth considering. Weighing in at just 3 pounds, the Blaze is nearly 2 pounds lighter than the Aether 65 without compromising performance. Its sturdy frame sheet and ample padding effectively carry a full load (rated up to 50 lbs.), and the design offers high adjustability with a Velcro-based system for the torso and waistbelt. The major trade-offs come in terms of durability and ventilation. The Blaze incorporates less rugged materials, including a combination of 100D and 210D Robic nylon, to reduce weight. However, these sacrifices are relatively minor considering the impressively lightweight construction, making it a compelling choice for most modern backpackers and trekkers.
Osprey Aether 65 Review is it worth it?
The Osprey Aether 65 stands out as an exceptional backpack for trekking. It excels in comfort, weight, durability, and organization, making no compromises. With a price tag of approximately USD 280, it is a backpack at a great price point for trekkers looking for a pack that can go the distance on multi-day treks.
Boasting an impressive capacity, it can accommodate around 45+ lbs, ensuring ample room for all your essentials during extended expeditions. Even when pushing it to its weight limit, the pack maintains excellent handling and comfort, even on challenging terrains thanks to its adjustable fit.
I personally love this bag and use it for all of my longer trekking needs, and even as my regular travel bag while going overseas. We would recommend this to any hiker looking for a heavy duty bag that can cary everything you may need for your trek. However, if you are only going for shorter day hikes or multi-day hikes, the Osprey Aether 65 may prove to. be too much bag.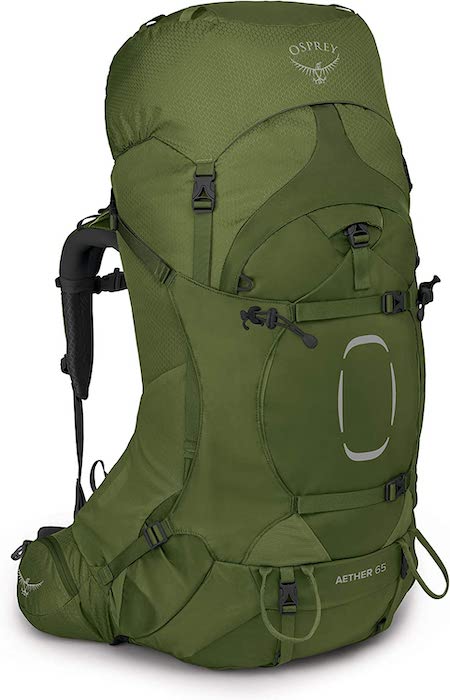 Price: $280
Weight: 4 lbs. 14.7 oz. (size S/M)
Fabric: Nylon (210D & 420D)
Capacities: 55, 65L
Amazon Rating: (4.5/5)
Google Rating: (4.7/5) 969 Reviews