​​Nepali Dhaka (Dhaka Fabrics) is a hand-woven textile popular for its unique colors, designs and products. Nepali Dhaka holds special significance in Nepali culture and heritage both domestically and internationally for its production and use. Dhaka fabric and products are emerging as a handicraft product that can strengthen Nepali tradition, identity and pride outside of Nepal. The specialty of Nepali Dhaka is that it is woven on wooden handlooms by using multi-colored cotton threads.
Nepali Dhaka can be found throughout the country and holds a very important spot in Nepali culture and traditions. The fabric is an important economic source for women throughout the country, which provides them with a means to economic freedom. Moreover, the weavers are able to express their creativity by producing new patterns and designs how they see fit. 
These handmade Dhaka textiles are a testament to the hard work and creativity of the weavers throughout the country who spend countless hours, preparing their looms, and creating beautiful pieces of fabric to be used in Nepali traditional dresses, scarves, Sarees, shawls, vests, Topis (Nepali hats) and many other garments. 
This article takes a look at Dhaka fabrics and their importance in Nepali culture, as well as the fabrics history and production process.
What is Dhaka fabric?
Dhaka is a handmade textile that is produced in Nepal. The fabric is made on a traditional handloom, by weaving together different colored threads to make different products and designs.
Dhaka fabrics can take hours and even days to make, depending on the width and length of the fabric. The handmade textile is usually made in long sections of cloth, using repeated designs throughout the fabric. After the preferred length is met (upwards of 20 meters at a time), the fabric is cut into different lengths and then taken to a seamstress to produce various clothing garments.
The history of Nepali Dhaka textiles:
There are different opinions regarding the start of Dhaka weaving in Nepal. In the Eastern parts of Nepal, the history of Dhaka fabric is linked directly with the Limbu culture. Which states that dhaka weaving started centuries ago and has been an important component of traditional dresses for Limbus. However,  in the central parts of Nepal, particularly in the Kathmandu valley area, the introduction of Nepali Dhaka is linked with the late Prime Minister Janga Bahadur Rana (1846-1877). 
It is said that his sister who lived in Varanasi in India, gifted a Dhaka Topi to her brother, which sparked his fascination with the handmade fabrics. Thereafter, Dhaka production started in the Kathmandu Valley and quickly gained popularity. In the Lubhu area of Lalitpur (which is part of the Kathmandu Valley), till this day households still have Dhaka looms.
In the western parts of Nepal, Dhaka production is considered to have begun in Tansen, Palpa district around 60 years ago. Palpa is now a hotspot for Dhaka textiles and productions, and is known as Palpali Dhaka. Which is considered by many Nepalis to be the finest Dhaka products of the country.
For hotspots of Dhaka textile production in Nepal, the following three locations are considered the most distinguished production hubs:
Tehrathum district in Province 1 of Nepal 
Lalitpur district in Bagmati Province
Palpa district in Lumbini Province
Dhaka Fabric Transition – Traditional to Modern Wear:
Over time, Nepali Dhaka has made a shift in production and trading from traditional designs and production methods to more modernized methods and patterns. Moreover, the fabric has also found a wider use in Nepal, switching from only being used for specific festivals and community functions to a more wide and common use. Traditional Dhaka products are Topi, Cholo, Pachyauri, Daura and Suruwal, which appeal to more traditional consumers of the fabric and clothing. 
On the other hand, modern Dhaka products are now available in the market in new forms and designs. Dhaka products range from 'one piece' targeting young women, to 'bags and ties' targeting younger populations, and are now also being used for footwear, which also target the younger generation. In the past 30 years, particularly after the 2000s, there has been a shift in product diversification as well as market diversification.
This means, that the market for Nepali Dhaka products has extended to outside of the country. These countries include: the USA, Europe, Japan, Australia and other western countries. Due to the shift in market to foriegn countries, and better market penetration in Nepal, there has been an unprecedented growth in Nepali Dhaka fabrics and demand for additional weavers.
Weaving Nepali Dhaka fabrics is also a major source of income and livelihood for many rural poor and  peri-urban poor communities. Not only is it an important income source for families, it is also a handicraft industry that is dominated by women, as their employment and involvement greatly outnumbers that of men. Whereas, there are roughly 7,000 women directly involved in the production of Nepali Dhaka textiles. Therefore, Dhaka from Nepal plays a significant role in the employment and empowerment of women in Nepal.
How is Dhaka fabric produced:
It is said that the late King Mahendra played a role in expanding the market and promoting Dhaka fabric throughout the country. Whereas, in 1960, the King made an order for civil servants to wear Nepali Dhaka Topi while they were working. Thereafter, Dhaka was developed into a national image and a symbol of provide for many Nepalis. Pride for Nepali Dhaka has been so high In recent years, that Nepal even celebrates a Dhaka Topi Day on January 1st each year. In the initial years, this Day was celebrated by Nepalese abroad only. Now it is celebrated everywhere. 
Nepali Dhaka is produced on wood looms (sometimes made of metal) and are operated by using both of your feet and hands. The weaver sets up the loom by pulling a large spool of thread, with hundreds of strands tight from one side of the loom to the opposite side. Next the weaver has to weave the colorful thread in and out of the base thread (which is usually white or black). After the entire row of colorful thread has been added, the weaver then sends the loom shuttle across and pulls all of the thread tight together.
Weaving on these traditional machines is labor intensive and very difficult. It takes the Dhaka weavers multiple hours to make one meter of Nepali Dhaka cloth.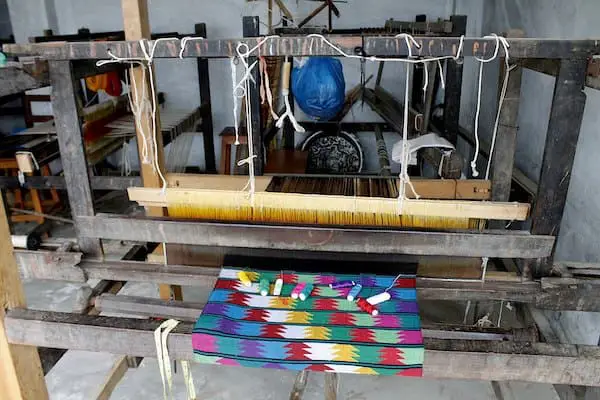 In terms of Dhaka fabric production, one of the largest producers of Dhaka fabrics in Nepal is that of Ganeshman and Purnamaya. They  started producing Dhaka fabrics in Tansen, Palpa, Lumbini Province of Nepal in 1957. Their company is named Palpali Dhaka Kapada Bunai Udhog and they began their business with a total of seven handlooms. Which they purchased through a loan they acquired for NPR 3000. 
They have successfully and consistently grown their business, and during the peak production time, they had more than 500 looms and employed over 500 women to run and operate the hand looms. During the early years of their business they were able to control the market, and grow their Dhaka production to a significant size. However, as time has progressed, more and more Dhaka textile producers have popped up across Nepal.
Where is Nepali Dhaka fabric produced?
Currently, there are about 18 different Dhaka producers registered in Palpa alone. Palpa is not the only district that has seen a steady increase in Dhaka companies. Whereas, in other districts like Nawalparai, Gulmi, Rupandehi and Kapilvastu, many other women have started their own Dhaka producing businesses.
As new Dhaka weavers have entered the market, so has the introduction of new designs and colors. Whereas, traditional Dhaka cloth utilized mainly black, white, and orange. Now, however, producers are using a variety of bright and vibrant colors including: blue, green, yellow, maroon, pink brown and whatever other colors they can work into their designs. 
Moreover, with the addition of new colors, they have also begun using new threads as well. Traditional Dhaka fabric was only made from cotton, now weavers are introducing synthetic threads as well as silk into their fabric to give it a new dimension and make the cloth extremely soft. 
Finally, Dhaka has traditionally been a handwoven and handmade textile, making every piece unique and special. However, as the handicraft continues to modernize, the introduction of machine looms has continued and resulted in a dip in the market for many weavers. Whereas, many consumers are not aware of the intricacies and differences between machined made and hand made. Therefore, they get confused about the price of the handmade fabric and demand discounts, in order to match the less fine, and lower quality machine made Nepali Dhaka fabric products.
The use of Nepali Dhaka – Clothes, bags, shoes and so much more!
The use of Dhaka fabrics has exploded recently, thanks to the introduction of Dhaka into more modern fashion. Whereas, Dhaka cloth can now be found in footwear, shirts, dresses, sarees, scarves, jackets, shawls and much more. Furthermore, many ethnic groups in Nepal have their own slight variation on needs for Dhaka cloth due to their traditional clothes. These ethnic groups consist of the following communities: Newar, Limbu, Chhetri, Magars, Gurungs. 
For example, a Mekhli type Saree can be connected with Limbu cultural dress; Hakupatasi style can be linked with Newar; and a Gunyu Choli can be linked with Chhetris. Additionally, Dhaka fabric (Dhaka kapada in Nepali) is now a favorite among women in Nepal for everyday use and not just festivals. Whereas, Choli, another women's wear is designed in fusion with Dhaka and non-Dhaka fabrics to give the outfit a traditional but trendy look to it. Dhaka fabric can be used in winter and summer and because of the versatileness of the fabric Dhaka producers are getting creative to produce as many types of garments and handicrafts as possible.
Whereas, many Dhaka producers are now producing evening gowns, Dhaka overcoats, shawls, stoles, scarves, tablecloth, place mats, purses, cushion covers, shoes, ties, wallets, and everything in between. Dhaka weavers are excited about the potential of the cloth and are pushing for other Dhaka producers to be creative and not limit themselves to traditional styles only.
Famous Nepali Dhaka Clothing Products:
Below is a collection of some of the most famous types of clothing made from Dhaka fabric in Nepal. I have included photos of each so you can see how the pattern and design varies from each piece of fabric. The different Dhaka designs for each type of clothing is hand woven, and unique to its weaver.
Nepali Dhaka Dress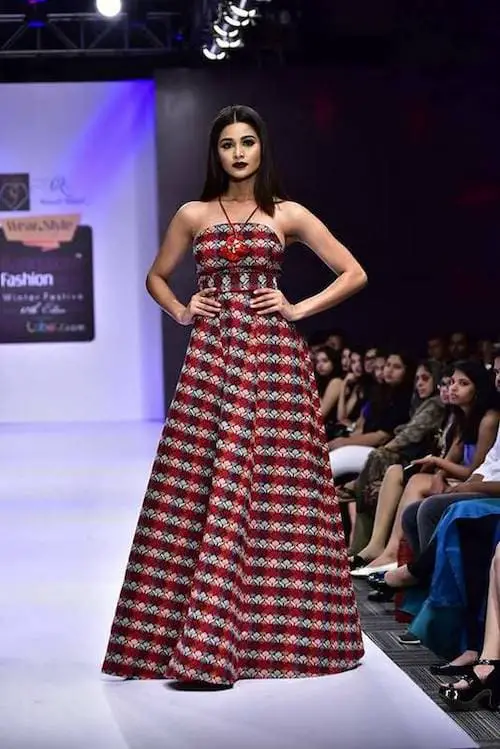 Nepali Dhaka Saree: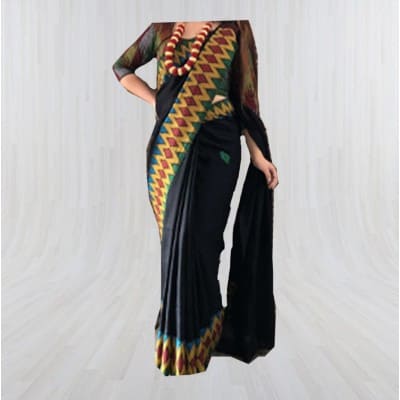 Nepali Dhaka Coat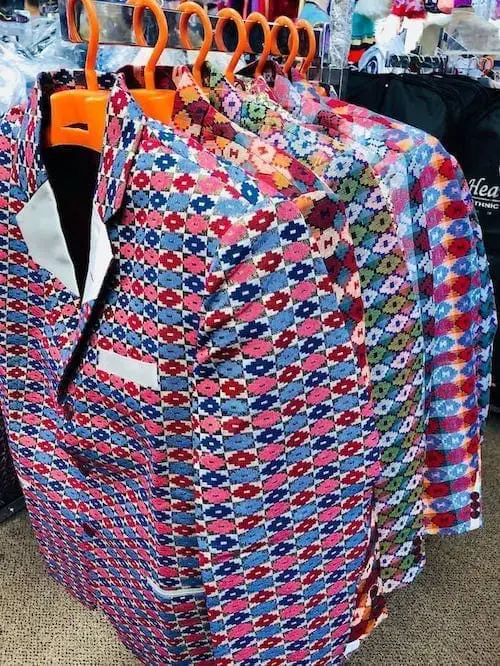 Nepali Dhaka Kurta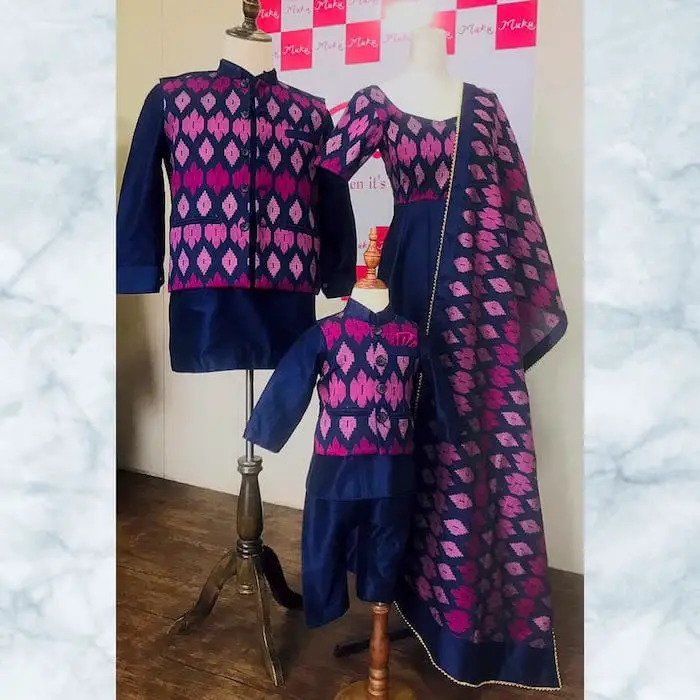 Nepali Dhaka Topi / Dhaka Topi Nepal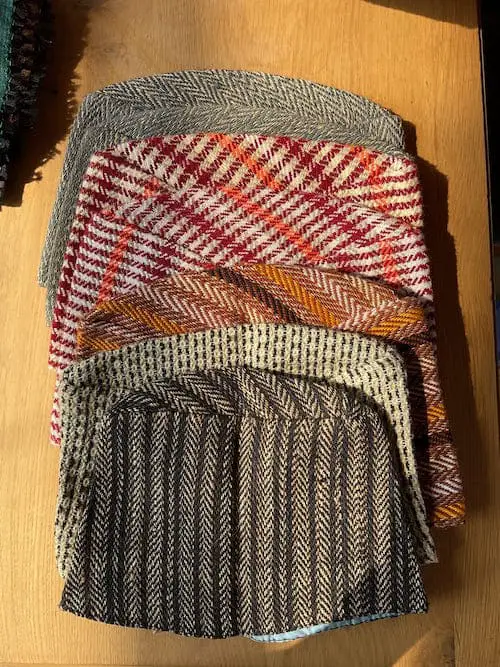 Nepali Dhaka Fabric / Nepalese Dhaka Patterns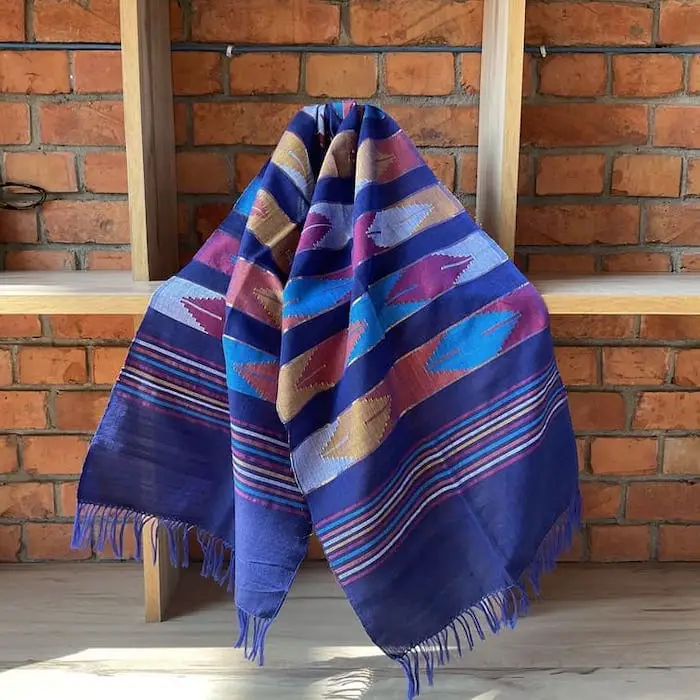 Nepali Dhaka Choli / Nepali Dhaka Lehenga Choli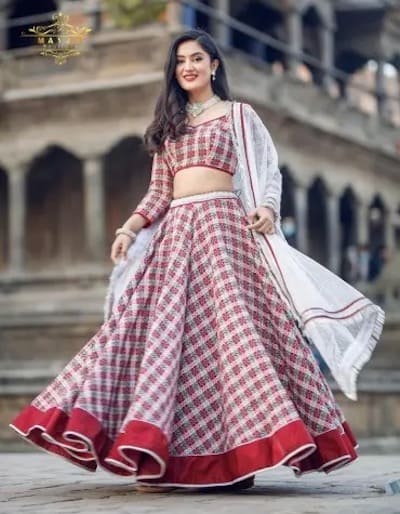 Nepali Dhaka Daura Suruwal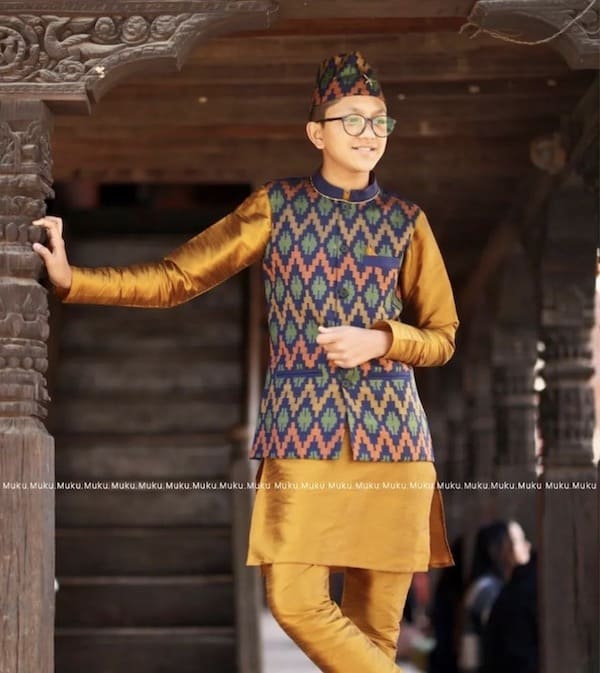 Nepali Dhaka Bag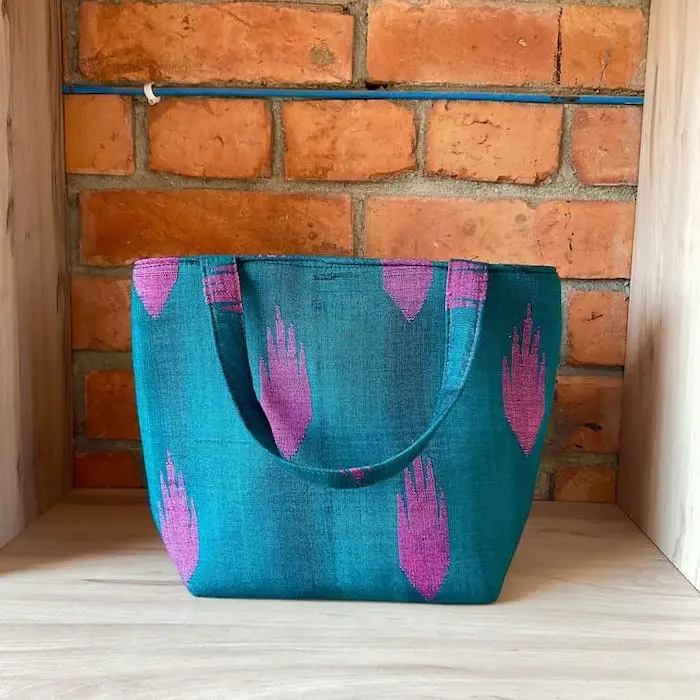 Nepali Dhaka Purse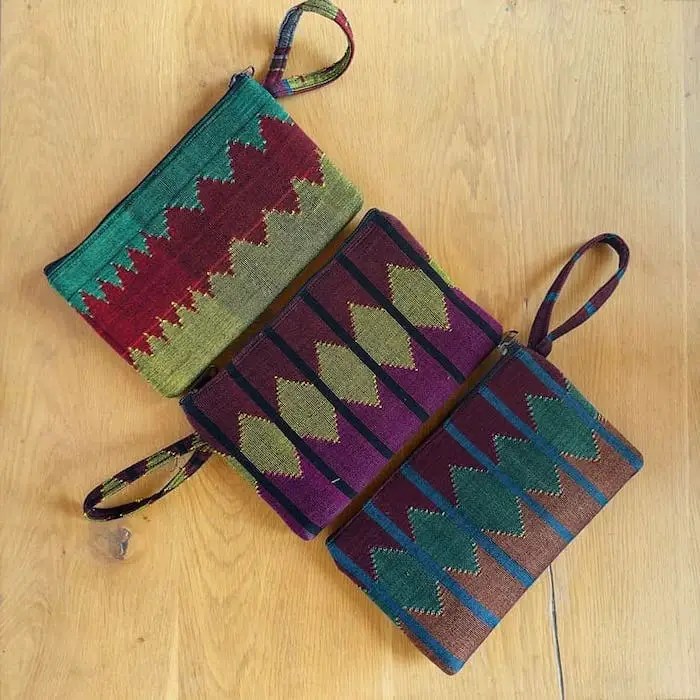 Nepali Dhaka Shawl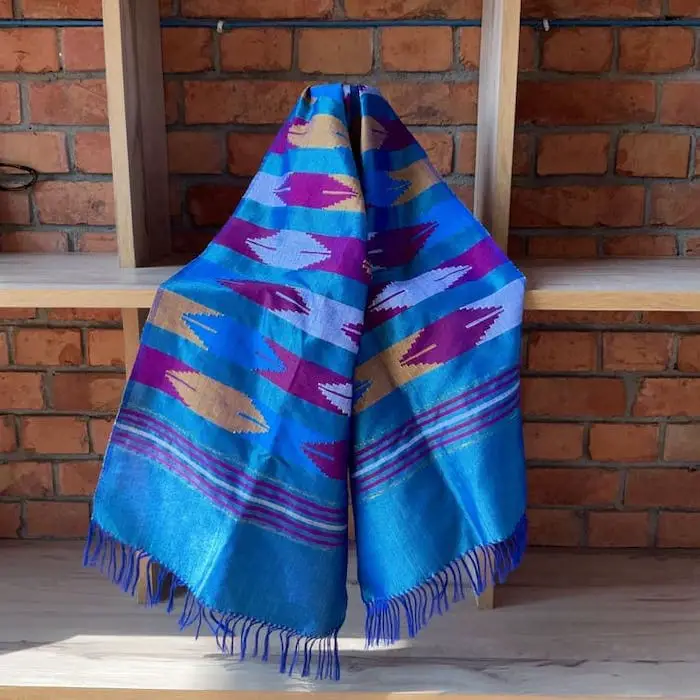 Nepali Dhaka Wallet: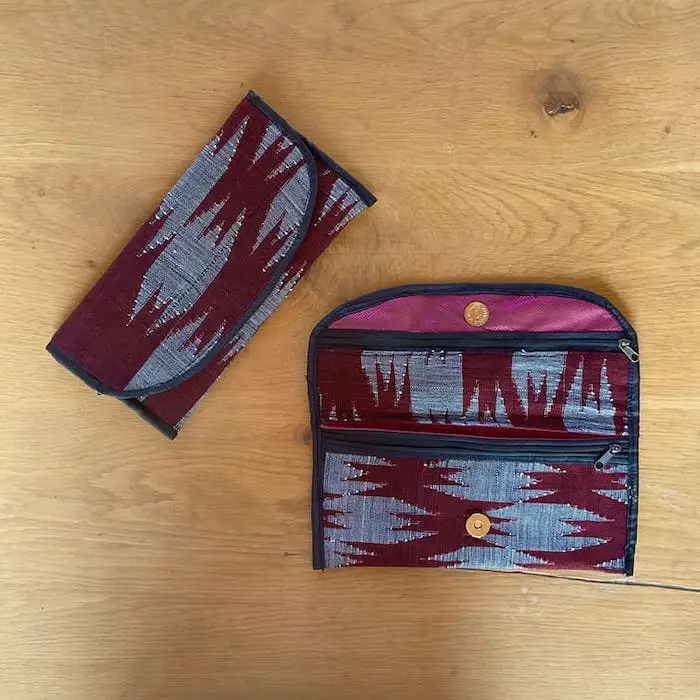 Nepali Dhaka trading and marketing
Most of the Dhaka produced in Nepal is consumed in the domestic market. Dhaka producers in Palpa said that 50% of their Dhaka product is sold from Tansen based outlets. With the rest being supplied to traders/wholesalers/retailers in Kathmandu, Pokhara, Narayangadh. If you are traveling Nepal, and looking for a modern Dhaka garment to wear, or to take back home as a souvenir, then Kupondole in Kathmandu, Kalamandir, and Mahaguthi are the best outlets to find modern designs in every shape and color.
Additionally, the best time to get your Dhaka products is during mid-September to mid-March because of the upcoming Dashain and Tihar festivals in Nepal. However, make sure to remember that supplies will go quickly as many Nepalis are purchasing Dhaka items to wear and to give away as gifts to friends and family!
Nepali Dhaka weavers have also begun to find a market abroad. Whereas, they have gradually begun penetrating the markets of the USA, India, United Kingdom and other European countries, Japan, Australia and many more. The major exportable products of Dhaka are curtains, wall hangings, cushion covers, table linen, bed linen, bags and accessories.
One Nepali Dhaka dress designer has even been able to establish her company in the USA in collaboration with the American based company named Tisa. Recently, she has opened 'Kalpana Dhaka Showroom' at Tuxon Mall in Arizona, USA. Moreover, she also has her own Dhaka Boutique in Bauddha of Kathmandu named – The Highland Art (Kalpana Dhaka Boutique). Kalpana, has a variety of design skills for traditional as well as modern Dhaka products. 
Kalpana's Dhaka production company employs around 150 women and she organizes Dhaka Fashion Shows in major cities of Nepal. Kalpana works with the women to produce new and fashionable high-end Dhaka products including dresses and sarees.
Nepali Dhaka Fabric: A New High End Fashion
Dhaka fabric is important not only culturally but also for the women producers around Nepal. Dhaka weaving is a means of economic freedom and creative expression for women in the country. As Dhaka producers continue to expand their markets to countries abroad, so will they be able to expand their businesses to support more women in their communities.
Nepal has a diverse and productive handicraft business, and Dhaka fabric is a testament to this. The struggle for the handicraft industry in Nepal will continue to be the ability to locate and penetrate markets abroad. Whereas, they have enough production capacity, but due to difficult logistics in the country and the expense of moving products around the world, they have struggled to be competitive. However, hopefully as the country continues to improve, we will be able to see Dhaka producers in Nepal gain the recognition in the international market and fashion industry they deserve! 
If you are curious about other textiles produced in Nepal, have a look at our Pashmina in Nepal: What is it and how is it made, blog!