Resting near the iconic World Trade Park, Brew Together in Jaipur stands as a hidden gem awaiting discovery. As you approach the cafe, the allure of the cafe's exterior captivates your senses with its enchanting arched windows. These whimsical architectural elements weave a tale of elegance and charm, infusing the space with a sense of timelessness. The arched windows serve as a visual masterpiece, their soft curves gracefully juxtaposing against the linear, horizontal and vertical lines of the traditional doors and windows. 
Stepping inside Brew Together, one of the best cafes in Jaipur, the atmosphere instantly envelops you, a seamless fusion of warmth and creativity. The interior design effortlessly carries forward the concept of the arched windows, as if one has entered a world where time and space have melded to create something truly unique. The wooden tables adorned with cutlery and little kitchen knick knacks truly makes the cafe cozy and an inviting ambiance.
Brew Together is open from 10am to 2am meaning you can spend all day relaxing and eating great food! Speaking of food, lets take a look at what they have!
Food and Drinks Rundown of Brew Together
We found Brew Together when we were hustling around the World Trade Park (our favorite shopping place in Jaipur!), to find a decent cafe for us to work. With the perfect seating, ambiance and a chilled atmosphere, we were happy to have found a cafe like Brew Together. 
From the moment you step through our doors, you'll be greeted with warm smiles and a charming atmosphere that invites you to relax, unwind, and indulge in their amazing coffee and food! Whether you're craving a perfectly brewed cup of coffee, a refreshing smoothie, or a mouthwatering dish, Brew Together promises to satisfy your appetite and leave you craving for more. 
Brew Together Drinks: Amazing Coffee in Jaipur
We both love coffee and here are the variations of different coffee drinks we tried at Brew Together:
1. Caramel Frappe: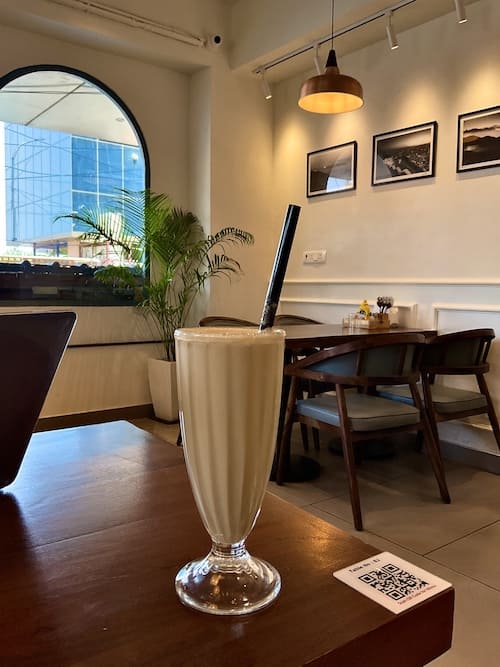 Whenever it comes to drinking coffee, I always get any type of coffee with Caramel. And the cafe's Caramel Frappe was a cloud of heavenly sweet indulgence. As you take your first sip, the velvety blend of rich caramel and creamy goodness dances on your taste buds, creating a symphony of flavors that is both decadent and refreshing. 
The smooth texture tantalizes your senses, while the subtle hint of caramel swirls around like a whispered secret. Each sip is an invitation to surrender to the lusciousness that only a perfectly crafted frappe can offer. Whether you're seeking a delightful pick-me-up or a cold treat to satisfy your sweet tooth, the Caramel Frappe at Brew Together will leave you craving its irresistible charm long after the last sip.
2. Brownie Frappe: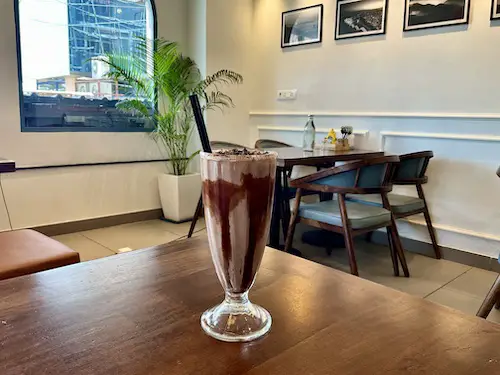 Anything that has to do with chocolate, Pooja goes crazy for it. She ordered the Brownie Frappe and she couldn't stop talking about it. A masterpiece that effortlessly blends the richness of chocolate with the coolness of a frappe. The velvety smoothness of the frappe embraces your palate, while the essence of decadent brownies lingers in the background. 
Each sip is a journey of discovery, with bursts of chocolatey bliss and undertones of nostalgia. The perfectly balanced sweetness leaves a satisfying, lingering aftertaste that will transport you to a realm of pure indulgence. The Brownie Frappe at Brew Together cafe is a treat that transcends mere refreshment, offering a sensory experience that will delight even the most discerning of palates.
3. Iced Caramel Latte: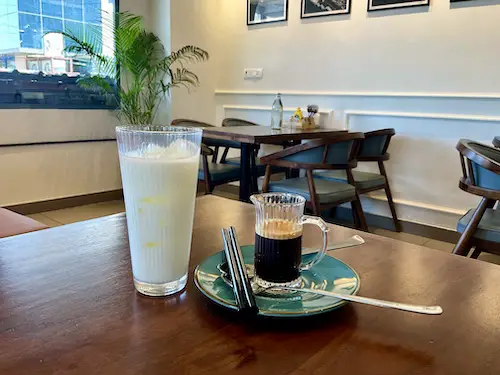 Of course caramel again! When we first came to Brew Together, I wanted to play it a bit safe and ordered the Iced Caramel Latte. I mean a latte can rarely go wrong. The latte is a delightful concoction of symphony of smooth espresso and velvety caramel, harmonizing together to create a masterpiece of flavor. 
With every sip, the robust notes of the coffee intertwine seamlessly with the caramel, creating a balanced and refreshing experience that will awaken your senses. Neither the coffee or caramel was overpowering and balanced each other perfectly. The ice cubes add a revitalizing touch, making it the perfect companion for super hot days in Jaipur. 
4. Cranberry Punch: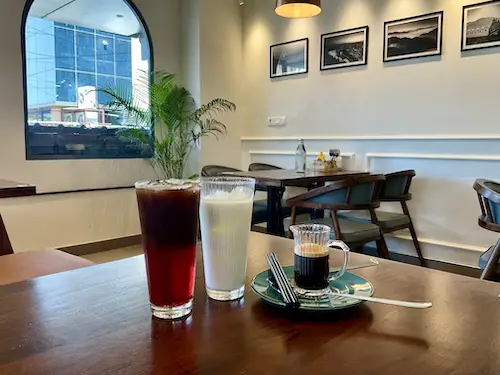 In Nepal, there are good cafes around that serve really amazing coffee, however, the majority of the coffee houses have the same menus. Therefore, being a bit fancy and stepping out of her comfort zone, Pooja wanted to order the Cranberry Punch. She did not like it. Not because the drink was bad, but because it was such an unusual mixture of flavors. Maybe it is an acquired taste. 
This refreshing punch combines the tangy allure of cranberries with a burst of invigorating flavors, creating a beverage that is both revitalizing and satisfying. You can taste the lively blend of cranberry, accompanied by subtle undertones of citrus and bitterness of the coffee. Whether you're looking to cool down after a long day or simply seeking a burst of flavor, this delightful creation at Brew Together is a punch of pure refreshment that will leave you feeling invigorated and fresh.
Brew Together Starters: 
You thought they only had good drinks? No, no no! Being one of the best cafes in Jaipur means you have to deliver on food too! And oh my god, did they surpass expectations with the Chicken Caesar Salad!
Chicken Caesar Salad
The Chicken Caesar Salad is an easy and delicious option for lunch or dinner. The exquisite blend of flavors and textures in every bite of the Chicken Caesar Salad is tantalizing. The vibrant bed of crisp romaine lettuce, elegantly arranged on a plate, entices your appetite. The lush green leaves provide the perfect canvas for an artful combination of ingredients. Tender, succulent slices of grilled chicken, marinated to perfection, are nestled among the greens, adding a savory and protein-packed element to the ensemble.
As you delve deeper into the salad, your fork encounters the captivating crunch of house-made croutons, a delightful contrast to the tender lettuce. Each morsel of the golden-brown croutons carries a delicate hint of garlic, infusing the dish with a subtle aromatic essence. Intertwined throughout the salad are delicate shavings of Parmesan cheese, imparting a nutty and salty flavor that harmonizes flawlessly with the other components.
Completing this culinary masterpiece is the creamy, tangy Caesar dressing, drizzled artfully over the salad. The dressing, a harmonious blend of garlic, anchovies, Parmesan cheese, and a hint of lemon, coats each ingredient, elevating the flavors and tying them together in a symphony of taste. With each bite, the dressing clings to the lettuce, imparting a luxurious creaminess that perfectly balances the vibrant crunch of the greens. And the most important part? They didn't skimp on the dressing, some places only give you a little taste, but Brew Together coated the salad with it making it amazing!
With every bite, you experience a delightful dance of flavors and textures—a harmonious blend of crispness, tenderness, creaminess, and robustness. The dish caters to both the palate and the eye, offering a visual feast and a gustatory adventure that leaves a lasting impression. 
Main Course: Chicken Pesto Pasta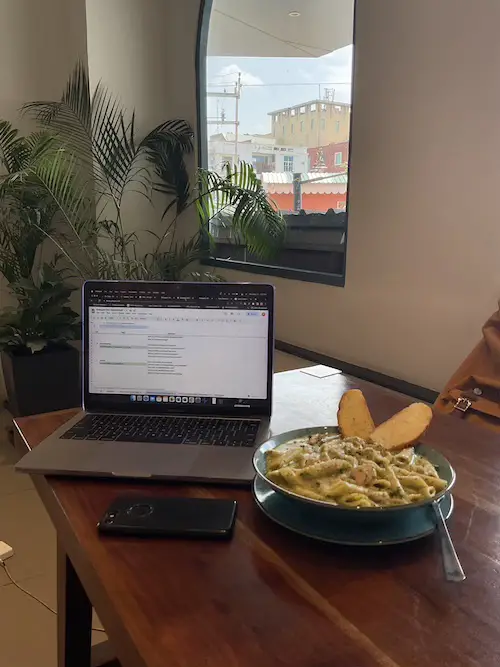 As me and Pooja are both big foodies, we have had the privilege of experiencing numerous pasta dishes, but this one truly stands out as a gastronomic triumph. Picture a plate adorned with al dente pasta, perfectly cooked to retain a slight firmness, providing a delightful texture to each bite.
Nestled among the pasta are succulent pieces of tender chicken, generously coated in a velvety pesto sauce. The vibrant green hue of the pesto is a visual delight, hinting at the freshness and herbaceous-ness that awaits. Basil, garlic, and Parmesan cheese come together harmoniously, creating a symphony of flavors that dance on your palate. 
.
As you twirl your fork, the fragrant aroma of basil fills the air and prepares you for the explosion of flavors to come. With each bite, the pasta entwines with the pesto, creating a divine union of taste and texture. The tender chicken adds a delightful protein element, further enriching the dish and creating a satisfying balance
The Pesto Pasta was a WOW, for us! Delicious, good portion size, and perfectly cooked. We were really impressed with this dish! We would definitely recommend this to anyone that goes to Brew Together in Mahalaxmi Nagar by World Trade Park!
The Verdict: Brew Together in Jaipur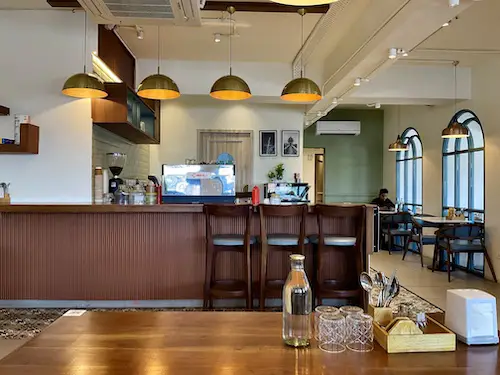 Brew Together is not just a cafe; it is an experience that stimulates both the senses and the imagination. As you savor your cup of coffee, you are transported to a realm where conversations flow freely and creativity blossoms. The ambience invites you to unwind, connect, and forge unforgettable memories. 
Additionally, we found that it is one of the best places to go and work. With a peaceful environment, fast internet, and delicious food, what more could a digital nomad want? They are open from 10 am to 2am, so there is plenty of time to come and work here throughout the day!
If that wasn't enough, the staff, with their warm smiles, further enhances the experience, ensuring that every visit to the cafe is met with hospitality and genuine care. From drinks to the main course, each item was a delight showcasing the culinary expertise and creativity of the cafe. The attention to detail, the use of quality ingredients, and the seamless execution of each dish were all evident in every bite. 
We had a really good experience and it is definitely one of our favorite cafes in Jaipur. It surpassed our expectations, leaving a lasting impression and a desire to return for more!