As we decided to live in Jaipur for a few months, we have been searching far and wide for the best cafes in Jaipur. From Google Maps to blogs, we have scoured the internet but sadly have failed to find the best places to eat in Jaipur. As we are budget-friendly travelers we look for restaurants that pack a punch when it comes to quality, and price. And because of this, we have decided to write this blog to make life easy for you!
Now that we have been living in India's Pink City for some time, we have been able to come up with a list of some of the must-visit cafes and best places to eat in Jaipur for people that love coffee, need a nice place to work or relax, and don't want to spend too much money!
Best Cafes in Jaipur:
Below are some of the best Cafes in Jaipur. So in case you are visiting the city during your Golden Triangle tour in India, you can feel confident that you will eat at the best restaurants. Lets dive into the best places to eat in Jaipur – and don't worry this will be an ongoing blog that will continue to grow as I venture out to new restaurants and cafes around the city!
Below is a map of the different cafes, restaurants and coffee shops around Jaipur.
Note: I have highlighted multiple FPF coffee shops around the town as they are a chain!
1. Brew Together: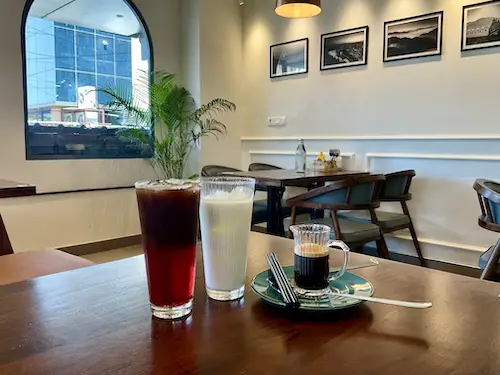 Located right next to the World Trade Park, Brew Together cafe is perfect for people leaving one of the best shopping destinations in Jaipur. With extremely comfy seating (comfy seating is the most important factor for me! I hate uncomfortable places I can't work at for long!) at the cafe, you can sit in the AC cafe with fast WI-FI all day.
The cafe has a wide selection of drinks and food that are all fairly priced. As a mid-range coffee shop, you can order anything on the menu without worrying about racking up too big of a bill.
We've tried a few different coffees here, a salad, and a past, and have never been disappointed. Also, the staff and owner here are extremely friendly and nice. They have helped a lot by giving us some insights about the city!
2. Town Coffee: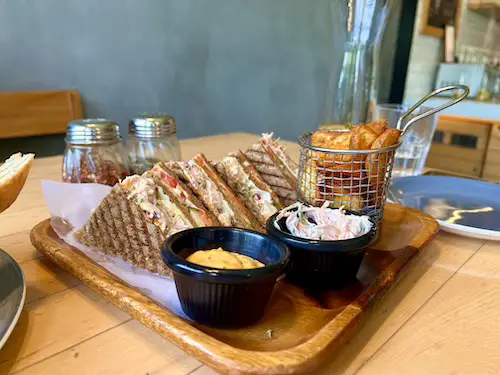 Pooja and I absolutely love Town Coffee! It is much larger than some of the other coffee shops on our list, meaning you never have to stress about finding a spot to sit. However, it does get super busy and loud because it is so popular! We stayed and worked here for hours because the food, drinks, and seating were so amazing!
Instantly as we walked into this cafe, we were impressed with it! And, during our entire stay, our excitement for the place only grew! From the delicious coffee we started with to the amazing hummus platter – and I mean amazing, I couldn't stop talking about how good it was while I was eating it.
The only drawback is the cafe is more expensive than the others on the list. Granted, it was only INR 40-60 more, so still extremely budget-friendly!
3. Half Light Coffee Roasters: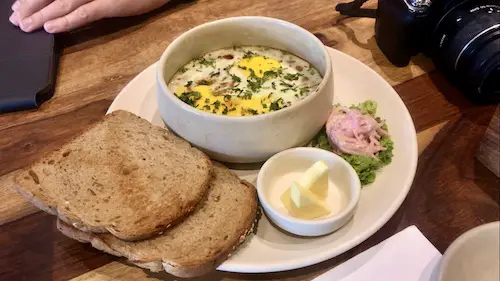 Half Light Coffee Roasters in Jaipur was impressive! It had Great seating and a good vibe, and there were a lot of people sitting and working there. The only thing is, it's pretty fancy and expensive! I think (I don't know because I'm not too fancy) it is a coffee bar, where you go to sip on exotic coffees.
All the coffee portions were smaller and served in posh glasses and in fancy manners. It almost seemed like you were supposed to drink the coffee like it was wine – smelling it while taking in the aroma and different notes. Or something like that.
Even though it is super fancy, it was a great place to sit and work during the day. They had a large array of drink and food options. Many of which I had never heard about before. The coffee shop is also located close to Jaipur's City Park and the Albert Hall Museum.
If you are a true coffee lover, this is the place for you! You can sit and chat with others while taking in the exotic coffee's aromas and flavors.
4. FPF – Coffee Wale Bhaiya: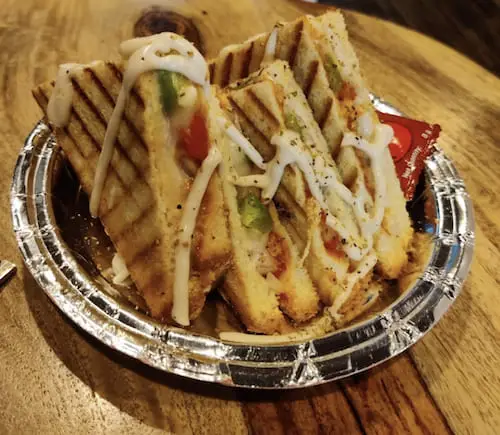 Now for the most budget-friendly place on the list, you can visit FPF. The full form is Fruit Punch & Food, and they do an amazing job giving you great food and drinks for a low price!
We have gone here multiple times, and it is always packed with people. With a lively environment, their specialty is shakes and fast food. After trying almost every shake there, FPF is always consistent and delicious. Making it the perfect place for a quick escape from Jaipur's heat.
This is the cheapest cafe on our list, but they won't disappoint. They are a chain, so you can find them all over the city, making it a safe place to visit when you need something tasty. Additionally, their fast food, like veg cheese Maggi, is amazing. For INR 100, you and a friend can share it and be completely full afterward. 
5 Curious Life Coffee Roasters (Red):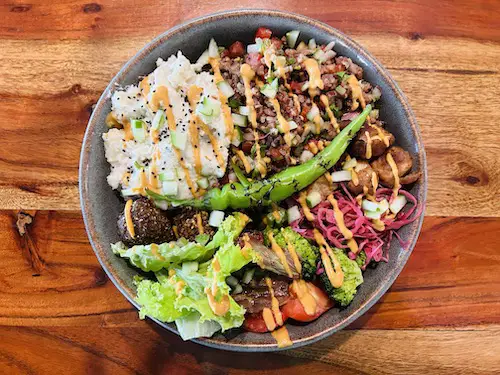 Now Curious Life Coffee Roasters is one of the best on the list. We absolutely loved this place when we went. The food, drinks, and ambiance were on point! The only problem was they didn't have WI-FI. 
You may have to pass on this place if you want to work while enjoying the cafe. And honestly, them not having WIFI is why we don't go here as often as we like. Located close to City Park, the location is great and close to the Albert Hall Museum. 
We even have some friends who live in Jaipur and swear by their coffee, stating that they have the best coffee in Jaipur! And it's hard to argue with them! The saving grace about this place not having WI-FI is that there are two different venues! They differentiate themselves by the color – Red and Blue. Red is much larger and has a lot of open space and places to sit. Blue, on the other hand, is much smaller and more intimate. Both are amazing, though.
Just be warned! This cafe does not have WI-FI! Crazy right??
6. Indian Coffee House: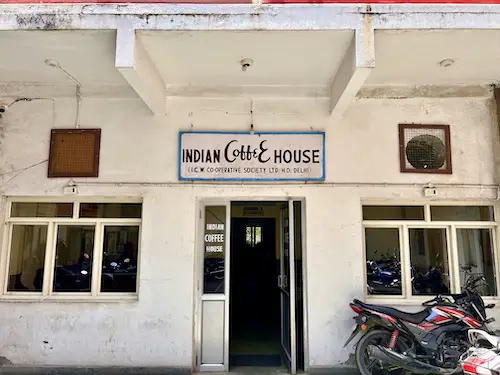 Now the Indian Coffee House is really cool. As one of the oldest coffee shops in Jaipur, it is built in the traditional style that reminds you of the 50s and 60s. The building the cafe is housed in is over 100 years old, with the restaurant being almost 70!
Tucked away close to the Ajmeri Gate and Albert Hall Museum, this cafe is a great choice to get cheap food and experience Rajasthani and Indian culture.
I think this is my favorite place on this list! I love the interiors, the drinks, and the food here! Everything on the menu is under 200 INR. Just be warned, this is not a great place to work at. To be honest, I don't even know if they have WIFI!
What is even better is there are two different locations in Jaipur! One as mentioned is on M.I. Road next to the Ajmeri Gate, the second one is inside the Jawahar Kala Kendra (an art exhibition and museum!)
No matter which one you go to, it is a must-visit if you are looking for some of the best traditional coffee and dosas in Jaipur!
7. The Magnolia – Coffee & In Between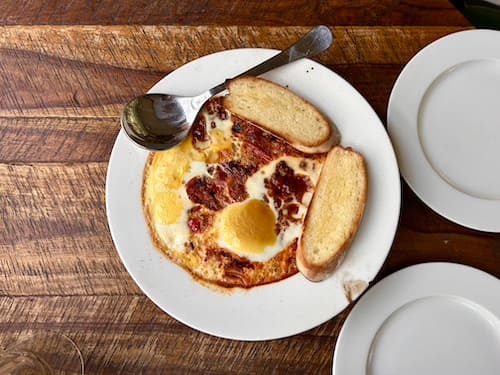 Typically, I prefer to wait a while before sharing my thoughts on the cafes I explore, but this time is different. The Magnolia in Jaipur left an indelible impression on me right from the start. As soon as we sat down, I was already impressed and started writing about this place. It swiftly secured a spot on my list of the top cafes in Jaipur!
Impeccable is the word that comes to mind when describing both the interior and exterior of this establishment. Nestled amidst a wooded area, the cafe is surrounded by lush trees, creating a serene ambiance. The interior design strikes a perfect balance between simplicity and rustic charm.
Don't even get me started on the food and drinks here. Reasonably priced, and extremely delicious, we couldn't have asked for more from this place!
8. Akuri – A Cozy Bollywood Inspired Cafe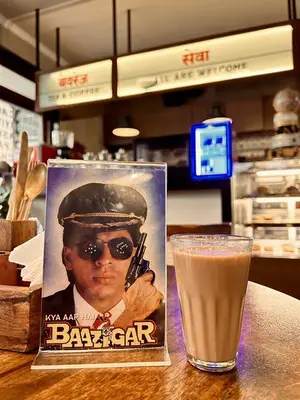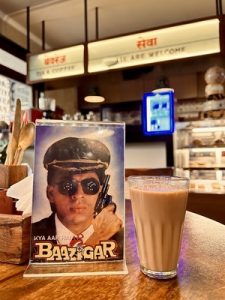 Akuri Cafe in Jaipur is a traditional yet modern cafe that will bring out the Bollywood lover in you. With an amazing interior, that makes you feel at home, you will want to stay at the restaurant all day.
And don't worry, the food and drink is absolutely amazing as well. If you find yourself looking for a great chai and meal then make sure to visit Akuri in Jaipur!
9. KaCoBa – Cafe & Coffee Roasters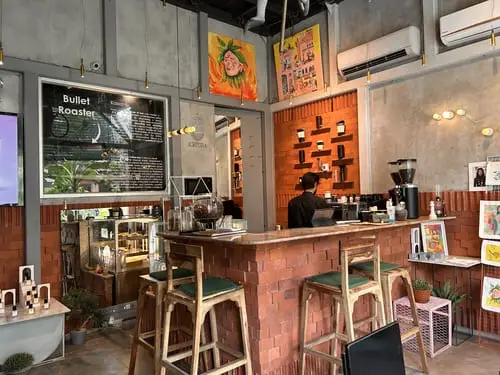 KaCoBa is an amazing little cafe located in the heritage complex area of Hotel Narain Niwas Palace. Surrounded by high-end shops, the coffee shop is a perfect place to escape after a day of shopping. With a beautiful interior, there is so much to look at you might forget to order your drinks!
Once you stop exploring the quaint cafe, you will be treated to some unique but delicious coffees, teas and mocktails. Fairly priced, beautiful interior and exterior, and delicious drinks and vegetarian food, what more can you ask for?
KaCoBa in Jaipur impressed us immediately and instantly earned a spot on our best cafes in Jaipur blog!
10. Sub Rosa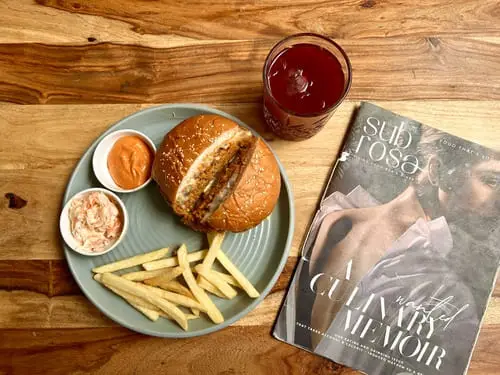 Sub Rosa in Jaipur is an enchanting culinary haven that seamlessly blends modern charm with New York-inspired elegance. The restaurant's carefully curated interiors, warm ambiance, and expertly trained staff create a sense of comfort and sophistication, setting the stage for an unforgettable dining experience.
With a menu boasting a delightful fusion of flavors and artistry, including their standout dishes like the Hibiscusberry Mocktail and Smoked Lamb Burger, Sub Rosa is one of the best places to eat for food enthusiasts seeking a refined and unforgettable experience in the heart of Jaipur!
11. Crazy Coffee in Jaipur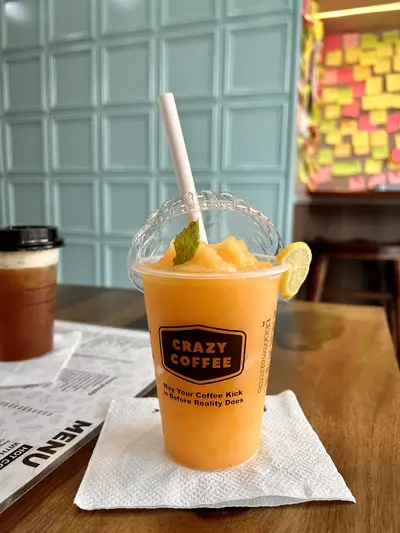 Located close to the iconic City Palace and Hawa Palace, Crazy Coffee is a charming coffee shop that promises an enchanting experience for coffee lovers in Jaipur. Step into this hidden gem and be captivated by a diverse array of coffee blends and refreshing drinks that cater to all tastes. From the bold and smooth Vietnamese Cold Brew to the zesty delight of the Orange Slush, every sip is a journey of taste and satisfaction.
The reason we added Crazy Coffee to the list of places to eat in Jaipur, is because its proximity to Hawa Mahal and the City Palace. It can be difficult to find a cafe by the Hawa Mahal in Jaipur – so look no further if you want a budget friendly, and AC escape from the heat!
12. Carbon Cafe
Carbon Cafe in Jaipur is a unique and captivating establishment that combines the art of craft coffee with a diverse and delightful food menu. As a craft coffee bar, it offers a wide range of expertly prepared coffee beverages. The cafe's inviting ambiance and alluring aromas set the stage for a memorable coffee experience.
In addition to its exceptional coffee offerings, Carbon Cafe boasts a diverse food menu that caters to various tastes and preferences. From light bites and vegetable starters to hearty entrees, the food options are thoughtfully prepared with quality ingredients. Whether you're looking for a perfect cup of coffee or a flavorful meal, Carbon Cafe is a must-visit destination that redefines the coffee bar experience in the Pink City.