Crazy Coffee, the quirky little coffee haven is located near the City Palace in the enchanting city of Jaipur. Situated amidst the bustling streets and vibrant markets, Crazy Coffee is a delightful escape for both locals and tourists seeking a refreshing respite. Therefore, making it one of the best cafes in Jaipur.
Though compact in size, Crazy Coffee boasts an ambiance that's big on comfort and charm. The seating arrangement, though limited, is thoughtfully arranged to create a cozy and laidback space. You'll find a mix of cushioned seats and wooden stools, providing a delightful variety for your preference. The walls are adorned with quirky posters and paintings on the wall, and notes stuck on the corner of the wall, giving it a personal touch.
The reason we added Crazy Coffee to the list is because it is one of the only nice, budget friendly and AC cafe near the Hawa Mahal. So if you are looking for a cold drink to escape the heat, in the old part of Jaipur, this will be your go to place.
Quick Information about Crazy Coffee in Jaipur:
Let's take a look at the few key facts about Crazy Coffee in Jaipur: 
Operating Hours: 9:00 am to 11:30 pm (Sat – Fri)
Crazy Coffee Cost: INR 100-400. 
Location: Shop no.102, Sirahdeori Bazar, Hawa Mahal Rd, Chandi Ki Taksal, J.D.A. Market, Pink City, Jaipur, Rajasthan 302002
Wifi? Yes, they have wifi! 
Service: Everyone is friendly and the service is quick!
What we love: They are one of the few nice places to eat in the old part of the Pink City.
Crazy Coffee: A Small Haven Near Hawa Mahal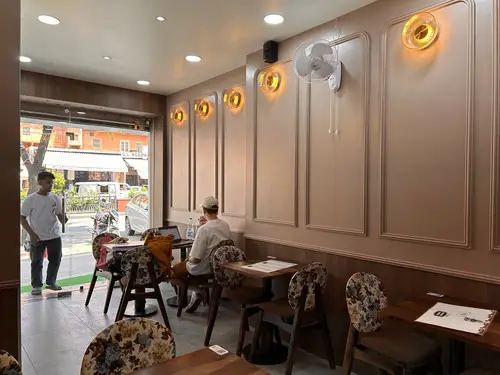 One of the best features of this tiny coffee shop is its proximity to the iconic Hawa Mahal. After a day of exploring the architectural marvels and vibrant bazaars around the area, Crazy Coffee beckons you to unwind and chill. The friendly and attentive staff are ready to assist you with your coffee selection.
Step into Crazy Coffee, and you'll be charmed by its compact yet inviting interior. Despite its small size, the coffee shop makes excellent use of space, providing comfortable seating arrangements that make you feel right at home. 
The warm and cozy ambiance creates a relaxed atmosphere, perfect for catching up with friends or enjoying a moment of tranquility with a cup of coffee. The quirky decor, adorned with colorful posters and vintage coffee memorabilia, adds a touch of personality to the space.
While some coffee shops can be bustling and noisy, Crazy Coffee offers a serene and calm atmosphere, making it an ideal spot for those seeking a peaceful moment to cool down and relax. It's a perfect place to catch up on reading, jot down travel notes, or simply engage in introspection while savoring the aromatic brews or chilled slushies!
Drinks at Crazy Coffee
Although they are more of a fast-coffee chain, they do have a diverse range of coffee blends and refreshing drinks.
1. Orange Slush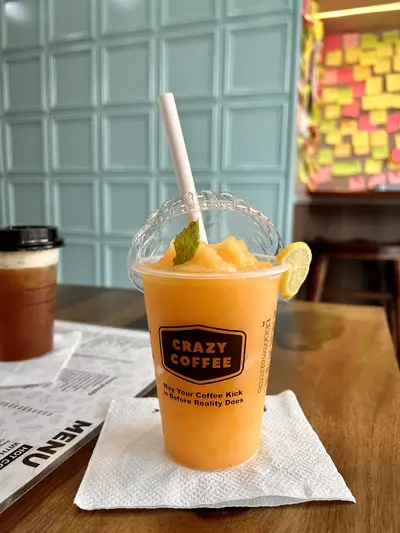 Orange slush is the epitome of refreshment on a scorching summer day. This delightful icy treat combines the natural sweetness and tanginess of oranges with the chill of crushed ice, creating a symphony of flavors that dance on your taste buds.
Pooja wanted to order the Orange Slush and it was also one of the hottest days we decided to go out. The first sip instantly gave a feeling of a wave of coolness, providing a much-needed respite from the sweltering heat. The first taste is an explosion of citrus goodness, as the refreshing orange flavor rejuvenates your spirit.  It's not overly sweet, allowing the natural tartness of oranges to shine through. It's a symphony of tastes – sweet, tangy, and refreshing, all in one delightful package.
The vibrant orange hue of the slush adds a splash of color to your day, while the charming ambience of Crazy Coffee provides a laidback and inviting setting to enjoy your drink. Whether you're a local looking for a cool respite or a traveler seeking an authentic taste of Jaipur, Orange Slush by Crazy Coffee is a must-try beverage that captures the essence of this enchanting city in a single cup.
2. Vietnamese Cold Brew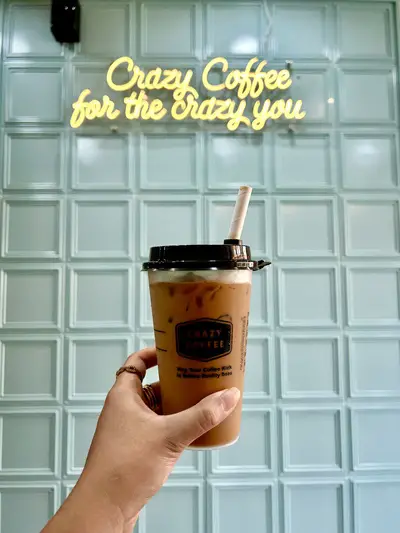 Yup, I usually like to try the Vietnamese Cold Brew. The coffee's rich and smooth flavor instantly captivated my taste buds, and the subtle hint of chocolate added a delightful twist to the traditional brew. What I liked about this cold brew is that it was very strong, and I like bold flavors. 
Crazy Coffee's Vietnamese Cold Brew was refreshingly low in acidity, making it incredibly easy on the palate. But, for Pooja she felt a bit overpowered by the bitterness of the coffee. However, it made a perfect companion for the hot weather in Jaipur, where a chilled beverage is always a welcome relief.
The cafe also serves various quick bites, however, we did not try any food since we were just looking for something cold after a long walk from the heat. 
The Verdict: Crazy Coffee in Jaipur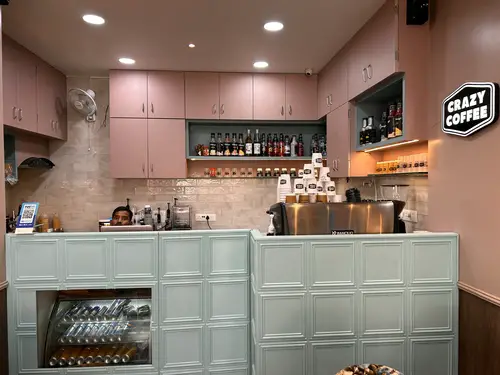 Crazy Coffee is undeniably a hidden gem in the heart of Jaipur, and it has quickly become one of my favorite coffee spots near the heritage sites in Jaipur. The variety of coffee blends and refreshing drinks they offer ensures there's something to please every palate. From the aromatic and bold Vietnamese Cold Brew to the zesty delight of the Orange Slush, each sip is a journey of taste and satisfaction.
Although Crazy Coffee is not a destination cafe, it is the perfect place to relax and get something cold around the Pink City. Overall it is one of the best coffee shops and cafes around Hawa Mahal.