Jaipur, the capital city of Rajasthan, and part of the renowned Golden Triangle in India, is the first truly planned city in India, thanks to Vidyadhar Bhattacharya's vision. It blends the allure of its ancient history with all the advantages of a modern metropolis, making it a bustling city and one of the golden triangle's three corners, which includes Delhi and Agra.
Legend has it that during the Prince of Wales's visit to India in 1876, Maharaja Ram Singh of Jaipur painted the entire city pink as a symbol of hospitality. The magnificent pink hue that engulfs the city is a marvelous sight to behold, especially when set against the backdrop of Nahargarh Fort, and Garh Ganesh Temple (one of the best temples in Jaipur to visit!).
The origins of Jaipur can be traced back to 1727 when Jai Singh II, the Raja of Amber, established the city. With a rapidly-growing population and increasing water scarcity, he moved his capital from Amber to Jaipur. To build the city, Vidyadhar Bhattacharya, a notable architect, used the established principles of Vastu Shastra.
This blog will explore why Jaipur is called the Pink City and what makes it a must-visit destination.
Why is Jaipur Called the Pink City?
In 1876, Maharaja Ram Singh painted most of the buildings in Jaipur pink, which became the color of hospitality, in anticipation of Queen Victoria's visit. This earned Jaipur the nickname "The Pink City." Today, the city is famous for its bazaars, forts, temples, palaces, and wildlife sanctuaries. 
Jaipur, the capital of Rajasthan, is one of the most vibrant cities in India. It was founded in 1727 by Maharaja Jai Singh II and was named after him. The city was designed by Vidyadhar Bhattacharya, an architect from Bengal, who planned the city in a grid pattern with wide streets and well-organized markets.
If you are visiting Jaipur, and want to see some other places in Rajasthan, then check out my blog about the top 11 things to do in Rajasthan!
Architecture of Jaipur, India's Pink City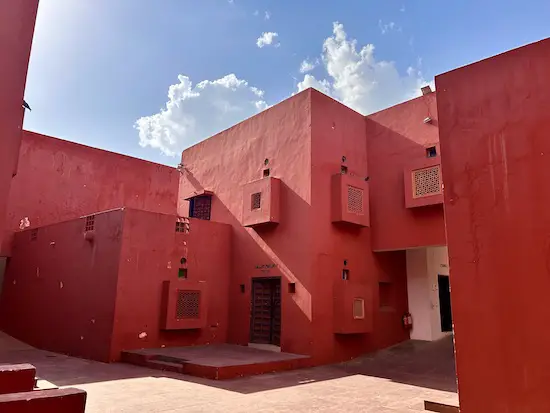 Jaipur's architecture blends Rajput, Mughal, and European styles. The city's buildings are made of pink sandstone, which gives them a distinct appearance. The old city is surrounded by walls and has several gates that lead to the markets and attractions.
Jaipur has several famous landmarks and attractions, including:
Hawa Mahal or Palace of Winds: a five-story building with over 900 windows that allows the royal women to observe the street without being seen.
City Palace: a complex of palaces, courtyards, and gardens that houses a museum showcasing the history and culture of Jaipur
Jantar Mantar: an astronomy observatory built in the 18th century and is still in use by astronomers today.
Amer Fort or Amber Palace: A magnificent fort built in the 16th century that offers stunning views of the surrounding area.
If you want to learn more about the best palaces and forts to visit in Jaipur, have a look at my ten most famous palaces in Jaipur blog!
Culture and Traditions: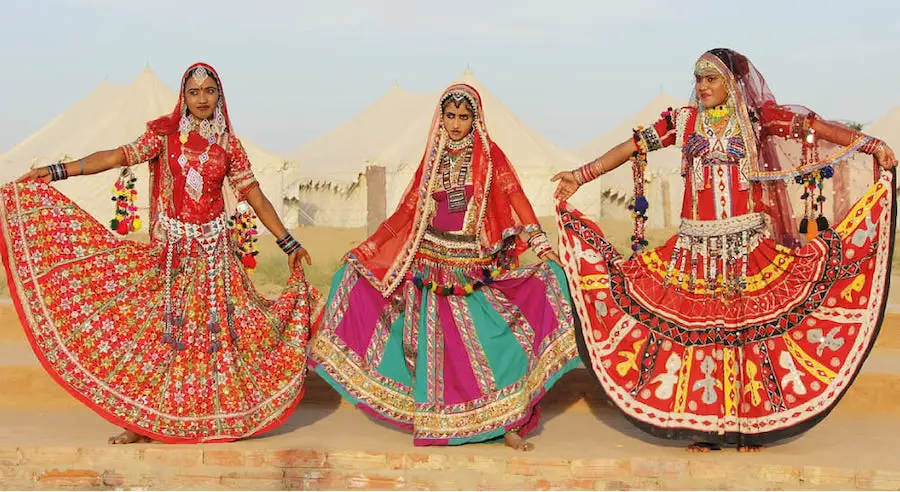 This vibrant town's warm and friendly people proudly display their culture through their colorful attire and unique jewelry. Rajasthani folk songs and dances, such as Ghoomar and Chari, accompanied by traditional instruments like Sarangi, Ektara, and Jhalar, are beloved by the locals.
The local delicacies, including mangodi, papad, khichdi, buttermilk, and sohan halwa, are a testament to Jaipur's culinary culture. The city is also renowned for its handicrafts, including carved silver jewelry, kundan and meenakari jewelry, ivory sculptures, woodwork, and leather goods. Blue pottery, miniature paintings, and traditional clothing with bandhni, zari, and zardosi work are among the city's most significant examples of its rich culture.
Jaipur also has its own performing arts, including the widely popular Jaipur Gharana for Kathak, an example of its rich cultural heritage. Tamasha is another popular example of Jaipur's performing arts.
Festivals of Jaipur:
Annually, millions of tourists are attracted to Jaipur, also known as the Pink City, due to its numerous offerings, such as lip-smacking food, historical forts, and majestic palaces. The festivals in Jaipur, celebrate the city's rich culture, heritage, and love for the arts. These festivals serve as a melting pot, attracting people from all over the world to share, exhibit, and discuss new ideas, experiences, and art while keeping Rajasthan's traditions alive.
Jaipur offers a plethora of ceremonies, rituals, and performances that leave visitors amazed and entertained. These festivals and fairs have boosted the state's tourism and brought awareness to the Rajputana way of life. The festivals provide visitors with valuable insight by shedding light on Rajasthan's history and culture.
Some of the most famous festivals in Jaipur are:
Teej Festival
Gangaur Fair
Elephant Festival
Kajli Teej Festival
Jaipur Dussehra Festival
Donkey Fair
Sitla Mata Fair
The International Kite Festival
Jaipur Literature Festival
Jaipur International Film Festival
India and Nepal, have a lot of overlap when it comes to festivals. To learn more about some of these, check out my, famous festivals in Nepal blog!
Jaipur's Food and Drink: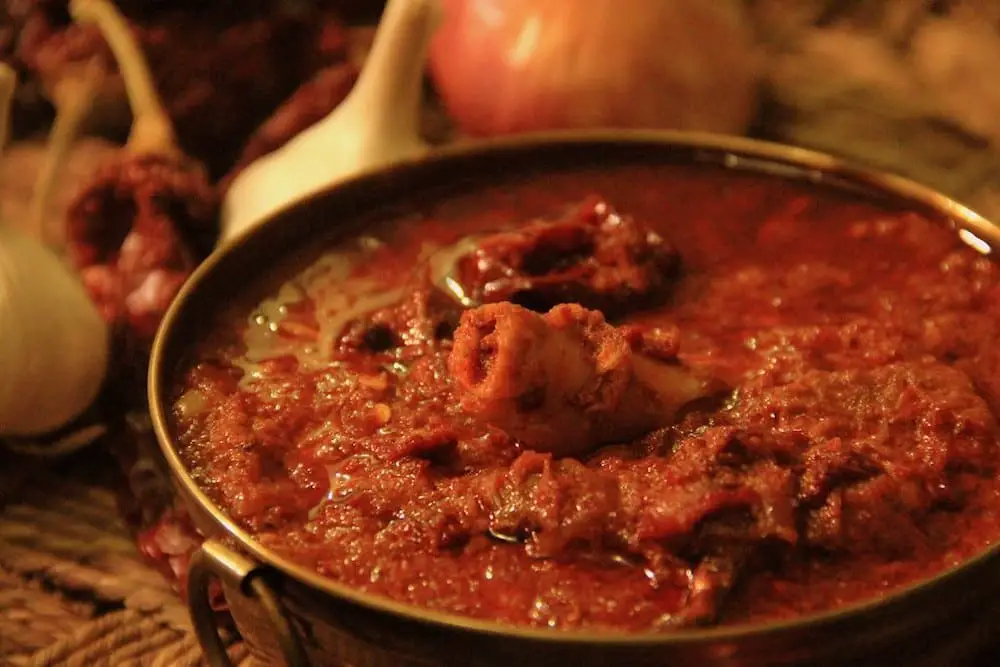 In addition to its magnificent palaces, ancient forts, and vibrant street markets, Jaipur is renowned for its delectable cuisine. As a result, food enthusiasts from all over the world flock to the Pink City.
For non-vegetarian lovers, Laal Maans is a must-try Rajasthani delicacy. It consists of mutton curry slow-cooked for hours in yogurt and traditional spices, resulting in a fiery red color due to the addition of red chili powder. This dish is sure to tantalize the taste buds of spicy food lovers.
Pyaz kachori is another famous Jaipur dish and a beloved snack of locals. This deep-fried pastry is stuffed with fried onions and is best enjoyed piping hot from Rawat Mishtan Bhandar, the city's renowned snack spot.
Lastly, Dal baati churma is a signature Rajasthani delicacy and one of the most famous dishes in Jaipur. It comprises three different dishes served together on a plate: yellow lentil curry (dal), baked bread dipped in desi ghee (baati), and a sweet dish made of wheat flour, ghee, and sugar (churma). This trio of dishes is commonly found in almost every restaurant in Jaipur, whether it's fine dining or a roadside dhaba. If you want to try some of these traditional Rajasthani dishes, make sure to check out Masala Chowk!
Shopping in the Pink City of India: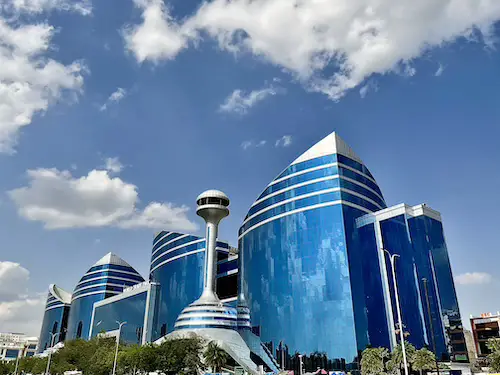 Jaipur is a paradise for shopping enthusiasts who are spoilt for choice with the variety of options available in the Pink City. Popular buys include block-printed and tie-and-dye textiles, Jaipuri quilts, meenakari and kundan jewelry, and Jaipuri mojaris. Shopping in Jaipur is an unforgettable tourist experience, with a perfect blend of modern and traditional shopping options.
The walled city of Jaipur houses all the major markets. Sireh Deori Bazaar, located opposite Hawa Mahal, is the main market area, while other markets surround Badi Chaupar and Choti Chaupar. The narrow alleys, known as raastas, are popular among shoppers, including Gopalji ka Raasta, Haldiyon ka Raasta, and Maniharon ka Raasta. 
Additionally, there are little markets, such as Gangauri Bazaar and Kishanpole Bazaar, around Choti Chaupar. Bapu Bazaar and Johari Bazaar are the two most popular markets within the walled city, offering a range of items from clothing to handicrafts and jewelry. Mirza Ismail Road (MI Road) is known for its upscale jewelry and apparel stores outside the walled city. Shopping in Jaipur can be overwhelming for first-timers, but it's an experience worth having.
Hotels and Accommodations in Jaipur, Rajasthan:
Accommodation is one of the many factors that make a holiday in Jaipur incredible. The city has many options for travelers ranging from luxurious and regal stays to comfortable and homely ones. The best hotels in Jaipur offer a perfect blend of traditional hospitality and modern amenities that provide an experiential stay. Touring this magnificent city while feeling nothing less than royalty is now possible!
Although Jaipur is known for its royalty and high-class accommodation, the city also offers an array of budget-friendly options. Some of the most famous places to stay in the Pink City of Rajasthan:
Rambagh Palace
Lohagarh Fort Resort
The Lalit Jaipur
Taj Jai Mahal Palace
Holiday Inn Jaipur City Centre
Ramada Hotel Jaipur
Hilton Jaipur
Shahpura House
Hotel Royal Orchid
Alsisar Haveli
Museums in Jaipur: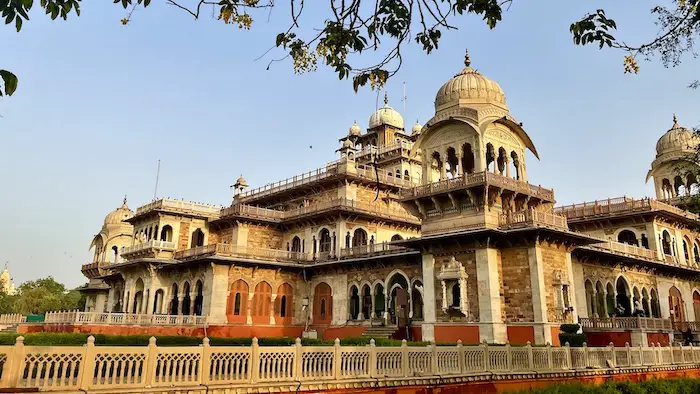 Many don't know about all the museums in Jaipur. But the Pink City of India, boasts a renowned museum scene. With over ten different museums, ranging from culture and tradition, to a wax museum and even a famous dolls museum, Jaipur is a great tourist destination for anyone that loves history.
I have created a list of the 10 must visit museums in Jaipur, so make sure to check that out and peak into Jaipur's rich culture and heritage! For the best option, I would suggest Albert Hall Museum. Built in the 1800s, the building itself is a piece of history! But, the best part? They have a 2,300 year old mummy from Egypt on display as well!
Travel Tips while visiting Jaipur: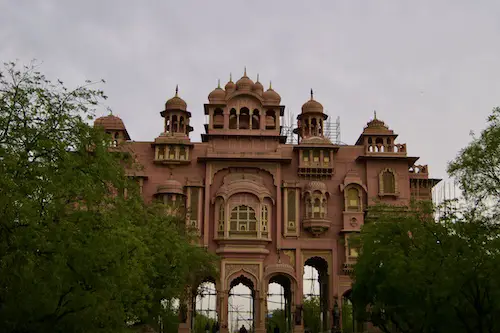 Visitors to India often express safety concerns, but despite some unwanted attention from locals, travel in India is generally safe. Whether traveling solo or in a group, foreigners need not worry too much about visiting the country. By keeping a few do's and don'ts in mind, travelers can stay in the safe zone. Read on to discover some Jaipur travel tips to help you stay safe and enjoy your trip.
Jaipur, the capital city of Rajasthan, is steeped in rich cultural heritage and always bustling with tourists drawn to its royal history. The magnificent palaces, regal jewelry, delectable sweets, and savories never fail to impress even the most seasoned travelers. However, traveling to a crowded tourist destination can sometimes be overwhelming and intimidating.
Here are a few travel tips to keep in mind when visiting the Pink City in Rajasthan:
Make sure to choose a safe neighborhood to stay in.
Be cautious while traveling alone at night.
Be mindful of belongings; pickpocketing happens.
Don't get scammed with taxis. Negotiate the rate first!
Familiarize yourself with Indian Rupees, and don't get scammed at money exchanges!
Understand the culture, and dress appropriately at heritage sites.
It gets extremely hot in Jaipur. Travel during the cooler seasons (November to February)!
Jaipur: India's Pink City
Jaipur is a must-visit destination for anyone interested in Indian culture, history, and architecture. Visitors should plan to spend at least a few days in the city to experience its vibrant culture and attractions fully. 
The Pink City has a lot to offer its visitors, but it can sometimes be overwhelming! It is a large city with a lot going on, so be mindful of yourself and your belongings and enjoy the area's rich traditions. Enjoy the food, shopping, festivals, architecture, and everything else in between! Most importantly, enjoy your time visiting India's Pink City!