Explore the captivating allure of the Golden Triangle in India, a mesmerizing introduction to the rich tapestry of sights and sounds that define region and country. From bustling bazaars and the exhilarating whirl of tuk-tuks, to tranquil temples, palaces and mosques emanating grandeur, this is India in its most vibrant and chaotic glory. 
The colorful experience of the Golden Triangle between New Delhi, Agra and Jaipur, this enchanting journey is bound to leave an indelible impression, igniting a desire to return again. Here is a guide to answer all of your question before you embark on a journey around India's Gold Triangle.
What is the Golden Triangle in India?
The Golden Triangle in India is a popular route that connects the cities of Delhi, Agra, and Jaipur, forming an almost-equilateral triangle when plotted on a map. This well-known tourist track takes you through the states of Uttar Pradesh and Rajasthan, showcasing the best of India. So, why is it called the "Golden" Triangle? The answer lies in the extraordinary religious and historical sights that await you at each of these three stops.
Starting in the vibrant capital of Delhi, with its bustling streets and vibrant atmosphere, the journey continues to the enchanting Jaipur, the Pink city of India and finally the magnificent Taj Mahal in Agra. This crafted trip ensures that you get to experience the highlights of the region, from the sacred city of Varanasi along the banks of the Ganges to the famous temples of Khajuraho. It's a tailor-made adventure that can be completed in a few days!
How to Plan for The Golden Triangle Tour?
Setting out on a captivating journey through India's Golden Triangle is an adventure that promises to leave you spellbound. With the trip encompassing Delhi, Agra, and Jaipur, it is a treasure trove of rich history, vibrant culture, and architectural wonders. To chart a course for your Golden Triangle India tour itinerary, careful planning is essential.
To help you during your travels, we have come up with one of the best itineraries to ensure you don't miss a thing on your road trip around India! This guide will provide you with valuable insights and expert tips to help you craft a seamless and unforgettable travel experience. 
Day 1: New Delhi
To kick off your Golden Triangle adventure, immerse yourself in the vibrant modernity of New Delhi. This area boasts wide, tree-lined avenues and impressive colonial architecture, serving as the central government's headquarters since 1931. Here are some of the key highlights that you can visit in New and Old Delhi: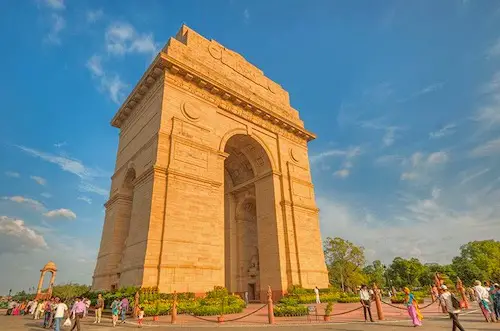 India Gate: The India Gate, also known as the All India War Memorial, is dedicated to the courageous soldiers, who fought for their country. The Gate represents a symbol of bravery. Additionally, itt faces the President's House, Rashtrapati Bhavan, and features the Amar Jawan Jyoti, a perpetual flame honoring the gallantry of fallen warriors.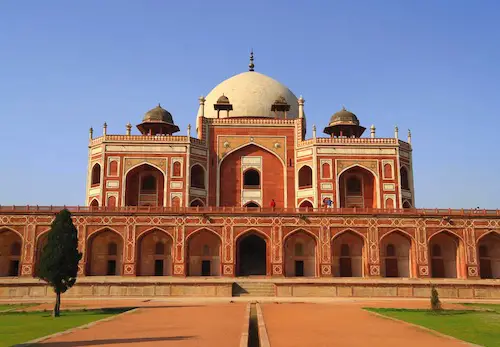 Humayun's Tomb: A UNESCO World Heritage Site, Humayun's Tomb showcases the exquisite artistry of Persian architects under the patronage of Mughal Emperors. It is India's first garden tomb constructed with red sandstone and houses the tomb of Humayun and graves of notable Mughal Emperors/ Empresses.
Qutub Minar: An intriguing architectural marvel, Qutub Minar is the tallest brick minaret in the world. The UNESCO Heritage site was constructed in the 12th century and captivates visitors with its grandeur.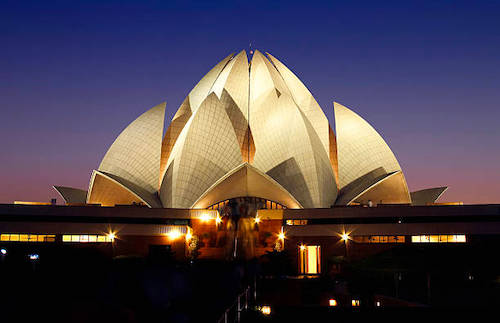 Lotus Temple: Renowned for its stunning architectural beauty, the Lotus Temple is situated in Shambhu Dayal Bagh, New Delhi. Resembling a lotus flower, it was built in 1986 as a Bahá'í House of Worship welcoming people of all faiths and backgrounds. The structure consists of 27 individual marble-clad "petals," which are grouped in clusters of three, forming a total of nine sides. Each side features nine doors that lead to a central hall with a height of just over 34 meters and can accommodate up to 1,300 people.
Day 2: Old Delhi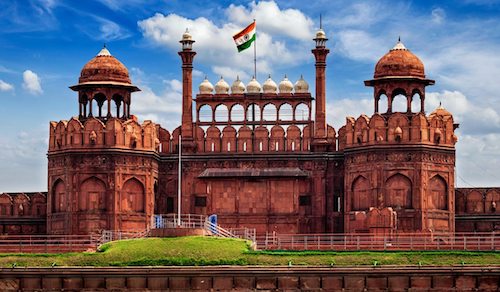 On the second day of your Golden Triangle exploration in India, delve into the captivating realm of Old Delhi, famously known as Shahjahanabad.
Although not the oldest part of Delhi, Shahjahanabad, was constructed during the 17th century for the Mughal emperor Shah Jahan. This historic area boasts the enchanting Chandni Chowk as its main thoroughfare, the Red Fort (Lal Qila) as its grand citadel, and the impressive Jama Masjid as its congregational mosque.
While much of the wall has crumbled over time, and only four out of the original fourteen gates remain, Old Delhi still retains its allure with countless intriguing nooks and crannies. Be prepared for the crowds and traffic by ensuring you have ample stamina, patience, time, and, perhaps, a few well-deserved breaks for chai along the way.
Day 3: Agra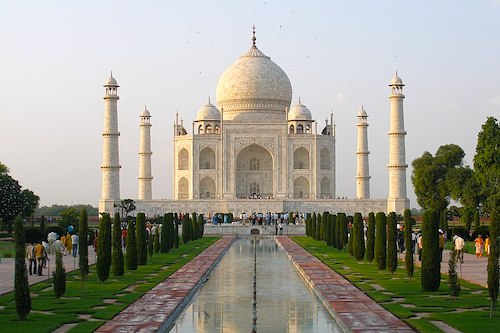 On the third day, brace yourself for a truly awe-inspiring experience as you journey to the magnificent Taj Mahal. The crowning jewel of Agra and one of the most romantic places on Earth.
No words can truly capture the immense scale and regal splendor of the Taj Mahal when you witness it up close. Aim to visit during sunrise or sunset, when the Taj is at its most breathtaking. While exploring, also visit the nearby Agra Fort, from where you can catch glimpses of the Taj Mahal rising majestically in the distance.
You can either hire a private tour guide or make your way to the Taj Mahal on your own. Besides the palacel, don't hesitate to explore the lesser known highlights of the area such as the Mughal Heritage Walk through Kanchhpura village, Taj Nature Walk and the old bazaar where nature, wildlife, and cultural encounters offer an authentic taste of India's unique charm.
Now lets dive into Day 4 of the Golden Triangle trip!
Day 4: Fatehpur Sikri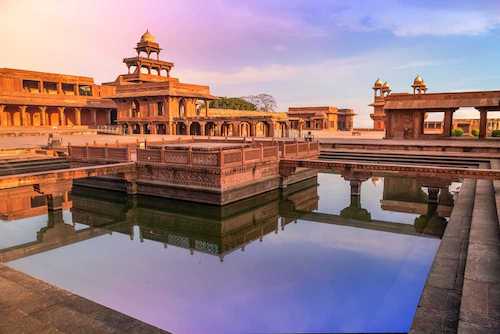 Located 37 kilometers from Agra, Fatehpur Sikri is a captivating city primarily constructed using red sandstone. It was built by the Mughal Emperor Akbar, who intended it to be his capital. However, due to a water scarcity issue, the city was eventually abandoned and within 20 years, the Mughal capital was shifted to Lahore. 
Fatehpur Sikri was constructed between 1571 and 1585 and currently has a population of approximately 30,000, despite being a deserted city. Fatehpur Sikri represents the epitome of Mughal architectural brilliance during its prime. Although the city lies in ruins, it is a must-visit destination for anyone traveling to Agra. In fact, it is worth spending some time exploring this historical site, particularly to witness the breathtaking sunset over the ruins. 
Fatehpur Sikri stands as a remarkable example of the harmonious fusion of Hindu and Muslim architectural styles. The Fatehpur Sikri Mosque is believed to be modeled after the mosque in Mecca, showcasing a blend of Persian, Hindu, and Islamic design elements.
Day 5: Jaipur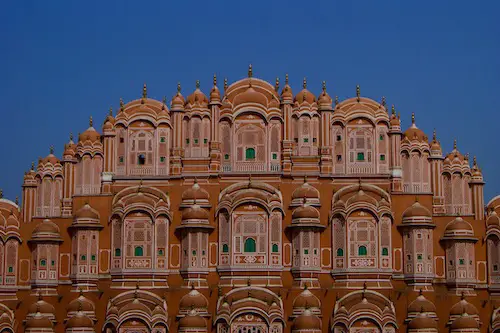 You may want to allocate two days to immerse yourself in the flamboyant showcase of Rajasthani architecture in Jaipur. Regarded as the third cornerstone of India's "Golden Triangle," Jaipur has always been a prominent destination for travelers. At the heart of the Pink City, the historic walled quarter houses renowned bustling bazaars for the best shopping in Jaipur that rank among the liveliest in Asia. These vibrant markets are celebrated for their textiles, jewelry, and exquisite Rajasthani handicrafts.
As you wander through the city center, you'll chance upon historical gems like the Hawa Mahal and the impressive City Palace in Jaipur. Jaipur is renowned for its traditional crafts and designs, making it an ideal place to indulge in fabric shopping and find unique souvenirs to bring back home.
Day 6: Jaipur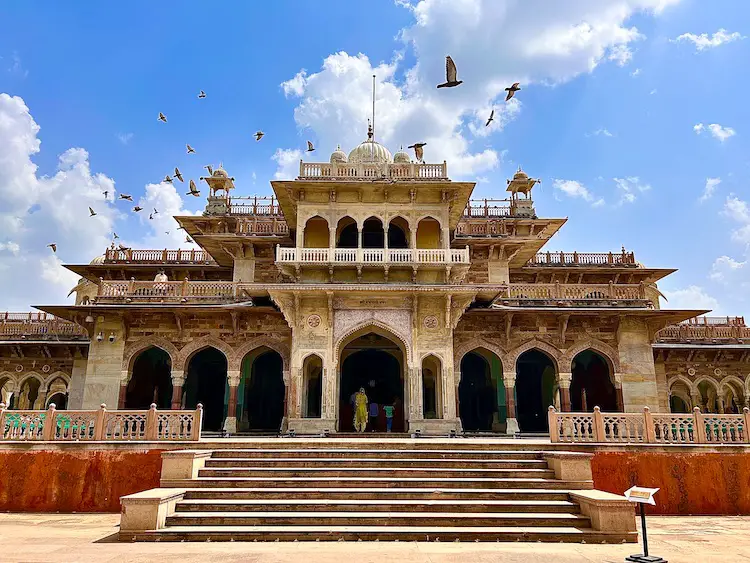 On the second day of your Jaipur visit, explore the tranquil and less bustling areas of the Pink City. Areas such as the scenic Ram Niwas Gardens and the central museum of the state i.e Albert Hall Museum. As you venture further, you'll encounter fascinating remnants of royal reign, including the notable Nahargarh Fort, the cenotaphs at Royal Gaitor, and the temples filled with playful monkeys at Galta.
Moreover, the hills and valleys surrounding Jaipur are adorned with some of the regions most famous palaces and forts, temples, and remnants of the Kachchwaha dynasty's thousand-year history. A prominent highlight is the splendid Amber Palace, which makes for an excellent day trip, easily combined with a visit to the impressive Jaigarh Fort. 
You can also get a composite ticket which gives you access to the following monuments in Jaipur: 
Hawa Mahal 
Amber Palace
Jantar Mantar
Nahargarh
Albert Hall
Sisodia Garden
Vidhyadhar Garden
Day 7: South Delhi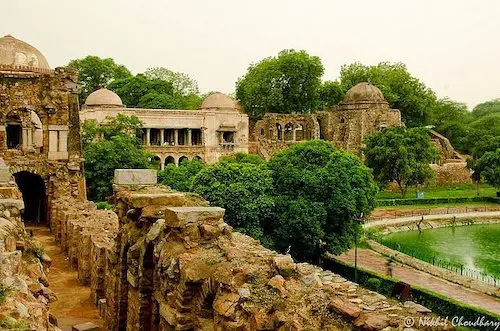 Concluding your Golden Triangle journey, a fantastic way to wrap up your exploration is by returning to Delhi and immersing in the vibrant ambiance of South Delhi. While many early settlements, including Delhi's first city at Qila Rai Pithora, can be found in this region, it is distinct from the renowned "Old Delhi" and lies south of the meticulously planned boulevards of Lutyens' Delhi.
The rapid expansion of suburban Delhi has engulfed what was once countryside, integrating entire villages within its borders. Today, South Delhi is home to some of the city's newest and most happening locales, with Hauz Khas Village being a notable highlight. This lakeside area is brimming with shops, bars, and restaurants, offering a delightful ambiance to end your Golden Triangle journey.
Where Can I Find Solace Away From The Crowds?
In the vast expanse of the Golden Triangle in India, one of the best ways to escape the bustling crowds is by stepping into the numerous Hindu, Sikh, and Muslim buildings scattered throughout the cities. These architectural marvels not only offer moments of tranquility but also showcase some of the most stunning structures in the region.
In Delhi, a short drive away from the city center, a visit to Swaminarayan Akshardham is highly recommended. This Hindu temple, constructed in 2011 using traditional techniques, exudes grandeur and intricate craftsmanship reminiscent of a bygone era. The temple complex is massive, and the prohibition of photography provides a welcome opportunity for peaceful contemplation, away from the cameras that dominate most of the city's monuments.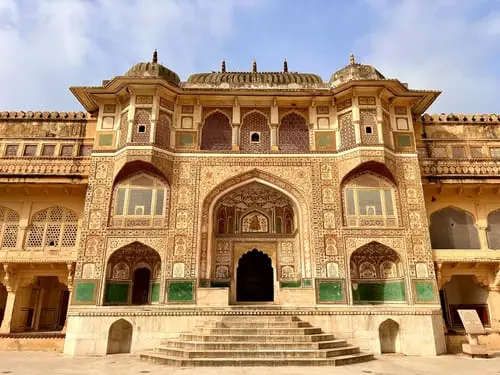 The Taj Mahal and Agra Fort are inevitably crowded, so if you truly seek respite, consider going on a day trip to Fatehpur Sikri. This small city was once the capital of the Mughal Empire and lies just an hour away from Agra. The majestic Jodha Bais palace buildings, crafted from red sandstone, and the imposing Jama Masjid mosque receive comparatively fewer visitors, offering a serene atmosphere to explore.
Among the cities of the Golden Triangle, Jaipur stands out as the least frenetic. Simply wandering through its backstreets allows you to stray from the main tourist routes and discover hidden gems. For a panoramic view of the sprawling streets, venture outside the city to Nahargarh Fort. Another fascinating experience awaits at Galtaji, an ancient temple complex that has become a haven for hundreds of rhesus macaque monkeys, providing an entertaining encounter with nature.
How To Travel To the Golden Triangle in India?
There are several options for transportation, depending on your preferences and budget. If you're looking for a budget-friendly choice, buses are the cheapest way to travel within the region. Indian buses offer a unique experience, with passengers squeezing in and finding places to perch on armrests or even sitting in the aisle.
However, the most highly recommended mode of travel is by train. Taking a train allows you to witness the picturesque countryside and catch glimpses of rural India during your journey. It is advisable to book your train tickets in advance, either online or at a train station, to secure your preferred travel dates and class.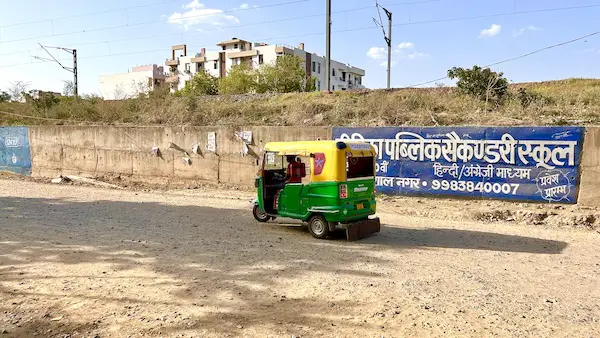 If you have limited time and want to make the most of your visit, hiring a taxi from Uber or In-Drive is a  convenient option. This allows you to efficiently explore the Golden Triangle and see as much as possible within your time frame.
Within the cities themselves, opting for an auto-rickshaws (also known as a tuk-tuk) for short distances between destinations is highly recommended. These small vehicles are adept at maneuvering through the heavy traffic, swiftly navigating between taxis and trucks. While the rides can be exhilarating, they are also relatively quick, cost-effective (remember to agree on the fare beforehand), and provide an exciting way to experience the vibrant chaos of the Golden Triangle in India.
How Can I Prevent Getting Sick From Food And Water In The Golden Triangle?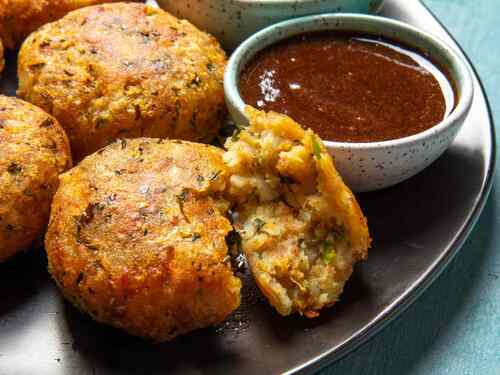 While not everyone falls ill while touring the Golden Triangle in India, it's important to take precautions to avoid any potential stomach issues that could dampen your trip. The infamous "Delhi belly" is typically caused by consuming unsafe water. To mitigate this, it is essential to use water purification tablets or buy bottled water.
When it comes to food, ensure that your meals are always served hot and freshly cooked. It's advisable to avoid consuming raw fruits and vegetables that may have been washed with unfiltered water. However, don't let this discourage you from indulging in the delicious curries and Indian snacks available during your trip.
Pooja and I have been traveling through India for sometime and (knock on wood) we have not got sick from the food or water. But that is because we are mindful of where and what we eat. If in doubt about the food and water hygiene somewhere, just skip it and go somewhere else to eat!
When is The Best Time To Visit The Golden Triangle In India?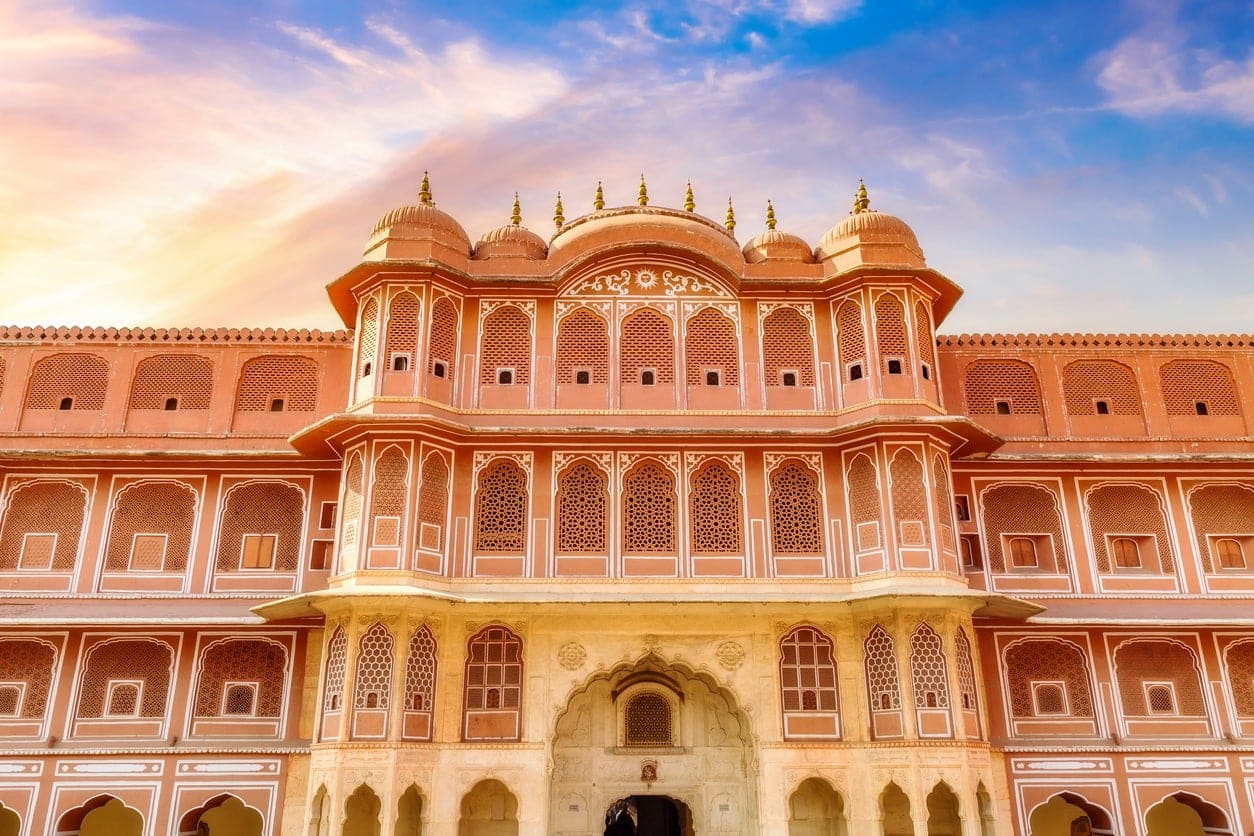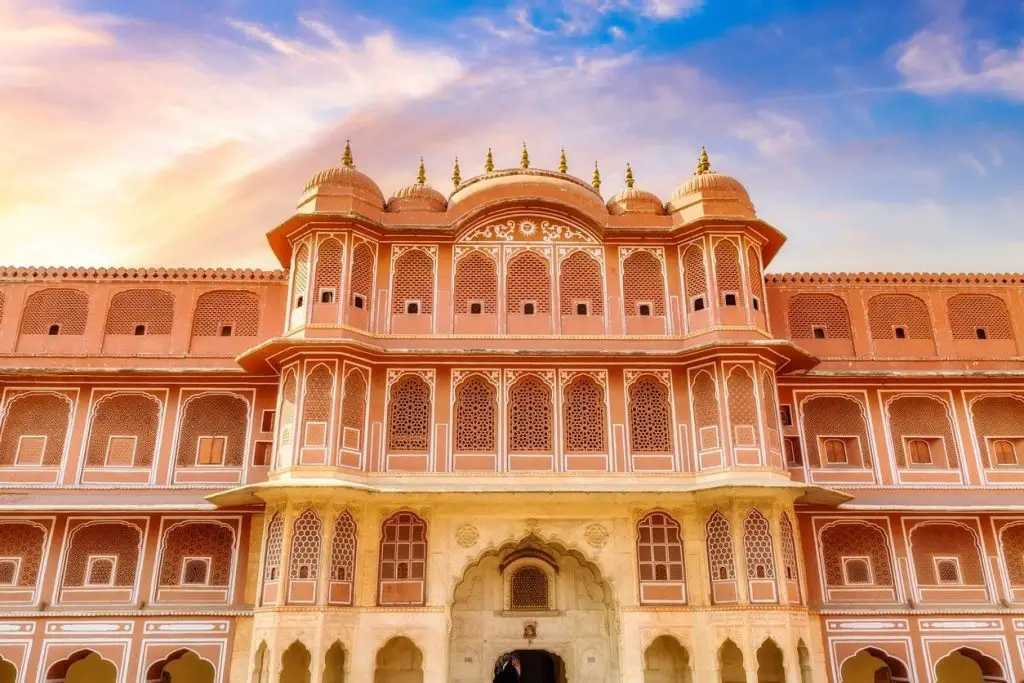 The best time to visit the Golden Triangle is from November to March when the weather across most of the country is pleasant. During this period, Delhi, Agra, Rajasthan, and Varanasi offer ideal conditions for exploration.
October and November also present suitable weather conditions for visiting Delhi and the Golden Triangle, with temperatures similar to those in February and March. However, it's important to note that during October and November, popular tourist sites and landmarks may be more crowded with both domestic and international visitors. This could lead to some inconvenience, particularly at attractions like the Red Fort or the Taj Mahal.
Just keep in mind that determining the best time to travel to the Golden Triangle can be difficult due to the region's diverse weather patterns. India experiences distinct seasons, including the wet and humid monsoon season, as well as the dry and cooler season.
Key Takeaways: The Golden Triangle in India
If you desire a hassle-free and effortless trip planning and booking experience for your visit to India, rely on the expertise of our local travel experts. They will ensure that your trip aligns perfectly with your dreams and expectations.
Please note that we may earn a commission when you click on the links provided in this article. However, rest assured that this does not impact our commitment to maintaining high editorial standards. We only recommend services that we genuinely believe will enhance your travel experiences.
If you are looking for an easy way to see the Golden Triangle in India, consider using a guide from Get Your Guide! They have a lot of options and some great prices on guided tours! You can use my affiliate link below if you want to support me, and help me buy a caramel latte while I write my next blog!
FAQs: The Golden Triangle in India
Below are the most frequently asked questions regarding the Golden Triangle in India.
1. Which is the golden triangle of India?
The Golden Triangle in India is a renowned tourist circuit that weaves together the vibrant cities of New Delhi, Agra, and Jaipur. This captivating route derives its name from the triangular shape created by the strategic positioning of these destinations on a map. 
2. Is India's Golden Triangle worth visiting?
Discover the Golden Triangle in northern India, a captivating journey from bustling Delhi to the majestic Taj Mahal and vibrant Jaipur. This unforgettable adventure unveils the region's most significant and beautiful sights, leaving a lasting impression on your heart and soul.
3. How to reach each city of Golden Triangle India?
Traveling by rail is an excellent option for exploring the Golden Triangle. The Northern and Western Railways operate along these routes, offering convenient connections. Experience the speed and comfort of trains like the Rajdhani Express, known for its efficient service on the Delhi-Jaipur route. Another popular choice is the Ajmer Shatabdi, which swiftly covers the distance between these cities in just 4 hours and 20 minutes.
4. Which month is best for the Golden Triangle in India?
The best time to visit the Golden Triangle in India is between  October and November or February and April, when temperatures are cooler and comfortable throughout the day.