Nestled in the heart of Jaipur stands a magnificent edifice that transcends time and will captivate all your senses – the Albert Hall Museum. This architectural marvel, dating back to the late 19th century, stands as a proud testament to Jaipur's rich cultural heritage and serves as a beacon for art enthusiasts, architecture lovers, history buffs, and curious souls seeking to immerse themselves in the vibrant tapestry of Rajasthan's past.
Known as one of the best museums in Jaipur, when you enter the Albert Hall Museum, you are greeted by a grand vision that beckons you to step into a world of luxury and splendor. Its graceful domes rise majestically against the sky, allowing the visitors to remember a bygone era. With Elaborate carvings, intricate filigree work, and imposing arches adorning the exterior, it's difficult to get enough photos of the beautiful building.
With its rich history, captivating exhibits, and evergreen beauty, the Albert Hall Museum is one of my favorite places to visit in India's Pink City. I discuss everything you need to know about the museum below. So you can see it and fall in love with it too!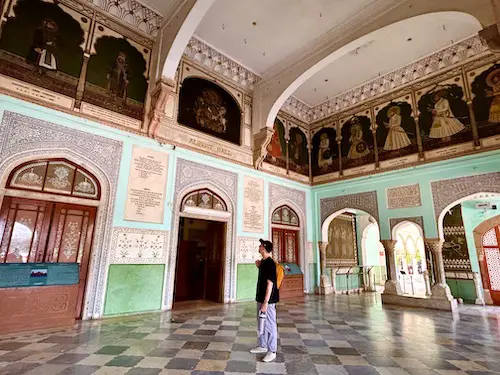 Albert Hall Museum's Collections and Exhibits
The museum proudly displays a remarkable collection of artifacts representing different regions of the world, with 16 art galleries dedicated to housing these unique treasures. Additionally, visitors can marvel at marble art, pottery, ancient coins, carpets, and other captivating remnants from bygone eras. 
Here are some remarkable exhibits that await you within its hallowed halls.
1. Textiles Galore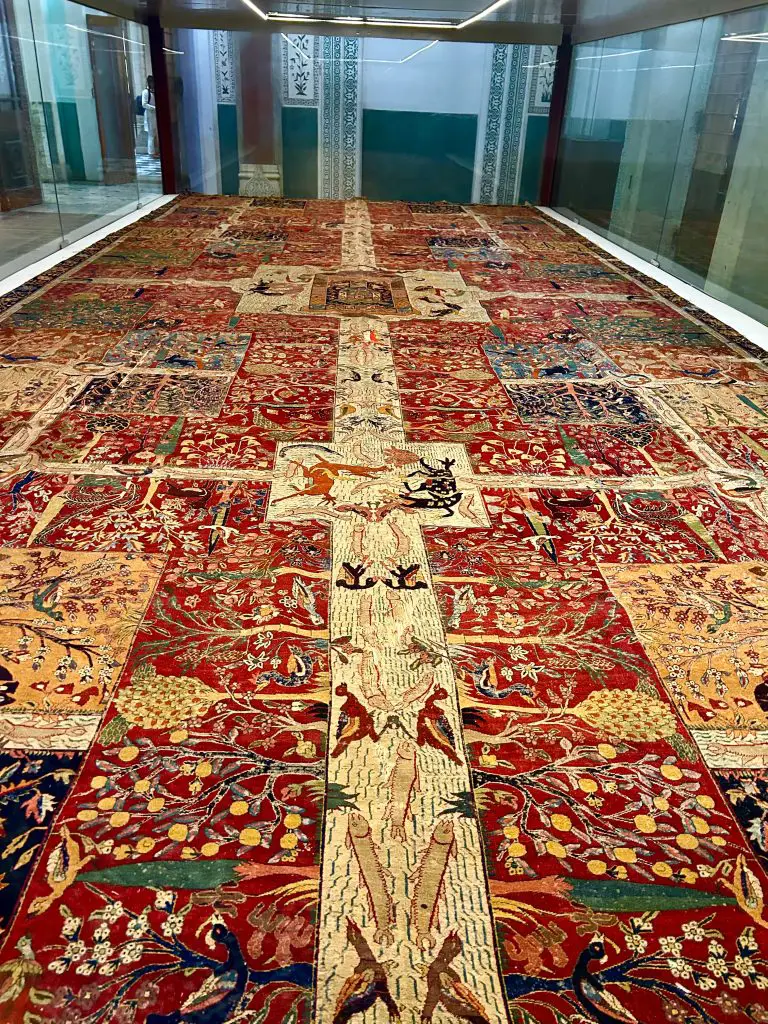 The Maharaja Sawai Ram Singh II Gallery is an enchanting world of textiles, and exquisite craftsmanship is displayed in the handwoven sarees adorned with intricate embroidery and vibrant motifs. Delicate woven turbans, a symbol of Rajasthani pride, showcase a mastery of textile artistry. The museum features a collection of detailed Bandhani work, a traditional tie-and-dye technique that creates mesmerizing fabric patterns. The gallery also showcases a collection of Pichwai paintings and religious cloth hangings that depict stories from Hindu mythology with stunning intricacy.
2. Bridging Cultures Through Paintings
The vast gallery of paintings in the Albert Hall Museum bridges the artistic traditions of Rajasthan and the world. The vibrant Rajasthani miniature paintings, characterized by exquisite detailing and rich color, depict scenes from mythological tales, courtly life, and everyday activities. Each painting has delicate brushwork and intricate gold leaf embellishments that bring each scene to life. The gallery also showcases European masterpieces, reflecting the cultural exchange that occurred during Rajasthan's princely era.
3. The Egyptian Mummy in Jaipur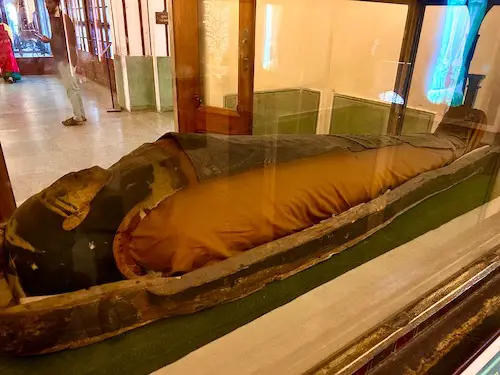 The Albert Hall Museum Mummy is one of the six Egyptian mummies preserved in the Museums of India. Here, you will find the well-preserved mummy of Tutu. The mummy of Tutu a female member from the priests families of the god Chem of the Ptolomaic epoch – 322 to 30 B.C. was found at Akhmin, ancient Panopolis.
So if you are like me and were super excited about the chance to see a mummy in India, prepare to be captivated by the Egyptian mummy in the Albert Hall Museum!
4. Warriors and Weapons: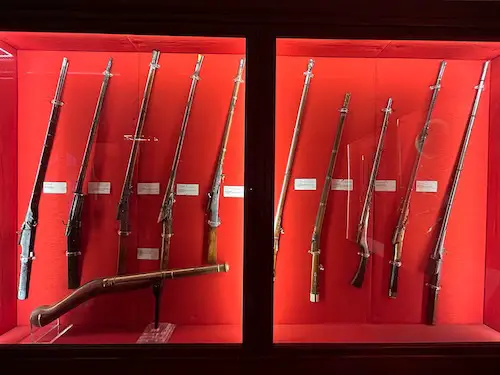 Step into the weaponry gallery, where a collection of arms and armor awaits. Marvel at the extensive array of swords, shields, daggers, and firearms that once adorned the brave warriors of Rajasthan. Each weapon bears the marks of a rich history, from the curved blades of the Rajput warriors to the intricate patterns etched on the Mughal-era firearms. By visiting this exhibit you will be able to gain a deeper understanding of the region's martial traditions and the evolution of weaponry over the centuries!
5. The Marvel of Marionettes – Puppet Gallery:
Venture into the Puppet Gallery and witness a lively display of Rajasthan's famous puppetry tradition. Admire the colorful and intricately crafted Rajasthani puppets brought to life through the skillful manipulation of strings. These puppets' expressive faces and elaborate costumes narrate tales of courage, love, and folklore. Immerse yourself in the enchanting world of puppetry and appreciate the artistry that breathes life into these wooden characters.
If the puppets are something you enjoy, you may also want to check out the Doll Museum in Jaipur. Which features hundreds of traditional dolls from all over the world!
6. Royalty Revealed – Maharaja Sawai Jai Singh II:
Dedicated to Jaipur's visionary ruler and founder, the gallery dedicated to Maharaja Sawai Jai Singh II offers a glimpse into the luxurious lifestyle of the royal household. Marvel at the splendid artifacts, including regal attire, intricately designed jewelry, and finely crafted silverware. Gain insights into the cultural patronage and scientific pursuits of Maharaja Jai Singh II, who was not only a visionary king but also an accomplished astronomer.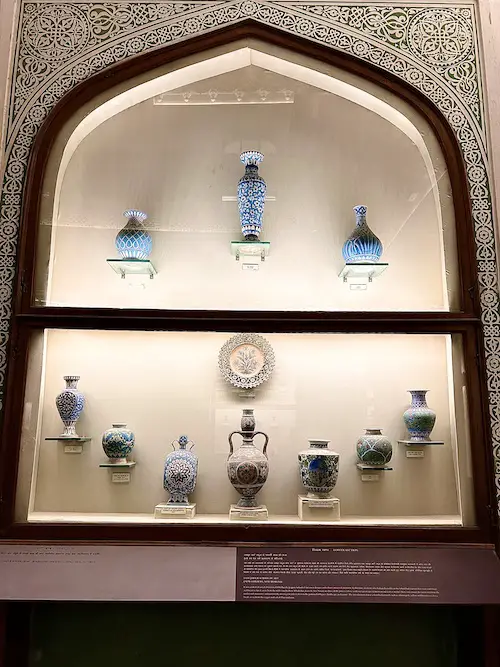 How much does a Ticket Cost for Albert Hall Museum?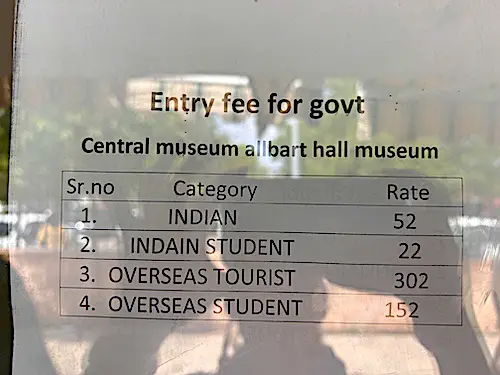 The museum has three different ticket structures that visitors can purchase. They include a single or one-day ticket, a composite ticket that allows you to get into other tourist locations, and night-visit ticket prices. The prices for each ticket can be seen below:
Albert Hall Museum Single Ticket Cost:
40 per person for Indians
20 per person for Indian Students
300 per person for Foreign Tourists
150 per person for Foreign Students
Albert Hall Museum Jaipur Composite Entry Ticket
300 per person for Indians
40 per person for Indian Students
1000 per person for Foreign Tourists
200 per person for Foreign Students
Note: The Albert Hall Museum Composite ticket is valid for two days, allowing you to visit: Amber Fort, Albert Hall, Hawa Mahal, Jantar Mantar (Observatory), Nahargarh Fort, Vidyadhar Garden, Sisodia Rani garden & Isarlat (Sargasooli) – If you are in a hurry and plan to spend two days straight hitting up these famous forts and palaces in Jaipur, I recommend getting this pass!
Albert Hall Museum Jaipur Night Visit Entry Ticket
100 per person for Indians
100 per person for Indian Students
100 per person for Foreign Tourists
100 per person for Foreign Students
Note: Night visits at the museum are from 7:00 pm to 10:00 pm
Additional things to note about the museum:
Free entry for Children below seven years
Entry for Student groups shall be free every day between 10.00 to 12.00 am on the recommendation of their respective institute.
Entry for all visitors is free on the following days: Rajasthan Day – 30 March, World Heritage Day – 18 April, World Museum Day – 18 May, and World Tourism Day – 27 September.
The Audio Guide is priced at INR 171 for foreign visitors and INR 114 for domestic visitors.
A guided tour was offered to me for INR 400. This is however negotiable I am sure – I did not take the deal.
When is the Albert Hall Museum in Jaipur Open?
Albert Hall Museum is open seven days a week, from 9:00 am – 5:00 pm, for the day session. The museum also offers night viewing from 7:00 pm – 10:00 pm.
| Day | Operating Time |
| --- | --- |
| Monday | 9:00 am – 5:00 pm and 7:00 pm – 10:00 pm |
| Tuesday | 9:00 am – 5:00 pm and 7:00 pm – 10:00 pm |
| Wednesday | 9:00 am – 5:00 pm and 7:00 pm – 10:00 pm |
| Thursday | 9:00 am – 5:00 pm and 7:00 pm – 10:00 pm |
| Friday | 9:00 am – 5:00 pm and 7:00 pm – 10:00 pm |
| Saturday | 9:00 am – 5:00 pm and 7:00 pm – 10:00 pm |
| Sunday | 9:00 am – 5:00 pm and 7:00 pm – 10:00 pm |
Operating hours for the Albert Hall Museum
Note: The last Tuesday of each month, from October to March, is for maintenance and upkeep. Additionally, the last Monday of each month, from April to September, is for maintenance and upkeep. This means the museum will be closed on these days!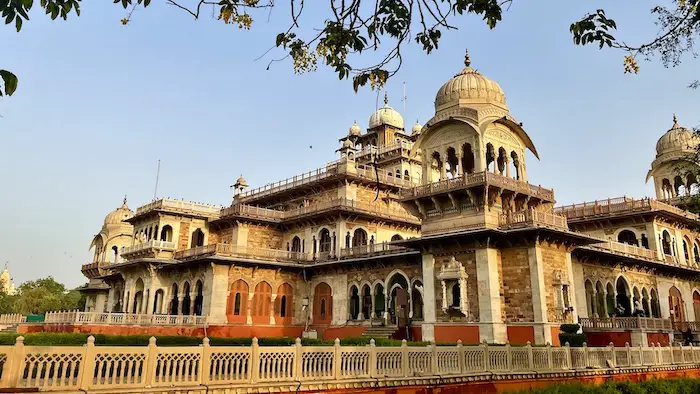 Best time to visit Albert Hall Museum, Jaipur
The best time to visit the museum is from October to March, as the winter months will be a cooler and more enjoyable time. It is also best to visit around 9-10 am in the morning, as it will be less crowded.
We enjoyed going in the morning as fewer people were at the museum. However, you have to be careful as student groups can visit Albert Hall for free from 10 am – 12 pm. This means you may find yourself in the middle of a large crowd of students. 
The museum is also open for a nighttime session from 7:00 pm – 10:00 pm, giving visitors a unique view of the museum as they light it up at night! Also, the evenings are much cooler and more enjoyable to walk around, so this may be a better time for some visitors. However, just remember, that the building is beautiful during the day, and it may be difficult to get photos of it at nighttime!
How to Reach Albert Hall Museum in Jaipur?
The best way to reach Albert Hall is by rickshaw or taxi. Every driver will understand exactly where you want to go if you tell them you want to go to the museum. Additionally, Uber and Indrive are valid options to get good fares on transportation if you want to skip the battering process.
If you decide to take a bus, the best option for you will be the Ajmeri Gate stop (the gate itself is beautiful and worth a quick visit) and then walk the remaining 10 minutes to the museum! Finally, you can also walk to the museum from the Hawa Mahal (Palace of Winds) – about a 20-minute walk away (about 2 km)!
Albert Hall Museum in Jaipur Address: Ram Niwas Garden, Ashok Nagar, Jaipur, Rajasthan, 302001, India
Best Place to Eat after visiting Albert Hall Museum in Jaipur?
After you visit the museum, don't forget to grab some food! There are some really tasty options close by. Masala Chowk is by far my favorite! 
For INR 10, you can enter the food court and get over 20 options for street food lovers – which come on a huge platter! You can easily spend hours at the food court indulging in every type of food they have. They also have a great outdoor seating area covered by huge umbrellas shading you from the hot sun. With it being right across the street from Albert Hall, this is a must-visit place for the best street food in Jaipur!
The History of Jaipur's Albert Hall Museum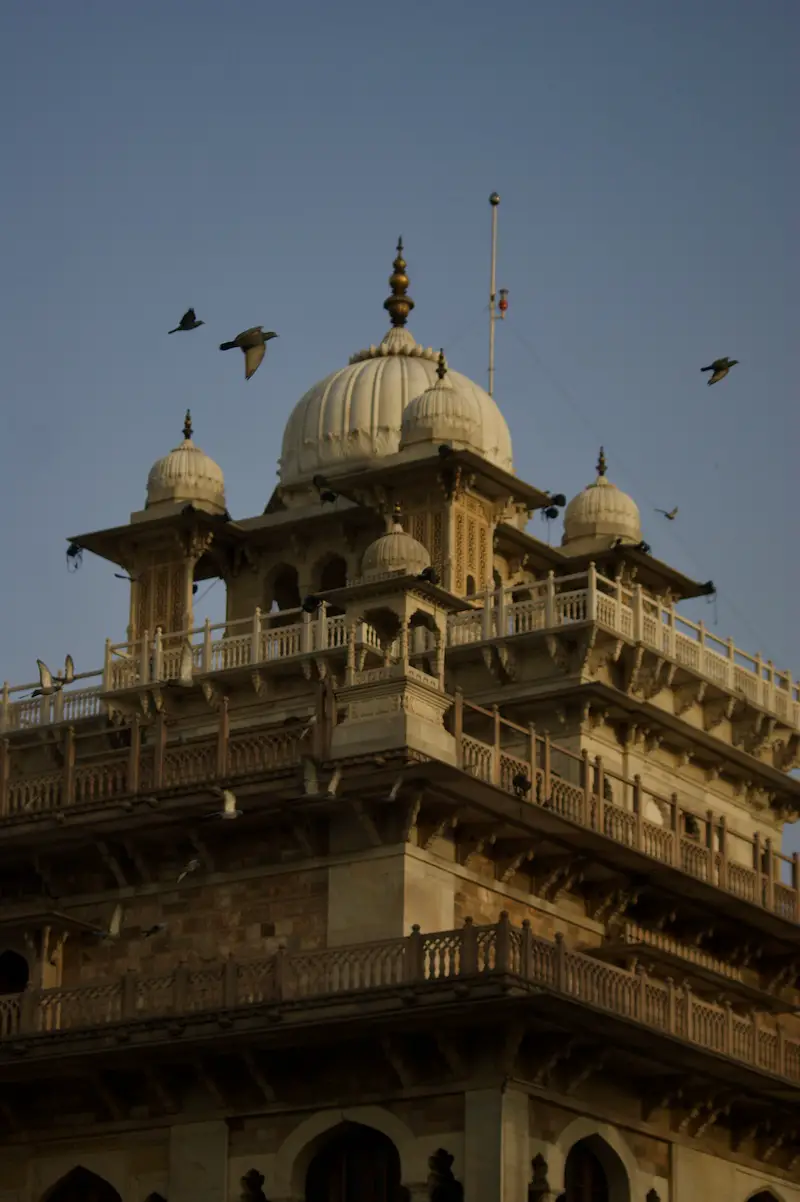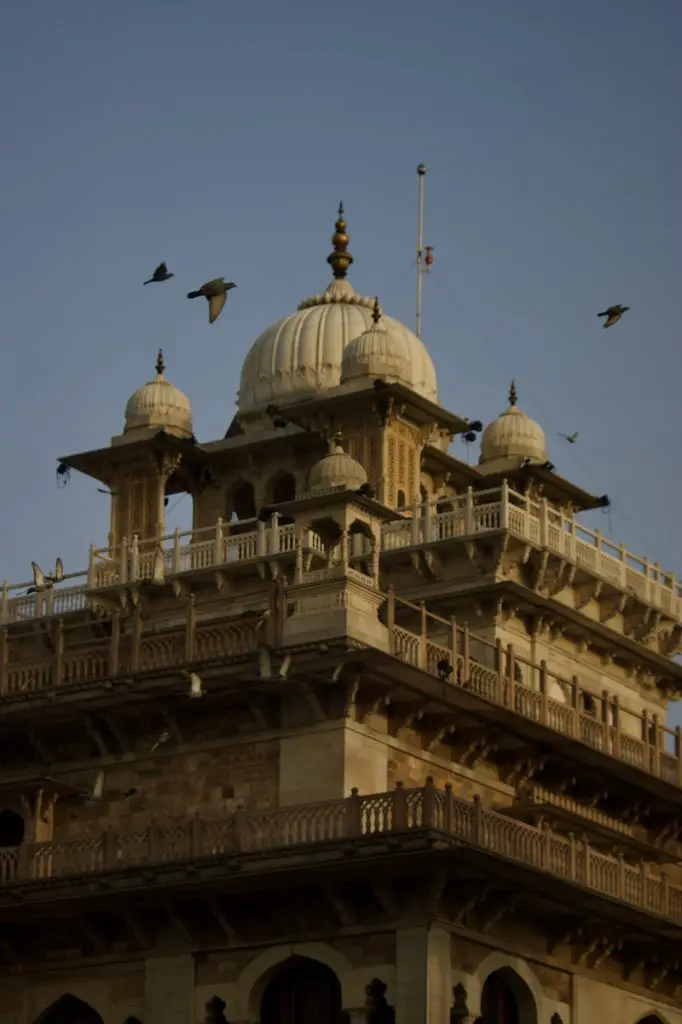 The Albert Hall Museum, also known as the Government Central Museum, is the oldest museum in the state of Rajasthan. Its name pays homage to King Albert Edward IV, who visited Jaipur and personally laid the museum's foundation stone on 6 February 1876.
Located within the Ram Niwas Garden and at the end of the road from Hawa Mahal, the building's enchanting beauty captivates visitors, making it a must-see destination. The architectural style is a captivating fusion of Indo-Saracenic design. Originally intended to serve as a town hall, Madho Singh II later transformed it into a museum. 
Whereas, after careful deliberation, Dr. Thomas Holbein Hendley, the resident surgeon at the time, proposed utilizing the space to showcase the exquisite artistry of local artisans. This idea intrigued Sawai Madho Singh II in 1880, leading to the splendid creation of a museum.
The stunning façade of this museum, designed by Sir Samuel Swinton Jacob with the assistance of Mir Tujumool Hoosein. It began as a small museum and was inaugurated within the premises in 1881, however it wasn't until 1887 that the construction of the Albert Hall Museum reached its completion. 
The museum served and still serves as a gateway for young individuals and visitors to appreciate the region's artistic heritage while providing artisans a platform to enhance their skills and showcase their talents.
Albert Hall Museum in Jaipur – A History Buffs Paradise!
If you are like me, and love learning about the history, culture and traditions of a place, then I strongly recommend checking out the Albert Hall Museum. Not only are the exhibits and displays fascinating, but so is the building they are housed in. Built over 135 years ago, the building is a testament to time, showing a unique mixture of European, and Indian architecture.
You can easily spend 1-2 hours (more if you are like me!) roaming around the building taking everything in! The museum is also centrally located and close to some other great tourist spots, making it easy to visit. And finally, if that wasn't enough, it is located right next to my favorite place to eat in all of Jaipur – Masala Chowk!
So what are you waiting for! Go and see the museum and let me know what you loved the most about it!
FAQs: Albert Hall Museum
Below are the most frequently asked questions regarding the Albert Hall Museum in Jaipur.
1. How much time is required for Albert Hall Museum Jaipur?
The average time required for the Albert Hall Museum is 1-2 hours.
2. What is the Albert Hall Museum famous for?
The museum is famous as it has a diverse assortment of treasures, encompassing paintings, jewelry, carpets, ivory, stone, metal sculptures, an Egyptian Mummy, and exquisite crystal works. Among the exhibits, you'll discover a captivating array of coins spanning various eras, such as the Gupta, Kushan, Delhi Sultanate, Mughal, and British periods.
3. Who was the founder of the Albert Hall Museum?
In 1876, during the visit of Prince of Wales Albert Edward, to Jaipur, the foundation stone of the building was laid. Architect Samuel Swinton Jacob, who served as the director of Jaipur PWD at the time, undertook the completion of the construction, which was finalized in 1887.
4. Which is the oldest museum of Rajasthan?
The oldest museum in Rajasthan is the Albert Hall Museum, constructed in 1876. The museum is also known as the Government Central Museum.