Jaipur, the capital of Rajasthan, is not only known for its rich history and majestic palaces but also for its diverse and delectable street food scene. The city's culinary landscape is a melting pot of flavors, blending traditional Rajasthani cuisine with influences from various other regions of India. 
One of the most fascinating aspects of Jaipur's street food scene is its incredible diversity. Whether you are a vegetarian or a non-vegetarian, you will find a plethora of options to tantalize your taste buds. Vegetarian street food in Jaipur is particularly famous, with a wide variety of dishes that showcase the creativity and flavors of Rajasthani cuisine. From the popular Pyaaz Kachori, with its crispy exterior and spicy onion filling, to the aromatic Aloo Tikki served with tangy chutney, vegetarians will find themselves in a gastronomic paradise.
In this blog, we will take you on a culinary adventure, exploring the best street food in Jaipur that will leave you craving more. So, let's go foodie and get ready for an amazing and yummy food journey through the streets of India's Pink City.
15 Street Food in Jaipur You Must Try!
From hearty and flavorful vegetarian dishes to succulent meat delicacies, Jaipur offers a treasure trove of culinary delights that are sure to leave you craving for more. But that's not all the city has to offer when it comes to food. So make sure to also check out our best cafes in Jaipur blog as well!
When it comes to street food, one of the best places to get almost everything on this list from is Masala Chowk in Jaipur! Now, without further ado, the 15 best street foods in Jaipur that you must try! 
1. Pyaaz Kachori: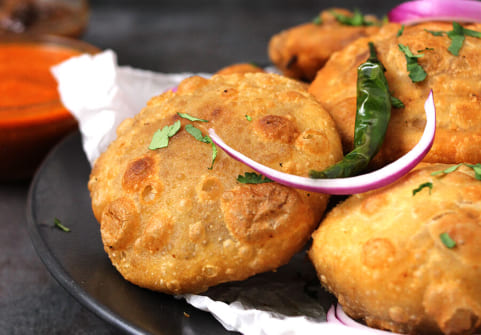 Let's kick off our food exploration with a Rajasthani favorite, Pyaaz Kachori. These deep-fried pastries filled with a spicy onion mixture are a delight for both vegetarians and non-vegetarians alike. The Pyaaz Kachori is also our favorite street food! The crispy exterior and flavorful stuffing make Pyaaz Kachori a must-try street food in Jaipur. It is a bit spicy for our taste buds but we absolutely love it.
This is one of Pooja's favorite street foods! She is always looking to grab a plate when we are out around the city! She also recommends trying the moong dal Kachori!
2. Mirchi Bada: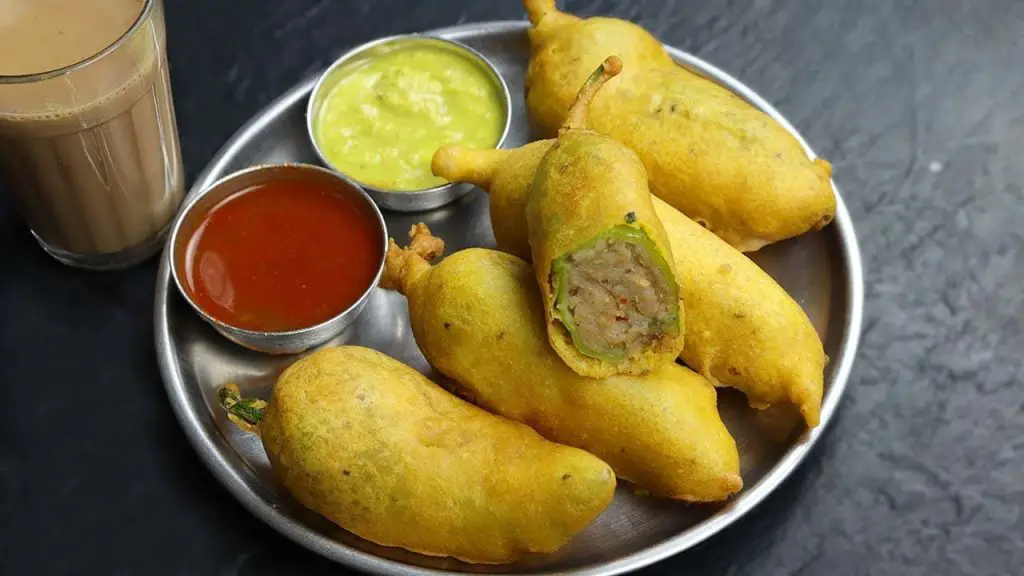 If you're a fan of spicy food, then Mirchi Bada should be on your list. These stuffed green chili fritters are deep-fried to perfection, resulting in a crispy outer layer and a fiery kick of flavors inside. It's an absolute favorite among the locals and a true representation of Rajasthani street food.
These things can be spicy though, so be careful! They almost melted my face off because they were so spicy.
3. Daal Baati Churma: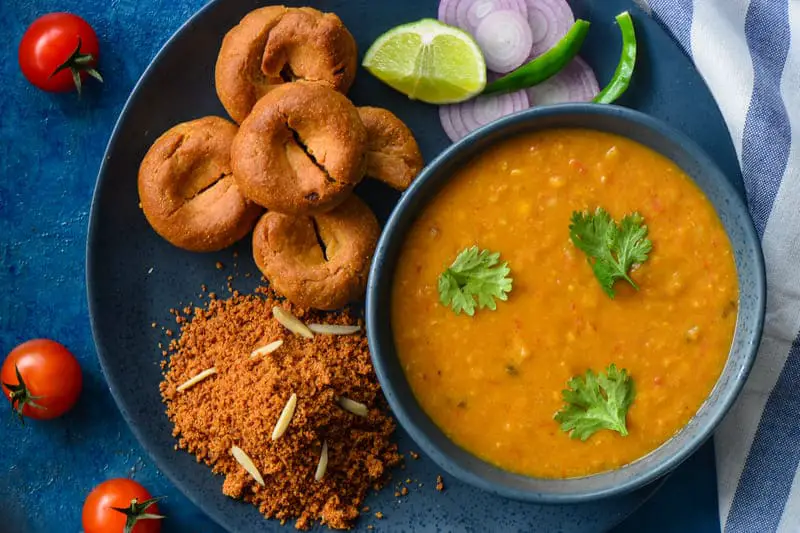 No trip to Jaipur is complete without savoring the iconic Daal Baati Churma. This traditional Rajasthani dish consists of baked dough balls (Baati) served with a flavorful lentil curry (Daal) and a sweet crushed wheat dessert (Churma). The combination of these three elements creates a heavenly symphony of flavors.
4. Ghevar: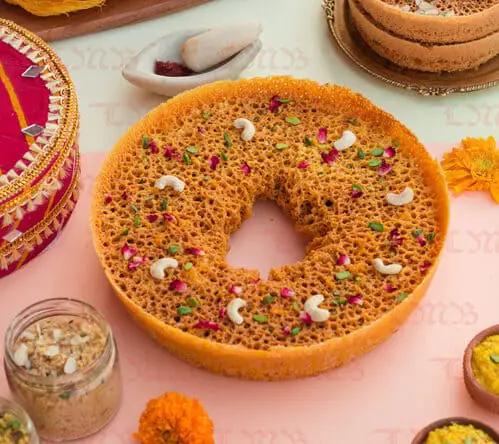 Indulge your sweet tooth with a popular Rajasthani dessert, Ghevar. This round-shaped delicacy is made from a batter of flour, ghee, and milk, and then deep-fried until golden and crispy. It is then soaked in sugar syrup and garnished with nuts. Ghevar is a must-try during festivals like Teej and Raksha Bandhan.
During festivals in Jaipur you will find this sweet street food everywhere! It is a favorite amongst locals and especially children, as it is quite sweet and sugary!
5. Laal Maas: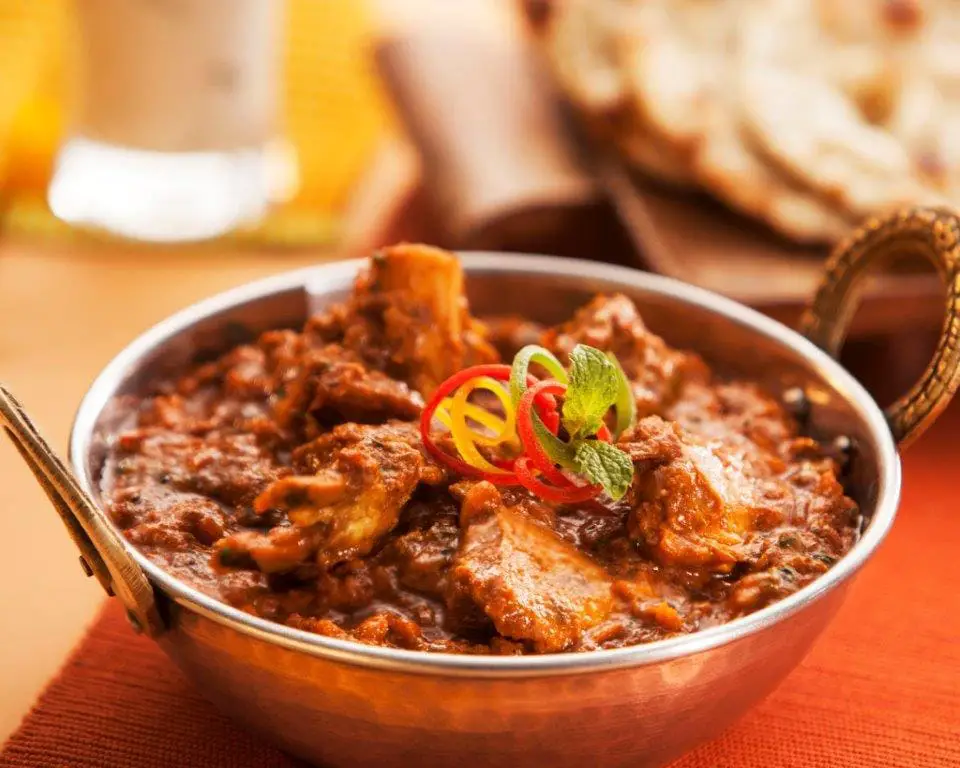 For the meat lovers out there, Jaipur offers a lip-smacking treat called Laal Maas. This fiery red mutton curry is a true reflection of Rajasthani flavors. Prepared with a combination of various spices and red chili paste, Laal Maas is sure to ignite your taste buds and give you a delightful food experience.
This is probably hands down our favorite street food on the list! Anytime we see this available, even if we are not hungry, we make sure to grab a plate. We both are meat lovers and love mutton! Make sure you try this wherever you can while visiting Jaipur.
6. Aloo Tikki: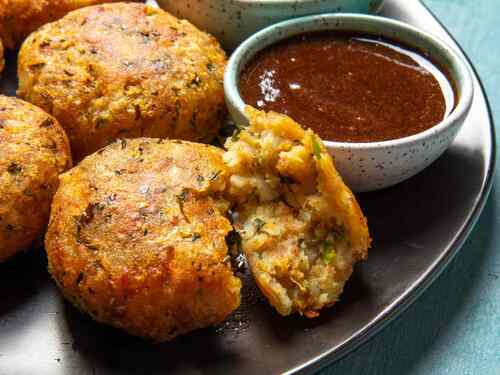 Aloo Tikki, the beloved street food of India, has its own unique twist in Jaipur. These potato patties are shallow-fried until golden brown and served with a tangy tamarind chutney and a yogurt-based sauce. The crispy exterior and soft, flavorful interior make Aloo Tikki an all-time favorite snack and street food in Jaipur.
I love a variety of potato dishes, so aloo tikki did make it to my list of favorite street food in Jaipur. The sweet and sour tamarind chutney is the best part of the dish. Each bite of the tikki with the chutney is an explosion for my taste buds!
7. Kachori: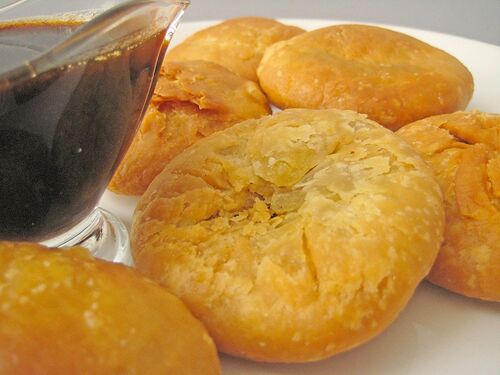 Another gem of the street food scene in Jaipur is the classic Kachori. These deep-fried, flaky pastries are stuffed with a spicy mixture of lentils or potatoes and served with a side of tangy chutney. Kachoris are available in various flavors, such as Pyaaz (onion) Kachori, Mawa Kachori (sweet), and Raj Kachori (filled with a variety of ingredients).
8. Kulfi Falooda: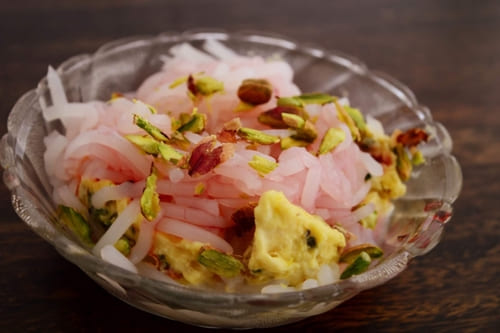 One of the best ways to cool down in the scorching Jaipur heat is with a refreshing Kulfi Falooda. This chilled dessert is a combination of creamy, rich kulfi (Indian ice cream), vermicelli noodles, sweet syrup, and a medley of toppings like nuts and rose petals. It's a delightful treat to beat the heat and satisfy your sweet cravings.
Pooja has sweet tooth and loves everything that has to with sugar. She loves kulfi and this new combination of noodles (it's a bit weird), syrup and extra nutty toppings was delicious. However, the syrup was a bit too much of sweetness but we still recommend to give it a try once.
9. Makhaniya Lassi: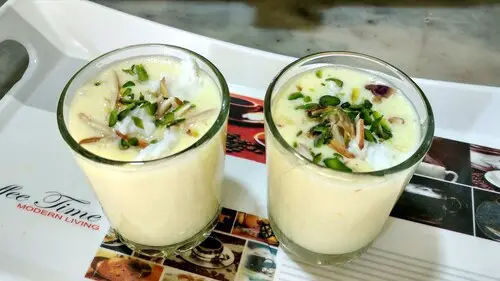 Quench your thirst with the famous Makhaniya Lassi, a thick and creamy yogurt-based drink. This traditional Rajasthani beverage is flavored with saffron, cardamom, and topped with a generous dollop of malai (cream). The Makhaniya Lassi is a perfect blend of sweet and tangy flavors and is sure to leave you refreshed. We used to get the lassi every night after dinner and it was the perfect way to end the day!
10. Ghewar Rabri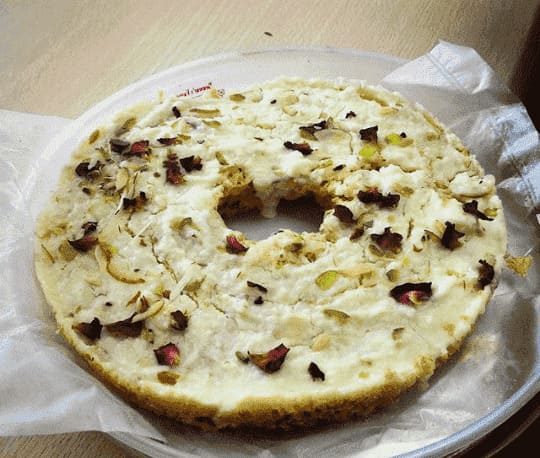 Indulge in the heavenly combination of Ghewar and Rabri, a popular dessert in Jaipur. Ghewar, a disc-shaped sweet made with flour, is served with a creamy and sweetened condensed milk called Rabri. The soft, spongy texture of Ghewar combined with the rich flavors of Rabri creates a dessert experience like no other.
11. Kachori with Kadhi: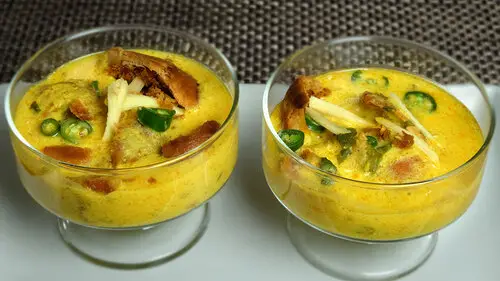 Satisfy your taste buds with a savory delight, Kachori with Kadhi. The crispy and flaky Kachori is served with a tangy and spicy yogurt-based curry called Kadhi. The contrasting textures and flavors of this combination make it a favorite among the locals and a must-try street food in Jaipur.
One of my favorite dish is also Kadhi. I love the mixture of the spicy and creamy curry and taste great with both rice or rotis. But got for the rotis, you will thank me later!
12. Rajasthani Thali: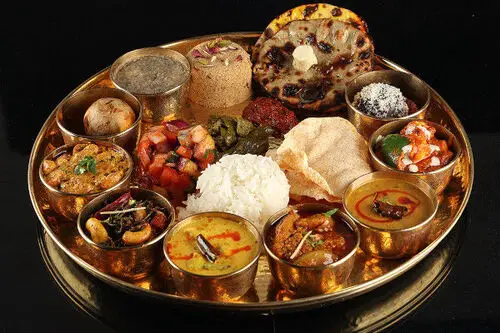 Immerse yourself in the flavors of Rajasthan by indulging in a Rajasthani Thali. These elaborate and wholesome meals consist of a variety of dishes like Daal, Baati, Churma, Gatte Ki Sabzi (gram flour dumplings in curry), Ker Sangri (a local desert bean dish), and more. It's a culinary journey in a single plate, giving you a taste of the rich Rajasthani cuisine.
13. Gujia: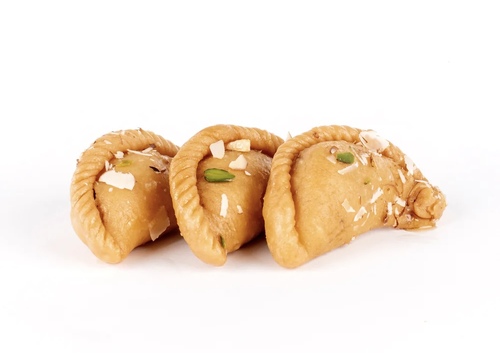 Gujia, a delightful sweet treat that exudes sheer bliss, is a ubiquitous delicacy found during the festive seasons of Holi and Diwali. Crafted with utmost care, this delectable dessert combines the lusciousness of sweetened khoya (milk solids, also known as Mawa) and the crunch of crushed dry fruits. The mixture is then encased in small dumplings made from suji (semolina) or maida (all-purpose flour), deep-fried to perfection, resulting in a tantalizing crispness.
Indulging in Gujia is an absolute must during these joyous occasions, as it allows you to relish the essence of Rajasthani cuisine while partaking in the grand celebrations of Indian festivals.
14. Mutton Tikka: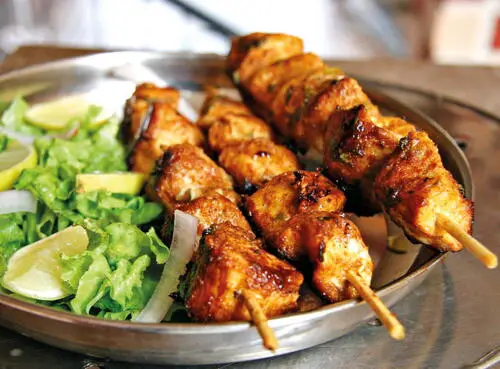 For the meat lovers, Mutton Tikka is a must-try non-veg street food in Jaipur. Tender mutton pieces marinated with a blend of spices and cooked to perfection in a tandoor (clay oven) create a smoky and flavorful experience. Served with mint chutney and onions, Mutton Tikka is a true delight for non-vegetarians.
You can find these at bbq carts all around the city! The best part is they will have a bunch of other type of tandoor foods as well. So you can have a one stop shopping experience for food!
15. Churma Ladoo: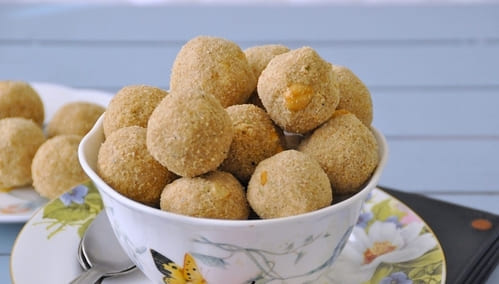 End your street food adventure on a sweet note with Churma Ladoo. These sweet balls are made by combining crushed wheat, ghee, jaggery, sesame seeds, grated coconuts and then rolled into bite-sized treats. Churma Ladoo is a popular dessert in Rajasthan, often served during festivals and celebrations. 
Street Food in Jaipur Takeaways
To truly immerse yourself in the street food culture of Jaipur, don't be afraid to venture off the beaten path. While there are popular food hubs like the bustling Bapu Bazaar and the vibrant Johari Bazaar (some of the best places for shopping in Jaipur!), some of the most delightful culinary surprises can be found in the lesser-known corners of the city. 
Follow the locals, strike up conversations, and let your taste buds be your guide as you explore the hidden gems of Jaipur's street food scene. From spicy snacks to indulgent desserts, Jaipur offers a delightful array of flavors that will leave you craving for more. So, whether you're a vegetarian or a non-vegetarian, make sure to embark on a culinary adventure through the streets of Jaipur and savor the best street food the city has to offer.
FAQs: Street Food in Jaipur
1. What is famous in Jaipur for food?
In Jaipur, you can find a range of traditional Rajasthani dishes that are beloved by locals and visitors alike. From the famous Gatte ki Subji to Mangori, Ker Sangari, and Pakodi, these culinary delights hold a special place in the daily meals of Rajasthanis.
2. Do people eat non veg in Jaipur?
Jaipur is renowned for its diverse range of non-vegetarian delicacies, with kebabs and curries reigning supreme among meat lovers. These flavorful eateries are scattered across the city and offer an array of delectable, gravy-rich non-vegetarian dishes. From succulent kebabs to aromatic curries, Jaipur's culinary landscape promises a delightful journey for those seeking a taste of the city's vibrant non-vegetarian cuisine.
3. What to eat while in Jaipur?
Some of the street food you have to eat in Jaipur are: Rajasthani thali, laal maas, lassi, pyaaz kachori, kadhi and daal baati churma.