Masala Chowk in Jaipur has to be one of my favorite places to eat in India's Pink City! As a bustling open-air food court near the iconic Albert Hall Museum, the vibrant culinary destination is a feast for the senses! It offers diverse mouth watering street food delicacies from Rajasthan and beyond. All are served on a huge platter where you can eat till you can't eat anymore.
If you are a foodie like me, looking for something delicious (and cheap!), check out this blog covering everything you need to know about Masala Chowk!
Exploring the Culinary Delights of Masala Chowk in Jaipur:
At Masala Chowk, prepare to be mesmerized by the rich tapestry of flavors Rajasthan offers. From the moment you step into this food lover's paradise, your senses will be overwhelmed by the aromas and the sight of an array of the best street food in Jaipur. And, if you are like me, choosing which food stall to eat at will be one of the hardest decisions you will have to make on your trip. All because there are over 20 different food stalls to choose from, all of which look beyond tasty!
While here, you can Indulge in local favorites like the crispy kachori stuffed with a variety of delectable fillings or the piping-hot samosas that boast a perfect balance of spices. Need something different? Then dive into a plate of Pani puri, where crispy shells are filled with an irresistible combination of spiced water, chutneys, and chickpeas.
But if you are looking for a hearty meal, go for the iconic pav bhaji, a medley of spiced vegetables served with buttery buns!
And, of course, after the main course, make sure to save room for some amazing dessert options!
Food Stalls and Famous Dishes at Masala Chowk: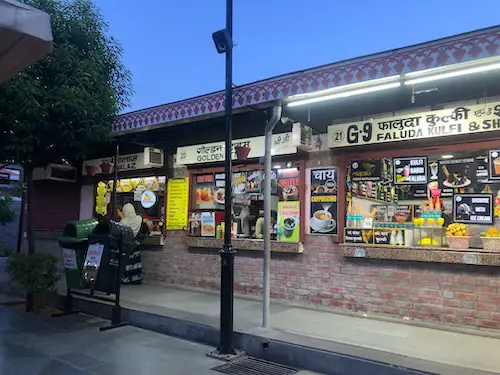 If you are like me, it will be a little overwhelming at the food court, all because there are too many delicious options to try. To help you decide what to eat, I have compiled a list of my favorite restaurants and food!
Samrat: They are famous for Pyazz (onion) Ki Kachori, Samosa, and Jalebi.
Rama Kishana Kalkatti Chat: They have a wide selection of special chats.
Somilal Rawat Misthan Bhandar: They are very popular for Gulab Sakri and Mishri Mawa.
Gopal Singh Patasi Bhandar: The Gol Gappe is amazing here and has a unique taste.
Shankar Samosa: Their samosa has an unusual but super tasty tangy flavor. Must try!
Sethani Ka Dhaba: The best Rajasthani cuisine like Bejar ki Roti, Makke ki Roti, and Lehsun ki Chatni.
Somilal's Rawat Misthan Bhandar: The best place to get Mishri Mawa and Gulab Sakri.
Indian Ice Cream Faluda: Faluda is one of the oldest brands in Jaipur and makes a tasty treat on a hot day!
Raman Dosawala: Great for South Indian dishes such as Masala Dosa and Uttapam.
Shri Jharkhand Nath Poha And Chat: Recommend the chats and Pao Bhaji.
Gulab Ji Chai Waale: They are famous for their tea, prepared with secret ingredients!
Delhi Chaat and Cafe: Perfect for chat lovers! They also have great Chola Bhatura, Aloo Tikki & Chola, and Dahi Papdi Chaat.
Prem Prakash Samosa: Famous for samosas of course! But they have less spice and salt and are cheap!
Wah! Banna: Their Dahi Bada, Mirchi Bada Raabdi, and Kairi Panna Rabri are delicious.
Bhagat Mishthan Bhandar: For sweet lovers! Make sure to eat their various laddu's. Such as Boondi laddu and Doodh laddu.
Brijwasi Faluda Kesar Kulfi: Popular for rabri faluda and their famous traffic jam ice cream.
Pawana Rajasthani Vyanjan: This is a must-visit place in Masala Chowk If you are looking for Rajasthani cuisines, such as Daal, Bati, Churma, and Gatta Curry!
GT's Jaipuri Chatkara: I love this place for Pani Puri, Pao Bhaji, and Chola Chaat!
House On Fire: If you are a biryani and Kebabs lover, you can rejoice at the House of Fire! Just make sure to try their Galouti Kebabs!
Andewalaz: Great for Anda (egg) cuisine. The best dish here is Anda Bhurji!
Radha Govind Bartan Udyog: You can find different household items and gifts here.
Ice Cream & Shakes: Various ice creams and shakes. Make sure to try their Rajbhog ice cream
Mahaveer Rabri Bhandar: Well known for their delicious Rabri.
How much is the entry fee for Masala Chowk?
The entry fee for the Masala Chowk is INR 10, a reasonable price to access the food court and 20+ street food stalls inside.
Supposedly, the JDA authorities decided to put the INR 10 entry fee into effect to help control crowds and unwanted guests into Masala Chowk. However, no matter why the fee was put into place, I believe the entry fee is well worth it. With great seating, covered by umbrellas, and access to over 20 shops, you easily get your money's worth! Plus, the food is super cheap inside, so you are getting a great deal on your small investment!
What time does Masala Chowk food court open?
Masal Chowk is open from 8 am to 10 pm, Monday to Friday. Saturday and Sunday, the food court is open from 8:30 am to 10:pm.
Although you can visit the food court anytime during the day, I like visiting at night for dinner. As Jaipur comes alive at night, there is always a good size crowd there, and everyone is sitting around enjoying their food. Also, I tend to go to the best food court in Jaipur after I visit the Albert Hall Museum. The museum is right across the street, making it the perfect spot to grab food after seeing the magnificent building.
The Ramniwas Garden is also on-site and is open from 8 am to 11 pm. This area is a small park attached to the food court, which you can visit.
Where is Masala Chowk located in Jaipur?
Masala Chowk is located in the Ram Niwas Garden across the street from Albert Hall Museum. 
Additionally, you can easily walk to the food court from Hawa Mahal (the Palace of Winds) or Jahari Bazaar in about 20 minutes. With the Masala Chowk being close to the main tourist attractions in India's Pink City, it is extremely easy for anyone to visit. Making it one of the must-visit places for foodies!
Location of Masala Chowk: Ram Niwas Bagh, Rina Rd, Adarsh Nagar, Jaipur, Rajasthan 302004
Masala Chowk's Vibrant Atmosphere: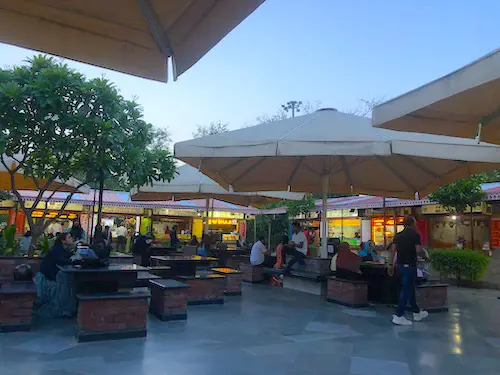 The open-air setting allows you to soak in the sights and sounds of the bustling food court, all while being outside! With large umbrellas to shade you from the sun, large fans to cool you off, and ample seating everywhere, there is no problem being comfortable while eating your favorite meal!
The colorful stalls, adorned with aromatic spices and enticing displays, create a visual feast that complements the culinary delights. And if that wasn't enough to pique your senses, you'll often hear the shop owners shouting out to potential customers. Making it a fun and exciting atmosphere while they compete to attract customers to their food stalls.
Additionally, Masala Chowk will not only satisfy your taste buds but also provide an authentic glimpse into the rich culinary heritage of Jaipur. Street food is an integral part of Rajasthan's culture, and at this food court, you can sample an extensive range of local dishes in one place. Each bite tells a story, connecting you to the vibrant traditions and flavors passed down through generations.
Is Masala Chowk the Ultimate Street Food Destination in Jaipur?
Located in Ram Niwas Garden, Masala Chowk is a must visit outdoor food court that gives you the cleanliness and delicious food, of a nice sit down restaurant. This place is so big I consider it to be one of the best places to shop in Jaipur – for food of course!
The name "Masala Chowk" evokes images of a lively public square or an open area filled with shops and kiosks serving flavorful street food. Initially, it primarily catered to tourists due to its proximity to the renowned Albert Hall Museum in Ram Niwas Garden. However, locals have quickly embraced this culinary gem, catapulting its popularity to new heights.
Masala Chowk undoubtedly delivers when it comes to experiencing the vibrant street food culture of Jaipur. From the moment I stepped foot into the food court, I knew I had found one of my favorite places to eat! The food court boasts a diverse range of culinary delights, including mouthwatering kachoris, crispy samosas, tangy collapse, and savory pav bhaji. Each dish captures the essence of Rajasthan's rich culinary heritage, tantalizing your taste buds with authentic flavors.
The hardest and worst part about visiting Masala Chowk was deciding what to eat. With so many different options, you may panic as you want to make sure you get the best dish! However, don't fret, as the food court is open all day, and you will have plenty of time to go back for seconds!
Beyond the culinary offerings, Masala Chowk offers a unique ambiance that adds to the overall experience. The open-air setting allows you to bask in the hot Jaipur weather as you sit under large umbrellas next to large industrial fans that keep you cool! Whether you grab a seat at one of the communal tables or take a stroll, the vibrant atmosphere and the lively energy of fellow food enthusiasts will surely enhance your visit.
Its wide range of large platters of delectable offerings and lively atmosphere make it a must-visit for locals and tourists alike. Also, it is perfect for anyone visiting the Albert Hall Museum as it is less than a two-minute walk away! Just remember that on the weekends, it can get quite crowded, so plan accordingly!
The History and Transformation of Masala Chowk
Masala Chowk, the beloved food court in Jaipur, holds a special place in the hearts of its residents, reminiscent of the bygone era when Kiran Cafe reigned supreme in another corner of Ram Niwas Garden. In the 1970s and 1980s, Kiran Cafe stood as one of the few dining options in Jaipur, capturing the hearts of families who sought a delightful weekend outing.
However, the days of Kiran Cafe are gone, with a restaurant in every corner of Jaipur now. Additionally, for those who grew up during that time, the location of the current-day Masala Chowk held a different allure – it was once a vibrant circus ground. Indian and Russian circuses would perform here, offering affordable entertainment to the people of Jaipur.
However, as the 1990s arrived, the concept of circuses gradually faded away, and with it, the circus in Ram Niwas Garden bid farewell. Subsequently, an amusement park called Wonderland graced the grounds for a few years, adding a new layer of joy to the area. However, with the closure of Wonderland, the place remained vacant, frozen in time.
Even today, the Jaipur Development Authority (JDA) refers to this cherished location as "Wonderland Park." Its transformation into Masala Chowk breathed new life into the once-empty space, reviving the fond memories of Kiran Cafe and the vibrant circus days. Today, Masala Chowk stands as a testament to the evolution of this place, offering a vibrant and bustling food court that has become an integral part of Jaipur's culinary landscape.
As visitors flock to Masala Chowk to relish the delicious street food and soak in the lively ambiance, they unknowingly become part of this place's rich history within its walls. The journey from circus ground to an amusement park and now to a food court is a testament to the adaptability and transformation of public spaces over time.
Masala Chowk in Jaipur – A food lover's Paradise
Masala Chowk is the go-to spot for anyone that loves food. Designed as an open-air food court, there are over 20 food stalls that you can choose from. With traditional Rajasthani food, pizza, and even Chinese food, this place will have you drooling with excitement.
I absolutely love going here to eat. With only an INR 10 entry fee and being across the street from Albert Hall, it is a perfect spot to eat after visiting the city. Don't worry about the entry fee; you will instantly get your money back with the great value you get at the food stalls.
Ultimately, if you love food, enjoy having multiple options, and love having huge platters of food that will fill you up, Masala Chowk in Jaipur is a must-visit!
FAQs: Jaipur's Outdoor Food Court – Masala Chowk
Below are some of the most frequently asked questions regarding Masala Chowk in Jaipur, Rajasthan.
1. What is masala chowk famous for?
Masala Chowk is famous for its assortment of food stalls offering genuine Indian street food. Originally designed to draw in tourists due to its proximity to the renowned Albert Hall Museum, Masala Chowk has become a favorite place for locals and foodies.
2. What time does masala chowk open?
Masal Chowk is open from 8 am to 10 pm, Monday to Friday. Saturday and Sunday, the food court is open from 8:30 am to 10:pm.
3. How much does it cost to enter Masala Chowk in Jaipur? 
The cost to enter Masala Chowk in Jaipur is INR 10 per person.