Jaipur, the vibrant capital city of Rajasthan, is renowned for its rich cultural heritage and historical significance. Including some of the most famous forts and palaces in all of Rajasthan. The city is a treasure trove of magnificent palaces, forts, and some of the best museums in the Jaipur area, which offer a glimpse into the city's glorious past. Museums play a pivotal role in preserving Jaipur's cultural legacy and are integral to promoting tourism and education. 
The renowned Pink City in India and its museums is one reason why I had to visit Rajasthan! If you are lucky enough to visit the city as well, then you won't want to miss these 10 best museums in Jaipur!
List of the best Museums in Jaipur:
Below is a quick list of the best museums in Jaipur. I have also included their location in the table, as well as the map below!
| Museum Name | Location |
| --- | --- |
| Albert Hall Museum | Kailash Puri |
| Jaipur Wax Museum | Nahargarh Fort |
| Doll Museum | JLN Marg |
| Anokhi Museum | Chanwar Palk Walon Ki Haveli |
| City Palace Museum | City Palace, Jaipur |
| Hawa Mahal Museum | Kanwar Nagar |
| Gyan Museum | EPIP Sitapura |
| Diwan-E-Aam | Mubarak Mahal Courtyard |
| Jawahar Kala Kendra | Jhalana Doongri |
| Amrapali Museum | Ashok Marg |
List of Jaipur Museums
Locations of Jaipur's museums:
Experiencing the Rich Culture and Heritage of Rajasthan at Jaipur's best museums
The Pink City (Jaipur), boasts a diverse and thriving museum scene. With its royal lineage and deep-rooted history, the city has numerous museums that house artifacts, artwork, wax celebrities, jewelry, architecture, and historical treasures from the royal history of the city.
From ancient relics to contemporary art, Jaipur's museums cater to various interests and provide a little something for every secret history buff. So, without further ado, let's dive into the best museums in Jaipur! 
The 10 best museums in Jaipur!
The ten best Jaipur museums and my personal favorites to explore and see are as follows:
1. Albert Hall Museum:
Located in the heart of Jaipur, the Albert Hall Museum is a majestic neo-Gothic structure that houses a remarkable collection spanning art, archaeology, and ethnography. From extraordinary miniature paintings to ancient sculptures, the museum has a unique mix of exhibits..
One of the museum's most captivating attractions is an Egyptian mummy dating back over 2300 years! If that wasn't enough, the Albert Hall Museum proudly displays ceremonial dresses and jewelry once worn by the esteemed kings and queens of Jaipur, offering visitors a glimpse into the lives of royalty.
Stepping into the Albert Hall Museum is like embarking on a journey through time, as each artifact and display serves as a portal to a different era. With its diverse collection and awe-inspiring exhibits, the museum stands as a testament to Jaipur's rich cultural heritage.
Location: Kailash Puri, Adarsh Nagar, Jaipur
Opening Time: 9:00 am to 5:00 pm and 7:00 pm to 10:00 pm; every day
Entrance Fee: Indians INR 52, Foreigners INR 302, Students INR 152
Must-See Artifacts: Glazed Pottery, 4th Century stone sculpture of Yakshi, Persian Garden Carpet, 18th-century Japanese dolls, Egyptian Mummy
2. Jaipur Wax Museum: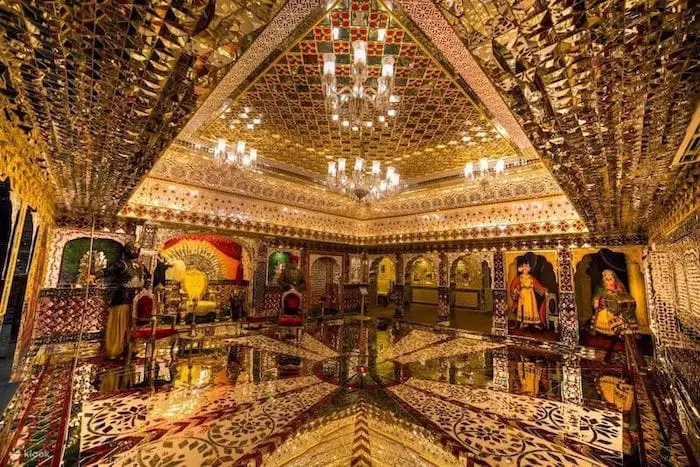 If you are looking for something a little different, then the Wax Museum in Jaipur is for you! Situated within the Nahargarh Fort complex, the Museum showcases lifelike wax figures of renowned personalities worldwide, including historical figures, Bollywood stars, and global icons. 
If you have ever been to a wax museum, you know exactly what you are getting yourself into! I love this place as it offers a unique blend of entertainment and education.
Taking inspiration from the world-famous Madame Tussauds, the museum proudly showcases wax replicas of iconic individuals, including the legendary Amitabh Bachchan, the graceful Deepika Padukone, the revolutionary Bhagat Singh, the cricketing legend MS Dhoni, the trailblazing Kalpana Chawla, the master blaster Sachin Tendulkar, Mother Teresa, and the beloved Jackie Chan.
In addition to these famous personalities, the museum hosts wax exhibits of kings, queens, and other distinguished royal personalities from bygone eras. The thirty-two lifelike sculptures, meticulously engineered and designed by a talented team of experts, will captivate your senses and provide a relaxing and fun experience.
Location: Nahargarh Fort
Opening Time: 10.00 am to 06.30 pm; every day
Entrance Fee: INR 500
Must-See Artifacts: Wax figures of famous personalities, Sheesh Mahal, Royal Durbar
3. Doll Museum in Jaipur: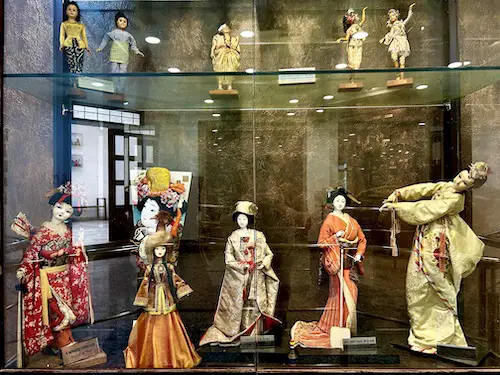 Don't let the name fool you; the Doll Museum in Jaipur is a delight for all ages! It exhibits an enchanting collection of dolls from different parts of Rajasthan and around the world. Each doll is intricately crafted and represents its respective region's cultural diversity and traditional attire.
Located in Adarsh Nagar, the Dolls Museum surprises visitors as they step into the 20th-century museum, as it feels like they are stepping into a dreamland! The dolls are not just ordinary playthings; they are exquisite works of art that celebrate the rich folklore and traditions that form the vibrant tapestry of Indian culture. Each doll is meticulously crafted and adorned with traditional garments, showcasing the diverse ethnic attires from states such as Tamil Nadu, Assam, Maharashtra, Bengal, Punjab, Kerala, and Gujarat.
Moreover, the Dolls Museum goes beyond Indian borders, showcasing dolls dressed in the traditional costumes of various countries worldwide. Including Malaysia, Germany, Sweden, Uganda, China, Afghanistan, Mexico, America, Britain and many more, each of the dolls find their place of honor within the museum.
Location: JLN Marg, Adarsh Nagar, Jaipur
Opening Time: Open everyday from 9:00 am to 4:00 pm except on Tuesday when they are closed
Entrance Fee: INR 20 for Indians, INR 100 for Foreigners, INR 10 for Students
Must-See Attractions: Dolls depicting traditional dance forms, international cultures, and real-life scenarios
4. Anokhi Museum: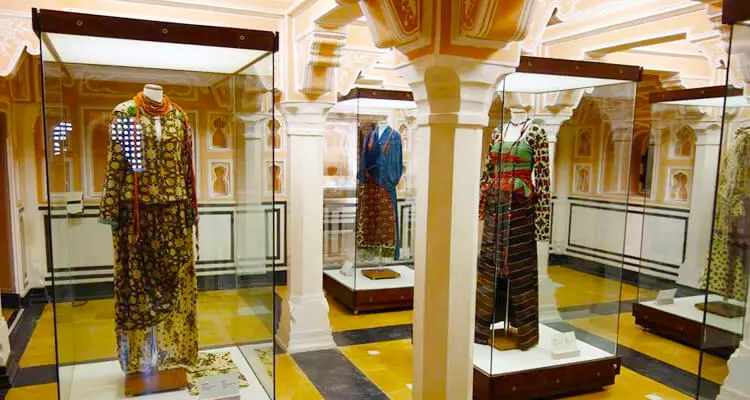 Dedicated to the art of block printing, the Anokhi Museum provides insights into the traditional craft of Rajasthan. Showcasing a vast range of hand-block printed textiles, tools, and techniques, the museum shows the evolution and significance of this ancient art form.
Anokhi is a beautiful haven dedicated to the timeless arts of hand printing and woodblock printing, which have had a profound artistic influence on numerous textile and handicraft industries. The hand-block printed art forms are preserved and celebrated through a diverse array of artifacts, including mesmerizing textile exhibits, fascinating tools of the trade, captivating images, and informative demonstrations.
Visitors to the museum can witness block carving and printing demonstrations, providing an enriching and immersive experience. Watching skilled artisans bring designs to life through their meticulous craftsmanship is a truly inspiring sight, offering a deeper appreciation for the intricacies and dedication of this ancient art form.
Location: Chanwar Palk Walon Ki Haveli, Jaipur
Opening Time: 10.30 am to 05.00 pm (Tuesday to Saturday) and 11.00 am to 04.30 pm (Sundays)
Entrance Fee: Adults – ₹ 30, Students – ₹ 20, Children – ₹ 15
Must-See Attractions: Block print demonstrations, block carving tools
5. City Palace Museum: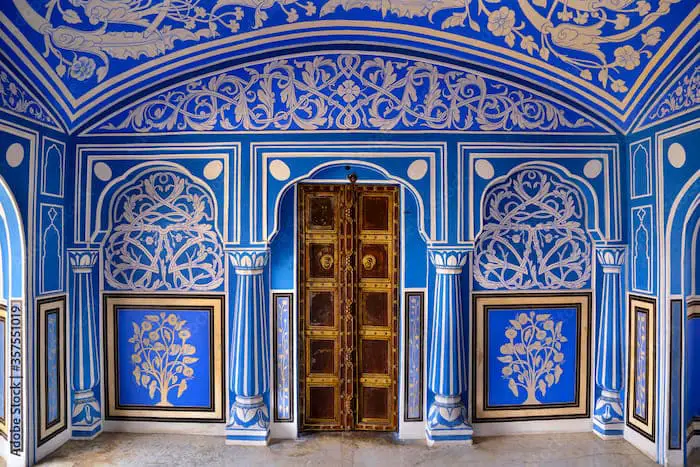 Nested within the magnificent City Palace complex, the City Palace Museum is overflowing with royal artifacts, including weapons, costumes, paintings, and manuscripts. Visitors can immerse themselves in the luxurious lifestyle of Jaipur's kings and queens of yesteryear.
Originally built by Raja Jai Singh, the palace's grand brass gate welcomes you, beckoning you to uncover the secrets of royal life. And as you step inside, you'll discover the ornate Mubarak Mahal, housing the textile division of the Central Museum. This magnificent structure is a must-visit for tourists, showcasing the finest craftsmanship and artistic splendor. 
Within its walls, you'll find a treasure trove of royal attire and handcrafted jewelry, offering a captivating glimpse into the lives of Jaipur's regal inhabitants. As you venture further into the palace, you'll be mesmerized by the palatial interiors, the regal foyers, and the grand chandeliers adorn the space. Each corner of the museum exudes majestic charm, captivating visitors and making them reluctant to leave.
Location: City Palace, Jaipur
Opening Time: 09.30 am to 05.00 pm; closed on weekends
Entrance Fee: ₹ 130
Must-See Attractions: Mor Gate, Leheriya Gate, Lotus Gate, Rose Gate, Silver Jars featured in the Guinness Book of World Records
6. Hawa Mahal Museum: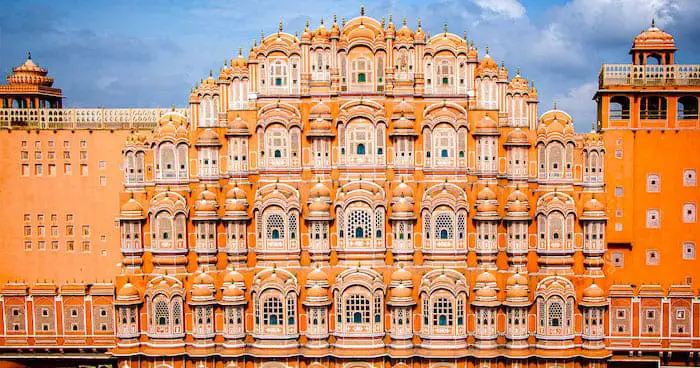 Next to the the iconic Hawa Mahal in Jaipur, this museum offers a glimpse into the history and architecture of the city's most recognizable landmark. The exhibits shed light on the royal lifestyle and provide panoramic views of the surrounding cityscape, allowing visitors to appreciate the grandeur of Jaipur from a unique vantage point.
Constructed in 1983, the museum has exhibits of sculptures sourced from various regions of Rajasthan, including Virat Nagar, Sambar, Nagar, Ganeshwar, and Raid. Additionally, one can find beauty in the five pink sandstone stories, each adorned with intricate carvings. Its grand gateway is a work of art embellished with superior motifs that serve as a fitting introduction to the wonders within.
Visitors are treated to a mesmerizing display of terracotta marvels inside the museum. These intricate pieces capture the creativity and craftsmanship of the artisans, providing a glimpse into the rich artistic heritage of Rajasthan and the region as a whole. Among the exhibits, you will also find fishing equipment, such as hooks and arrowheads, showcasing the diverse facets of life around the area.
Location: Kanwar Nagar, Jaipur
Opening Time: 09.00 am to 04.30 pm (closed on Fridays and public holidays)
Entrance Fee: ₹ 50
Must-See Artifacts: Rajput weaponry, armor, 2nd-century storage vessel
7. Gyan Museum: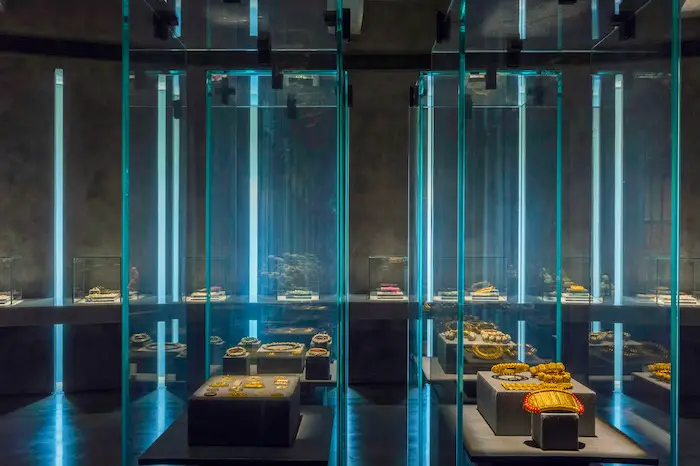 The Gyan Museum is a hidden gem that I absolutely loved to visit. It houses a remarkable assortment of rare and antique artifacts, including jewelry, timepieces, and exquisite objects. With a focus on aesthetics and historical significance, the museum presents a fascinating journey through the bygone eras of Rajasthan.
If you have a penchant for art and find yourself searching for a remarkable art museum in Jaipur like I did, then this is a must visit destination for you. Within its walls, you will discover a diverse collection of artworks, each influenced by the motifs found in the forts, temples, and beyond. From contemporary paintings to intricate statues, from stunning jewelry to exquisite textiles, and from ancient coins to timeless furniture and antiques, the museum is absolutely beautiful and unique.
As you stroll through the museum, you will witness history coming to life before your very eyes. Every corner is adorned with carefully curated pieces of art, a testament to the keen eye and expertise of the renowned gemologist Gyan Chand Dhaddha. The collection encompasses various art forms, showcasing the beauty and intricacy of Mughal and Rajput miniature hand paintings, medieval coins, Jain and Buddhist thangka paintings, and exquisite jewelry.
Visiting this museum is not just an ordinary experience; it is a journey into the realms of artistic brilliance. It offers a unique and off-beat way to explore Jaipur, providing a deeper understanding and appreciation of its artistic heritage.
Location: Gems and Jewellery Zone, EPIP Sitapura, Jaipur
Opening Time: 11.00 am to 06.30 pm (closed on Sundays)
Entrance Fee: Free entry
Must-See Artifacts: Bronze daybed, hand-knotted rug, Murano glass chandelier
8. Diwan-E-Aam: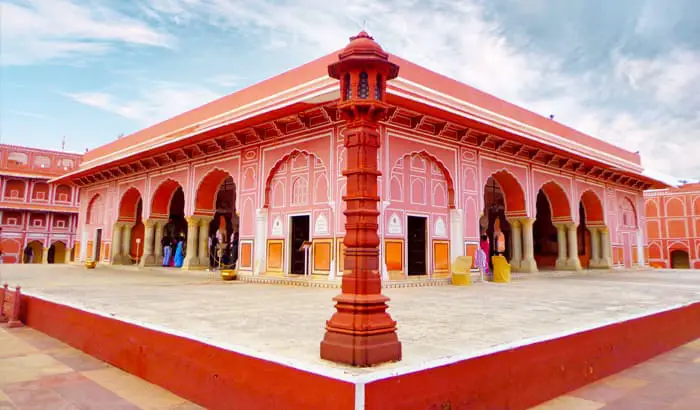 Located within the majestic Amber Fort, Diwan-E-Aam houses a museum that provides insights into the courtly life of the erstwhile rulers of Jaipur. 
While not categorized as a museum in the traditional sense, Diwan-E-Aam is a captivating site that houses artifacts and relics from the Hall of Commoners. Here the Kings would address their subjects, as well as provide a platform to hear and resolve their grievances.
I did think the collection of artifacts here on display was relatively modest. However, the ornate carpets, rugs, and vibrant red stone walls and arches create an ambiance that is a must see. Exploring Diwan-E-Aam is an enriching experience for families and individuals seeking to immerse themselves in something a little different than the more traditional museums in the area. 
Location: Mubarak Mahal Courtyard, Jaipur
Opening Time: 09.00 am to 05.00 pm; every day
Entrance Fee: Free 
Must-See Artifacts: Handwritten Bhagavad Gita, the royal throne
9. Jawahar Kala Kendra:
While primarily an arts and cultural center, Jawahar Kala Kendra features contemporary art exhibits, sculptures, and installations. The museum showcases the works of renowned national and international artists and serves as a platform for promoting contemporary artistic expression.
Welcoming individuals of all ages, this museum is a vibrant hub that hosts a grand festival each year, attracting visitors eager to immerse themselves in the local culture and revelry. The sprawling premises of the museum is impressive as it comprises eight city blocks! From museums showcasing captivating exhibits to an amphitheater resonating with performances, libraries inviting exploration to display centers unveiling the region's artistic prowess, and from a cozy cafeteria offering respite to an art studio igniting creativity, there is something for everyone to enjoy.
At the heart of the museum lies a central space with five galleries, intricately designed in a 'navgraha' or nine squares pattern inspired by ancient Vastu principles. As you step inside, you will be absolutely blown away as you gaze at the magnificent ceiling at the entrance!
The journey within these walls offers an immersive experience where the past intertwines with the present, providing insights into the region's diverse heritage. I thoroughly enjoyed my time here while I explored the massive area, and the hidden gems around every corner!
Location: Jawaharlal Nehru Marg, Jhalana Doongri, Jaipur
Opening Time: 10.00 am to 05.00 pm
Entrance Fee: Free
Must-See Artifacts: Paintings, Hastkaar Yantra, Pergola, door with Rajasthani paintings
10. Amrapali Museum: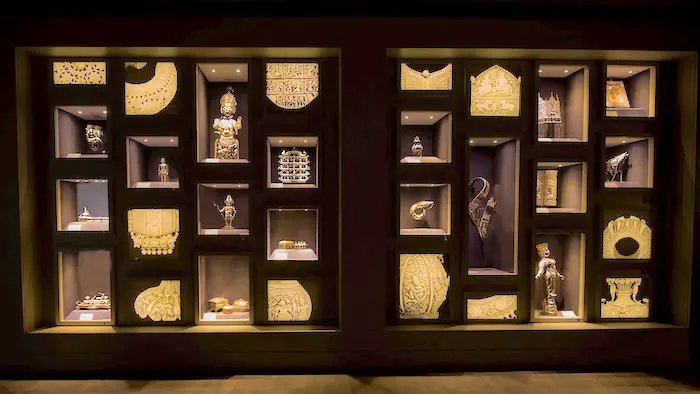 Dedicated to the art of jewelry-making, the Amrapali Museum offers a mesmerizing collection of finely crafted jewelry pieces. The museum showcases traditional and contemporary designs, tracing the evolution of jewelry in Rajasthan and celebrating the exquisite craftsmanship of local artisans.
The two founders of the museum, Rajiv Arora and Rajesh Ajmera, traveled throughout India in the early 80s collecting and studying the jewelry of the country to start this museum. Their adventure paid off as among the remarkable exhibits, you will encounter silver anklets designed for horseshoes adorned with intricate details that reflect the artistry of the Kalamkari tradition.
Witness the evolution of style and sophistication as you encounter pieces that date back to the early days of Jainism. You can marvel at the wine flasks known as Chuskis, adorned with dancing figures and symbolic bullhorns, representing power and progress (one of my favorites!).
A visit to this museum is an enchanting journey through time, as It is an opportunity to immerse yourself in the rich heritage of the Indian subcontinent, celebrating the beauty, craftsmanship, and cultural significance of these extraordinary metallic treasures.
Location: Ashok Marg, C Scheme, Jaipur
Opening Time: 11.00 am to 06.30 pm (closed on Sundays)
Entrance Fee: ₹ 600
Must-See Artifacts: Chains, amulets, pendants, headgear, Meenakari jewelry, kundan jewelry, jade bookstand, 18th-century Vaishnavite fragments, holy water flask
Indulge in the history and culture at Jaipur's best museums:
Each of these museums in Jaipur contributes to the city's vibrant cultural landscape, offering visitors a unique opportunity to immerse themselves in the rich heritage and artistic traditions of Rajasthan. Whether you are a history enthusiast, an art lover, or simply curious about Jaipur's fascinating past, these museums are some of the best things to do while visiting Rajasthan.
I spent a good amount of time adventuring through these museums (as I stayed in Jaipur for a few months). That being said, to visit every museum in Jaipur, would be a tall task on a short trip. Therefore, I recommend checking out just a few. Some of them are similar in style, and have similar artifacts (this doesn't mean they are not all magnificent, and worth a visit!) 
So pick the best museum in Jaipur from this list, and go indulge in the rich history of the region! I am positive you will enjoy whichever one you pick!
FAQs: Best Museums in Jaipur, Rajasthan
Below are some of the most frequently asked questions regarding the different Jaipur-based museums.
1. What is the name of the museum in Jaipur?
The name of the museum in Jaipur is Albert Hall Museum. It is the oldest museum of Rajasthan and functions as the state museum. The museum is situated in the Ram Niwas garden outside the city wall opposite New gate.
2. Who built the Jaipur museum?
The Jaipur Museum foundation stone was laid during the visit of Prince of Wales to Jaipur in 1876. The museum was completed in 1887 by architect Samuel Swinton Jacob, the then director of Jaipur PWD.
3. Which is the oldest museum in Jaipur?
The Albert Hall Museum in Jaipur is the oldest museum of Rajasthan and was completed in 1887. The foundation stone was laid by the Prince of Wales while visiting Jaipur in 1876.