Despite our initial intentions to spend the day at Curious Life Coffee Roasters, our plans took an unexpected turn as we encountered a string of disappointing cafe stops in the C-Scheme area. Our original plan was to spend the day at Curious Life Coffee Roasters – unfortunately, they didn't have WI-FI. Consequently, we had no choice but to seek out another cafe. Eventually, our efforts led us to discover Half Light Coffee Roasters in Jaipur.
The moment you step into Half Light, you are embraced by an ambiance that seamlessly combines industrial charm with an ample sense of space. The spaciousness of the cafe is immediately apparent, allowing guests to move freely and find their ideal spot. The high ceilings soar above, adorned with intricate industrial light fixtures that cast a warm, inviting glow throughout the space. Large windows allow natural light to flood in, accentuating the openness and creating a harmonious blend of light and shadow.
You can tell that Half Light is one of the best cafes in Jaipur, due to the quality of the food, service and its exceptional selection of Indian Arabica coffees. They also have an open espresso bar, creating an engaging and theatrical experience for their guests. This unique feature allows patrons to witness the captivating brewing process firsthand!
Quick information about Half Light Coffee in Jaipur:
Before we dive into the food and drinks of Half Light Coffee, here are a few essential things to know about this exceptional café:
Operating Hours: 8:00 am to 10:00 pm every day
Half Light Cost: INR 300-700. 
Location: F-31, Azad Marg, C Scheme, Ashok Nagar, Jaipur, Rajasthan 302001
Wifi? Yes, they have WI-FI and works smoothly
Service: Exceptional service and friendly baristas!
Drinks at Half Light Coffee Roasters
With a passion for quality and innovation, their diverse drink menu satisfies coffee connoisseurs enthusiasts alike. From meticulously crafted coffees to soothing herbal infusions, each sip is a journey of flavors and artistry. 
Iced Mocha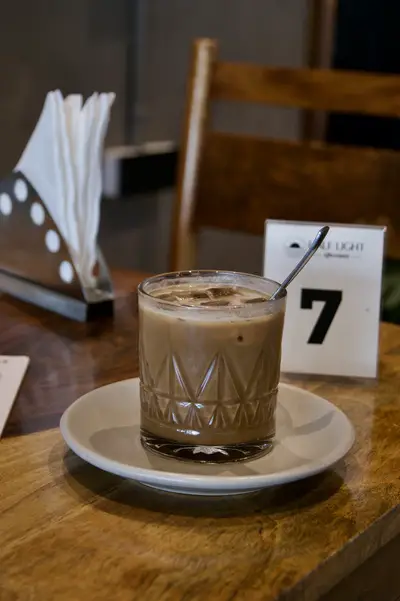 One of Pooja's favorite drinks is the Iced Mocha. Also, after we've been in India, she has been trying out new drinks and taking risks with her palate. However, the Iced Mocha was definitely the spotlight of our time at Half Light. This delightful concoction seamlessly blends the richness of chocolate with the invigorating kick of coffee, creating a harmonious blend of flavors that is both satisfying and invigorating.
The drink had a strong foundation of perfectly brewed espresso, ensuring a robust coffee base that forms the backbone of this beverage. The baristas skillfully combined the espresso with the chocolate, striking a balance between the bitterness of the coffee and the luscious sweetness of the chocolate.
Whether you're seeking a revitalizing treat on a hot day or simply craving a delectable blend of flavors, the Iced Mocha at Half Light Coffee Roasters is sure to satisfy your cravings.
Vietnamese Cold Brew
The Vietnamese Cold Brew at Half Light Coffee Roasters boasts a perfect balance between boldness and smoothness. Served over ice, the Vietnamese Cold Brew provided a refreshing respite on a warm day. Its lower acidity and nuanced flavors made it a delight to savor slowly, allowing me to appreciate the intricate notes that unfolded with each sip.
What truly sets this beverage apart is the addition of condensed milk, which lends a delightful touch of creaminess and sweetness. This blend of flavors elevated the drinking experience, creating a symphony of taste on my palate.
As a coffee enthusiast always seeking new and unique experiences, the Vietnamese Cold Brew at Half Light Coffee Roasters surpassed my expectations. If you're looking for a flavorful adventure and escape from the ordinary, I recommend indulging in the Vietnamese Cold Brew at Half Light Coffee Roasters. 
Food at Half Light Coffee Roasters
Indulge in the food at Half Light Coffee Roasters and savor the perfect pairing of exceptional taste and quality. Prepare for a gastronomic journey that perfectly complements their exceptional coffee offerings. 
Shakshuka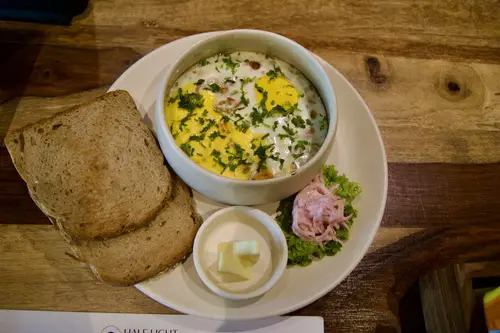 The Shakshuka at Half Light Coffee Roasters was a burst of enticing flavors and vibrant colors. The dish came with poached eggs nestled in a rich and aromatic tomato sauce infused with a delightful blend of spices. The depth of flavor was remarkable, with the tomato base providing a tangy and robust foundation, complemented by the warmth of cumin, paprika, and other carefully selected spices.
Each bite was a delightful balance of savory goodness and subtle sweetness from the tomatoes. The Shakshuka came with two slices of bread, butter and a small portion of salad. The eggs were overcooked and we did not get the extra gooey-ness, nevertheless, the dish tasted good.
While the Shakshuka at Half Light Coffee Roasters was undeniably delicious, I must say that the portion size was a bit small for us and would've appreciated a slightly bigger portion. In terms of value for money, I found the portion sizes at Half Light Coffee Roasters to be slightly smaller than expected given the price.
Overall, the experience at Half Light Coffee Roasters proved to be a good and we could come back to try some other dish. 
The Verdict: Half Light Coffee Roasters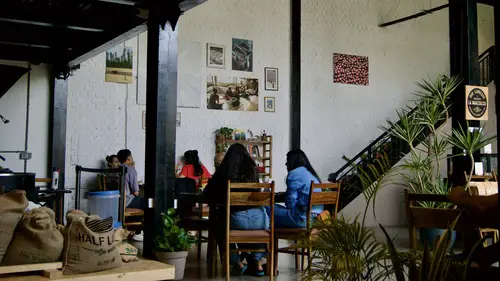 While the coffee took center stage, the food offerings at Half Light Coffee Roasters were also worthy of mention. The carefully curated menu featured a range of delectable options, from hearty sandwiches to fresh salads and indulgent breakfasts. The flavors were thoughtfully combined, and the presentation was aesthetically pleasing, adding an extra touch of delight to the dining experience.
However, the portion sizes of the food items as well as the drinks were slightly smaller in comparison to the price. While the quality was undeniable, it would have been more satisfying if the portions were more generous to match the overall experience.
Additionally, the cafe also seems more like a coffee bar than a cafe. Whereas, since we are not coffee experts, we felt a little out of place with the various choices of coffee and the fancy language associated with each menu item. That being said we did enjoy our time at Half Light in Jaipur and would go back again (after we study some coffee first!)
Overall, Half Light Coffee Roasters exceeded my expectations and offered a truly captivating coffee experience. From the exceptional coffee selection to the warm ambiance and friendly staff, it was evident that this cafe was a labor of love and passion. I highly recommend a visit to Half Light Coffee Roasters for coffee enthusiasts and those seeking a cozy spot to unwind and indulge in the art of coffee.