Pooja and I are both passionate foodies and always seeking unique flavors and experiences. While looking for places to eat in Jaipur, we came across Curious Life Coffee Roasters: Red. One of the best cafes in Jaipur, this exquisite coffee destination embraces a deep-rooted passion for the art of coffee roasting and a commitment to ethically sourced beans from various regions of India and Africa.
The entrance of the cafe is filled with aromas of the coffee and the space effortlessly blends modern elegance with rustic charm. The rough textures and earthy tones of the cafe's elements contribute to a cozy and intimate setting, making it an ideal place to unwind and work in peace. Clean lines, sleek furniture, and modern lighting fixtures create a visually pleasing environment that seamlessly integrates with the overall aesthetic. 
So, get ready to immerse yourself in a coffee sanctuary where aesthetics and functionality intertwine flawlessly, ensuring that your visit to Curious Life Coffee Roasters becomes an unforgettable experience!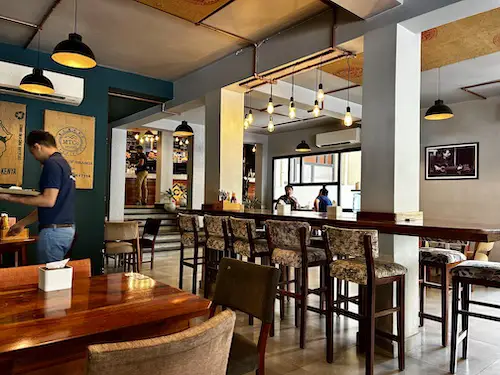 Overview of Curious Life Coffee Roasters: Red in Jaipur:
Below are some quick facts about the information.
Operating Hours: Open seven days a week from 7:00 am to 10:00 pm
Curious Life Coffee Price: INR 200 – 700
Location: C 54 A, Sarojini Marg, Panch Batti, C Scheme, Ashok Nagar, Jaipur, Rajasthan 302001
WI-FI?: No, they do not have Wi-Fi
Service: Excellent. They were friendly and nice. Orders are quick.
Drinks and Food in Curious Life Coffee Roasters: Red
Curious Life serves a variety of coffee selections from the country and Africa. Since, we both love a good coffee and our friend from Jaipur recommended to try Curious Life Coffee Roasters we had to go! And Wow, were we impressed! To show you just how amazing this place is, take a look at the food and drinks we had!
1. Vietnamese Cold Brew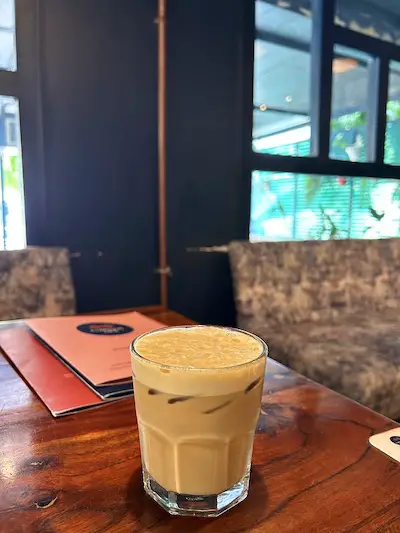 When it comes to coffee, one of my absolute favorites is Vietnamese Cold Brew. The rich and bold flavors of the coffee beans harmonize perfectly with the smooth and creamy sweetness of condensed milk, resulting in a mixture of a sweet, bitter and refreshing drink.
We both liked the earthy flavor of the cold brew that leaves a rich taste lingering on your mouth. But it's the addition of condensed milk that truly takes this beverage to another level. The strong and robust flavors of the coffee are beautifully balanced by the velvety smoothness of the condensed milk. 
The harmonious pairing creates a delightful and refreshing beverage that never fails to satisfy our cravings for a good cup of coffee! 
The Vietnamese cold brew is priced for INR 200.
2. Vanilla Mocha Frappe
Pooja loves Vanilla Mocha Frappes. They are her go-to indulgence when she needs a cool and creamy heaven. The drink is a blend of rich chocolate, smooth vanilla, and icy coffee that creates a heavenly combination of the elements. 
The velvety texture and sweet notes make each sip a pure delight. It's like a moment of bliss in a glass and a sweet escape from the summer heat. Whether sipping it on a hot summer day or treating ourselves to a little luxury, Vanilla Mocha Frappes never fail to give us a delightful caffeine boost! She loved the coffee drink so much that she wanted to reorder it! So, when you're in Curious Life definitely try their selection of Frappes.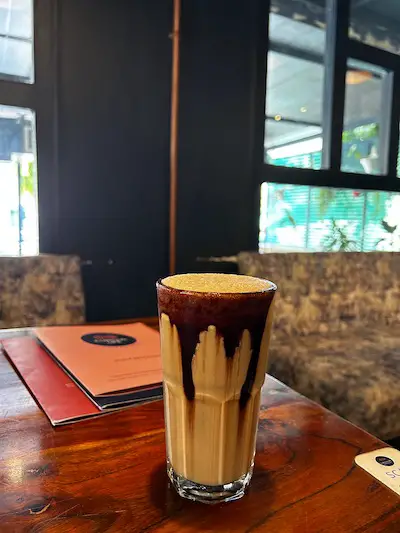 The Vanilla Mocha Frappe is priced for INR 220.
3. Vegan Buddha Bowl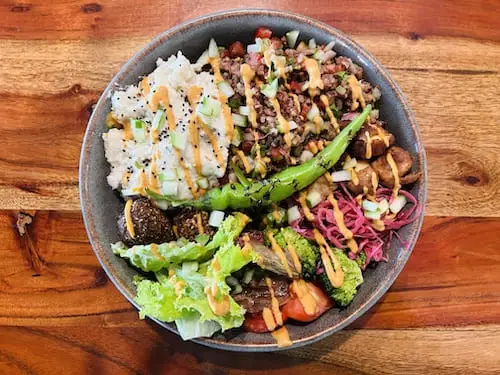 Pooja is trying to eat more healthy when she gets the chance. So while we were at Curious Life she looked for something healthy, filling and delicious. And of course, after going through the menu (twice), she ordered the Buddha Bowl. 
Buddha bowl was our go-to meal when we were living in Pokhara Nepal. We used to get it from OR2K in Pokhara. The buddha bowl in Curious Life is definitely much better and has a unique taste. It comes with tofu, red rice salsa, a mixture of different veggies, roasted broccoli, mashed potatoes (Pooja loved this!), sauerkraut, cucumber, tahini and homemade peanut sauce. 
The buddha bowl is packed with an array of colorful and nutritious ingredients. From the vibrant assortment of fresh vegetables to the protein-rich grains, every component comes together to create a balanced and nourishing feast. It's a simple yet delicious way to fuel our body with goodness and left us feeling energized and nourished.
The price for the buddha bowl is INR 390. 
Curious Cafe Jaipur Menu
Below are photos of the menu from Curious Life Coffee Roasters in Jaipur.
[metaslider id="5978″]
The Verdict: Curious Life Coffee Roasters in Jaipur
We have had an amazing experience at Curious Life Coffee Roasters in Jaipur. From the moment we entered, we were captivated by the cozy and charming atmosphere. The carefully sourced beans from different parts of India and Africa have resulted in a diverse and delicious selection of coffees. 
The dedication to the art of coffee roasting and the commitment to ethical sourcing have resulted in a range of coffees that are as diverse as they are delightful. The friendly staff and delectable food offerings have made our visit even more enjoyable. Curious Life Coffee Roasters has truly become our favorite spot to indulge in exceptional coffee and a perfect place to work. 
The only thing to keep in mind is the cafe doesn't have WIFI. Which kinda sucks for travelers that don't have enough data to work. That being said we absolutely love Curious Life Coffee, both Red and Blue, when we don't have work todo and just want to relax with a nice cup of coffee!