OR2K might be a vegetarian restaurant filled with elephant-pants-wearing tourists, but it does make good food that is hearty and healthy. It is one of Pokhara's most frequently visited restaurants by tourists and locals. If you are looking for one of the best restaurants in Pokhara (make sure to check that blog out for my list of over 10 must eat at restaurants in PKR) that offers a relaxing and chill environment to enjoy elevated views of Phewa Lake, then OR2K is a must-visit for food lovers.
OR2K Restaurant provides a homely dining experience!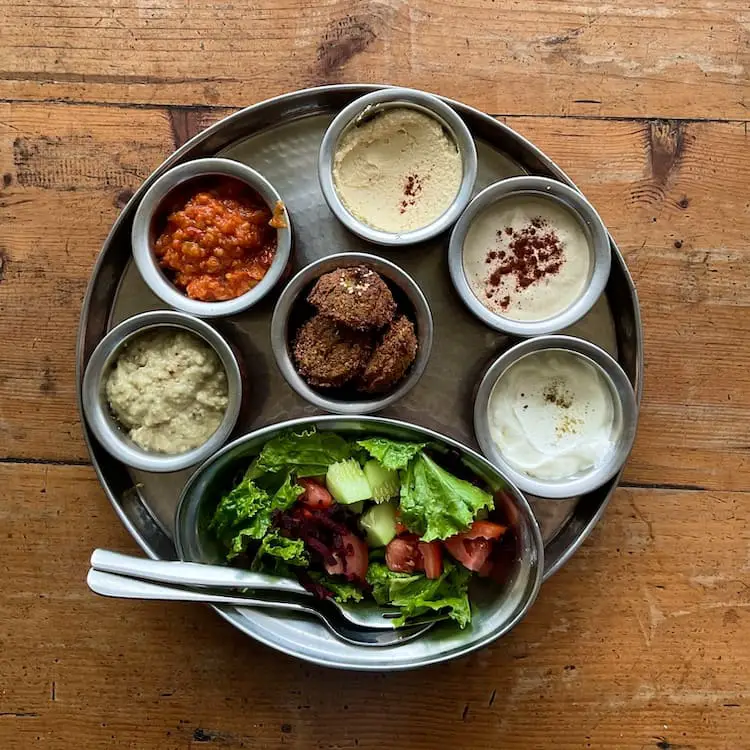 We felt at home as we sat on the padded cushion floor around the candle-lit table. Relaxing and chatting, we slowly began going over the vegetarian menu, looking for mouth-watering dishes and stomach-stuffing food options.
We all finally agreed on what to eat and ordered our first dish, i.e., the hummus platter. The dish contains perfectly shaped copper bowls, Naan bread, and a bowl of falafel balls. The hummus platter included a variety of sauces that represented unique flavors. A bowl of hummus, tahini, labane (thick yogurt-based cheese), babaganesh (thick paste of grilled or roasted eggplant), matbucha (tomato and bell pepper sauce), and Israeli salad. The dish's presentation is basic, but the flavors of each of the sauces are luscious and inviting. They are not overpowering and taste perfect when dipped with the naan bread or the falafel balls.
As we feasted on the platter, we continued to hurl falafel balls into every dip with delicious success. Falafel is a herbaceous pleasure, but it's so drenched with leafy things that the chickpea base is completely turned green. The outside of the balls is sharp enough to offer its unique acoustics.
Finally, both the tahini and the hummus are quite good. Naturally, the hummus has a fair amount of tahini, which adds some earthy and faintly bitter notes. The sheet of flatbread absorbs the rich and gooey chickpea mash better than the focaccia. 
Time for a Panini and Pizza from OR2K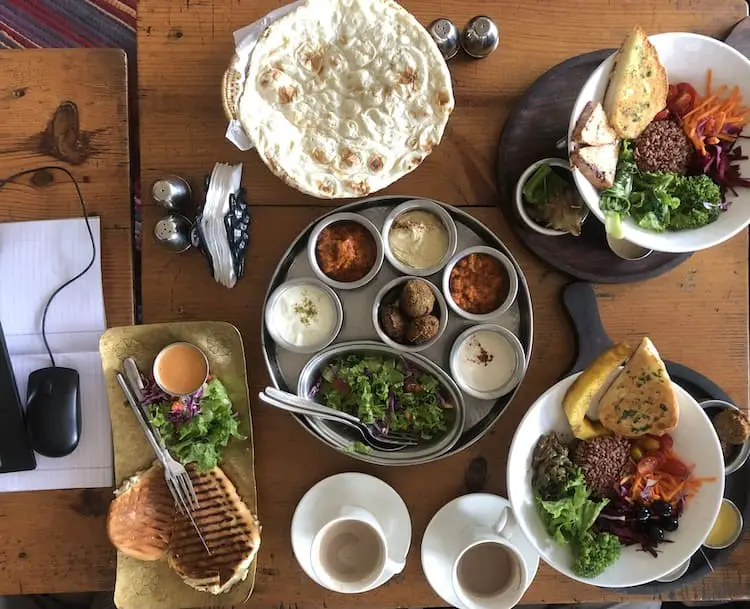 There is still room after a bakery's worth of bread is consumed, so we decide to order a few more dishes to eat by the time we devour the remaining food in the copper bowls. There are many more dishes from the vegetarian restaurant, but we settled on a panini, Alice buddha bowl and a pizza with goat cheese and mushrooms.
The dishes arrive as the table is still nibbling on its Hummus Platter Set and slurping up the leftovers. Even though OR2K is one of the best restaurants around Phewa Lake, they are not well known for their pizzas – compared to Roadhouse Cafe at Lakeside.
However, that doesn't deter us as our pizza looks delicious as it rests on a wooden dish in front of us. The oyster mushrooms have browned and are cooked to resemble roasted eggplant, while the goat cheese is in various stages of melting. The toppings are deliciously sour and funky, and the mushrooms have developed an almost bacon-like meatiness while retaining some chew. The first bite is scrumptious.
Don't miss out the nutrient-packed OR2K Buddha Bowl!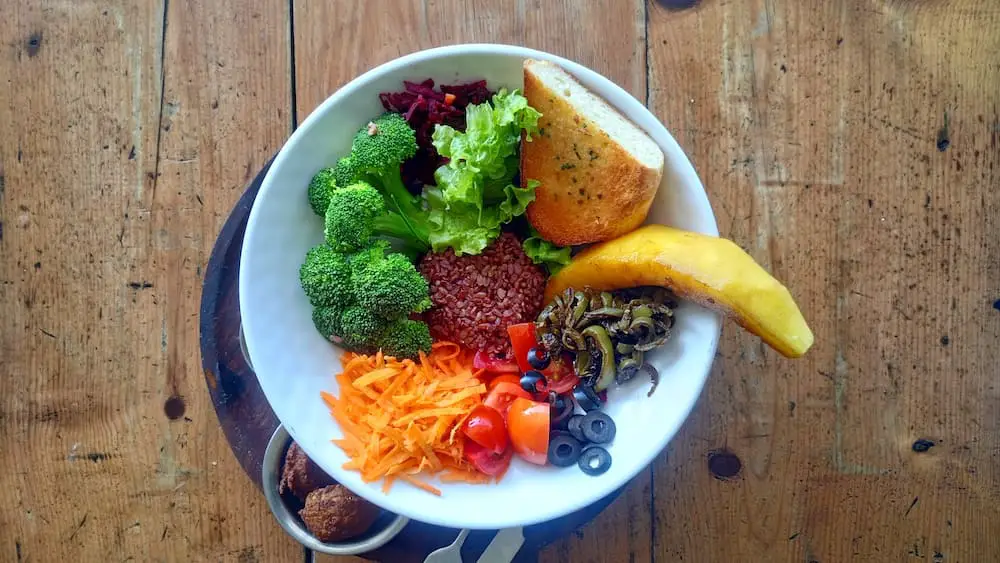 The ultimate vegan Buddha bowl, loaded with nutrients! It is filling and savory that is loaded with fresh vegetables like pumpkin, shredded carrots and beetroot, olives, flavored jalapeños. It also comes with falafel balls, sweet and zesty mustard sauce and a tahini sauce.
Although the food may sound bland and limiting, I've really had some of my best sauce and veggie pairings in OR2K (they also have vegan options there!). The bowl is filled with red rice, cherry tomatoes, roasted jalapeños in vinegar, grilled juicy pumpkins, fresh greens, black olives, carrots, broccolis, garlic bread served with honey mustard dressing and pieces of falafel on the site with tahini. It is a big bowl of plant based goodness that is not only delicious but super healthy and filling.
Too full to eat, but OR2K's food is too delicious to stop!
While the lunch has thus far been a belt-loosening event, a few more things still need to be consumed and tasted. The panini delivers on its promises! The cheese within the panini has melted to the point where it stretches as far as the arm can go, and it is ribbed from the press for a pleasant presentation. 
With the promise of a hint of herbs, the sandwich is stuffed with a fried egg, olives, and tomato slices. Despite the low olive content, it is nevertheless tasty as it provides a surprising burst of flavor in every bite. The hot sauce-mayo filling drenching the panini's inside served as a decent sweet and spicy surprise! 
Time for dessert – Chocolate Souffle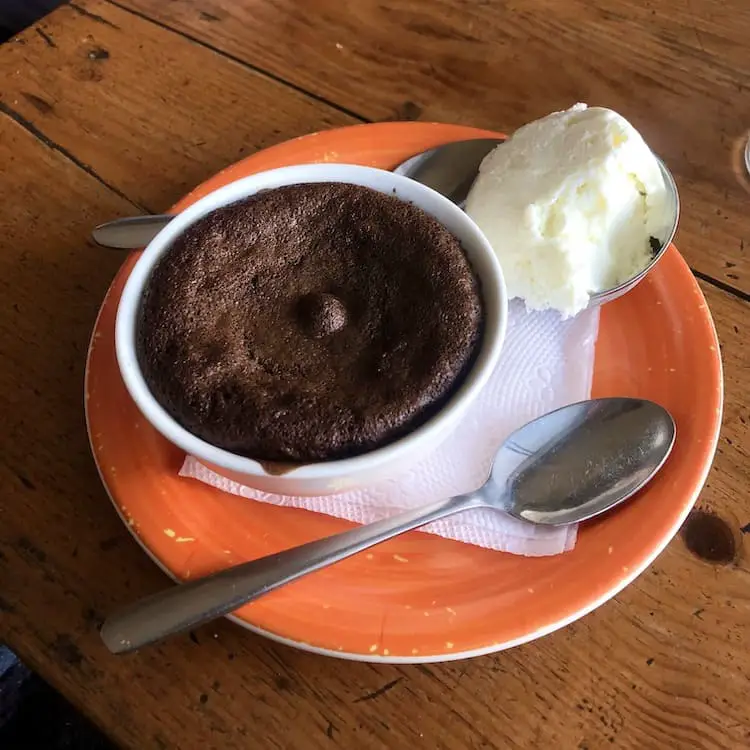 We choose something sweet to push us over the edge—a chocolate souffle. It's powerful and instantly puts a smile on everyone's face. It's absolutely delicious.
It lingers, coats the palette thickly, and has a pleasant sharpness to it. Think of warm and gooey chocolate; the base is chewy and nougaty, not biscuity, and is undoubtedly a sinful way to end a great vegetarian lunch.
OR2K Menu in Pokhara:
Want to know what OR2K's menu is before you decide to eat there? Check out the photos below and have a look at everything the restaurant in Pokhara has to offer!
OR2K in Pokhara – Vegetarian Restaurant at Lakeside
If you are looking for some mediterranean food, or a nice vegetarian restaurant in Pokhara, then OR2K is your best bet! With a great staff, delicious food, and an unbeatable view of Phewa Lake and the Annapurna Cable Car, it is hard to name a better place to eat around Lakeside!
After your meal at OR2K, make sure to check out my Pokhara travel guide for some more fun activities!