Annapurna Cable Car is the first cable car in Pokhara, Nepal. The cable car connects the popular tourist destination lakeside, to Sarangkot – a location that offers panoramic views of the Himalayas to the north. Additionally, the view point offers fantastic views of lakeside as well as Fewa lake.
The gondola ride offers visitors the opportunity to forgo the long drive to the top Sarangkot to enjoy the views. What used to be a 45 minute drive, can now be completed on a cable car in a matter of minutes. 
In this article I discuss the new Annapurna Cable Car in Pokhara, its location, cost of tickets, duration, opening time, as well as a few things to do once you reach Sarangkot.
Let's take a look at the new cable car in Pokhara, something fun and exciting to do at lakeside!
What is the Annapurna Cable Car ticket Price?
The cost of a round trip ticket for one person on the Annapurna Cable Car is NPR 700 for Nepalis. For SAARC & Indian tourists the ticket price is NPR 800. For foreigners from other countries the cable car ticket costs USD $9.
Annapurna Cable Car Ticket Price for Round Trip:
Foreigners (All Nationality) – USD 9 Per Person
Nepali Citizens (Domestic Tourist) – NPR 700 Per Person
SAARC Citizens (SAARC Tourist) – NPR 800 Per Person
Please note that the Annapurna Cable Car website states that prices and schedules may change without prior warning.
The table below has been pulled directly from the official Annapurna Cable Car Website. Additionally, I have compiled a table that shows one way and round trip prices. The Sarangkot cable car ticket prices are:
| TICKET TYPE | ONE WAY | TWO WAY |
| --- | --- | --- |
| Nepali Nationals | NRS 400 | NRS 700 |
| SAARC Countries | NRS 500 | NRS 800 |
| Third Country Citizen | USD 5 | USD 9 |
Sarangkot cable car ticket price
What is the length of the Annapurna Cable Car?
The length of the cable car is 2,300 m or 1.42 miles. The bottom station is located at Seti Bagar, Pokhara at an altitude of 822 masl. The top station is located at Sarangkot, Pokhara at an altitude of 1,600 masl.
Cable Car Quick Facts:
To start off with, I want to provide you with quick facts about the experience to decide if it's something you want to do in Pokhara.
| | |
| --- | --- |
| Price (Round Trip) | Nepali: NPR 700 / SAARC & Indian NPR 800 / Foreigners USD $9 (NPR 11,000) |
| Operating Hours | 5am to 6pm |
| Phone Number | 061-521011 |
| Duration (One Way) | 10 minute ride (foregoing any power cuts or delays) |
| Starting Point | Seti Bagar, Pokhara – north side of Fewa (Phewa) Lake |
| Ending Point | Sarangkot, Pokhara |
| Capacity | Max capacity is 8 people (around 600 Kg). Will fit 6 adults in one car comfortably.  |
| Number of cars | 18 cars |
| Trip Length (One Way) | 2.3 Km  |
| Elevation Change | Seti Bagar: 822m – Sarangkot: 1,600m |
Table with all relevant information for the Annapurna Cable Car in Pokhara
Lakeside to Sarangkot – Annapurna Cable Car:
The newly built cable car took over 10 years to finish (started in 2010), but since February 2022 has been fully functioning. Seti Bagar, about a 10 minute drive from Hallan Chowk (main point of lakeside), is the starting point for the ride with the popular sunrise and sunset viewing spot of Sarangkot being the ending point for the gondola.
The ride takes about 10 minutes and greatly reduces the amount of time (previously about a 45 minute drive from Lakeside) needed to reach the summit of a popular tourist destination in Pokhara. Sarangkot provides beautiful views of the city and the mountains, newly built resorts, ziplining, a giant swing, paragliding, and restaurants and cafes to soak in the views. Thus, Saranngkot provides a little something for everyone!
The aerial ropeway operates from 5am to 6pm everyday and has 18 gondolas that have a capacity of 500 visitors per hour. Each car has a capacity of 8 people (so it says), but I noticed it would comfortably fit 6 adults. Additionally, the 10 minute ride takes you from an elevation of 822m at Seti Bagar, and after a 2.3 Km ride, you will find yourself at an elevation of 1,600 meters. 
Finally, I would describe the Annapurna Cable Car experience as safe, fast, quiet, and very smooth – especially with the drastic change of altitude at certain times along the track. Moreover, it is extremely cheap for a round trip, no matter your nationality – Nepali: NPR 700 / SAARC & Indian NPR 800 / Foreigners USD $9. They also offer a senior citizen discount of 25%.
Cable Car History and Details
The Annapurna Cable Car being headed and constructed by Pokhara based tourism entrepreneur Kalu Gurung and Japan-born, Nepali Citizen Takasi Miyahara began in 2010. The original budget for the project was NPR 2 billion with 75% of financing coming from various entrepreneurs, and 25% coming from locals.
The cable car was initially scheduled to open in 2020, but for unknown reasons, it was delayed by two years, and was finally inaugurated in February of 2022. In terms of technology, the equipment and cable cars are highly modern and have been designed by a Japanese company.
The Annapurna Cable Car is not the first of its kind in Nepal. Whereas, three other cable systems have been constructed in Nepal to facilitate movement in the hilly country. For example, the Manakamana cable car was constructed in Nepal two and a half decades ago, which takes visitors from Kurintar to the auspicious Manakamana temple.
The second cable car project in Nepal was the Chandragiri Cable Car in Kathmandu, which runs from Thankot to Chandragiri hills – to visit the Bhaleshwar Mahadev Temple situated at the top.
The third project is Kalinchowk Cable Car which is east of Kathmandu, it takes you to the auspicious Hindu pilgrimage site.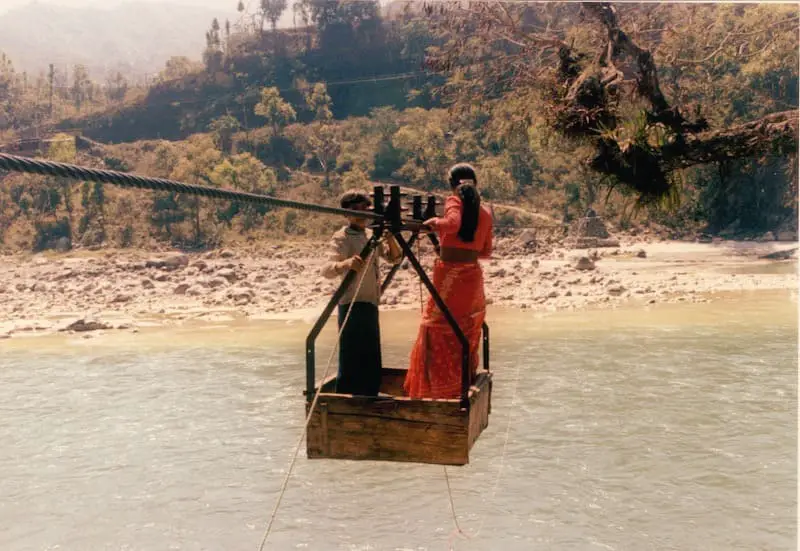 Note: Even though I only mentioned the other three large cable cars in Nepal, it is important to pay homage to the ropeways and cable cars of the past. Whereas, historically small 'bucket' like cable cars or platforms have been used to transport people and goods across ravines and rivers in Nepal. These types of ropeways were designed and utilized for logistics and transportation, and not for tourism. To find out more about the cable cars, check out this blog: history of cable cars and ropeways in Nepal!
What to do in Sarangkot?
After your short ride on the Annapurna Cable Car, you will reach the 1,600m summit of Sarangkot. The gondola will arrive at the station complex, which offers a few different activities for individuals. A few things you can do include:
Cafe Joshi and view tower: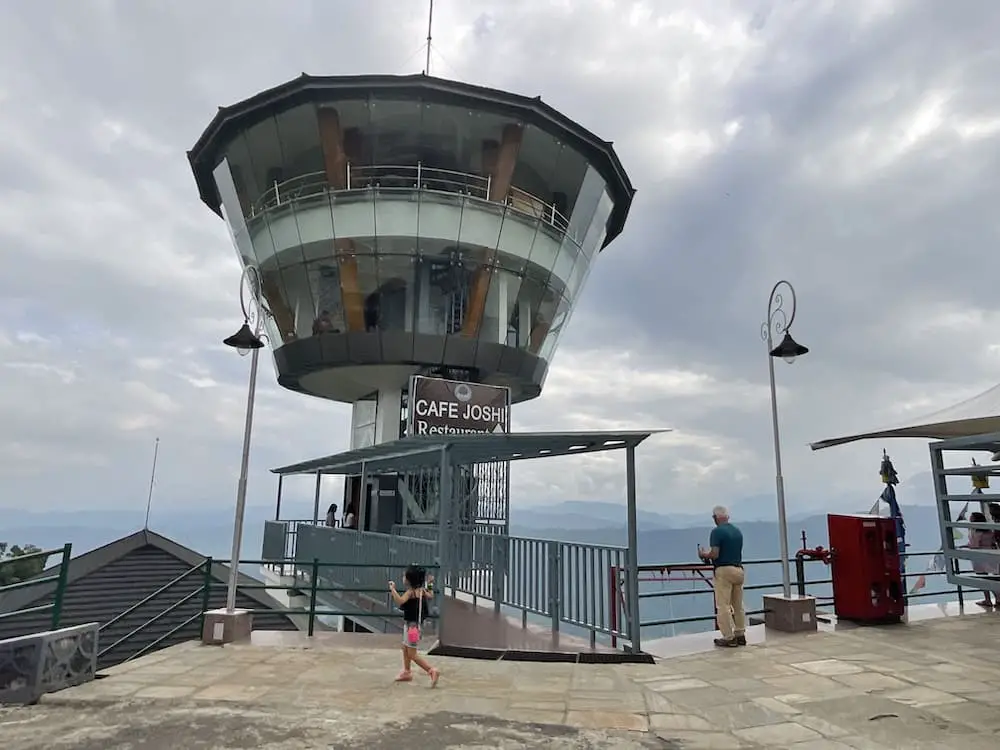 Sitting on top of a view tower just behind the station, you can find cafe Joshi. With a 360 view from the tower, you can choose to enjoy your food and drinks while taking in the mountains to the north, or watch the gondolas arriving at the station over the lush green hills. 
The cafe offers a variety of drinks, including coffee, juice, smoothies, and beer. In terms of food, they offer small dishes for breakfast, lunch and dinner. Additionally, they have bakery items to enjoy as well.
Large Swing: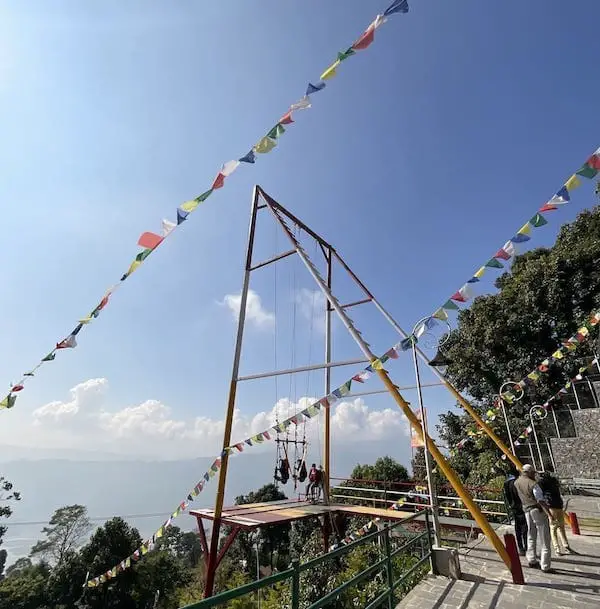 The upper station also offers a large swing (30/40m high) that swings you out over the edge of the station and the lush green jungle below. The swing is for less adventurous individuals, as it is smaller in size – but it's still fun to try and do if you find your way to Sarangkot in Pokhara. 
Zip-line:
The Annapurna Cable Car upper station also has short zip-lines (50-75m) that you can take. They consist of harness zip-lines, as well as zip-lines that you can sit on bicycles while riding.
If you are feeling more adventurous, there are larger and longer zip-lining opportunities in Sarangkot as well. Whereas, you can take advantage of Zipflyer Nepal which offers a zip-line experience with an initial incline of 56 degrees (which makes it the steepest Zip-line in the world), a total length of 1850 meters and a vertical drop of more than 600 meters! Prices vary for this, but you can find packages for around NPR 5,000 which includes pick-up and drop-off.
Sunset and Sunrise at Sarangkot: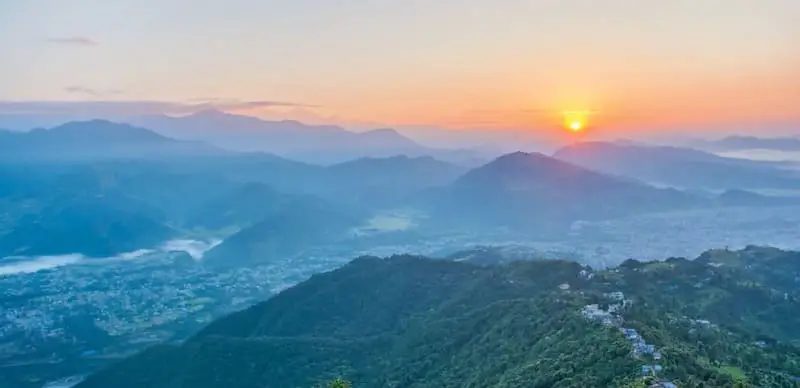 The spectacular sunrise and sunset views over the mountains to the north is what originally made Sarangkot a popular thing to do in Pokhara. On clear days, you can see the entire mountain range to the north including: Mt Manaslu, Mt Machhapuchre (Fishtail), Mt Annapurna, Mt Dhaulagiri, Mt Himchuli, and more from this popular tourist attraction in Pokhara.
Additionally, you can see Pokhara's Peace Pagoda and massive Shiva Statue in Pumdikot to the south! Both are must visit attractions in Pokhara! Want to know about some other great things to do in the city besides the Cable Car? Then check out my Pokhara travel guide!
Paragliding: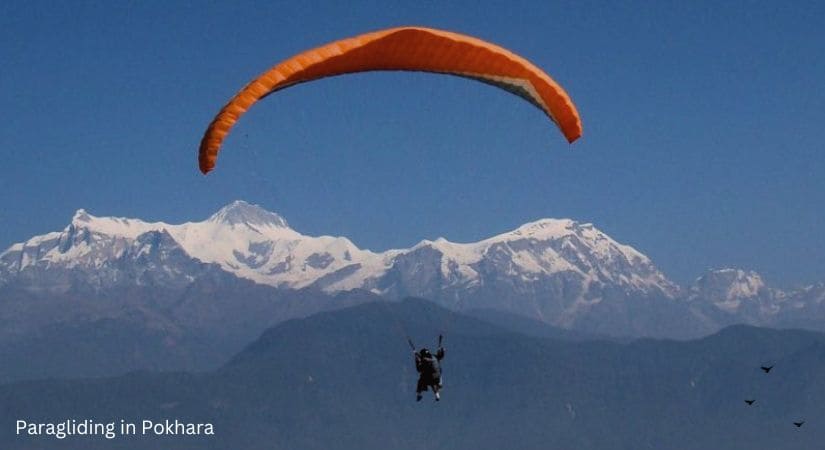 After taking the Annapurna Cable Car to Sarangkot you can take advantage of the tandem paragliding experiences offered over Phewa Lake. Starting from Sarangkot in Pokhara and at a height of 1592m. Paragliding in Pokhara will provide new perspectives of lakeside, Fewa Lake, and the Himalayas. Paragliding is one of the most popular things to do in Pokhara with more than 250 paragliding flights happening in a day during peak season! 
We strongly suggest taking advantage of paragliding in Pokhara so you can share airspace with Himalayan griffins, vultures, and eagles, while floating over villages, monasteries, temples, and the green lush jungle below. And don't forget about the fantastic view of the mountains to the north: Fishtail, Annapurna, and Dhaulagiri!
FAQs: Annapurna Cable Car in Pokhara
Below are some of the most frequently asked questions regarding the Pokhara cable car.
1. What is the length of Annapurna cable car?
The length of the Annapurna cable car spans approximately 2.3 km, with 18 Gondolas (cable cars) available to transport passengers from Lakeside to Sarangkot.
2. Who owns Annapurna cable car?
The Hotel Annapurna View on Sarangkot hill was built by Takashi Miyahara, a Japanese tourism entrepreneur. To attract high-class tourists, he envisioned a cable car service from Phewa Lake to Sarangkot. Miyahara is also the person who owns the Annapurna cable car.
3. How much is ropeway in Pokhara?
The ropeway in Pokhara offers a both-way cable car fare. For domestic tourists, the cost is Rs 700 per person, and for SAARC tourists, it's Rs 800 per person. It's important to note that the cost and schedule are subject to change with or without prior notice.
Annapurna Cable Car – Closing Thoughts:
The newly built cable car in Pokhara provides a new and fun thing to do while staying at Lakeside. With its modern technology, and breathtaking views of Phewa lake and Pokhara, you can feel safe and secure traveling to Sarangkot. Moreover, the cable car trip cuts off significant travel time while trying to reach the summit of the viewpoint.
The cable car in Pokhara price is Nepali: NPR 700 / SAARC & Indian NPR 800 / Foreigners USD $9, and allows you to use your return ticket within a seven day period. With plenty of exciting things to do at the top of the viewpoint, you may decide to paraglide, or zip-line down instead, making the extension in ticket validation a great feature! Next time you are looking for something to do in Pokhara, check out the newly built Annapurna Cable Car!