Nepal has a strong history of cable cars and ropeways. Whereas, the introduction of ropeways in Nepal began over 100 years ago. However, many of these innovative ropeway projects have either vanished or are no longer in use.
Initially, a 22-kilometer cargo ropeway connected Makwanpur and Kathmandu. Its construction began in 1922 and was finished in 1927. In order to transport stones from a quarry in Halchowk to Lainchaur in order to construct Rana palaces and roads, a separate four-kilometer Swayambhunath Ropeway was also built in 1924.
In this article, I talk about historic ropeways and cable cars in Nepal, which were essential for the movement of commodities and the advancement of the nation's economy.
Tri Chandra Nepal Tara Ropeway:
If you have taken the Mugling route between Kathmandu and Hetauda, you may have seen rusting carriages and ropeways affixed above the Trisuli River. One of the first ropeways of its kind in South Asia, Tri Chandra Nepal Tara Ropeway, is now abandoned.
In 1922, Chandra Shamsher, the prime minister of Nepal at the time, ordered the construction of the ropeway. The British government funded the project as a 'thank-you' present to Nepal for its assistance during the First World War.
The 22-kilometer-long Tri Chandra Nepal Tara Ropeway, which first opened for business in 1927, connected the Makawanpur village of Dhorsing with the Kathmandu settlement of Matatirtha. It was used to transport products carried into India through Raxaul. Trucks carried the shipments from Amlekhgunj in Bara to Dhorsing before delivering them by ropeway to Matatirtha in Kathmandu. At a speed of 6.8 km/h, a single carriage could support 254 kg. Moreover, the ropeway had a carrying capacity of 22 tons per hour.
Landslides regularly blocked the Tribhuvan Highway. Therefore in 1964, the ropeway was renovated and extended with American assistance to deliver products from Hetauda to Kathmandu. However, according to Guna Raj Dhakal, chairman of Ropeway Nepal Pvt. Ltd., it started losing favor in the early 1970s, primarily due to bad planning, poor management, and political interference.
Finally, due to a malfunction at a substation in 1999, the ropeway was forced to close. The issue could have been resolved for as low as Rs 4,00,000, but the ruling administration at the time decided against it. In 2001, the Tri Chandra Nepal Tara Ropeway, which could deliver goods in four hours from Hetauda to Kathmandu for 34 paisa per kilogram, was permanently closed.
Hetauda Cement Factory Ropeway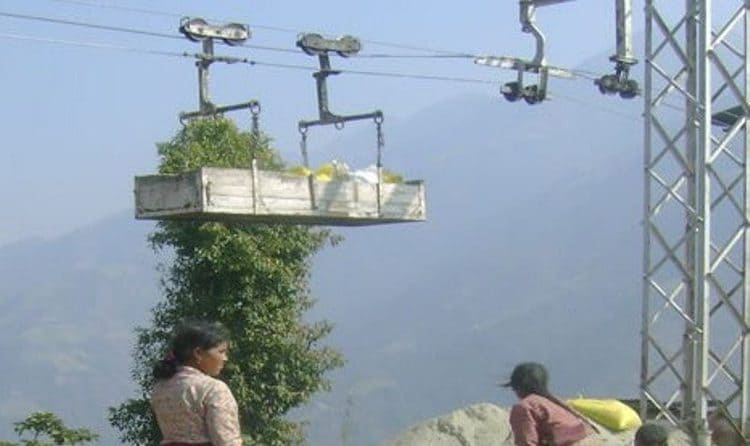 The ropeway system played a significant role in the 1976 establishment of Hetauda Cement, one of Nepal's most prosperous enterprises. The state-owned firm began using the ropeway to move limestone from an 11 km away quarry in 1986.
In an hour, it could move 150 tons of limestone. Additionally, compared to using trucks, the cost of ropeway transportation was practically halved. Thus, the plant saved almost Rs 2 million yearly on limestone transportation. Other than a few technical flaws brought on by wear and tear and a lack of regular maintenance, it didn't have any significant operational concerns.
Before it was abandoned, the ropeway ran for over 17 years, once more due to a solvable problem.
The ropeway was abandoned after one of the frames supporting the cable system sank as a result of a landslide, according to the book "Ropeways in Nepal."
In 2004, it was permanently closed. Although it is still in use, the Hetauda Cement Factory is quickly becoming a white elephant.
The rusting ropeway equipment, which poses a risk to the villages below, is being sold by factory officials, but no purchasers have yet expressed interest.
Bhattedanda Milkway's Ropeway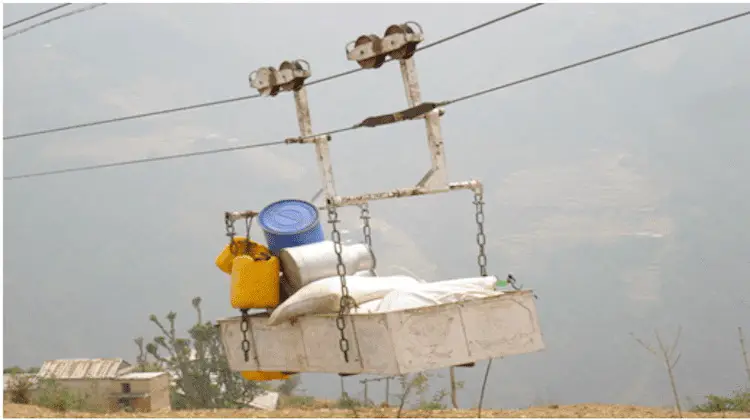 In the 1990s, buffalo farming was the main source of income for the residents of the former Ikudol Village Development Committee in the Lalitpur district. The villagers' items, which included milk, couldn't be sold because Tinpane, the closest collecting point, was more than five hours away by foot. The milk would curdle by the time the people arrived at the collection center.
To overcome this issue, they heated the milk to make "Khuwa," a thickened dairy product, and sold it in a place called Chapagaun, which was a 10-hour walk from Ikudol.
Khuwa production required a lot of labor and was resource intensive due to the amount of firewood needed to boil the milk. Therefore, the Bagmati Watershed Project (BWP) thought about constructing a steel cable to span the valley and help the village deliver and sell fresh milk.
At Bhattedanda, a Conservation Ropeway was constructed in 1995 to deliver milk and clean up the resource-intensive Khuwa business. The Bhattendanda Milkway in Ikudol was used by 143 homes to sell about 900 liters of fresh milk daily.
In addition to milk, vegetable and flower producers also profited from the ropeway. Others who benefited from it were business owners, building contractors, regional cooperatives, and development professionals who occasionally used it for cargo transportation.
However, after 1996, the Milkway's traffic began to decrease. People could now carry their goods using automobiles thanks to the opening of the road to Chhabeli. The Bhattedanda ropeway was still making money, and a plan to increase its span was in the works. However, locals believed they could live without it, and thus the idea was never carried out.
After more than five years of assisting the rural economy, the Milkway ceased operations in 2001.
When landslides damaged the road in the Bhattedanda area in 2002, the ropeway was briefly restored, but it was permanently closed in 2004 after road repairs.
Barpak Community Ropeway: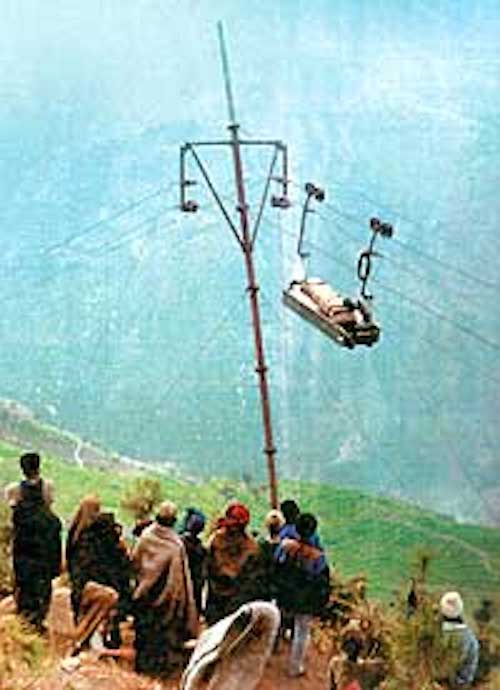 Bir Bahadur Ghale, a Gorkha's Barpak village resident, visited Hong Kong in 1986 and was enthralled by the cable cars he saw there. He considered them to be a practical means of moving both people and cargo in hilly locations.
In 1998, the British Embassy in Kathmandu and the Intermediate Technology Development Group (ITDG-Nepal) agreed to support the construction of a goods-carrying ropeway in Barpak, making Mr. Ghale's dream a reality.
The ropeway connected Rangrung and Barpak, two settlements that were previously connected only by a two-day climb, and it had an immediate effect on the local populace and economy. Three tons of cargo were delivered to Barpak each day. Between 10 am and 5 pm, the ropeway made an average of 20 trips each day.
In "Ropeways in Nepal," Ghale writes that once the ropeway started operating, the selling price of transported items had decreased by Rs 2-3 per kg (and much more). For example, the price of a four-kg bag of sand fell from Rs 8 to Rs 3.
The ropeway was shut down in May 1999, only four months after it began operating, resulting from an accident in which four passengers in a cargo carriage perished when the hoisting line snapped.
Ghale claims that the ropeway was not intended to carry passengers, but the locals disregarded his warnings. They contended that since the technical staff used the ropeway for maintenance, they should also be permitted to do so.
Following the tragedy, the ropeway was closed permanently.
List of Historic Ropeways in Nepal:
The table below summarizes the historic ropeways in Nepal. To further understand the history of cable cars in Nepal, I provide information about their location, type, length, operation date and current status.
| Name | Location | Type (Cargo/ Passenger) | Length (m) | Operation date | Status |
| --- | --- | --- | --- | --- | --- |
| Adhi khola ropeway | Syangja | Cargo | 1200 | 1985 | Non-functional |
| Jimhruk khola ropeway | Syangja, Madi-to construction sites | Cargo | 1200 | 1990 | Non-functional |
| Khimti Ropeway | Kirene- construction sites | Cargo | 2100 | | Non-functional |
| Hetauda Cement Factory Ropeway | Hetauda Quarry site-factory | Cargo | 11,000 | | Non-functional |
| Bhattedanda Milkway | Lalitpur, Bhattedada-Jhakridada | Cargo | 3022 | 1995–2001, 2002 | Non-functional |
| Bharpak Ropeway | Gorkha | Cargo | | 1998-1999 | Non-functional |
| Manakamana Cable Car | Chitwan | Passenger | 2772 | 1998 | Operational |
| Chandragiri Cable Car | Kathmandu, Thankot to Chandragiri | Passenger | 2400 | 2016 | Operational |
| Tri Chandra Nepal Tara Ropeway | Kathmandu-Hetauda | Cargo | 42,300 | 1964-1994 | Non-functional |
| Dorsing-Chisapani-Kathmandu | Kathmandu | Cargo | 22,000 | 1922 | Non-functional |
| Halchowk-Lainchour | Kathmandu | Cargo | 4,000 | 1924 | Non-functional |
| Janagaun Gravity Ropeway | | Cargo | | 2005 | Operational |
| Bishaltar Gravity Ropeway | Kathmandu | Cargo | | 2007 | Operational |
| Kalinchowk Cable Car | Dolkha, (Kuri to Kalinchok Bhagawati Temple | Passenger | 1,000 | 2018 | Operational |
| Annapurna Cable Car | Sedi to Sarangkot | Passenger | 2,500 | 2022 | Operational |
| Kharidunga mine ropeway | Dolakha, Sindhupalchowk (Kharidhunga to Lamosanghu) | Cargo | 10,300 | 2020 | Non-functional |
| Udayapur cement mine ropeway | Udayapur, (Sindhali-hill to factory) | Cargo | 13,800 | 1987 | Operational |
Table summarizing the history of cable cars and ropeways in Nepal
New Cable Cars and Ropeways in Nepal: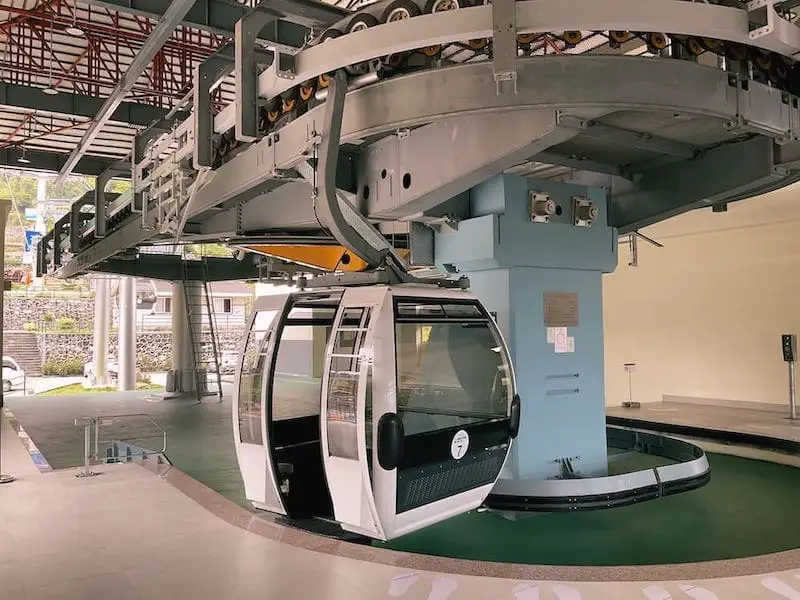 Nepal has a rich history of ropeways, which have assisted Nepalis throughout the country in shipping and delivering goods. However, more recently, the country has moved away from cargo transport and to ropeways for cable cars and tourism.
Currently, four cable cars are operating in Nepal for tourism purposes. These include Chandragiri Cable Car in the Kathmandu Valley, Manakamana Cable Car connecting Kurintar, Chitwan to Manakamana temple, Gorkha, the Kalinchwock Cable Car which is east of Kathmandu (renowned as a snowy wonderland!), and finally, the Annapurna Cable Car in Pokhara.
These cable cars have been developed to increase tourism and assist with the mobility of individuals for religious purposes. The most recent cable car was constructed in Sedi, Pokhara, to help tourists climb to the top of Sarangkot Hill to enjoy paragliding in Pokhara and take in the sunrises and sunsets over the Himalayas.
History of Cable Cars and Ropeways in Nepal:
Cable cars and ropeways are a valuable mode of transportation in Nepal, as they provide quick and easy access to areas with difficult terrain. As seen in Pokhara, investment has helped build a cable car to one of the most popular destinations in the city. Moreover, the investment has also helped spark local development amongst Nepalis in the area as well.
There are additional ropeway projects underway currently in Nepal as well. One of the most exciting developments is the Lumbini cable car in Butwal to come. Whereas they expect the ropeway to be operational from January 2023.
FAQs: Ropeways in Nepal
1. How many ropeways are there in Nepal?
Nepal boasts four prominent cable cars that provide a range of awe-inspiring natural encounters, enhancing the experience of your holiday in the country.
2. Which is the longest ropeway in Nepal?
The Manakamana Cable Car is the longest ropeway in Nepal. It covers a distance of 2,772.2 meters (9,095 feet) and has two stations, connecting Kurintar in Chitwan to the Manakamana temple. It takes roughly 10 minutes to complete a trip.
3. Which is the famous ropeway in Nepal?
The Dhorsing-chisapnai-Chandragiri ropeway is the famous ropeway in Nepal. It was constructed by Chandra Shamser Rana in 1922 and later extended to Hetauda with support from USAID in 1964, covering a total length of 42 km.