Pokhara is the hotspot for Paragliding in Nepal. Paragliders take off from Sarangkot view point, close to Lakeside which provides spectacular panorama views of the Himalayas as well as of Phewa lake below. 
As one of the most common adventure sports in Nepal, paragliding in Pokhara offers one of the best paragliding experiences in the world. Flying amongst the birds over small Nepali villages, you are able to take in views of the popular tourist destination of Lakeside Pokhara, and of the Annapurna Range to the north.
With paragliding being the second most sought after adventure sport in Nepal (only behind trekking/mountaineering) it is no wonder that Pokhara has been recognized as one of the top five tandem paragliding spots in the world. The sport attracts hundreds of adventure seekers a day during peak tourist season, and provides about a 30 minute fly through the sky.
Thinking about taking part in the most sought after adventure sport while traveling in Nepal? This blog will cover all the information you need to know about paragliding in Pokhara!
How much does Paragliding in Pokhara cost?
Paragliding in Pokhara costs between NPR 8,000 (about USD $60). The price depends on the paragliding company you sign up with and the number of people going. Booking as a large group will allow you to negotiate and get better discounts.
The above price will include pick-up and drop-off at Lakeside, insurance and taxes. You can also pay an extra NPR 1,500 (USD $15) for photos and videos to be taken on the company's GoPro camera.
When is the best time to go paragliding in Pokhara?
Paragliding can be done anytime during the year as long as it's not raining in Pokhara. The best time to go paragliding is from March to May and September to October, as this is when skies are clear and you will have the best view of the mountains.
Flights are available seven days a week and there are typically three different time slots to go paragliding: 10:30 AM, 12 PM, and 2 PM. Moreover, the mornings are not opportune times to go gliding as it is usually cold and the thermals are not active yet. 
Paragliding can be done in the morning, but with less active thermals, means a shorter flight time. However, the flight will be calmer and less turbulent. Best thing to do is talk to the company and let them know what kind of experience you are looking for while gliding through the air. They will be accommodating, and make sure you get the best experience possible!
How safe is paragliding in Pokhara?
Paragliding in Pokhara is extremely safe. There are more than 250 flights per day during peak tourist season, the air sport has been operating since 2001 and has over 69 registered companies. These companies all have to be certified and abide by safety regulations to operate. 
There are of course risks with any adventure sport. However, there are rarely any fatal accidents or major injuries while paragliding in Pokhara. As long as you fly with a reputable company, you can feel safe knowing that the pilots are well trained, certified and have been conducting flights daily in Nepal for a long time.
If you ever have any doubts, you can ask about safety regulations with the company, ask to see their certifications, or to fly with a more reputable company. Safety is most important while paragliding, so make sure you are completely comfortable before moving forward.
Starting and landing point of Pokhara paragliding: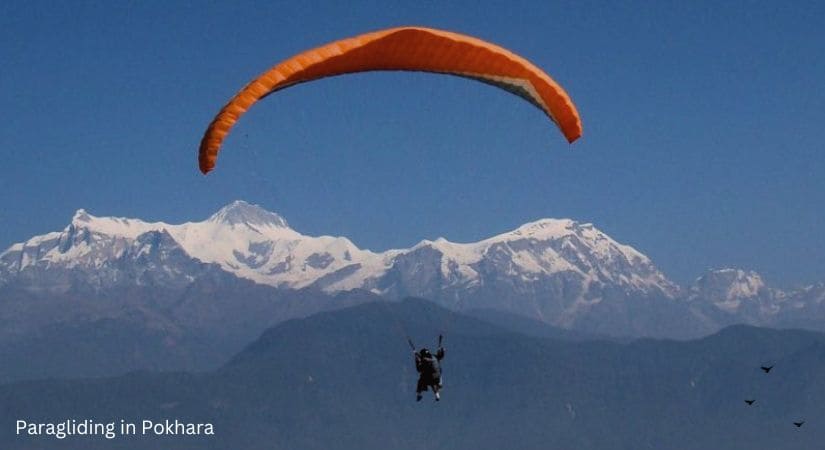 The starting point of paragliding in Pokhara is from Sarangkot, situated on the north side of Lakeside. The drive is around 30-40 minutes from the lakeside. You can also decide to forgo the long drive and take the newly built Annapurna Cable Car ride to the top, and then make the short walk or ride to the paragliding starting point.
Sarangkot, known for its breathtaking scenic views, also provides the take off point for paragliders to take to the sky. The paragliding height of your journey is at 1,592 meters, and gives the flyers around 20-30 minutes of flight time before landing close to lakeside. 
From Sarangkot you can see the entire city below, in addition you will have splendid views of Phewa lake, the World Peace Pagoda in Pokhara, as well as the massive Shiva Statue in Pumdikot. Both of these tourist attraction should be put on your list of activities in Pokhara. Especially as you can go on the Pumdi hill hike from lakeside to see them both!
Finally, the ending point, which is along the edge of Phewa lake, is at an elevation of 593 meters. The landing zone, nestled on a small outpost of land surrounded by water providing you with wonderful views of the lake as you land.
Need more info about elevations in Nepal? Check out my blog covering the elevations of Sarangkot, Pokhara and the elevation of Nepal in general!
Do you need experience to go paragliding?
To take part in the Pokhara paragliding adventure, you do not need any previous experience. Flights are done in tandem with a certified and well experienced pilot. The pilot will handle all the flying in the air leaving you to enjoy the flight and views of the beautiful lake and towering mountains. 
Additionally, during your drive up to Sarangkot, and before take off, your pilot will cover all procedures and safety measures to make sure you understand the process and what to expect. By covering all the important aspects before the flight, you can feel comfortable during your paragliding flight with no prior experience at all. 
What to wear while paragliding in Pokhara?
As it can get cold while flying through the air, I recommend wearing a long sleeve shirt, pants, and possibly a windbreaker depending on the weather during the day. Additionally, it is important to wear sunglasses during the ride to protect your eyes from the wind and the sun during your ride. Make sure to have them secured around your neck as well, or you may end up saying bye bye to your glasses half way through the flight!
Are there restrictions on who can go paragliding in Pokhara?
Paragliding is open to almost anyone that wants to fly high in the sky. However, most companies will not allow you to go paragliding if you are over 90 kg (about 200 lbs). Additionally, kids are allowed to go gliding as long as they are over the age of 10 and weigh more than 15 kg (about 33 lbs).
Kids being able to paraglide in Pokhara, is one reason we said Pokhara was a great place for a family while visiting Nepal!
How to book Paragliding in Pokhara?
You can book your paragliding adventure online. Many of the reputable companies can be found easily, and will showcase testimonies from past clients. When booking online, many of the companies will want you to put a down payment down to reserve your spot (about NPR 500 or USD $5). Be aware, that this down payment is non refundable with some companies.
However, as there are over 250 flights per day, you can easily wait to book your flight in person as well. Many of the tour agencies and paragliding companies are located on Lakeside and will be happy to help you. 
Personally, I prefer booking in person as it gives me a chance to meet the pilots in general and to check out their operation to ensure that I am comfortable with booking with them.
Pokhara Paragliding – Quick Facts:
To recap everything discussed in this blog, you can find the important information in the table below:
| | |
| --- | --- |
| Starting Point | Sarangkot – 1,592 meters |
| Ending Point | Lakeside, towards Pame – 593 meters |
| Paragliding Cost | NPR 8,000 (USD $60) |
| Flight Duration | 20-30 minutes |
| Best Season to go Paragliding | From March to May and September to October |
| Best Time to go | 10:30 AM, 12 PM, and 2 PM |
| Is Paragliding Safe? | Yes. The flights are in tandem with experienced and well trained pilots. |
| Do You Need Experience to go? | No. The pilot will brief you on the process and safety measures and handle everything for you |
| What to Wear Paragliding? | Long sleeve shirt, pants, wind breaker (if it is the cold season) and sunglasses that are securely fastened around your neck |
| Are There Restrictions to Who can go Paragliding? | People over 90 kg (about 200 lbs). Additionally, kids are allowed to go gliding as long as they are over the age of 10 and weigh more than 15 kg (about 33 lbs) |
| Booking a tandem Paragliding flight | You can book online and pay a small down-payment (about NPR 500 or USD $5). Or you can walk in to one of the paragliding operators on Lakeside and book a flight in person. |
Table shows information regarding how to go paragliding in Pokhara
Take to the skies with paragliding in Pokhara Nepal!
Paragliding in Nepal provides an opportunity to witness aerial views you have never seen before. With amazing views of the city along with spectacular sceneries of some of the tallest mountains in the world and the natural beauty of the forests below, you may find yourself falling in love with the experience. 
Nepal tandem paragliding takes you to the sky on thermals over the snow capped mountains and pristine lakes like nowhere else in the world. For the cost of about USD $30-40 you can have a 30 minute life that provides you with sights and scenes that will last a lifetime!