Nepal is a mysterious and dynamic country that can be a travelers paradise. However, many potential tourists that have families are hesitant to book adventures to the developing country in South Asia because of one simple question: Is traveling to Nepal with a family safe? 
Moreover, when families are from developed countries like the United States, Australia, and countries in Europe, they are skeptical of how safe the Himalayan Country is. I understand that planning a vacation with kids can be stressful.
But there are plenty of things you can do to ensure that your trip goes smoothly in Nepal. To help you make the decision of traveling to Nepal with a family, kids, a baby, toddlers, or even elderly people, I have answers and suggestions to all your potential queries below!
Is traveling to Nepal with a family safe?
Yes, traveling to Nepal with a family is safe. The tourist cities of Kathmandu, Pokhara, Chitwan all have access to good hospitals, safe travel options, sanitary and high class restaurants, are safe from crime, and ample police presence.
It is important to note, that as you travel to more remote places in Nepal, you will want to monitor your food and water consumption, as sanitary standards are lower in these areas. The best thing to do is always drink mineral water, or ensure the restaurant filters your water properly. Additionally, many tourists avoid meat in rural areas, due to lack of proper storage and sanitation. 
More than likely, if you find yourself as a tourist in a rural area, you will have some sort of guide. These guides will know places that are safe and healthy, as well as places to avoid. When in doubt, ask your tour guide for suggestions and guidance!
Also, if you are looking for some of the best resorts to stay in, that are great for families, have a look at our best resorts guide!
Nepal with kids:
In terms of safety, there is no issue bringing your kids to Nepal. As mentioned above, you will want to monitor your food and water consumption. In addition to these two, the next biggest thing to be careful about is crowded areas. Whereas, certain areas of Kathmandu and Pokhara can be extremely chaotic and crowded. It may be easy to lose track of your kids in places with large crowds.
If you decide to take public transport, you may find the buses overcrowded and finding a place to sit for your kids can be difficult. Luckily, many Nepalis are very considerate, and if you do have small children, they will give up their seat for you and your children. 
Another aspect that you should keep in mind is that traffic regulations and laws are not well regulated, and cars, buses, and motorcycles can be all over the road at times. Moreover, it becomes difficult to walk in certain areas as there may not be a sidewalk, and you will be forced to walk on the road. Depending on where you are traveling, the area may be closed off to traffic and much safer though – for example, Thamel in Kathmandu, temples and heritage sites, and the boardwalk along Lakeside Pokhara. 
Overall, the country is a safe place to travel with kids. If you're traveling with kids, there's no need to worry about finding kid-friendly activities. You can find plenty of fun things to do in Nepal, and it can provide a fascinating experience for your kids with the nature, religion, culture, adventure, smells, tastes and colors that the country has to offer.
Nepal with a baby: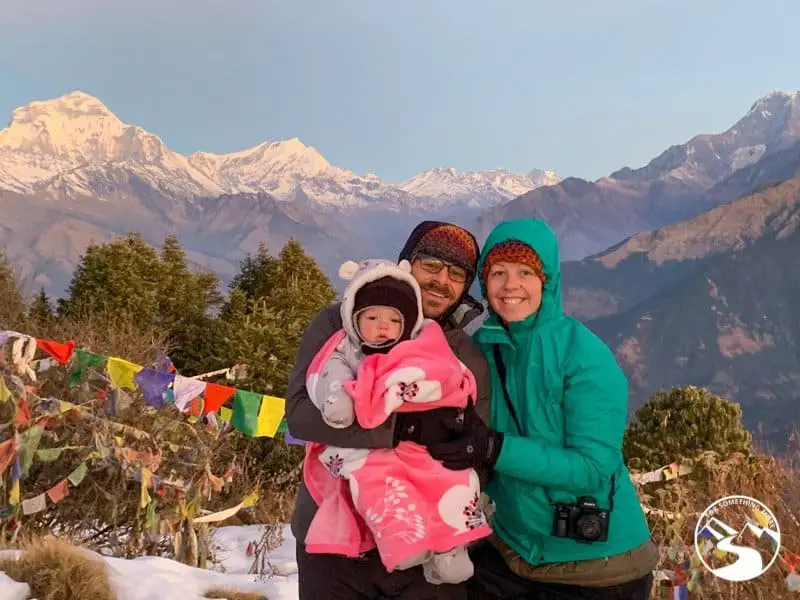 Traveling in Nepal with a baby will be challenging, but not impossible. There is limited access to changing tables, high chairs in restaurants or other  basic facilities for your infant. Moreover, finding western brands of formula, diapers and other baby products will be challenging, as well as expensive.
On the other hand, there are a few things that are easier in Nepal, with a baby. For one, breastfeeding in public is accepted and you can feel comfortable doing it in most places. Additionally, depending on how much you enjoy the attention, Nepalis will be thrilled to see your little one and play with them. 
You will also have to carry your baby in most places as the streets, and roads are not good for strollers and buggies. With over-crowdedness, uneven roads, and traffic all over the place it will be difficult to navigate. Kathmandu, will be the worst place for buggies and strollers. Whereas, in Pokhara and Chitwan, you will have a little easier time, but it will still be difficult to get around. I strongly recommend using a backpack to carry your baby in Nepal.
There's no doubt that traveling with children is more challenging than traveling alone. However, it's possible to plan an amazing vacation with babies in Nepal, especially if you pack well, and are willing to spend a little more for some of the things you may end up needing for your babies well being.
Is Nepal a good place for elderly people to travel?
Nepal is a good destination for older travelers because of its natural beauty, cultural diversity, and hospitable people. Depending on your physical capabilities, you will be able to experience almost all of the country, including cultural hikes in the hills, as well as in the mountains. Kathmandu, Pokhara and Chitwan are ideal destinations for elderly people as there are plenty of transportation options, fine dining establishments, and high quality hotels. 
Additionally, for all three of these locations you will be able to take a domestic flight to them. I believe this is important, as the road conditions, and traveling by local transportation is one of the most difficult aspects of Nepal. Whereas, from Kathmandu to Pokhara can take eight plus hours, and Kathmandu to Chitwan can take upwards of six hours (both trips depend on traffic, as well as road conditions as landslides and accidents are frequent, and result in the highway being closed). Have a look at our article about locations in Nepal, if you are not to sure where these places are!
One thing that may be difficult, is that many rural locations do not have western toilets and only have squat toilets. Depending on your comfortability and physical capabilities, these may be difficult to use for some individuals. 
Best places to travel in Nepal with your family, kids, babies and as an elderly person:
I want to offer up a few great locations in Nepal to travel to with your family. Of course, these locations will depend on the makeup of your family and their capabilities. I have tried to come up with a good mix of locations and activities for all levels. Additionally, I have included the difficulty of each as well.
Travel Place
Location Activity type
Difficulty
Best for
Kathmandu Lalitpur, Bhaktapur
-Sightseeing- Culture and heritage- Shopping- Hiking
Easy, accessible to all families. Has good facilities and options for hotels, food, transportation and activities.
The city can be chaotic, and messy at times. Additionally, it has poor air quality and is not good for people with respiratory issues.
– Families- Kids- Babies- Elderly People
Pokhara
– Sightseeing- Culture and heritage- Shopping- Adventure Sports- Hiking
Pokhara is the best place for all types of travelers. Lakeside, which is built for tourists, offers everything that you could possibly need or want.
The adventure sports like paragliding, zip-lining, bungee jumping, paddle-boarding, ATV rides, and go-karts may not be for everyone though.
You can also go on a hike to see the Shiva Statue and World Peace Pagoda. Have a look at our guide: Day hike in Pokhara: Peace Pagoda and Shiva Statue!
– Families- Kids- Babies- Elderly People
Chitwan
– Sightseeing- Culture and heritage- Shopping- Safaris- Wildlife
Chitwan has a distinct tourist area that offers many things. It has much fewer options than Kathmandu and Pokhara, but it still has high quality hotels and restaurants available. Chitwan is in the Terai and therefore flat and easier to move around.
– Families- Kids- Babies- Elderly People
Himalayan Range
– Trekking- Sightseeing- Wildlife
There are different trekking opportunities in Nepal, ranging from two-three day treks, to multiple week long treks. Depending on the trek, and how accessible it is by vehicle will determine its difficulty. It is best to check the difficulty of the trek and gauge for yourself if it's possible for your family.
This will be a difficult place to visit with babies, as it will almost be impossible to find things for your baby.
– Families- Older Kids- Physically Fit Elderly People
Table describing the best places to visit in Nepal with a family
Know what you're getting into before you go.
Before you book any flights, make sure you know exactly where you're going and staying in Nepal. Depending on your family and the types of accommodations and amenities you will need, will determine where you can stay and travel to in the South Asian country.
Nepal is a good place for families, babies, kids and elderly people to travel to. The best, and most accessible places to travel in the country include the Kathmandu Valley, Pokhara and Chitwan. Of course these are not the only places to visit, but they are the most well known and developed. As well as have direct domestic flights making travel significantly easier. 
You may also want to consider traveling to Lumbini, the Birthplace of Buddha. This is a less traveled tourist spot, but it can be a great place to take a family to learn about religion in Nepal and around the world. You can even catch a flight to Bhairahawa which is only a 20 min drive away, just enough time to go over some quotes from Buddha!