Lumbini is one of the most holy and sacred places in the world. With Buddha being born in the now Sacred Garden of Lumbini, millions of tourists flock to lay eyes on the marker stone. Laying peacefully and elegantly in the middle of the uncovered archaeological sites of the ancient Mayadevi temple, the birthplace of the Gautam Buddha is a powerful experience. And to help you experience it all, I have come up with a Lumbini travel guide, based on the year that I worked and lived in the area.
Lumbini, is a testament to the power of buddhism to bring together people from all walks of life,  nationalities, and cultures to live peacefully and in harmony. Lumbini in Nepal consists of a large 3 mile by 1 mile complex overseen by the Lumbini Development Trust from the Government of Nepal.
Inside the complex you can find 32 monasteries from different countries around the world. Additionally, you can enjoy the Lumbini Peace Pagoda, Lumbini Museum, boating, a crane sanctuary and even a newly built cafe to empower local women in the area – Amma cafe. Additionally, the Sacred Garden area of Lumbini has been recognized as a UNESCO World Heritage site since 1997.
Lumbini has much to offer not only to Buddhists but travelers and tourists from all religions and walks of life. It is a powerful place to visit, and enjoy your travels in Nepal. Who knows, you may even find enlightenment while sitting under a Sala tree, while visiting the Sacred Garden of Lumbini.
In this article, I want to provide you with an overview of Lumbini, the Sacred Garden, and the area outside of the complex, so you can visit and enjoy your stay in Lumbini, the birthplace of Gautam Buddha!
To start this Lumbini travel guide off, let's take a look at the history of Lumbini.
History of Lumbini:
Lumbini of Nepal, is believed to be the birthplace of Siddhartha Gautama, the Lord Buddha. Buddha was born in present day Lumbini, Rupandehi, in the Lumbini Province of Nepal. It is said that Queen Maya Devi, Buddha's mother, gave birth to Siddhartha while traveling from her palace in Tilirakout to her hometown in Devadaha. The birth supposedly took place while she was holding on to a sala tree. Buddha was born around 623 BCE, and lived in his kingdom in modern day Tilirakout of Kapilvastu in Lumbini Province of Nepal, until he was 29 years old.
The birthplace of Buddha has been worshiped for centuries, with substantial proof that the area has been an auspicious place for Buddhist devotees for thousands of years. Whereas, the first major piece of proof that Buddha was born in the Sacred Garden of Lumbini comes from the Mauryan King Ashoka the Great. 
Whereas, Ashoka the Great, in 249 BCE, erected a pillar in remembrance of the Budhha, and signifying the location of the birth of Siddhartha Gautama – The pillar still stands in  till this day. Additionally, inscribed on the sandstone Ashoka pillar one can find Pali inscriptions in Brahmi script signifying and stating the importance of the location. 
Around Mayadevi temple, and the Ashoka Pillar, there have been archaeological digs that have excavated the remains of Buddhist monasteries dating back to the 3rd century BC all the way to the 5th century AD. Moreover, archaeologists have unearthed the remains of ancient Buddhist stupas and shrines from the 3rd century BC to the 15th century AD.
The sacred area of Lumbini, is not only limited to the Sacred Garden and surrounding areas. Whereas, a great number of additional religious areas have been located in what is now known as the Greater Lumbini Area.
Greater Lumbini Area – Buddhist Religious Sites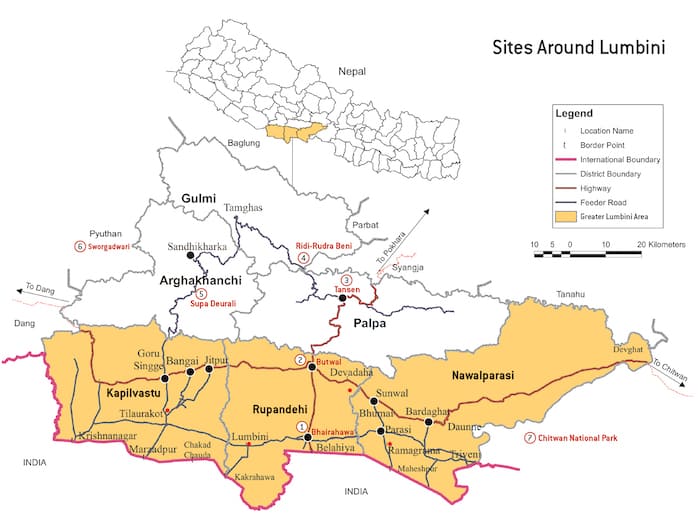 The map shows the Greater Lumbini Area and other important Buddhist sites in the locality.
The Greater Lumbini Area includes Rupandehi, Nawalparasi and Kapilvastu districts in the southern plains of western Nepal in the Lumbini Province. The 5,260sq km area contains 136 identified archaeological sites – more and more sites are continuing to be identified and excavated in the Greater Lumbini Area. A lack of research and funding has restricted research and further archaeological studies from taking place.
With more than 136 identified archaeological sites, the Greater Lumbini Area comprises of the Sacred Garden, where Queen Mayadevi gave birth to prince Siddhartha; as well as Tilaurakot (Kapilvastu) where Prince Siddhartha's father's palace remains, with boardwalks, displays, Hindu shrines, a small museum and recent archaeological excavations. Other important and historical Buddhist sites in the Greater Lumbini Area include Kudan, Gotihawa, Niglihawa, Sagarhawa, Aurorakot, Devadaha and Ramagrama – the latter believed to be the repository of one eighth of the Buddha's remains.
The Lumbini Development Trust reports that the Sacred Garden and the Greater Lumbini Area receives around 1.5 million visitors annually, of whom about 1.2 million are domestic tourists, 200,000 are Indians and nearly 170,000 are foreigners. Of the 170,000 foreigners, it has been reported that more than three quarters of them (77% in 2018) are pilgrims from Sri Lanka, Thailand, Myanmar and China.
The Greater Lumbini Area, and even Tilaurakot (Kapilvastu) where Prince Siddhartha's palace remains, attracts only a small portion of the total tourist population that travels to Lumbini. If you are adventurous and looking to explore everything related to Buddha and his life in Nepal, then I strongly recommend checking out at least Siddhartha's Palace, Kudan, and Ramagrama!
Map of Lumbini Nepal:
In the map of Lumbini Nepal, and the Greater Lumbini Area, I have highlighted some of the most auspicious areas you can visit. If you are looking to get the full experience out of Lumbini, then make sure to have a look at the Lumbini travel guide map below, and plan your trip accordingly. Some of the Buddhist sites are quite far apart, and will take an hour or so to reach from Lumbini. Therefore, plan smart, so you can see everything you can in Lumbini, Nepal!
While using the map, make sure to click on the box with an arrow at the top left! Lumbini is in orange.
When is the best time to visit Lumbini?
If you are looking to experience festivals in Nepal, the best time to visit Lumbini is either between April – May for Buddha Jayanthi, Buddha's birthday. Or you can visit Buddha's birthplace during October – November for cooler weather and chances of seeing the Himalayas from Lumbini.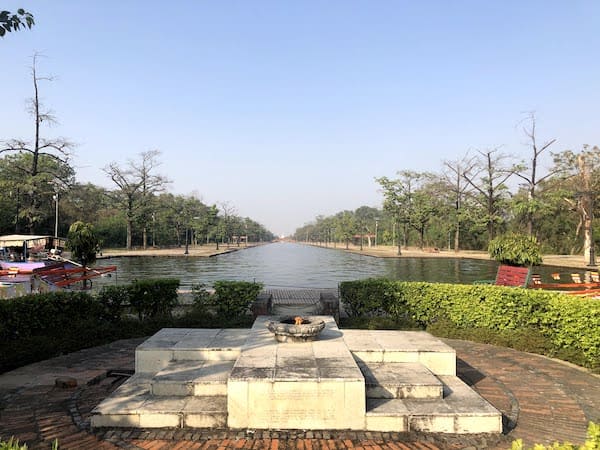 However, during April and May it can be hot in the Terai area of Nepal – which is where Lumbini is. During April you can expect temperatures to get around 33°C or 91.4°F. And in May, temperatures can reach  34°C or 93.2°F. Moreover, the problem is not only with the heat, but also the humidity in the region. Where it constantly feels hotter than it actually is. 
Therefore, if heat is not your thing, another great time to visit Lumbini is during the months of October and November. During this time, temperatures will be much more mild. Ranging from highs of  32°C or 89°F and lows of  20°C or 68°F in November, and highs of  30°C or 86°F and lows  of  17°C or 62°F in December. Additionally, during this time, the skies will begin to clear, and if you are lucky, you will have views of the Himalayas from Lumbini!
How to get to Lumbini?
There are different ways to get to Lumbini, and depending on your starting location, your preferred transportation and route may be different. Therefore, I have broken the travel options up into what I believe are the five most common travel starting points: Kathmandu, Pokhara, and Chitwan.
There are two ways to get to Lumbini from Kathmandu. You can reach Lumbini by going by road, or by flight.
Getting to Lumbini by road:
If you decide to travel by car, you can either take a tourist bus, or rent a private car. Going by road, you have two possible routes, one you can travel through Pokhara, and Tansen Palpa – both great tourist destinations. The second route would be through Chitwan – third largest tourist city in Nepal. Of course you can couple your Lumbini visit with another travel destination like Pokhara, Tansen, or Chitwan. However, going by road is quite a long and strenuous trip (information about travel details are in the table below.
I have included the overall trip duration and cost of all different routes when traveling by road. 
Travel Route
Time of Travel
Cost of Travel
By road from Kathmandu
via Chitwan
8 hours of total drive time.
280 total km of travel.
Ktm – Chitwan: NPR 1000
Chitwan – Lumbini: NPR 500 (local bus)
By road from Kathmandu
via Pokhara
11 hours 45 minutes of
total drive time.
395 total km of travel
Ktm – Pokhara: NPR 1500-2000
Pokhara – Lumbini: NPR 1200-1500
Table showing the travel route, time it will take, and cost to reach Lumbini by driving.
Getting to Lumbini by Plane:
Going by flight is more expensive than traveling by road. However, you will save an entire day of travel if you decide to go by air. A domestic flight from Kathmandu will take you to Bhairahawa, Rupandehi in Lumbini Province. The distance from Bhairahawa airport to Lumbini is 15 Km. To travel the 15 km from Bhairahawa airport to Lumbini will take you around 20 minutes in a taxi and 30 minutes in a public bus.
Currently, the Government of Nepal is building an international airport in Bhairahawa to allow for tourists to travel directly to Lumbini by plane. The airport is over 90% done and they have conducted their first international test flight. The Lumbini international airport is scheduled to open in late 2022.
Domestic flight prices to reach Bhairahawa and Lumbini can be seen in the table below:
| Departure City | Time of Travel | Cost of Travel |
| --- | --- | --- |
| Kathmandu | 35 minutes | USD 87 |
| Pokhara | 20 minutes | USD 73 |
| Chitwan | 25 minutes | USD 101 |
Table showing the departure city, time it will take, and cost to reach Lumbini by plane.
*Flight prices change according to on and off-season. All flight prices are from Buddha Air. 
Monasteries in Lumbini Travel Guide:
There are a total of 32 monasteries in the Lumbini complex, and additional monasteries are being built and added to the monastery zone of the Sacred Garden of Lumbini (as of 2022, America has begun the planning and construction phase of their lotus flower monastery in Lumbini).
Each monastery is run by their own set of monks. The monasteries are typically open from 6am to 6pm at night, and allow for visitors and tourists to come and see the architecture and pay their respects to Buddha at each monastery. In addition to the architecture features of the monasteries, many of them also have unique paintings depicting the life of Buddha, as well as Buddha statues. Some of the monasteries also have dorms where you can stay. Finally, you can practice Buddhism and meditation with the monks as well.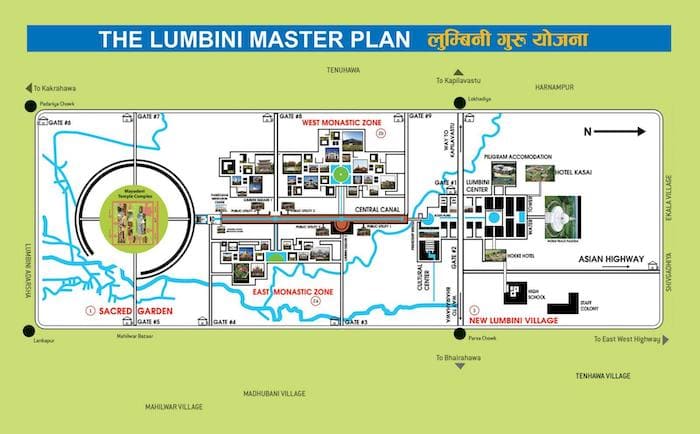 The monasteries in Lumbini are broken up into two distinct sections: east and west. The distinction is based on where the monastery is located in relation to the Lumbini complex. Whereas, in 1970, an international committee was formed to manage the overall development and direction of Lumbini. Professor Kenzo Tange of Japan was given the assignment to create a Master Plan for Lumbini. The plan was approved by the UN and Government of Nepal in 1978. 
The plan effectively breaks the 3 mile by 1 mile complex into three different 1 mile blocks which are dedicated for different purposes. The middle section is devoted to the construction of monasteries, and further broken down into the west and east monastery zone.
The monasteries in each zone are as follows: 
East Monastic Zone of Lumbini:
1. The Royal Thai Monastery, Thailand
2. Myanmar Golden Temple, Myanmar
3. International Gautami Nuns Temple, Nepal
4. Sri Lankan Monastery, Sri Lanka
5. Dhamma Janani Vipassana Center, Nepal
6. Mahabodhi Society Temple, India
7. Bodhi Institute Monastery and Dharma Center, Canada 
8. Nepal Theravada Buddha Vihar, Nepal 
9. Cambodian Temple, Cambodia
West Monastic Zone of Lumbini:
1. Urgen Dorjee Chholing Buddhist Center, Singapore
2. French Buddhist Association, France
3. The Great Lotus Stupa, Germany
4. Drigung Kagyud Meditation Center, Laddakh India
5. The World Linh Son Buddhist Congregation, France
6. United Tungaram Buddhist Foundation, Nepal
7. Thrangu Vajra Vidhya Buddhist Association, Canada
8. Vietnam Phat Quoc Tu, Vietnam
9. Geden International Monastery, Austria
10.  Chinese Monastery, China
11.  Dae Sung Shakya Temple, South Korea
12.  Drubgyud Chhoeling Monastery, Nepal
13.  Dharmodhaya Sabha Nepal, Nepal
14.  Karma Samtenling Monastery, Nepal
15.  Manang Samaj Stupa, Nepal
16.  Pandirarama Lumbini International Meditation Center, Myanmar
17.  Ka-Nying Shedrup Monastery, Nepal
18.  Zarong Tgupten Mendol Dogna Chholing, Nepal
19.  Nepal Vajrayana Maha Vihara, Nepal
20.  Japanese Monastery, Japan
21.  Lotus Flower, United States of America
Restaurants in Lumbini:
One of the newest restaurants in Lumbini is Amma Cafe, which is located inside the Lumbini complex area. Amma Cafe, is a joint effort between the World Bank and Lumbini Development Trust, to promote women empowerment in the area. The cafe is located next to the Eternal Peace Flame at the edge of the canal in Lumbini. Lumbini Development Trust is designated a building for the repurposing to make a cafe with financial support from the World Bank.
As of September 2021, Amma cafe has been opened and currently has 16 women from the local village managing and overseeing all of the cafe operations. The cafe is a wonderful place to sit, eat and enjoy the ambiance of Lumbini. They have a variety of drinks and food items including international and Nepali dishes.
If you are visiting Lumbini and find yourself hungry while in the Lumbini complex, make sure to check out Amma Cafe and enjoy some milk tea, milkshakes, pizza or a sandwich!
Other than Amma cafe, there are other local food options which serve Nepali and Indian cuisine. Most of these restaurants are found on the main road going through Mahilwar bazaar. Make sure you check out the various restaurants serving tandoori food options. Our personal favorite is Namaste – I have marked it on the Google map above!
You can also find Ghongi (fried snails) in Lumbini. Learn more about the dish in my Weirdest food in Nepal blog.
FAQs: Lumbini Travel Guide:
To round up this Lumbini travel guide, I have included some of the most frequently asked questions about Lumbini, as well as Buddha in general! If there are any other questions you may have about the area, or history of Lumbini, let me know in the comments below!
1. What is Lumbini famous for?
Lumbini in Nepal is famous for being the birthplace of Siddhartha Gautama, the Lord Buddha in 623 BCE. It is now a pilgrimage site, with 32 monasteries, the Ashoka Pillar, Lumbini World Peace Pagoda, and Mayadevi Temple which houses Buddha's birth place.

Lumbini is famous for Buddhist pilgrims, who wish to visit the birthplace of the Lord Buddha. Moreover, Lumbini is located in the Greater Lumbini Area, which has over 136 different historical Buddhist archaeological sites. Tourists can also find Buddha's kingdom where he lived for the first 29 years of his life in Kapilvastu.
2. Where was Buddha actually born?
Buddha was born in present day Lumbini, Rupandehi, of Lumbini Province in Nepal in 623 BCE. It is located in the central, southern planes of the country, about 15 km away from the border with India.

There has been much debate over if Buddha was born in India or Nepal. However, UNESCO and many scholars attribute Buddha's birthplace to Lumbini in Nepal. The birthplace of the Lord Buddha has also been recognized as a UNESCO World Heritage site since 1997. Moreover, the Ashoka Pillar which stands next to Mayadevi Temple which houses the birthplace of Buddha, has an inscription from 249 BCE identifying the area as the official birthplace of Siddhartha Gautama.
3. Where did Buddha die?
It is believed that Buddha died at the age of 80 in the current day, Kushinagar of India in the year 543 BCE. Currently, the Parinirvana Stupa or Mahaparinirvana Temple stands at the location of Buddha's death.

Alexander Cunningham, a British archaeological surveyor for the Government of India in the late 19th century is credited with the discovery of Buddha's death. He found and believed through research, that Buddha had some sort of illness when he was in Kushinagar, and eventually succumbed to death. 

The first temples believed to be built at the location of Buddha's death were that of Emperor Ashoka. The same, who had erected the Ashoka Pillar at the location of Buddha's birthplace.
4. Who invented Lumbini?
Who initially invented or recognized Lumbini is difficult to say. However, the earliest identification of Lumbini being the birthplace of Buddha is attributed to Emperor Ashoka the Great in 249 BCE. Ashoka, erected the Ashoka Pillar which with inscriptions identifies the place as Buddha's birthplace.

Modern day Lumbini and the current Sacred Garden complex and master plan are attributed to Professor Kenzo Tange of Japan. He was chosen in1978 by UNESCO and the Government of Nepal, to develop a master plan for Lumbini. As of 2022, the master plan is still under construction with the Lumbini Development Trust overseeing the implementation of the plan.
5. When was Lumbini Temple Built?
The Lumbini Temple or the Maya Devi Temple is said to have been built around the 3rd century BCE. The archaeological remains of the place also date back to the time of Ashoka. In November 2013, ancient remains of an ancient tree shrine that dated before 550 BCE were also discovered.

The Maya Devi Temple is one of the ancient Buddhist temples in Lumbini and it has been rebuilt and changed many of times throughout history. It is the birthplace of Gautam Buddha and a UNESCO World Heritage Site. The sacred garden also comprises of the Ashoka Pillar, the Sacred Garden, ancient stupas, and the Sacred Puskarni pond.