Let's start here: Carbon is one of the coffee shops in Jaipur that everyone wants to post on instagram. Next, it has to be one of my favs, and Pooja's favorite! So of course it made it to our list of best cafes in Jaipur!
The dark aesthetic interiors, dim lights and the furniture matching the theme of the cafe, is a successful way to attract people to the cafe. It is a craft coffee bar and has a unique way of serving drinks. They use different wine glasses for various cold coffee drinks and whiskey glasses for the cold brew or fancy mocktails. 
The cafe is not only great for casual meetups with friends and family but also a comfy place to work. With the latest hits playing in the background, the cafe offers a quiet and comfortable place to relax and work. It is definitely a spot for breakfasts, lunches and quick afternoon coffee runs. Pretty much everything about the experience is attractive, the selection of fusion coffee is solid and the food is excellent! 
Quick Information About Carbon Jaipur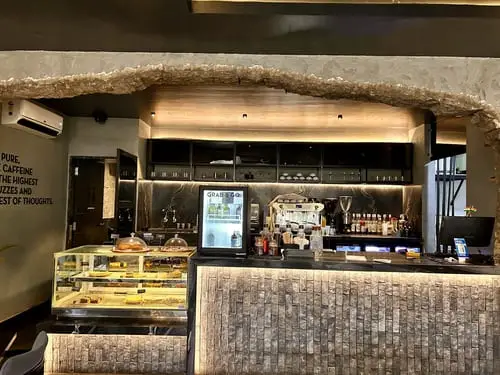 Before we delve into the coffee delights of Carbon, let's take a look at few key facts about this phenomenal café:
Operating Hours: 9:00 am to 12:00 am every day
Carbon Cafe Cost: INR 400-600. 
Location: F-6A, Ramesh Marg, C Scheme, Ashok Nagar, Jaipur, Rajasthan 302001
Wifi? Yes, they have wifi! We have had no problem working here
Service: Everyone is super friendly and the service is quick!
Drinks at Carbon Jaipur
As a craft coffee bar, Carbon Jaipur takes great pride in curating an exceptional selection of beverages, each prepared with meticulous care and passion. From velvety lattes adorned with intricate latte art to invigorating cold brews, and even special fusion coffees, every sip promises to transport you to the realms of coffee perfection.
1. Whiskey Cold Brew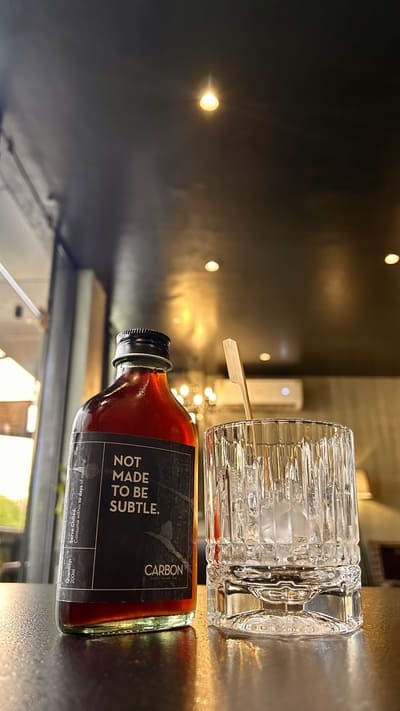 Carbon Jaipur's Whiskey Cold Brew is a delightful fusion of two beloved indulgences, perfectly balanced to create a truly unique beverage. Upon first glance, the bottle reveals an inviting deep amber hue and the aroma that wafts is both rich and tantalizing, with the unmistakable notes of the whiskey mingling harmoniously with the bold coffee undertones. 
The first sip is nothing short of exceptional. The initial hit of smooth, velvety cold brew coffee is immediately followed by the subtle warmth of the whiskey, making for a well-rounded and satisfying flavor profile. The complexity of the coffee's bitterness plays remarkably well with the whiskey's robust character, resulting in a delightful balance that lingers on the palate.
The Whiskey Cold Brew at Carbon Jaipur stands out for its craftsmanship and attention to notes of the coffee and whiskey. The high-quality ingredients shine through, and showcases an understanding of both coffee and whiskey.
Whether you're looking to unwind after a long day or seeking a quick pick-me-up, the Whiskey Cold Brew is a drink that effortlessly caters to diverse tastes and moods. Its rich flavors and seamless blending make it a must-try for those seeking a distinctive coffee experience with a delightful whiskey twist.
2. Vanilla Strawberry Iced Latte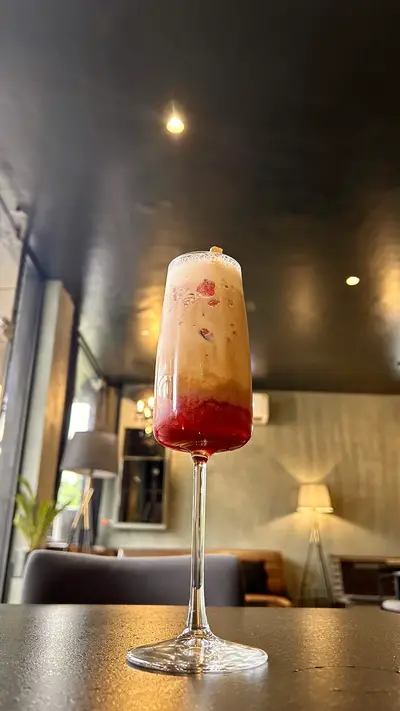 Carbon's Vanilla Strawberry Iced Latte is Pooja's favorite drink. It is a refreshing and delightful concoction that brings together the sweetness of strawberries and the creamy allure of vanilla in a perfect harmony.
Served in a flute glass, the drink's inviting appearance shows a beautiful pink hue, hinting at the strawberry goodness that lies within. The taste is immediately gratifying – a smooth and velvety latte base balanced with the distinct sweetness of strawberries. The vanilla essence adds a subtle yet distinct dimension, enhancing the overall flavor profile without overpowering the fresh taste of the strawberries. The combination creates a well-rounded and enjoyable iced latte that is not overly sugary!
This drink is a perfect companion for warm days or as a delightful treat to beat the afternoon slump. It strikes a perfect balance between the comforting essence of a traditional latte and the summery vibe of strawberries, making it a versatile choice for various occasions.
If you're looking for a refreshing twist on a classic iced latte, this delightful creation is undoubtedly worth a try.
3. Tropical Breeze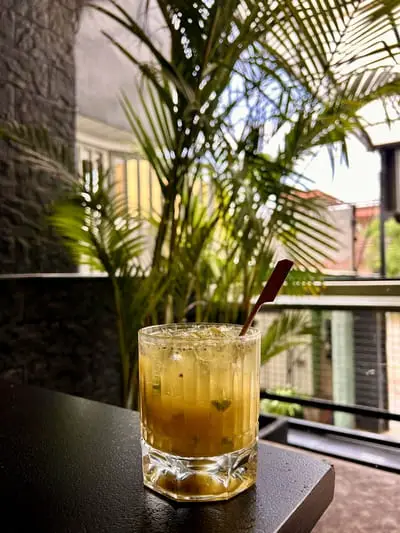 As soon as I took a sip of Carbon Jaipur's Tropical Breeze, I was transported to a tropical paradise (cheesssssy!). This mocktail is a delightful blend of sweet mango chunks, fresh orange juice, and the smoothness of fresh mango juice. The combination of flavors was simply amazing.
I loved the touch of freshness that the mint leaves and basil added to the drink. It gave it a wonderful herbal note that perfectly complemented the fruity goodness. The subtle floral undertone from the elderflower was a pleasant surprise, and it blended beautifully with the other ingredients.
The chia seeds provided a unique twist, giving the mocktail a fun and chewy texture that I really enjoyed. Also, as the made the drink thicker, which I absolutely loved! The aerated water and ice made it light and bubbly, making it the perfect refreshment for a hot day.
What impressed me the most was the naturalness of the flavors. You could tell that they used fresh fruit juices and real ingredients, which made the Tropical Breeze taste so authentic and satisfying. Whether you're a fan of fruity mocktails or simply looking for a non-alcoholic option, the Tropical Breeze from Carbon Jaipur is a must-try. It's a refreshing and vibrant drink that will transport your taste buds to a tropical oasis. I highly recommend giving it a try!
Food at Carbon Jaipur
Carbon offers a diverse and extensive menu, featuring a wide range of options from light bites and vegetable starters to hearty sandwiches and entrees. For a satisfying experience, we suggest exploring the first half of the menu and indulging in their diverse drink selection. Carbon shines as a place for relaxed hangouts and amazing drinks, rather than being solely focused on delivering a culinary experience. However, if you visit Carbon, you'll appreciate the ambiance and be glad to have this spot as part of your dining options.
1. Bagels For You!
We ordered the Bagels for You and got to create my own bagel sandwich with their selection of bread and spreads. I opted for the multigrain bagel (charcoal was not available that day ]: ) and decided to try two different spreads: the kimchi and sweet chilli spread, as well as the muhammara.
The multigrain bagel looked perfect in size and shape, and I was excited to see how it would complement the spreads. The first bite with the kimchi and sweet chilli spread was pleasant; the sweet chili flavor was prominent and added a nice touch of spiciness. However, I couldn't quite discern the kimchi flavor, which I had hoped to experience more.
On the other hand, the muhammara spread was a delightful surprise. Its rich and nutty taste paired well with the bagel, creating a harmonious combination that I thoroughly enjoyed.
One aspect that stood out was the generous amount of cream cheese they used. While I loved the creaminess it brought to the bagels, I felt that, in some cases, it might have overshadowed the flavor of the chilli spread.
Overall, the bagel experience at Bagels for You was a mixed one. The muhammara was a standout, and I appreciated the creativity of the kimchi and sweet chilli spread, though I wished the kimchi flavor was more prominent. The abundance of cream cheese was a delight, but it might have slightly affected the overall balance of flavors. But honestly, I still loved the bagels and cream cheese and was grateful that we have access to great bagels! If you're looking to explore unique and diverse bagel options, Carbon is worth a visit. 
The Verdict: Carbon Cafe in Jaipur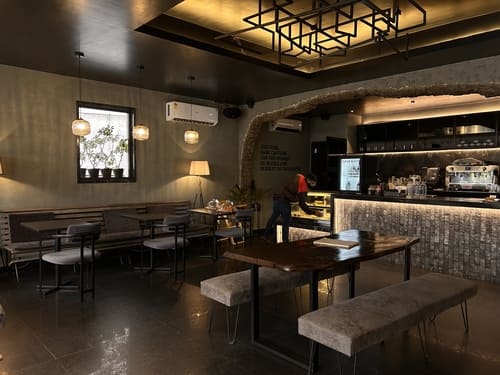 My experience at Carbon Jaipur was a true delight from start to finish. The craft coffee bar ambiance immediately drew me in, and the aroma of freshly roasted beans set the tone for a memorable coffee experience.
The Whiskey Cold Brew left a lasting impression on me, with its perfect blend of smooth coffee and the subtle warmth of whiskey. It was a unique and well-crafted concoction that I thoroughly enjoyed. The Vanilla Strawberry Iced Latte was a refreshing twist on a classic iced latte. The sweetness of strawberries and the touch of vanilla made it a perfect treat for any time of day.
As for the Tropical Breeze mocktail, it lived up to its name by delivering a burst of tropical flavors. The combination of mango, orange, mint, and basil made it a truly refreshing and vibrant choice.
The food menu was just as impressive. From light bites and starters to hearty entrees, there was something for every palate. I particularly enjoyed the balance of flavors in the dishes, showcasing the use of quality ingredients. While there were a few minor letdowns in some dishes, overall, the culinary journey was good. The menu's varied options allowed us to explore different tastes and textures, making each bite a new experience.
Carbon Jaipur exceeded my expectations as a craft coffee bar with a diverse and delightful food menu. It's a place where passion for coffee and culinary expertise come together to create an unforgettable dining experience. Whether you're a coffee enthusiast or a food lover seeking innovative flavors, Carbon Jaipur is a must-visit destination in the heart of the Pink City.