The tables are thoughtfully arranged, allowing ample space between them, creating an immediate sense of tranquility and order that sets the tone for a nice brunch. Sub Rosa stands out for its meticulous attention to detail. It is evident that they have invested in extensive training for their staff, with each member performing their roles with precision and grace. This commitment to excellence extends not only to the service but also to the culinary delights and the drink selection – all contributing to a truly refined experience.
Sub Rosa Restaurant is on our list of best cafes in Jaipur and a sanctuary of culinary artistry and unparalleled hospitality. Whether you visit for a delightful meal with loved ones or an intimate gathering with friends, the harmonious fusion of modern sensibilities and the comforting ambiance make every visit a truly unforgettable experience.
Quick Information about Sub Rosa in Jaipur:
Before we dive into the culinary delights of Sub Rosa Restaurant, let's take a look at few key facts about this NY-inspired restaurant:
Operating Hours: 1:00 pm to 1:00 am (Sun – Fri), 1:00 pm to 2:00 am (Mon)
Sub Rosa Cost: INR 200-700. 
Location: 1st Floor, K-10, Income Tax Colony, Tonk Rd, Jaipur, Rajasthan 302018
Wifi? Yes, they have wifi! We have had no problem working here
Service: Everyone is friendly here and the service is quick!
Modern NY-Inspired Elegance: The Enchanting Interiors of Sub Rosa Jaipur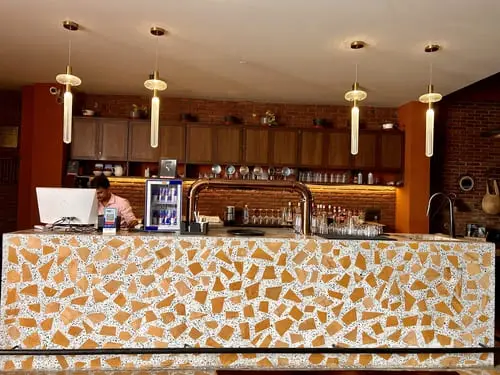 Sub Rosa Restaurant is a captivating culinary haven that exudes an alluring blend of modern charm and New York-inspired sophistication. The restaurant is divided into two floors, and the upper floor is connected by a spiral staircase (How cool!). Stepping inside, you are immediately enveloped by a sense of familiarity and comfort, as though you have arrived at the home of an old friend. The interiors are a striking amalgamation of contemporary design elements and the warm, inviting ambiance of a cozy living space.
The centerpiece of the restaurant is an eclectic collection of wooden tables and chairs, each thoughtfully curated to offer a mix of plush sofa seats and sturdy wooden legs, providing the perfect balance between luxury and functionality. As you settle into your seat, the artful play of warm lighting casts a gentle glow, accentuating the stylish decor and creating an intimate atmosphere that invites relaxation and enjoyment.
Adding to the restaurant's unique charm, an inviting island runs through the corner, adorned with intriguing accents and distinctive features. At the center, a beer tap stands proudly, offering an array of craft brews and fine beverages, perfect for those seeking a taste of artisanal delights. At the other end, a refreshing water tap entices, elevating the dining experience to one of indulgence.
Drinks at Sub Rosa Jaipur
From expertly mixed cocktails that boast a symphony of flavors to a carefully curated selection of wines and spirits, their selection of drinks promises to cater to every palate and preference.
1. Hibiscusberry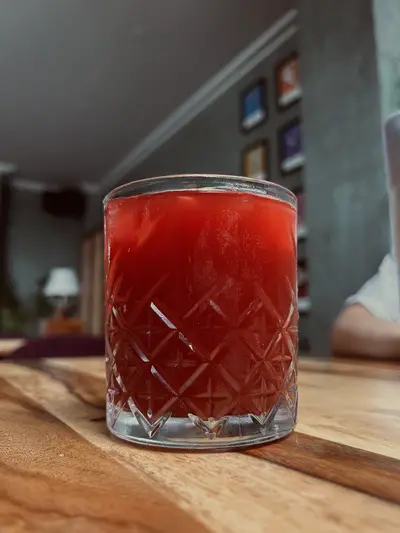 The Hibiscusberry Mocktail is a delightful fusion of flavors that promises to cool your body with every sip. This mixture begins with the infusion of fresh watermelon chunks, imparting a refreshing sweetness that immediately captures the essence of summer. As you take in the enticing aroma, a subtle hint of mint leaves dances gracefully, adding a refreshing and cool undertone to the mix.
The star of this mocktail is the hibiscus tea, lending its deep crimson hue and a subtle tartness that perfectly balances the sweetness of the watermelon. The infusion of hibiscus tea creates a captivating visual appeal, reminiscent of a blooming garden.
To harmonize the flavors, a sweet and sour mix is incorporated, lending a zesty tang that complements the natural sweetness of the watermelon and the floral notes of hibiscus. Finally, a generous splash of cranberry juice adds a delicate touch of tartness, elevating the mocktail's complexity and creating a harmonious medley of tastes.
This vibrant and invigorating mocktail is a true celebration of flavors, making it an absolute must-try for those seeking a non-alcoholic beverage that is both visually stunning and exquisitely satisfying.
2. Peach Iced Tea
Peach Iced Tea is a refreshing and delicious beverage that combines the natural sweetness of ripe peaches with the coolness of iced tea. It offers a perfect balance of fruity flavor and thirst-quenching satisfaction, making it a delightful choice for any time of the day. The Peach Iced Tea was not too sweet and had the perfect tones of tea and peach flavor.
It was served over a bed of ice and the coolness of the ice pairs beautifully with the peach and tea flavors, making it a refreshing companion for any outdoor gathering or relaxing moment by the poolside.
Whether you're looking for a delightful alternative to traditional iced tea or simply seeking a refreshing beverage that celebrates the essence of summer, Peach Iced Tea is a perfect choice. Its simplicity and natural allure make it a classic favorite that never fails to evoke feelings of comfort and enjoyment, making it a cherished companion during warm days and an unforgettable treat for your taste buds.
Food at Sub Rosa Jaipur
Savor the aromas, and indulge your palate in a symphony of tastes that promises to leave a lasting impression. Whether you're a connoisseur or a curious food lover, Sub Rosa offers a dining experience like no other. Bon appétit!
1. Smoked Lamb Burger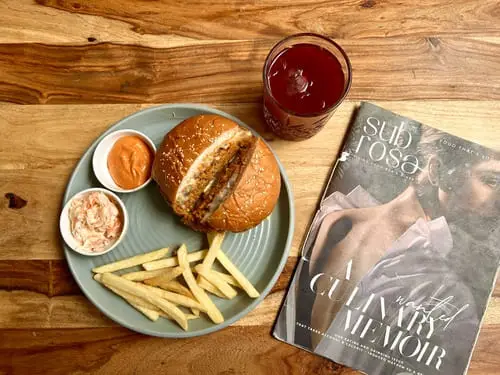 Prepare to have your taste buds blown away by the exceptional Smoked Lamb Burger! This culinary masterpiece is an extraordinary amalgamation of flavors and textures that promises to redefine your burger experience. The star of the show is the perfectly seasoned mutton patty, smoked to perfection, imparting a tantalizing smokiness that elevates every bite. 
As you take your first mouthwatering bite, the robust taste of the tender lamb patty is beautifully complemented by the crisp freshness of lettuce, adding a delightful crunch to the ensemble. But that's not all – a luscious drizzle of tangy BBQ sauce dances harmoniously with the earthy notes of fresh thyme, creating an explosion of taste sensations in your mouth. 
And let's not forget the final touch – a generous layer of creamy cheddar cheese that blankets the patty, infusing each bite with a velvety richness that rounds off this extraordinary burger. Each ingredient works in unison to create a symphony of flavors, making this Smoked Lamb Burger a true standout. Whether you're a burger aficionado or a discerning food lover, this culinary gem will leave you in awe of its unique taste. A must-try for any food enthusiast seeking a truly unforgettable experience!
Sub Rosa Drinks and Food Menu
Below are photos of the menu from Sub Rosa Jaipur:
[metaslider id="7676″]
The Verdict: Sub Rosa Jaipur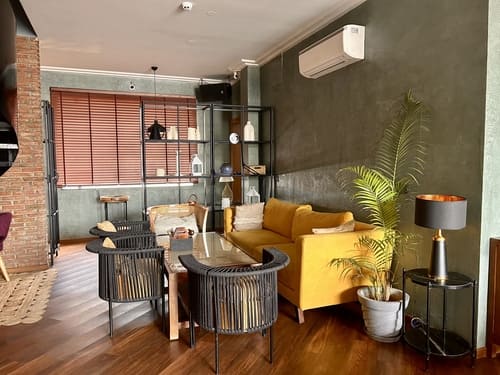 Sub Rosa has succeeded in weaving a tapestry of modern charm and New York-inspired sophistication, creating an ambiance that feels like a warm embrace from home. Throughout the afternoon, the staff's impeccable service and attention to detail have left a lasting impression. 
The food and drinks at Sub Rosa has been nothing short of exceptional. From the first bite to the last, each dish has been a delightful revelation of flavors and artistry. The Hibiscusberry Mocktail, a masterpiece of fruity freshness, and the Smoked Lamb Burger, a symphony of smokiness and succulence, are just two of the many highlights that have left an indelible mark on my palate.
Sub Rosa Jaipur has masterfully segued into a high-end dining destination, and it's evident that every aspect, from the service to the food and the ambiance, has been meticulously curated to deliver a polished experience. It is a place where one can escape the ordinary and indulge in a culinary journey that celebrates the art of fine dining. For anyone seeking a dining experience that transcends the ordinary, Sub Rosa Jaipur is an absolute gem not to be missed.