Town Coffee in Jaipur has quickly become our favorite cafe to work at and spend a day so much so that we come here every week – if not twice a week – to escape the hot weather of Jaipur and enjoy some delicious coffee and food! With a great environment, fast internet, and a relaxing feel, there is no better place for digital nomads in Jaipur. We love this place so much that it has gained one of the top spots on our best cafes in Jaipur round-up blog.
We have written this review to prove to you just how amazing Town Coffee is! We cover the ambiance, the food, and the drinks, which we are sure will convince you this is a must-visit restaurant in India's Pink City!
Quick information about Town Coffee in Jaipur:
Before we dive into the most important part of the cafe – the food and drinks – let's look at a quick couple of facts about Town Coffee:
Operating Hours: 9 am to 11 pm every day
Town Coffee Cost: INR 200-600. Great value for the price.
Location: Plot No. E, 95, Jai Jawan Marg, Lal Bahadur Nagar, Adinath Nagar, Jaipur, Rajasthan 302018
Wifi? Yes, they have wifi! Fast too. We have had no problem working here
Service: Everyone is friendly here and ready to help. You have to call them to help you sometimes. They forget sometimes!
Drinks at Town Coffee:
Coffee is a must! And Town Coffee delivers on it! We have had an array of drinks at the restaurant, which have been delicious and in good portion sizes! Take a look at some of our favorites:
Caramel Frappe: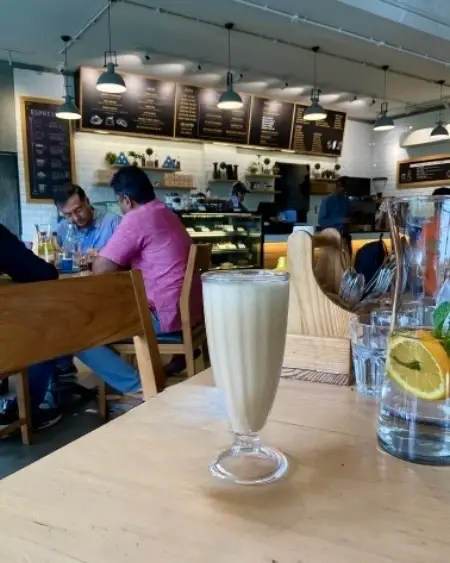 If you have read our other blogs, you know how much we love Frappes. Pooja and I were amazed by Town Coffee's frappe. Perfectly blended and just the right combination of caramel and coffee made this an instant favorite. I think we have ordered this every time that we have come here.
What sets their frappe apart is the great portion size and value for money. When other places are too expensive or skimp on the size, Town Coffee does neither. They have nailed this drink perfectly, reasonably priced, delicious, and consistent!
Caramel Frappe Cost: INR 260
Iced Americano:
If you are looking for a simple coffee that doesn't disappoint, the iced americano is for you. With a strong and unique coffee flavor, I was pleasantly surprised by how good it was. The coffee they used in this was unmatched. It was a smooth bitterness that was not overpowering and just lingered on your tongue.
Simple but pleasing, the Iced Americano is perfect for coffee lovers looking to indulge in the restaurant's delicious coffee beans. I recommend this to anyone looking for a strong pick-me-up during the day!
Iced Americano Cost: INR 170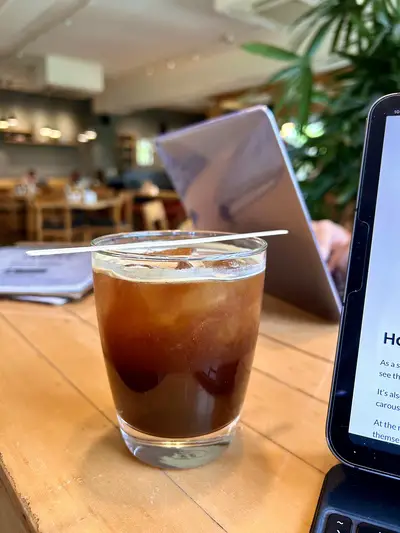 Blueberry Cheesecake Smoothie: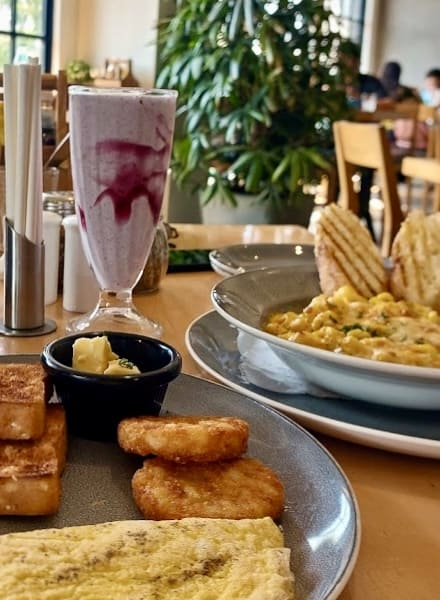 This was just WOW! If you want to satisfy your sweet tooth with a delicious cold drink, go for the Blueberry Cheesecake Smoothie.
Nicely blended, with some yummy cheesecake chunks mixed in, Pooja couldn't stop drinking this. I was lucky enough to get one drink before she drank the whole thing within just a few minutes of it arriving.
Although delicious, the drink was on the expensive side. However, if you are looking for one of the best smoothies in town, go for it! We had no regrets about the price after drinking this!
Blueberry Cheesecake Smoothie Cost: INR 295
Iced Caramel Latte:
If you know me at all, you know I love caramel! And I absolutely loved the caramel latte. Although it was not as sweet as the frappe, the latte came through with coffee. The coffee flavor was stronger and gave me a nice punch in the mouth.
You can sip on the drink for hours without losing its overall quality. I really enjoyed this, and it was less filling than the frappe, making it a good choice of drink when you want to go all in on food instead!
Iced Caramel Latte Cost: INR 230
Speaking of food, let's take a look at our favorites!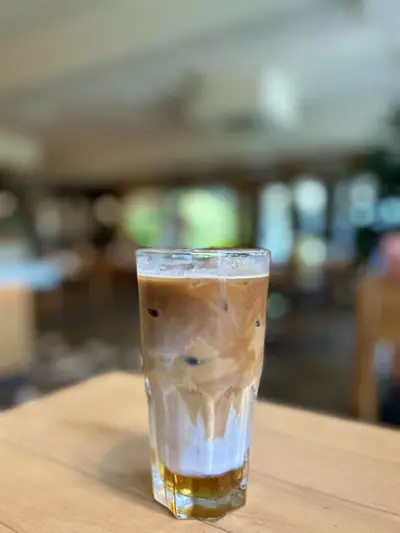 Food at Town Coffee in Jaipur:
Food is always the deciding factor for us when recommending cafes. And the food at Town Coffee hits the spot! A few of the dishes we have had and loved include:
Lebanese Mezze Platter: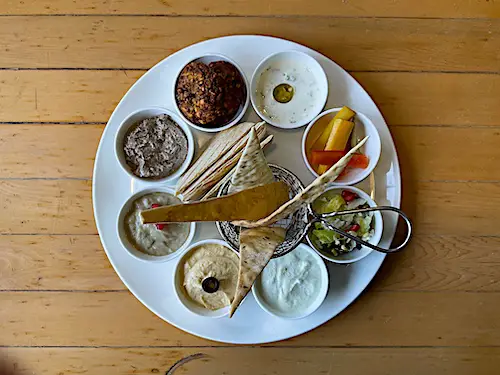 We have ordered this several times now, and it is impressive! I don't think we have ever had a falafel platter that was this good. With dips and spreads we have never even heard of – like the mushroom hummus – this platter is to die for.
It comes with classic hummus, babaganesh, tzatziki, mushroom hummus, cheese jalapeno dip, grissini pita, and lavash. The cheese dip was our favorite, followed closely by the mushroom hummus, as they offered some undeniably good flavors. But don't worry; the other dips were mouthwatering as well!
We also got an extra side of pita bread (two pieces) for INR 25!
Lebanese Mezze Platter Cost: INR 295
Town Coffee Special Chicken Club Sandwich: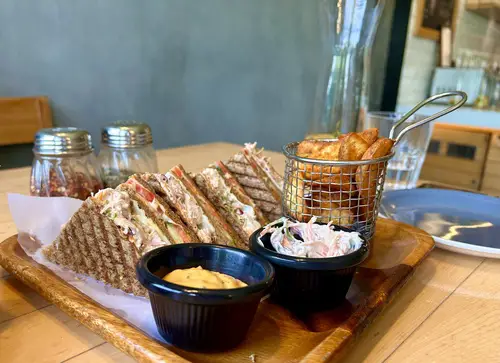 This was a heavy sandwich that filled up both Pooja and me. Not only was it filling, but also quite tasty. We were taken aback by the sauce mixture that left us wanting more. It was consistent throughout the sandwich, all while not being too overpowering as so many sandwich mixtures end up being.
It also came with a side of fries that we gobbled down immediately. The masala on the fries was like a cajun mixture, giving it a little extra kick that we enjoyed.
Overall the Town Coffee Special Chicken Club Sandwich was a great bang for our buck, as it was delicious and filling simultaneously!
Town Coffee Special Chicken Club Sandwich Cost: INR 385
Town Coffee Mac N Cheese: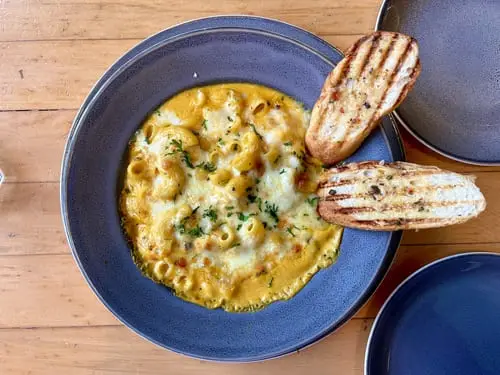 Our friend got the Mac N Cheese, and damn, if I didn't wish, I ordered this myself! It was a nice big serving of golden cheese and noodles. With a golden brown top of cheese from being baked, this dish instantly made my mouth water.
Our friend swore by the Mac N Cheese and said it was the only food he ever ordered from the restaurant. And after I got a taste of it, I understood why. This was by far the best Mac N Cheese I have had in a long time! Typically, I have struggled with finding one of my favorite pasta in Asia, but Town Coffee did an amazing job of reminding me of macaroni and cheese from the USA!
If you are looking for a nice and cheesy vegetarian dish that will fill you up, then go for the Town Coffee Mac N Cheese, I promise you won't regret it!
Town Coffee Mac N Cheese Cost: INR 410
Town Coffee Food and Drink Menu
Below are photos of the menu from Town Coffee in Jaipur:
[metaslider title="Town Coffee Menu"]
Verdict: Town Coffee in Jaipur
We found this cafe by luck when searching for great restaurants around the World Trade Park (one of the best places for shopping in Jaipur!) But we are so happy we did! Everything about this cafe is great! It is a great place for digital nomads to work at, which is evident by the countless other people enjoying coffee and working on their computers! The only downside is that it gets super busy here and can be loud sometimes, but other than that, it is one of the best in Jaipur!
Of course, we haven't been everywhere in Jaipur yet, but our friend, who has been living in Jaipur for over five years now, says he visits Town Coffee at least twice a week because it is one of the best cafes for coffee in the entire city!
So take it from us, or our Jaipurite friend, Town Coffee in Jaipur is a must-visit for coffee lovers and foodies!