Akuri Cafe in the heart of Jaipur, the Pink City of India, is a charming haven that seamlessly blends classic Bollywood inspiration with an earthy, warm ambiance. It is more than just a cafe; it's a delightful retreat for those seeking a cozy and inviting space to work, socialize, or simply enjoy a cup of steaming hot chai.
As you step into Akuri Cafe, you are immediately transported to the golden era of Indian cinema. The walls are adorned with vintage movie posters featuring iconic Bollywood stars, such as Shahrukh Khan and Raj Kapoor, adding a touch of nostalgia and glamor to the surroundings. The cafe's interior design embraces a fusion of rustic and contemporary elements, creating a unique blend of comfort and style.
The color palette of the cafe is warm and earthy, with shades of brown, and terracotta dominating the decor. Wooden furniture, distressed brick walls, and vintage accents further enhance the cozy atmosphere, making it a perfect sanctuary for relaxation and productivity. Soft lighting fixtures cast a gentle glow, creating a tranquil ambiance that envelops visitors in a sense of calm. 
Akuri Cafe undeniably holds its place among the best cafes in Jaipur. Whether you're a local or a tourist exploring the vibrant city, we recommend everyone to visit Akuri Cafe to enjoy the warmth, food and comfort of the cafe.
Quick information about Akuri Cafe in Jaipur:
Before we delve into the culinary delights of Akuri Cafe, let's take a look at few key facts about this exceptional café:
Operating Hours: 8:30 am to 11:55 pm every day
Akuri Cafe Cost: INR 100-600. 
Location: Akuri, K10, Tonk Rd, Income Tax Colony, Milap Nagar, Jaipur, Rajasthan 302018, India
Wifi? Yes, they have wifi! We have had no problem working here
Service: Everyone is friendly here and the service is quick!
Drinks at Akuri Cafe 
Whether you're in the mood for a steaming cup of aromatic chai, a perfectly brewed coffee, a refreshing smoothie, or a decadent milkshake, Akuri Cafe has you covered.
Masala Chai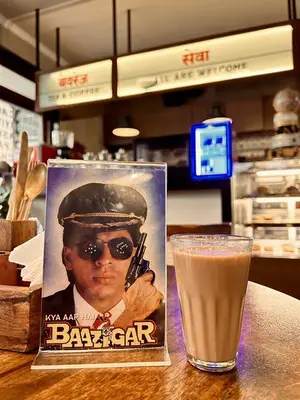 When it comes to the quintessential Indian beverage, Akuri Cafe in Jaipur serves one of the best masala chai. And since Pooja missed drinking chai since leaving Nepal, she had to order a pot of tea.
Their masala chai has a rich aroma, distinct blend of spices and the perfect amount of sweetness. Usually, chai in Nepal used to be super sweet and loaded with sugar. But the tea at Akuri hit the sweetness perfectly. The masala chai is carefully brewed using a combination of freshly ground spices such as cardamom, cinnamon, cloves, and ginger, all harmoniously blended with the finest tea leaves. 
And the result? A comforting and aromatic cup of chai that warms both the body and the soul. Pooja loved the masala chai so much that she finished the pot alone! 
Vietnamese Cold Brew
My recent favorite has been the Vietnamese Cold Brew and obviously I had to order it. The drink is amazing and flavorful. The cold brew never fails to impress and every cafe we have been to has had good brews. 
The Vietnamese Cold Brew at Akuri boasts a smooth, strong yet velvety texture which is both refreshing and invigorating. Served over a generous amount of ice, this chilled beverage offers a delightful respite from the scorching summer heat. The coffee had a bolder and stronger taste and pairs well with any breakfast or brunch menu. This slowly brewed coffee, had a strong caffeine kick, and the perfect amount of creamy sweetness! It was so addictive I wanted another one!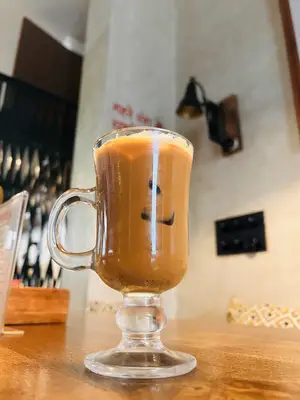 Strawberry Mojito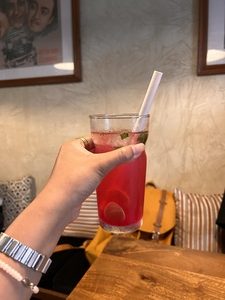 We were thinking of getting a dessert, but Pooja was in the mood to get another drink. With mojito being one of her favorite drinks, she got the strawberry mojito. It was a refreshing beverage and was super delicious. Unlike other places, the drink was not too carbonated and we could enjoy the flavors of the strawberry and lime which was a perfect balance. 
Whether you're seeking a respite from the summer heat or simply in the mood for a delightful twist on a classic cocktail, the Strawberry Mojito at Akuri Cafe is an absolute must-try. 
Food at Akuri Cafe
The menu at Akuri Cafe is a delightful fusion of classic Indian and international flavors, ensuring there's something to satisfy every palate. With many options to choose from, we finally decided on ordering a burger.
Chicken Double Melt Burger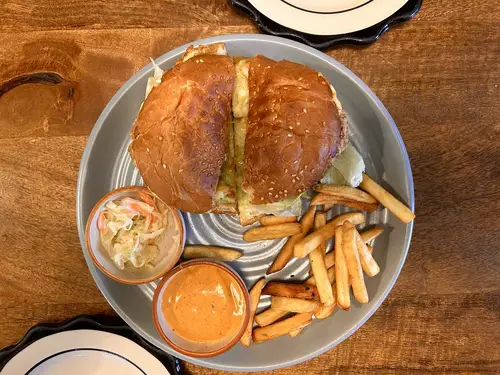 The Chicken Double Melt Burger left me thoroughly satisfied with its deliciousness. The first bite revealed a thick and juicy patty that instantly stood out from the usual fast food burgers. It had a distinct flavor that elevated the overall taste experience. 
To add to the delightful experience, the Chicken Double Melt Burger was served on a soft and toasted bun, adding a pleasing texture to each bite. The freshness of the accompanying lettuce, tomatoes, and onions added a crisp and refreshing element to the overall composition. With its combination of flavors, textures, and the perfect balance of ingredients, the Chicken Double Melt Burger at Akuri Cafe truly exceeded our expectations. The only thing we would have changed was to get a little more fries with it, and that they didn't come with masala on it.
It's a burger that satisfies both in terms of taste and portion size, leaving us eagerly anticipating our next visit to indulge in this flavor-packed delight. If you're seeking a burger that goes beyond the ordinary, the Chicken Double Melt Burger at Akurit Cafe is a must-try.
Pulled Chicken and Cheese Sandwich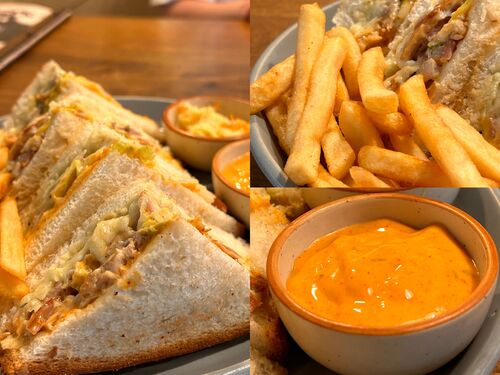 Akuri Cafe has always surprised us in term of quality, taste and potion size. Pooja had been wanting to try their sandwich and the next time we visited Akuri Cafe, she ordered the pulled chicken and cheese sandwich. The sandwich portion is very generous and satisfiable for two people. The sandwich also comes with french fries, spicy dip and coleslaw.
The sandwich combines succulent, well-cooked pulled shredded chicken, tender and juicy, with a generous portion of herb mayo and cheese. The aroma of the sandwich is so good that it excites all your senses as it mingles harmoniously with the gooey cheese. The chicken, carefully prepared with a medley of spices and herbs, perfectly entwines with the mayo and cheese.
The sandwich boasts a delightful contrast of textures, with the tender chicken providing a satisfying bite, while the herb mayo and cheese adds a rich and velvety smoothness to each mouthful. The flavors dance on your palate, as the savory notes of the chicken harmonize with the creamy and slightly tangy nuances of the cheese. Nestled between two slices of perfectly toasted bread, this sandwich is a savory symphony that lingers long after the last bite, leaving you craving for more. It definitely is a must-try dish at Akuri!
Akuri Cafe Drinks and Food Menu
Below are photos of the menu from Akuri Cafe in Jaipur:
The Secret Game at Akuri!
My favorite part of the entire experience was the secret game you get to play while paying for your bill. If you spend over INR 500, you get a chance to roll the dice and win a prize! But you have to remember to ask for the chance to play!
We ended up winning a free donut that was so good, Pooja ate the whole thing by herself. The few bites that I got were delicious and chocolaty. As they even heated the donut up for us, it was a nice and tasty surprise to end our time at the Akuri Cafe in Jaipur.
The Friendly Owner of Akuri and Sub Rosa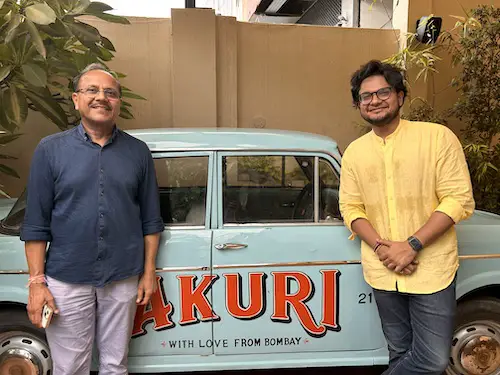 We were lucky enough to meet the owner of Akuri and Sub Rosa, which is just above the lower restaurant. Sambbhav Gupta, originally from Jaipur, has spent time in Mumbai, which helped inspire him to open up the restaurant.
We spent two hours talking to him about the inspiration of the restaurant, as well as the history of some of the 90s inspired decorations in the cafe. Being influenced by the Parsi culture in Mumbai, he wanted to introduce Parsi food in the cafe, also which includes the food "Akuri" on their menu. Akuri is a scrambled egg dish that is a Parsi cuisine in India.
My favorite part of the tour and conversation was learning about their Premier Padmini which originally belonged to his grandfather in the 1970s. Now a centerpiece of their decorations as you walk in the cafe, it immediately grabs your attention, making everyone walking by it to desire a ride!
The Verdict: Akuri Cafe in Jaipur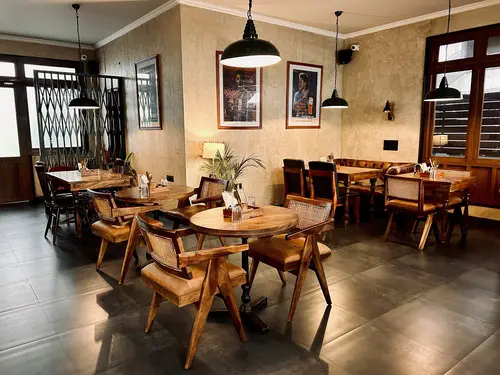 Whether you're seeking a cozy nook to catch up on work, indulge in delicious food, or simply unwind in a captivating ambiance, Akuri Cafe in Jaipur provides an oasis that fulfills all these desires. It captures the essence of classic Bollywood while offering a warm and inviting space that embraces both productivity and relaxation.
From traditional chai and filter coffee to decadent milkshakes and gourmet sandwiches, the cafe offers a delectable range of beverages and snacks. Each dish is crafted with love and care, using fresh, locally sourced ingredients to ensure a memorable culinary experience!