Erik Weihenmayer, has lived a life of resilience. At the age of 13 he lost his sight and went blind. Although he didn't have his vision anymore, he didn't allow it to become a barrier in his life. Whereas, on May 25, 2001, he became the first blind person to conquer the summit of Mount Everest. A momentous accomplishment that earned him recognition, including a feature on the cover of Time magazine.
But that was just the beginning of his extraordinary journey. This blog is about Erik Weihenmayer's life and how he became one of the most famous climbers of Mount Everest.
Who is Erik Weihenmayer?
Erik is an adventurer that has climbed Everest, completed the seven summits, and kayaked the entire 277-mile stretch of the Grand Canyon all while being blind.
In September 2002, Weihenmayer accomplished an exceptional milestone by completing the Seven Summits, a prestigious achievement attained by only a select group of mountaineers at the time—150 individuals in total. What made his feat even more extraordinary was that he achieved this feat despite being blind, making him the sole climber to do so with this remarkable challenge.
Subsequently, in 2008, he added another significant triumph to his list by conquering the Carstensz Pyramid, thereby completing the Eight Summits, further solidifying his position as an exceptional adventurer.
In September 2014, Weihenmayer embarked on yet another audacious expedition, kayaking the entire 277 miles (446 km) of the Grand Canyon alongside blind Navy veteran Lonnie Bedwell.
Not limited to his personal accomplishments, Erik co-founded a nonprofit organization named No Barriers in 2005. The organization's noble mission is to empower people from diverse backgrounds and abilities, helping them confront challenges head-on, develop effective problem-solving skills, build strong teams, and serve others.
Erik Weihenmayer Childhood and Education:
Born on September 23, 1968, in Princeton, New Jersey, Erik Weihenmayer's life took a turn when, at 15 months old, he was diagnosed with juvenile retinoschisis, a condition that would lead to his blindness by the age of 13. Despite the difficult prognosis, his family remained supportive as they moved to Coral Gables, Florida when he was four years old and later to Hong Kong in 1975. During his childhood in Hong Kong, Weihenmayer attended the Hong Kong International School from grades 2 to 6.
As his vision deteriorated, Erik resisted using canes and learning Braille, determined to hold onto his connection with the sighted world. Upon returning to the United States, the family settled in Connecticut, where he attended Weston High School. It was here that he discovered his talent for wrestling, eventually representing Connecticut in the National Junior Freestyle Wrestling Championship held in Iowa.
Transition from Seeing to being Blind:
At the age of 16, Erik began using a guide dog to assist him in his daily life. Alongside his journey, he also found his passion for rock climbing, realizing that he possessed a natural talent for scaling rock faces, using his hands and feet to find the perfect holds. Despite his visual challenges, he displayed remarkable abilities in this adventurous pursuit.
His educational path led him to Boston College, where he graduated with a double major in English and communications. As part of his studies, he completed student-teaching at Buckingham Browne & Nichols School in Massachusetts before eventually becoming a middle-school teacher at Phoenix Country Day School. It was during this phase of his life that he met Ellie Reeves, a fellow teacher, who he later got married to in 1997. Him and his wife are together and have a daughter, the couple currently live in Golden, Colorado.
In addition to his teaching role, Erik also shared his wrestling expertise by coaching in Phoenix, demonstrating his commitment to both education and sports, even as he continued to grapple with his blindness.
No Barrier Lifestyle – Erik Weihenmayer: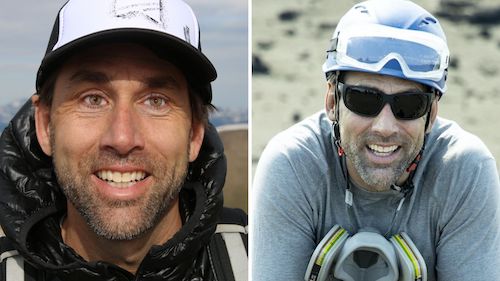 "No Barriers" encapsulates the essence of living a purposeful life, defying fear, and embracing the dreams you have always envisioned. For Erik Weihenmayer, it has become his life's mission to empower and uplift those who have been marginalized and pushed to the sidelines.
In 2005, Erik co-founded the nonprofit organization, No Barriers, with a powerful tagline, "What's Within You is Stronger Than What's in Your Way." The organization is dedicated to nurturing a No Barriers Mindset among people from diverse backgrounds and abilities. It encourages them to confront challenges head-on, foster creative problem-solving skills, build winning teams, and dedicate themselves to serving others.
Central to the organization's mission is the No Barriers Summit, an exceptional gathering that merges science, technology, and innovation to ignite the human spirit within attendees. It acts as a catalyst for breaking through personal barriers, fostering a sense of community, and inspiring global breakthroughs.
The No Barriers Warriors program serves to help veterans reclaim their lives by leading and serving once again. The inaugural Warriors expedition, led by Erik and his Everest Team, saw ten injured soldiers conquering the summit of the 20,000-foot Lobuche in the Himalayas. Since then, the program has led expeditions spanning from the Peruvian Andes to the volcanoes of Ecuador and California's iconic Mt. Whitney.
Another focus is the No Barriers Youth initiative, which strives to provide culturally rich experiences for young people. These transformative programs have brought together foster youth from Florida, rafting down the Grand Canyon, and enabled deaf and hard of hearing youth to explore the wonders of Machu Picchu.
"No Barriers" is not just a philosophy but a powerful movement spearheaded by Erik Weihenmayer, empowering individuals of all backgrounds to overcome obstacles, shatter limitations, and embrace the boundless possibilities life has to offer.
Mountaineering and Adventure Career of Erik:
Erik has not let going blind at 13 slow him down. Fueled by adventure, he has accomplished more than many other adventure seekers in the world. Some of his more impressive mountaineering and adventure accomplishments are below.
1. Erik's Seven Summits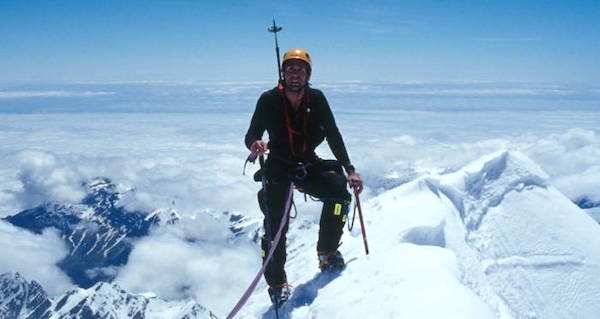 In 1995, Weihenmayer embarked on his first significant mountain challenge, scaling Denali. Then on May 25, 2001, Weihenmayer etched his name in history as the first blind person to conquer Mount Everest's summit. The exceptional accomplishment earned him a cover story on Time Magazine, with the publication acknowledging that what he achieved defies comparison as it pushed the boundaries of human capability.
Adding to his remarkable achievements, he completed the Seven Summits challenge in September 2002, standing alongside 150 mountaineers who had also conquered this impressive feat. Yet, Erik held a unique position as the sole blind climber among them. Subsequently, in 2008, he furthered his triumphs by conquering Carstensz Pyramid in Indonesia, the tallest peak in Australasia, thereby achieving the even more prestigious feat known as the Eight Summits.
2. Climbing
Weihenmayer's passion for climbing has taken him to rock and ice faces across the globe. Among his notable accomplishments are the first blind ascent of the 3,000-foot Nose of El Capitan in Yosemite, a challenging alpine climb of the breathtaking Alpamayo in Peru, and an ascent of a rarely-tackled 3,000-foot frozen waterfall in Nepal.
Additionally, in 2004, he accomplished an extraordinary feat alongside Jeff Evans, Sabriye Tenberken, and six blind Tibetan teenagers, climbing to a height of 21,500 feet on the north side of Everest. The journey was captured in the documentary "Blindsight," released in 2006.
3. Kayaking the Grand Canyon
In September 2014, Weihenmayer embarked on yet another audacious adventure, this time alongside blinded Navy veteran Lonnie Bedwell. Together, they accomplished the extraordinary feat of kayaking the entire 277-mile stretch of the Grand Canyon, considered one of the most formidable whitewater venues worldwide.
4. Other Adventures
Demonstrating his adventurous spirit and dedication to promoting inclusion, in 2006, Erik Weihenmayer initiated the Adventure Team Challenge—a groundbreaking adventure race where teams of both disabled and non-disabled athletes compete. His team's ability led them to victory for five consecutive years.
In 2010, he further solidified his trailblazing reputation by completing the Leadville 100 mountain bike race, a competition with elevations surpassing 10,000 feet, riding on a tandem bicycle and becoming the first blind person to accomplish such a feat in a world-class competition. Additionally, in 2011, Weihenmayer's Team No Limits participated in the ABC reality show "Expedition Impossible," racing across the challenging terrains of Morocco for a month and finishing in an impressive second place.
Finally, he conquered the Primal Quest, a formidable adventure race that spanned over 460 miles with an astonishing elevation gain of 60,000 feet.
Erik Weihenmayer's Appearance in Media:
Erik has appeared in a number of media and film productions. Moreover, he has wrote books about his experiences and adventures around the world after losing his vision.
1. Weihenmayer's Books
Besides being a renowned adventurer and captivating speaker, Weihenmayer is also an accomplished author with several inspiring books under his belt.
His first book, "Touch the Top of the World: A Blind Man's Journey to Climb Farther Than the Eye Can See," has garnered international acclaim, being published in twelve countries and translated into nine languages. Praised by Publishers Weekly as a moving and adventure-packed memoir, Weihenmayer shares his extraordinary story with humor, honesty, and vivid detail, leaving readers deeply inspired by his fortitude and enthusiasm. The book's popularity led to its adaptation into an A&E movie.
His second book, "The Adversity Advantage: Turning Everyday Struggles Into Everyday Greatness," imparts hard-earned lessons and practical advice on utilizing adversity as a catalyst for growth and innovation. Esteemed author Steven Covey, known for "The Seven Habits of Highly Effective People," commends Weihenmayer's work, acknowledging how the challenges of life can propel us to achieve greatness even against the strongest currents of adversity.
In 2017, Weihenmayer released his latest book, "No Barriers: A Blind Man's Journey to Kayak the Grand Canyon." This second memoir chronicles his remarkable descent of the Grand Canyon, aiming to motivate and encourage those who face obstacles on their path. The book received accolades from Kirkus Reviews, a leading literary trade magazine, as a wonderful tribute to the indomitable spirit of humanity.
2. Media and Film Appearances by Erik Weihenmayer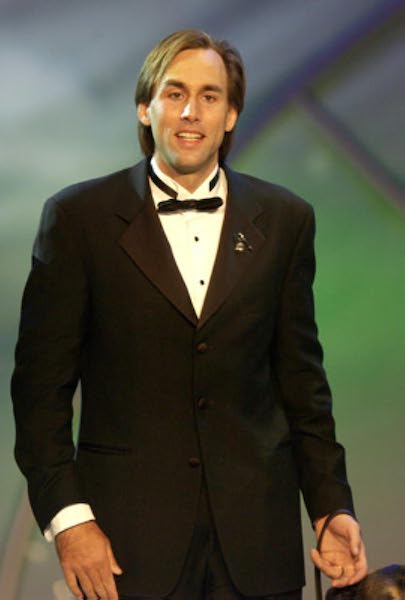 Erik Weihenmayer's adventurous spirit and remarkable achievements have earned him numerous awards, recognitions, and media appearances. His inspiring journey has been featured on TV interviews, including NBC's Today Show, Nightly News, Oprah, Good Morning America, Nightline, and the Tonight Show. Additionally, he graced the covers of esteemed publications such as Time, Outside, and Climbing magazines. He has had the honor of carrying torches for both the Summer and Winter Olympic Games.
The documentary "Farther Than the Eye Can See," which depicts his awe-inspiring ascent of Everest, holds a prestigious rank among Men's Journal's top 20 adventure films of all time. It received first prizes at 21 international film festivals and earned two Emmy award nominations. Furthermore, Weihenmayer's involvement in training blind Tibetan students for an Everest expedition was documented in the acclaimed film "Blindsight," which won People's Choice Awards at multiple international film festivals.
His contributions extended to the 2012 award-winning film "High Ground," where he led a team of injured veterans on a Himalayan climbing expedition. The film beautifully captures their journey of healing mentally and spiritually from the wounds of war.
In recognition of his extraordinary achievements, Men's Journal named Erik Weihenmayer one of "The 25 Most Adventurous Men of the Past 25 Years" in 2017, cementing his legacy as an adventurer who has inspired countless individuals around the world.
Erik Weihenmayer Overcomes Blindness and Adversity: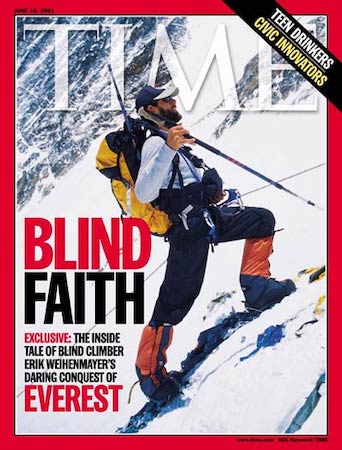 Erik Weihenmayer's life story is a testament to him overcoming adversity and the challenges of blindness. He has proven that physical limitations need not define one's potential. With incredible accomplishments as an adventurer, author, speaker, and humanitarian, Weihenmayer has shattered stereotypes and pushed the boundaries of what is perceived as possible.
Erik's historic summit of Mount Everest in 2001, as the first blind person to reach its peak, stands as a symbol of triumph over seemingly insurmountable odds. Through his relentless pursuit of excellence, Erik has not only inspired millions worldwide but has also transformed the lives of countless individuals through his nonprofit organization, No Barriers. By helping others conquer their fears, find purpose, and embrace their unique strengths, he continues to create a lasting impact.
FAQs: Erik Weihenmayer Life and Facts:
Below are some of the most frequently asked questions regarding the life of Erik Weihenmayer and him overcoming adversity.
1. Why did Erik Weihenmayer go blind?
Erik Weihenmayer faced a life-changing event at the age of 13 when he lost his eyesight due to retinoschisis, a condition causing the abnormal splitting of the retina's neurosensory layers. He was originally diagnosed with retinoschisis at 15 months old.
2. Who is the only blind person to climb Mount Everest?
On May 25, 2001 at 10:00 a.m. Erik Weihenmayer became the first blind person to climb and summit Mt. Everest.
3. How many blind people climbed Mount Everest?
Only two blind people have ever reached the summit of Mt Everest: Erik Weihenmayer in 2001, and Andy Holzer in 2017.