From the pioneering spirits of Sir Edmund Hillary and Tenzing Norgay, whose triumphant ascent in 1953 marked a historic milestone, to modern-day adventurers who have shattered records and pushed the boundaries of human endurance. Here are 25 of the most famous Mount Everest Climbers to ever step foot on the mountain.
25 Famous Everest Climbers:
1. Sir Edmund Hillary:
2. Reinhold Messner: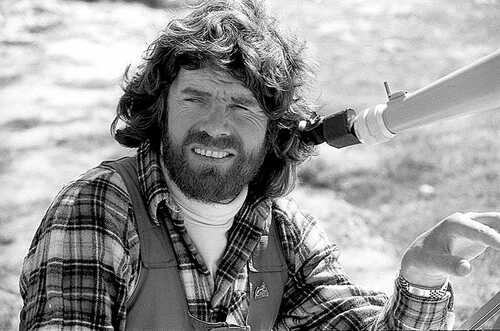 Reinhold Messner, hailing from South Tyrol, Italy, is an esteemed mountaineer, explorer, and author, renowned for the first solo ascent of Mount Everest. Alongside Peter Habeler, he also accomplished the first ascent of Everest without the aid of supplemental oxygen, pushing the boundaries of human achievement in high-altitude climbing.
Notably, Messner holds the distinction of being the first climber to conquer all 14 peaks towering over 8,000 meters (26,000 ft) above sea level, an astounding accomplishment made even more remarkable by the fact that he achieved it without relying on supplementary oxygen.
Given his unmatched achievements, Reinhold Andreas Messner is widely regarded as the greatest mountaineer of all time, leaving an indelible mark on the world of exploration and mountaineering.
3. Tenzing Norgay: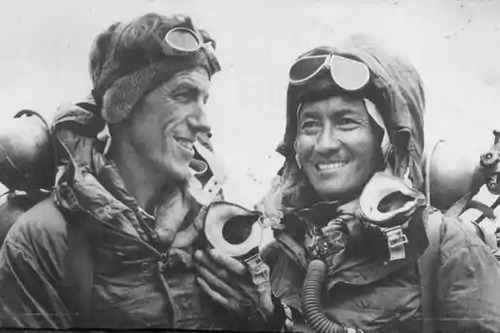 Tenzing Norgay, also known as Sherpa Tenzing, was a remarkable Nepali-Indian Sherpa mountaineer born as Namgyal Wangdi in May 1914. His indelible mark on history was made on 29th May 1953 when he, along with Edmund Hillary, became one of the first two individuals to undoubtedly reach the summit of Mount Everest.
Hailing from the Sherpa community, Tenzing Norgay demonstrated exceptional skill and courage in his mountaineering endeavors. His partnership with Edmund Hillary in conquering Everest marked a momentous achievement in the world of exploration.
His reputation as an extraordinary individual extended beyond the realm of mountaineering. Time magazine recognized his significant impact and influence by including him in their list of the 100 most influential people of the 20th century.
4. George Mallory:
5. Scott Fischer: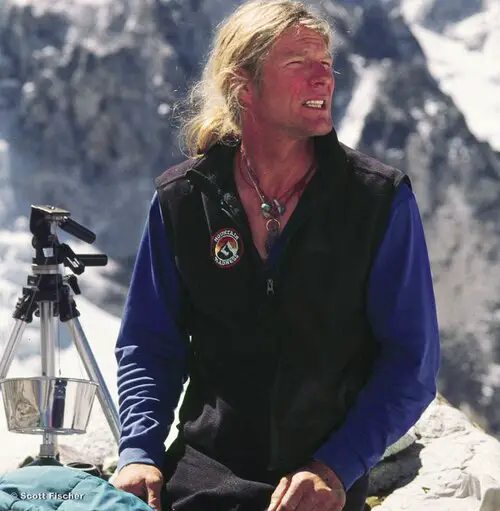 Scott Fischer of Mountain Madness gained recognition as an esteemed American mountaineer and mountain guide, known for his impressive ascents of the world's highest peaks without relying on supplemental oxygen. His adventurous spirit led him to achieve remarkable feats in the world of mountaineering.
Together with Wally Berg, Fischer became the first American climbers to reach the summit of Lhotse, standing at an impressive 27,940 feet (8,516 meters), making it the world's fourth-highest peak.
Among his significant achievements, Fischer's first ascent of Mount Everest, towering at 29,032 feet (8,848.86 meters), was a monumental milestone in his career. Tragically, during the harrowing 1996 disaster on Everest, while descending from the peak, Fischer met his untimely demise, leaving behind a legacy of courage and determination in the face of the world's most formidable mountains.
6. Rob Hall: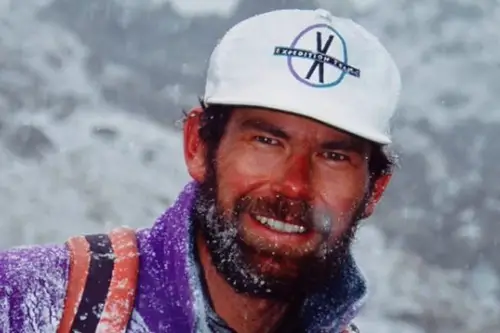 Rob Hall of Adventure Consultants, was a renowned New Zealand mountaineer who led a significant Mount Everest expedition in 1996. Tragically, during that expedition, Hall, another guide, and two clients lost their lives. The gripping tale of this fateful journey was vividly depicted in Jon Krakauer's best-selling book, "Into Thin Air," and later portrayed in the 2015 film "Everest."
At the time of his untimely passing, Hall had already achieved an impressive feat by completing his fifth successful ascent to the summit of Everest, surpassing all other non-Sherpa mountaineers in terms of summits.
During the 1996 Everest disaster, Jan Arnold would have accompanied Hall on his Everest climb, but her pregnancy prevented her from joining the ill-fated journey.
7. Junko Tabei: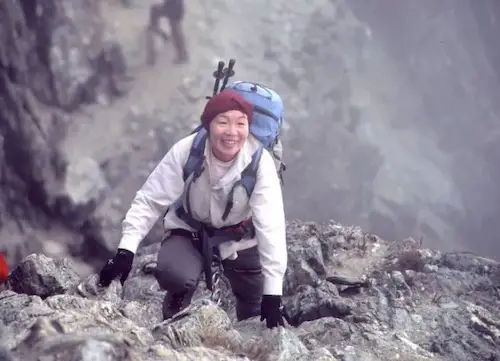 Junko Tabei (田部井淳子), formerly known as Ishibashi, was a remarkable Japanese mountaineer, author, and teacher. Notably, she made history by becoming the first woman ever to reach the summit of Mount Everest, marking a significant milestone for female mountaineers worldwide.
In addition to this remarkable achievement, Junko Tabei holds the distinction of being the first woman to conquer the Seven Summits, scaling the highest peak on each of the seven continents. Her compassion and leadership were demonstrated by leading annual climbs up Mount Fuji, providing an opportunity for young people affected by the Great East Japan Earthquake to find solace and strength in the mountains.
8. Apa Sherpa: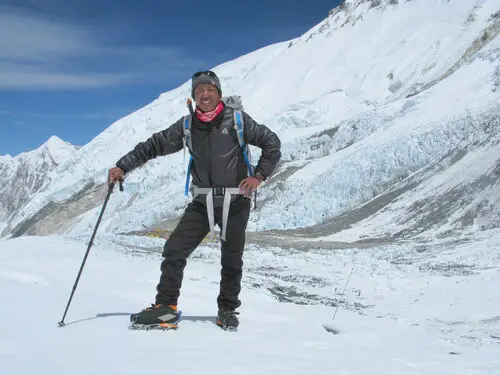 Lhakpa Tenzing Sherpa, born on January 20, 1960, is widely known as "Apa." He is a highly skilled Sherpa mountaineer from Nepal and earned the nickname "Super Sherpa." Until 2017, he shared the record for the most number of successful summits on Mount Everest with Phurba Tashi Sherpa.
In May 2011, during The Eco Everest Expedition, Apa achieved his remarkable 21st ascent to the summit of Mount Everest. Following this achievement, he decided to retire from climbing as he had made a promise to his wife that he would stop after reaching the summit 21 times. His mountaineering journey on Everest began in 1990, and his final ascent to the summit took place in 2011.
9. David Sharp: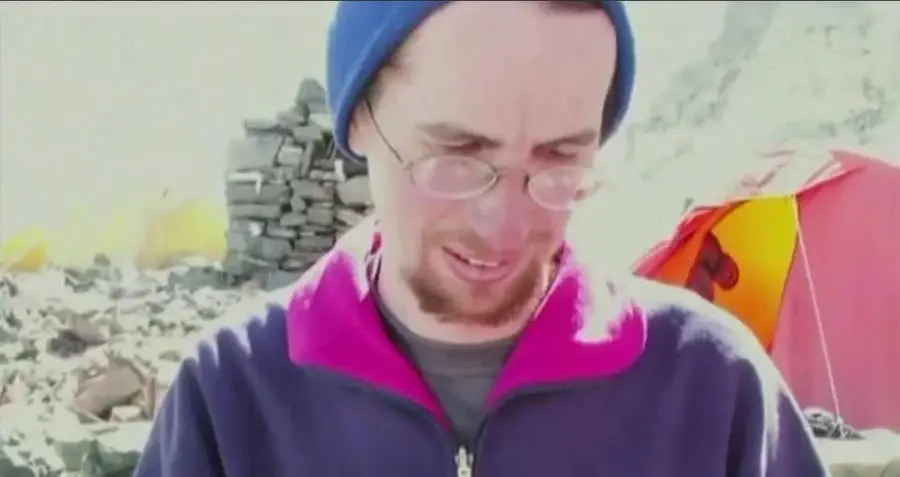 David Sharp, was a skilled English mountaineer whose tragic demise occurred near the summit of Mount Everest on 15th May 2006. His passing sparked controversy and extensive debate due to the fact that several other climbers encountered him on their way to or back from the summit while he was in a critical condition, though some did make efforts to assist him.
Before his ill-fated expedition to Everest, Sharp had already achieved a successful summit of Cho Oyu. He was widely recognized for his rock climbing prowess and had an impressive ability to acclimatize well to high altitudes.
Interestingly, David Sharp briefly appeared in the first season of the television show "Everest: Beyond the Limit," which coincided with the same season as his fateful expedition to the world's highest peak.
10. Ed Viesturs:
11. Anatoli Boukreev: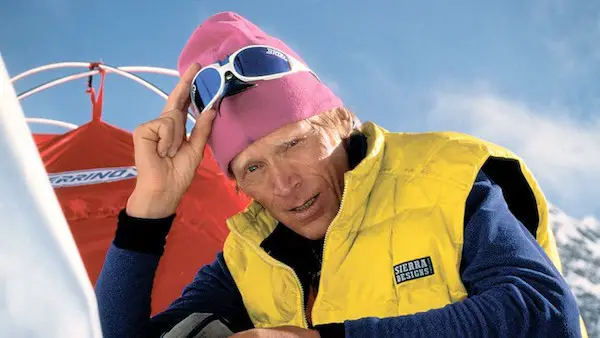 Anatoli Boukreev was a celebrated mountaineer hailing from the Soviet Union and later Kazakhstan. He accomplished extraordinary feats by ascending 10 of the awe-inspiring eight-thousander peaks, all without relying on supplemental oxygen. From 1989 to 1997, his mountaineering prowess led to 18 successful ascents of peaks towering above 8,000 meters.
Boukreev garnered international acclaim as an elite mountaineer, having conquered K2 in 1993 and triumphed over Mount Everest via the challenging North Ridge route in 1995. His impressive solo speed ascents on some of the world's highest mountains further solidified his reputation.
However, Boukreev's name became even more renowned due to his heroic actions during the 1996 Mount Everest disaster, where he selflessly saved the lives of fellow climbers. Tragically, in 1997, Anatoli Boukreev lost his life in an avalanche during a winter expedition on Annapurna in Nepal.
12. Ang Rita Sherpa (Snow Leopard of Nepal):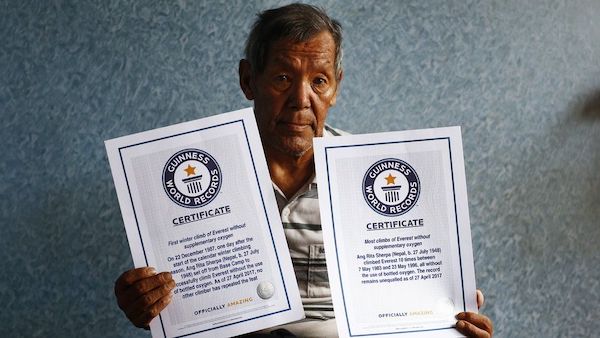 Ang Rita Sherpa, was a remarkable Nepali mountaineer who achieved a stunning feat by conquering Mount Everest an impressive ten times without relying on supplemental oxygen. His awe-inspiring accomplishments spanned from 1983 to 1996, during which he demonstrated unparalleled determination and skill.
His sixth ascent of Everest earned him the prestigious world record for the highest number of successful climbs to the summit, a record he went on to surpass once again during his tenth climb. While others have since surpassed his total number of summits, Ang Rita Sherpa continues to hold the distinction of achieving the most summits without using supplementary oxygen.
In addition to his exceptional achievements, he became the first and, to this day, the only person to conquer Mount Everest without supplemental oxygen during the harsh winter season. This outstanding feat solidified his reputation, and earned him the nickname "Snow Leopard" in recognition of his rare and exceptional mountaineering capabilities.
13. Jordan Romero: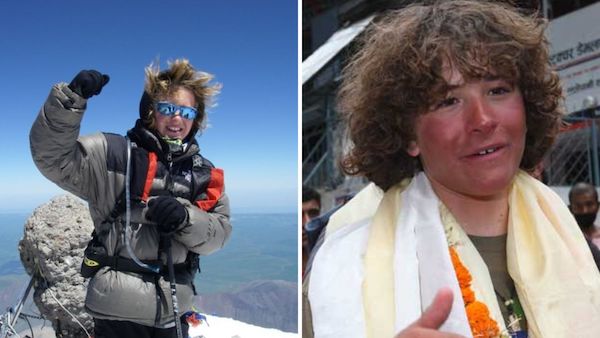 Jordan Romero, is an American mountain climber who achieved an astonishing feat by reaching the summit of Mount Everest at the age of 13. His adventure was shared with his father, Paul Romero, his step-mother, Karen Lundgren, and three skilled Sherpas, namely Ang Pasang Sherpa, Lama Dawa Sherpa, and Lama Karma Sherpa.
Proving his skill, Jordan Romero went on to create history once again. At the age of 15 years, 5 months, and 12 days, he successfully hiked the Vinson Massif in December 2011, completing the Seven Summits challenge. This extraordinary accomplishment made him the youngest climber worldwide to achieve this milestone, previously held by George Atkinson.
14. Kenton Cool: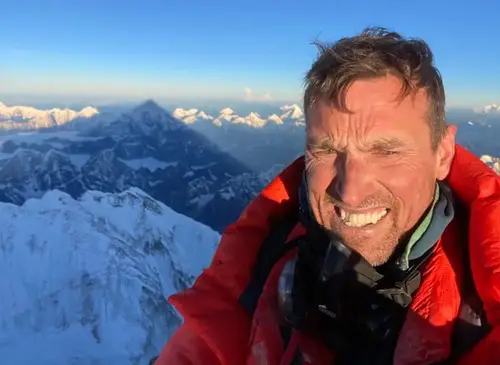 Kenton Edward Cool is a prominent English climber and mountain guide. Renowned for his exceptional skills in alpine and high altitude climbing, he holds a prominent position among Britain's leading climbers. Kenton's extraordinary achievements include an impressive 17 successful summits of Mount Everest, during which he notably led the 2008 and 2009 Expeditions of Sir Ranulph Fiennes.
Having undertaken over 45 noteworthy expeditions in the Greater Ranges, Kenton Cool's mountaineering resume speaks volumes about his expertise and daring spirit. In 2013, he etched his name in history by achieving a remarkable feat: becoming the first person to conquer Nuptse, Everest, and Lhotse in a single continuous push without returning to base camp.
15. Andrew Irvine:
16. David Breashears: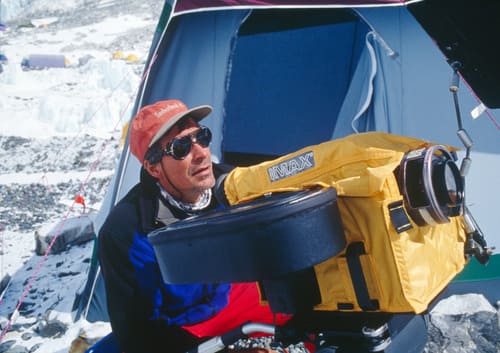 David Finlay Breashears is a renowned American mountaineer, filmmaker, author, and motivational speaker. In 1985, he achieved an impressive feat by reaching the summit of Mount Everest for a second time, securing his place as the first American to accomplish this remarkable achievement. 
Among his many accomplishments, David is most widely recognized as the director and cinematographer of the acclaimed documentary "Everest" (1998). This groundbreaking IMAX documentary went on to become the highest-grossing film of its kind, showcasing the awe-inspiring beauty and challenges of the world's highest peak.
David's expertise and dedication also came to the forefront during the tragic 1996 Everest disaster, which occurred while he was filming the documentary. He played a pivotal role in the rescue efforts during this devastating event.
17. Yūichirō Miura: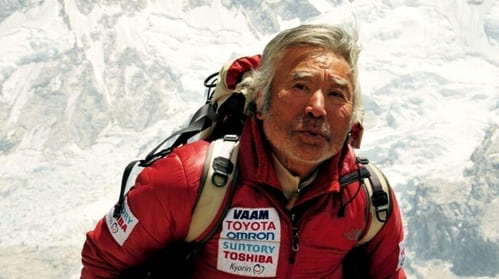 On May 6, 1970, Yuichiro Miura accomplished a groundbreaking feat as he became the first person to ski on the slopes of Mount Everest. His dangerous descent covered an astounding vertical distance of nearly 4,200 feet from the South Col, which lies at an elevation of over 8,000 meters (26,000 feet).
Undeterred by age, in 2003, at the remarkable age of 70, Miura defied the odds once again by reaching the summit of Mount Everest, making him the oldest person to do so at that time. Impressively, he later broke his own record. On May 23, 2013, at the incredible age of 80, he accomplished yet another historic milestone by ascending to the summit of Mount Everest, earning him a well-deserved entry in the Guinness Book of Records.
18. Kami Rita Sherpa: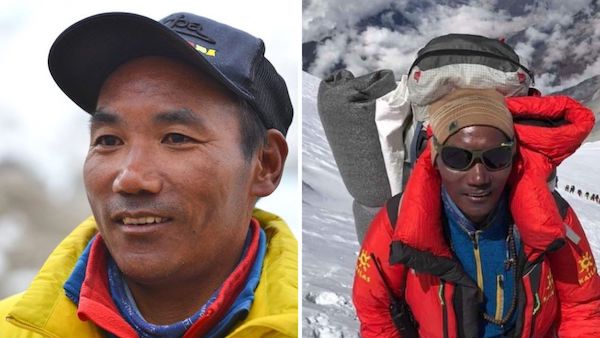 Kami Rita Sherpa is a highly esteemed Nepali Sherpa guide. Since May 2018, he has held the remarkable record for the highest number of ascents to the summit of Mount Everest. Recently, on 23rd May 2023, he achieved his 28th successful ascent, surpassing his own previous record set on 17th May 2023.
Kami Rita's family has a rich mountaineering legacy. His father was among the pioneering Sherpa guides when Mount Everest was first opened to foreign mountaineers in 1950. Additionally, his brother, Lakpa Rita, also a seasoned guide, has reached the summit of Everest an impressive 17 times.
19. Erik Weihenmayer:
Erik Weihenmayer, is a multifaceted American personality excelling as an athlete, adventurer, author, activist, and motivational speaker. His most remarkable achievement came on May 25, 2001, when he became the first blind individual to conquer the summit of Mount Everest, an awe-inspiring feat that earned him recognition, even gracing the cover of Time magazine.
Not stopping there, Weihenmayer continued to push his boundaries. In September 2002, he accomplished the challenging Seven Summits, a prestigious feat accomplished by only 150 mountaineers at the time. Remarkably, he stood alone as the only climber who achieved this monumental feat while blind. Later, in 2008, he went on to conquer the Eighth Summit, Carstensz Pyramid, solidifying his position as a true pioneer in the world of mountaineering.
20. Babu Chiri Sherpa: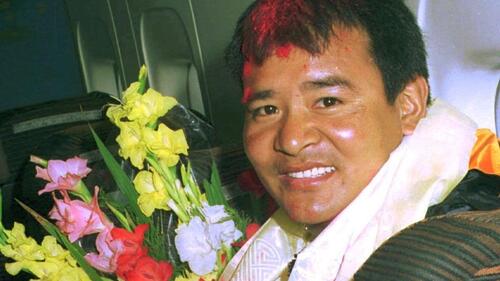 Babu Chiri Sherpa was a renowned Sherpa mountaineer hailing from Nepal, known for his extraordinary achievements on Mount Everest. His remarkable career boasted an impressive ten successful summits of the world's highest peak.
Among his numerous accomplishments, Babu Chiri Sherpa held two prestigious world records related to Everest. One outstanding feat was spending an astonishing 21 hours on the summit of Everest without the aid of auxiliary oxygen—a record that remains unbroken to this day. Additionally, he achieved the fastest ascent of Everest, conquering the mountain in a mere 16 hours and 56 minutes.
21. Alison Hargreaves: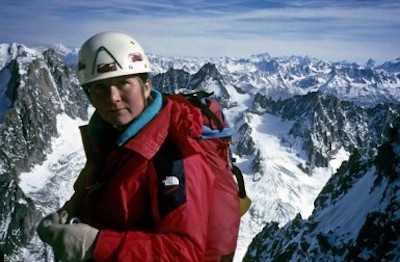 Alison Jane Hargreaves was a British mountain climber who, in 1995, conquered Mount Everest unassisted and without supplemental oxygen or support from a Sherpa team. Her solo ascent of the challenging north faces of all the great Alps in a single season was an unprecedented achievement, making her the first climber to accomplish such a feat. Additionally, she demonstrated her prowess by ascending the 6,812-meter (22,349 ft) Ama Dablam in Nepal.
Additionally, in 1995, Hargreaves embarked on a difficult mission to climb the three highest mountains in the world, Mount Everest, K2, and Kangchenjunga, without any assistance. On 13 May 1995, she stood on the summit of Everest, defying the odds without Sherpas or bottled oxygen. Sadly, her journey took a tragic turn on 13 August 1995, when she lost her life during the descent from the summit of K2.
22. Wanda Rutkiewicz: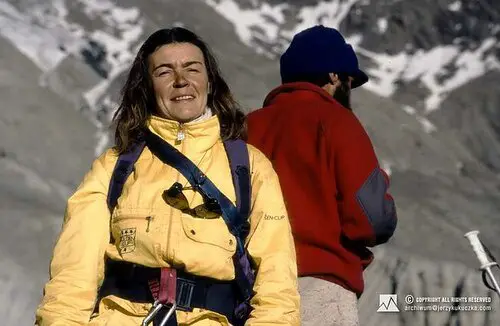 Wanda Rutkiewicz was a trailblazing Polish mountain climber and accomplished computer engineer. As a true pioneer, Rutkiewicz made history by becoming the first woman to conquer the daunting summit of K2. Additionally, she achieved another remarkable feat, being the third woman ever to reach the summit of Mount Everest and the first European woman to do so.
During her expedition on Kangchenjunga, Wanda, 49 years old at the time, was last spotted alive by Mexican climber Carlos Carsolio. They encountered each other while she sought refuge on the north-west face at a high altitude during her ambitious attempt to ascend her ninth eight-thousander.
23. Pasang Lhamu Sherpa: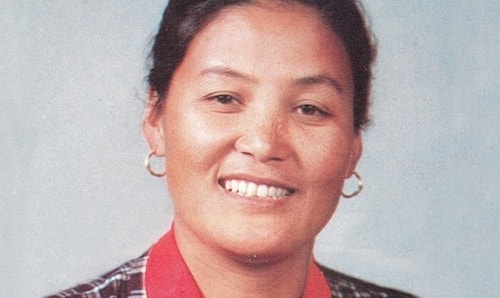 Pasang Lhamu Sherpa was the first Nepalese woman to conquer the summit of Mount Everest. Born into a family of mountaineers, Pasang Lhamu was drawn to climbing from a young age. Her determination and skill led her to achieve successful ascents of prominent peaks like Mount Blanc, Mount Cho Oyu, Mount Yalapic, Pisang Himal, and others.
Prior to her triumphant ascent, she had made three attempts to conquer Mount Everest, but it was on April 22, 1993, that she achieved her dream by reaching the summit via the Southeast Ridge route from the South Col. Tragically, during the descent, the unpredictable mountain weather took a sudden turn for the worse, resulting in Pasang to lose her life on the south summit of Everest.
24. Green Boots:
The unidentified body of a climber, known as Green Boots, gained notoriety as a landmark along the main Northeast ridge route of Mount Everest. Though never officially identified, it is widely believed that the body belongs to Tsewang Paljor, an Indian climber who perished on Everest in 1996.
The name Green Boots originated from the distinctive green Koflach mountaineering boots he wore. For years, all expeditions approaching from the north side encountered the poignant sight of the body curled in a limestone alcove cave at an altitude of 8,500 m (27,900 ft), until its relocation in 2014.
25. Mark Inglis: