It is still unclear how Scott Fischer, one of the world's strongest and most accomplished mountaineers died during the 1996 Mount Everest disaster. Despite having a robust track record and ascending the two highest mountains on the planet, Everest and K2.
But as we all know, the mountain always has the final say. Now almost 30 years later, his body is now one of the most famous dead bodies on Mount Everest. This is the story about Scott Eugene Fischer (often misspelled as Scott Fisher) and the 1996 Everest disaster.
Who Was Scott Fischer?
Born on December 24, 1955, Scott Fischer was a well known mountaineer and guide. Fischer became famous for summiting the highest peaks in the world without supplemental oxygen and founding one of the first commercial guiding companies, Mountain Madness.
Scott Fischer's formative years were spent between New Jersey and Michigan. An encounter with a National Outdoor Leadership School program alongside his father in 1970 ignited his passion for mountains. This fascination led him to the Wind River Range in Wyoming that summer. Resulting him forging an enduring connection with the mountains that would define his life.
Fisher was known for his death defying ascents of mountains around the world. In collaboration with Charley Mace and Ed Viesturs, Fischer reached the summit of K2 without supplemental oxygen. A historic milestone was reached when he and Wally Berg became the first Americans to conquer Lhotse, the world's fourth-tallest peak. Finally, Fischer triumphed over Mount Everest in 1994.
Scott Fischer scaled Everest four times, with his fifth ascent occurring in 1996. Regrettably It would be his last.
Scott Fischer's Mountain Madness: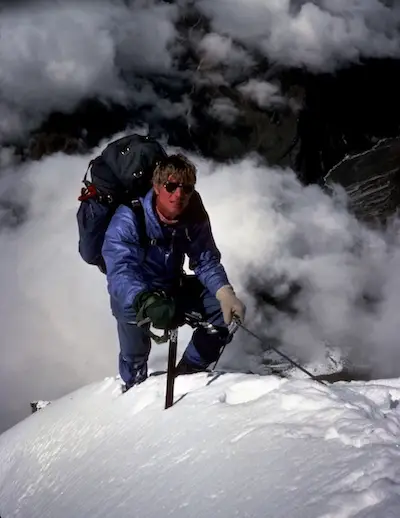 In 1984, the trio of Scott Fischer, Wes Krause, and Michael Allison establish Mountain Madness. Despite Fischer planning in 1970 to launch a guiding service named Mountain Madness, the company didn't take place until 1984. Fischer took charge of the company's operations in Seattle, while Krause directed his focus towards activities in Africa. Before long, Allison sold his stake to his co-founders, enabling him to pursue alternative interests.
With his company Mountain Madness, 40-year-old Michigan native and Seattle resident Scott Fischer made a fortune by mountaineering and leading climbing adventures.
To assist climbers reach the summits of the tallest mountains in the world, Scott Fischer established Mountain Madness. Each climber would have to pay a whopping $50,000 to join him. He was motivated by the cause of preserving the cleanliness of the world's great mountain ranges in addition to his desire for financial gain. 
He also oversaw the Everest environmental program in 1994. An initiative created to gather trash that had been accumulating for 40 years. Over 5,000 pounds of garbage and 250 oxygen bottles were taken from the mountain by his team.
Scott Fischer and The 1996 Everest Disaster:
During the 1996 season, under the leadership of Scott Fischer, Mountain Madness coordinated an expedition aimed at summiting Everest. Apart from the challenge of orchestrating a successful summit attempt, Fischer found himself in a competitive situation against Rob Hall's Adventure Consultants. Looking back, many mountaineers now attribute the decisions made by both guides to this "rivalry."
The day before the the summit bid, Fischer was busy aiding a struggling climber's descent from Camp 1. His constant attempts to help others both on Everest and other mountains like K2, gained him the nickname 'Mr Rescue'. However, this may have also resulted in his ultimate demise.
Due to Mr Rescue helping climbers, his progress to Camps 2 and 3 was slower than anticipated. However, the team managed to reach Everest's summit at 3:45 p.m. on May 10th, nearly two hours after the recommended safe descent deadline of 2 p.m. A similar situation unfolded with Rob Hall's group, summiting well past the deadline.
Severe Storm Traps Scott Fischer on Everest: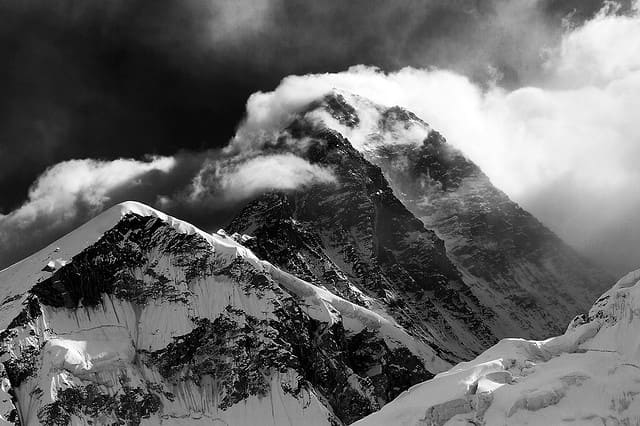 Shortly after his ascent on Friday, May 10, 1996, a powerful storm stranded numerous climbers high on Everest as they descended from the summit. The incident, which now ranks as the mountain's deadliest single-day catastrophe, claimed the lives of eight individuals. The events of the 1996 Everest disaster, has helped make Everest the sixth deadliest mountain to climb in the world!
Scott Fischer, was one of the eight that died on Everest that day. After Boukreev finally located Fischer's body, it wasn't discovered near Mount Everest's balcony again until 2010. When Fischer was getting ready for his fifth trip to the summit of Everest in 1996, he was as confident as ever and told a reporter for the Seattle Weekly that he was certain he would make it back down, saying that it doesn't count if you don't.
A similar deadly event occurred in 2008 where 11 climbers lost their lives in K2 while descending from the mountain.
Scott Fischer's fifth ascent didn't go as planned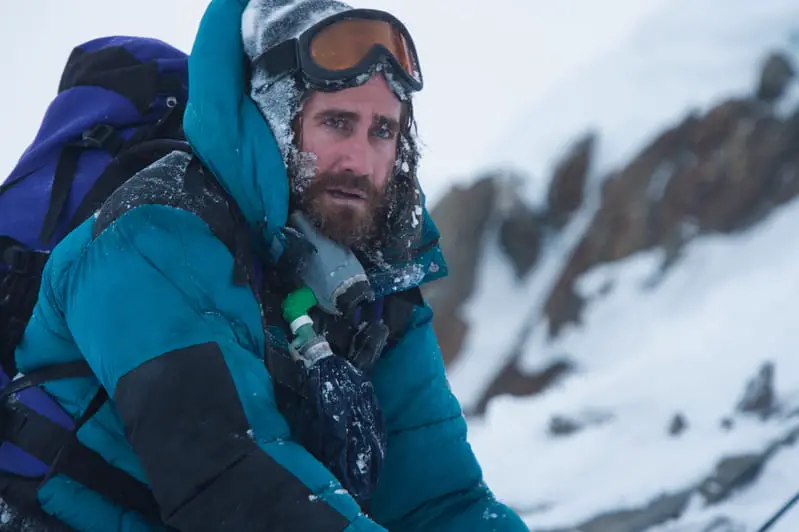 While leading his teams on trips to the top of the world, Scott Fischer had a wealth of expertise and a talent for keeping all the possibilities in mind. Neal Beidleman and Anatoli Boukreev, two of the world's top climbers, helped Fischer lead a party of clients up the mountain on his fifth expedition.
Also, Fischer had made careful preparations for the ascent that year. His analysis revealed that the timeframe between May 5 and May 12 offered the ideal circumstances for making a summit push, according to previous Everest weather data. 
Fischer, Neal Beidleman, and Anatoli Boukreev accompanied their eight clients to Everest on May 10, 1996. However, only ten of the eleven climbers made it back down the mountain.
The Everest movie, 2015 gives a good account of the events that happened that day. For other great movies about Everest check out my: Top must-watch movies about Everest!
Scott Fischer's Death on May 11, 1996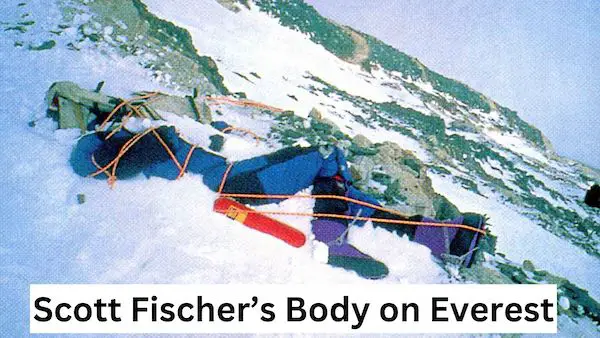 During one of Everest's darkest periods, Scott Fischer died during the 1996 Disaster. A severe snowfall struck the team while they were 29,035 feet up in the jet stream, where only a third of the oxygen available at sea level is present. 
All mountaineers, except Fischer, arrived at Camp 4 at 7,900 meters following the team's ascent. At around 3:45 pm, he arrived at the summit and encountered significant challenges on the way down.
Sirdar Lopsang Jungbu Sherpa accompanied Fischer in the ascent. Just below Everest's south summit, Fischer was unable to go any further, so he persuaded Lopsang to descend without him. In an effort to send someone with oxygen to assist him down the mountain. He left Fischer and descended. 
Boukreev made multiple attempts to locate Fischer after arriving at Camp 4 with his clients but had to retreat due to terrible weather. On May 11, around 7:00 am, Boukreev finally located Fischer. However Scott Fischer was already dead. Anatoli attempted to rescue his friend's body, but it was impossible. Instead, he left him where he was lying on the cliff with his bag fastened over his face. He then collected his pin knife, ice ax, and camera, which he would later give to Fischer's nine-year-old kid.
Scott Fischer's Last Moment on Everest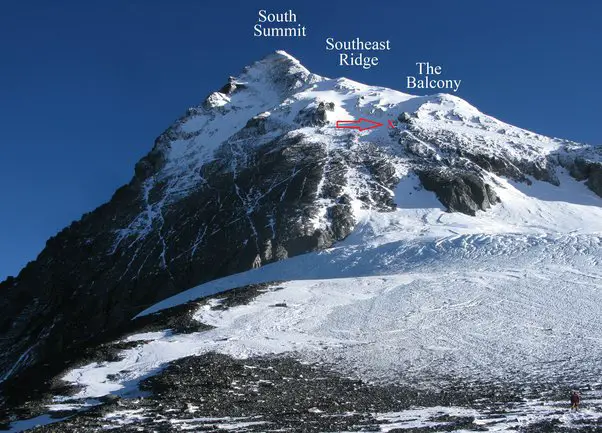 He spent the last few hours of his life in a terrible storm that swept across Everest's upper slopes. He repelled down and went to the southeast ridge, making his way to the flat 8,430-meter platform known as the balcony to locate shelter.
His only chance of surviving at this point was to descend to camp four, which was 450 meters below him at the South Col. He soon fell unconscious on the snow approximately 50 meters below the balcony, dazed and confused. 
A little while later, a dazed Scott Fischer tore off his gloves and breathing mask and unbuttoned his down jacket. Over the next 15 hours, Fischer worsened while exposed and alone on the mountain. Death finally overcame him just below the balcony, at a height of about 8,400 meters.
May 2010: Scott Fischer's body was found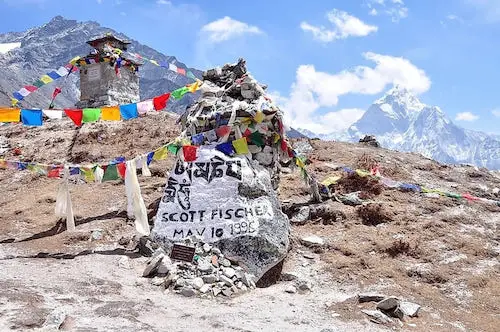 Some people are still baffled about how an expert climber died on Everest. Scott Fischer's body was found in May 2010. However, his family asked that his body remain where it was discovered so that it may spend all of the eternity among the mountains he admired. 
Climbers allege that Scott became fatigued from trekking back and forth between camps to manage his clients. This could be the case, but another theory is that he eventually succumbed to severe altitude sickness. 
Numerous climbers reported that Scott Fischer was exhausted and could not even talk to them when they passed by, which is thought to be why he passed away on the mountain. He supposedly met an untimely death due to high-altitude sickness and the dangerous storm.
Mount Everest, the highest mountain in the world, is one of the most perilous and thrilling places for tourists to visit. The dangerous mountain also leads to tragedy when climbers meet untimely deaths on Everest.
FAQs: Scott Fischer's Death on Everest in 1996
1. How many times did Scott Fischer climb Everest?
Scott Fischer has climbed Mount Everest once, with his second ascent occurring in 1996.
2. How old was Scott Fischer when he died?
Scott Fischer was 40 years old when he died in the 1996 Everest disaster.
3. What happened to Scott on Everest?
While in the jet stream at 29,035 feet above sea level, where only a third of the oxygen found at sea level, the team was hit by heavy snowfall. Scott died high on Everest amid a violent storm that formed while the group descended. Scott stayed behind throughout the descent and never returned to the South Col, but the rest of his crew made it back safely.
4. Why was Scott Fischer so tired?
As a result of frequently moving from camp to camp to take care of his clients, climbers report that Scott was exhausted. This could be the case, but another theory is that he eventually passed away from severe altitude sickness.
5. What was Scott Fischer's cause of death?
The cause of death was Hypothermia. After rescuing other people, Boukreev reached Scott Fischer, who was already dead. He said Fischer exhibited signs of paradoxical undressing, commonly associated with hypothermia.