Anatoli Nikolaevich Boukreev (1958-1997) was a renowned mountaineer from the former Soviet Union (Kazakhstan). He achieved remarkable feats in the world of mountaineering, successfully scaling 10 of the 14 eight-thousander peaks without the use of supplemental oxygen. Between 1989 and 1997, he completed 18 successful ascents of peaks surpassing 8,000 meters.
Boukreev gained international acclaim for his exceptional mountaineering skills. He reached the summit of K2 in 1993 and conquered Mount Everest via the North Ridge route in 1995. Additionally, he earned recognition for his speedy solo ascents of several of the world's tallest mountains. However, he became most widely known for his heroic efforts during the 1996 Mount Everest disaster when he saved the lives of fellow climbers.
Unfortunately, Boukreev's life was tragically cut short in 1997 when he lost his life in an avalanche while attempting a winter ascent of Annapurna in Nepal. His memoirs were later edited and published, titled "Above the Clouds: The Diaries of a High-Altitude Mountaineer."
This blog looks at Anatoli's life, mountaineering accomplishments, the Everest disaster, and his death on Annapurna in Nepal.
Anatoli Boukreev's Background:
Below looks at Boukreev's life growing up, as well as his time mountaineering and finally his time on Everest before his death.
Boukreev Early Years in the Soviet Union: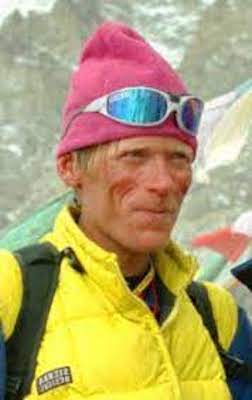 Boukreev hailed from Korkino, situated in the Soviet Union. Coming from humble beginnings, he belonged to the Narod, the working class. While he was young, his parents faced significant financial challenges. 
Upon completing his secondary education in 1975, Boukreev enrolled in Chelyabinsk University for Pedagogy, specializing in physics, and earned his Bachelor of Science degree in 1979. During this time, he also undertook a coaching program focused on cross-country skiing.
Driven by his passion for mountaineering, the 21-year-old Boukreev relocated to Alma-Ata, the capital of the neighboring Kazakh SSR (now Kazakhstan) nestled within the Tian Shan mountain range. Starting in 1985, he joined a mountaineering team from Kazakhstan and eventually acquired Kazakhstani citizenship in 1991 following the dissolution of the Soviet Union.
Climbing accomplishments: The major highlights of Boukreev's climbing career are as follows:
After his childhood, Boukreev got heavily involved in mountain climbing. He had a strong natural ability which helped him climb 10 of the 14 8,000ers without supplemental oxygen. Some of Anatoli's climbing accomplishments can be seen in the table below:
Year
Mountain
1987
Lenin Peak (7,137m)
1989
1. April 30 Kanchenjunga – first traverse of the four 8,000m summits of the massif
2. April 15 Kanchenjunga (8,556m) – new route
1990
1. February Peak Pobeda (7,400m) – first winter ascent
2. May Mt. McKinley – West Rib route
3. April Mt. McKinley – Cassin Ridge route
1991
1. October 7 Mt. Everest – South Col route
2. May 10 Dhaulagiri – new route on the west wall
1993
1. July 1 K2 (8,611m)
2. May 14 Mount McKinley (6,193m)
1994
1. May 15 Makalu (8,476m)
2. April 29 Makalu II (8,460m)
1995
1. December 8 Manaslu (8,156m)
2. October 8 Dhaulagiri (8,176m) – fastest ascent record (17h 15m)
3. June 30 Peak Abai (4,010m) – guide for President of Kazakhstan
4. May 17 Mount Everest – North Ridge route
1996
1. October 9 N summit of Shishapangma (8,008m)
2. September 25 Cho Oyu (8,201 m)
3. May 17 Lhotse – solo ascent, speed record
4. May 10 Mount Everest – South Col route
1997
1. July 14 Gasherbrum IV (8,035m)
2. July 7 Broad Peak (8,047m) – solo ascent
3. May 23 Lhotse (8,501m)
4. April 23 Mount Everest (8,850m)
Table showing the mountaineering achievements of Anatoli Boukreev
Boukreev had a long list of accomplishments that made him one of the most revered climbers during the period. A few of his most remarkable, and famous mountaineering events can be seen below. 
1. Denali 1990
In May 1990, Boukreev received an invitation from an American climber to guide a group of clients to the summit of Denali in Alaska. Denali, formerly known as Mount McKinley, presents various challenges, including hidden crevasses and extreme cold due to its proximity to the Arctic Circle and the ocean.
The expedition was a triumph, with the team successfully reaching the summit and returning without any incidents. Despite a slight language barrier during the climb, Boukreev faced the difficulty of borrowing equipment due to his financial circumstances. Inspired by the accomplishment, Boukreev decided to attempt a solo speed ascent of Denali before returning to the Soviet Union.
Boukreev's solo speed ascent of Denali in 1990 took a remarkable 10 and a half hours from the base to the summit. This feat stood out since acclimatized climbers typically took three to four days and established five camps to reach the summit. Climbing magazine acknowledged Boukreev's achievement in a 1990 issue, and Denali Park rangers described it as "unreal."
2. K2 1993
In 1993, Boukreev reached the summit of K2 via the Abruzzi Spur route, accompanied by fellow team members Peter Metzger from Germany and Andrew Lock from Australia. The team, led by Reinmar Joswig, also included Ernst Eberhardt, another German climber. Standing at an elevation of 8,611 meters (28,251 ft), K2 is the second-highest mountain on Earth, surpassed only by Mount Everest.
Boukreev faced a perilous situation on K2 as he approached the summit. He later described feeling physically and emotionally drained, devoid of the anticipated sense of victory upon reaching the peak. Despite being exhausted, Boukreev found himself in a dangerous predicament. He had expended excessive energy setting up fixed lines on a narrow and steep section earlier in the day. However, due to the team's decision to press on to the summit that same afternoon instead of returning to their tents for rest and attempting the summit the following morning, Boukreev complied. Reflecting on the experience, Boukreev wrote:
"During my years of training as a ski racer and then as a mountaineer, I had learned how to exhaust my last bit of energy for a finish. However, in mountaineering, this can be dangerous because the summit is not the end of your competition with a formidable mountain. To survive, you must have the ability to descend from the forbidden zone."

Boukreev regarding the team's decision to climb K2
Boukreev later likened his state to that of a "squeezed lemon." While descending with the other two climbers after sunset, they encountered Reinmar Joswig ascending near the summit. Relying heavily on intuition and his past mountaineering experiences, Boukreev cautiously made his way down the steep rock and ice. He encountered difficulties, such as repeatedly losing a crampon and having to use his ice axe to arrest a fall, preventing himself from sliding into the abyss. Eventually, he reached the tents at the highest camp. However, teammates Peter Metzger and Reinmar Joswig never returned from the summit and tragically lost their lives during the descent.
3. Mount Everest 1996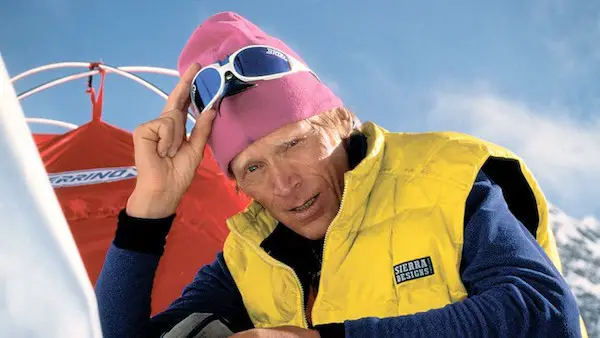 Boukreev was an immensely experienced high-altitude climber, honing his skills in the rigorous programs of the former Soviet Union's mountain sports federation. After the collapse of the Soviet Union, he turned to guiding in the Himalayas, eventually joining Scott Fischer's Mountain Madness for the ill-fated Mount Everest expedition in May 1996.
Unfortunately, a devastating blizzard struck shortly after their successful summit, leaving many climbers stranded above the South Col overnight. By May 11, eight climbers from three different expeditions had tragically perished. Known as one of the most deadly events on Everest, Scott Fischer from Mountain Madness, Rob Hall from Adventure Consultants, as well as Doug Hansen, Andy Harris, Green Boots (Tsewang Paljor) and two other Indian climbers from Tsewang's group, and Yasuko Namba all died that day.
However, Boukreev played a crucial role in rescuing three climbers stranded above 8,000 meters during the disastrous event, ultimately ensuring the survival of all six climbing clients from the Mountain Madness expedition. Renowned mountaineer Galen Rowell described Boukreev's rescue efforts in the Wall Street Journal as:
"One of the most remarkable rescues in mountaineering history, accomplished single-handedly just hours after climbing Everest without supplemental oxygen…"

Galen Rowell in the Wall Street Journal regarding Boukreev
Although Anatoli Boukreev was an accomplished climber, he was not well known for his mountaineering experience and fame. Something that many, and especially fellow Mountaineer Edmund Viesturs believed, was due to his English. Whereas, in 2011 during an interview, Viesturs commented, " Anatoli spoke English very poorly, and for that reason a lot of people did not appreciate his skill as a climber and did not realize how thoughtful, introspective and poetic he was."
In May 1997, Boukreev expressed the weight of unfair criticism he endured in relation to the Everest tragedy. Despite this, his efforts in rescuing Sandy Hill Pittman, Charlotte Fox, and Tim Madsen from a stormy South Col to Camp IV were recognized when he received the David Sowles Award from The American Alpine Club, their highest honor for courage.
The controversy and lack of support for Anatoli became even more prevalent after the 1996 Mount Everest disaster.
Controversy surrounding Anatoli Boukreev:
The section below highlights some of the controversy, criticism as well as support that Boukreev received.
Criticism of Boukreev on Everest
Jon Krakauer's book, "Into Thin Air," presented a critical view of Boukreev's actions during the Everest expedition. In response, Boukreev was approached by various media outlets seeking his perspective on the events. He also collaborated with Gary Weston DeWalt to publish his own account of the Everest tragedy in the book "The Climb."
The controversy mainly revolved around Boukreev's decision to attempt the summit without supplemental oxygen and his choice to descend to camp ahead of his clients despite the encroaching darkness and blizzard. Boukreev was among the first climbers to reach the summit on the fateful day and spent nearly 1.5 hours assisting others with their summit attempts before returning to his tent by 5 pm on May 10, well ahead of his team's later summiters.
Moreover, according to Krakauer, Boukreev's "refusal or inability to fulfill the role of a traditional guide" caused tension between him and Scott Fischer, who tragically died during his descent from the summit. On the ascent, Fischer had instructed Boukreev to bring up the rear and keep an eye on everyone, but Boukreev instead remained at Base Camp and joined the group approximately five hours later. When a client named Dale Kruse fell ill, Boukreev was nowhere to be found, resulting in Fischer descending from Camp II to assist Kruse and guide him back to Base Camp.
Krakauer noted that Fischer encountered Boukreev at the Khumbu Icefall and "harshly reprimanded the guide for neglecting his responsibilities." Upon returning to Base Camp, Fischer expressed his dissatisfaction with Boukreev's actions to his business partner Karen Dickinson and publicist Jane Bromet before resuming his ascent.
Support for Boukreev:
Supporters of Boukreev argue that his early return to camp allowed him to rest. When the blizzard subsided around midnight, he was able to embark on a rescue mission and guide several stranded climbers back to the safety of the camp. Boukreev's critics contend that if he had stayed with his clients, he would have been in a better position to assist them during the descent. However, all of Boukreev's clients survived, including the three individuals (Pittman, Fox, Madsen) he rescued on May 11 after overcoming hypoxia and resting.
The only client fatalities that day occurred within the Adventure Consultants expedition, led by guide Rob Hall, who lost his own life while choosing to aid Doug Hansen in completing a late summit rather than helping the client descend.
Additionally, In 1997, Anatoli Boukreev was honored with the David A. Sowles Memorial Award by the American Alpine Club. The award recognizes individuals who have demonstrated exceptional devotion, personal risk, or sacrificed major objectives to assist fellow climbers in peril. It is dedicated to the memory of David A. Sowles. Boukreev received the award from Jim Wickwire, the first American to summit K2. This accolade represents the highest recognition of valor bestowed by the American Alpine Club, acknowledging Boukreev's role in rescuing climbers during the 1996 Everest disaster.
Why did Jon Krakauer not like Anatoli Boukreev?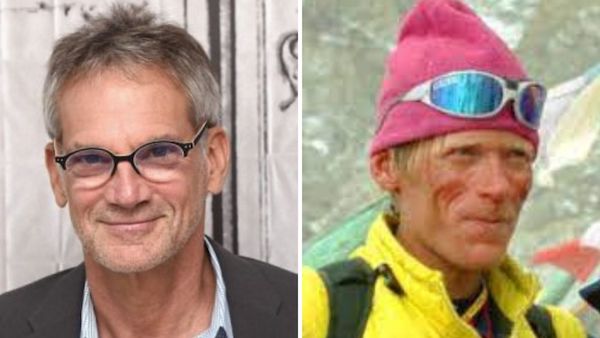 Jon Krakauer's perspective on Anatoli Boukreev in the book "Into Thin Air" was largely critical. It is believed that Krakauer did not like Anatoli. There were several reasons behind Krakauer's unfavorable portrayal of Boukreev:
1. Timing and Contrasting Styles: Boukreev's decision to descend from the summit of Mount Everest ahead of his clients, in the face of worsening weather conditions, conflicted with the conventional approach of guiding clients. Krakauer, along with other climbers, believed that guides should remain with their clients during critical moments, particularly in hazardous situations.
2. Use of Supplemental Oxygen: Boukreev climbed Everest without the use of supplemental oxygen, which Krakauer believed impaired Boukreev's decision-making abilities and capacity to assist others effectively. Krakauer argued that Boukreev's lack of oxygen hindered his response time and overall performance during the critical rescue operations. Reinhold Messner also criticized Boukreev for this. Stating that "no one should guide Everest without using bottled oxygen."
3. Communication and Responsibility: Krakauer criticized Boukreev for what he perceived as a lack of effective communication and coordination with the team. Krakauer felt that Boukreev should have been more actively involved in monitoring the clients' progress and safety.
4. Conflicting Accounts: Krakauer's perception of Boukreev's actions and motivations during the Everest expedition differed from Boukreev's own account in his book, "The Climb," co-authored with Gary Weston DeWalt. The discrepancies between their narratives contributed to the divergence in their viewpoints.
It's worth noting that Krakauer's portrayal of Boukreev faced some criticism, as it sparked a considerable debate among climbers and mountaineering enthusiasts. Boukreev's supporters argued that Krakauer's account lacked a comprehensive understanding of the complexities and challenges involved in high-altitude mountaineering.
Anatoli Boukreev's book 'The Climb'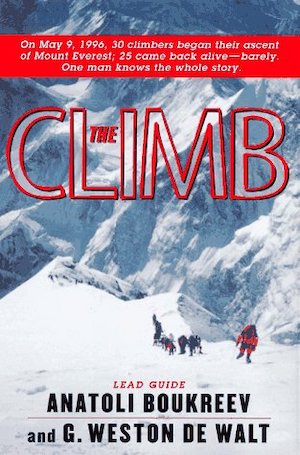 "The Climb" by Anatoli Boukreev is a memoir that recounts the author's experiences as a mountaineer, specifically focusing on the disastrous 1996 Mount Everest climbing season. Boukreev provides a firsthand account of the events surrounding the tragedy that claimed the lives of several climbers, including those on Rob Hall's Adventure Consultants team and Scott Fischer's Mountain Madness team.
In the book, Boukreev offers his perspective on the ill-fated expedition and provides insight into the challenges and risks involved in high-altitude mountaineering. He recounts his heroic efforts in rescuing stranded climbers during a violent snowstorm and emphasizes the importance of personal responsibility and preparedness in such treacherous environments.
"The Climb" also includes interviews with other survivors, medical personnel, Sherpa guides, and the families of those who perished, offering a comprehensive and intimate look at the tragedy from various perspectives.
Boukreev's memoir is considered a significant contribution to the understanding of the events on Everest in 1996 and the complexities of mountaineering at extreme altitudes.
How did Anatoli Boukreev die?
Following the receipt of the David A. Sowles Memorial Award, Boukreev age 39 at the time, accompanied by accomplished Italian mountaineer Simone Moro and cinematographer Dimitri Sobolev, embarked on an expedition to climb the south face of Annapurna I (8,091 m or 26,545 ft). On December 25, at approximately noon, Boukreev and Moro were busy securing ropes in a couloir situated around the 5,700 m (18,700 ft) level.
Unexpectedly, a massive cornice broke loose from the Annapurna's Western Wall and fell down the 800 m (2,600 ft) long couloir. The avalanche swept Moro down the mountainside, eventually leaving him just above their tent at Camp I (5,200 m or 17,100 ft). Remarkably, Moro managed to remain near the top of the avalanche debris and, after a few minutes, extricated himself from the snow.
Unable to locate Boukreev or Sobolev, who had seemingly disappeared beneath large blocks of ice, Moro descended to Annapurna base camp. From there, he was airlifted by helicopter to Kathmandu to undergo surgery on his hands, which had suffered severe damage during the fall, tearing down to the tendons. Anatoli was not found and was presumed dead on December 25, 1997.
Following Moro's return to Kathmandu, hope persisted for over a week as search efforts continued. Lt. Col. Madan K.C., known for his daring helicopter rescue on Mount Everest in 1996, conducted multiple search missions but yielded inconclusive results due to unfavorable conditions. The ground party comprising Sherpas and Kazakh climbers confirmed the deaths of Boukreev and Sobolev on January 4.
The Annapurna region is known for disasters, read about the Annapurna Disaster where 43 people died in one day.
Linda Wylie's attempt to find her boyfriend Boukreev:
News of the accident reached New Mexico on December 26, prompting Linda Wylie, Boukreev's girlfriend, to depart for Nepal on December 28.
Despite several attempts, adverse weather conditions in late December hindered search teams from reaching Camp I via helicopter. Finally, on January 3, 1998, searchers successfully reached Camp I only to find an empty tent. Linda Wylie issued a solemn statement from Kathmandu:
"This is the end… there is no hope of finding him alive."

Linda Wylie after hope of finding Boukreev was lost
Interestingly, Boukreev had experienced a detailed dream about perishing in an avalanche nine months prior to his demise. The only missing element was the name of the mountain. When Boukreev's told Linda about the dream, she urged him to choose a different path in life to avoid the fate he seemed convinced of. Boukreev responded, 
"Mountains are my life… my work. It is too late for me to embark on another path."

Boukreev about his life and climbing
Anatoli Boukreev's Memorial on Annapurna: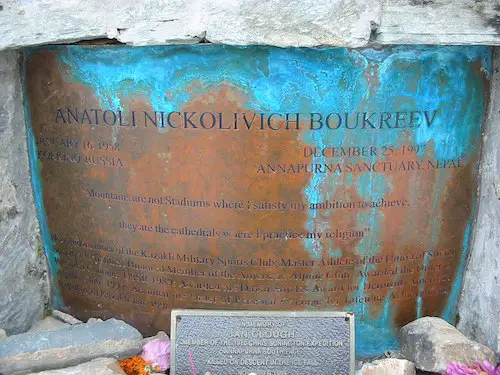 A memorial chorten dedicated to Boukreev, along with one of his beloved quotes, stands at the Annapurna base camp:
"Mountains are not stadiums where I satisfy my ambition to achieve, they are the cathedrals where I practice my religion."

Anatoli Boukreev's favorite quote
Furthermore, on January 18, 2023, a sculpture portraying Boukreev, created by Nurlan Dalbai, was unveiled at the Medeu ice sports rink. The sculpture depicts the mountaineer in a state of repose, with his hand resting on an ice axe.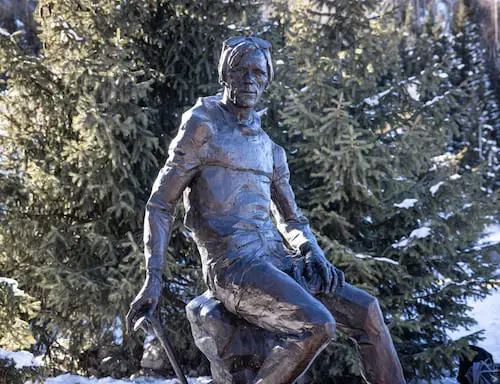 Anatoli Boukreev: The legacy of the Kazakhstani mountaineer
Anatoli Boukreev was a highly skilled and accomplished mountaineer whose actions during the Everest expedition in 1996 sparked controversy and contrasting viewpoints. While Jon Krakauer's book, "Into Thin Air," presented a critical perspective of Boukreev, it is essential to consider the complexities and challenges of high-altitude mountaineering in assessing his decisions.
Boukreev's choice to descend ahead of his clients and his climbing without supplemental oxygen were points of contention. However, his supporters argue that his early return to camp allowed for crucial rest and subsequent rescue efforts. Ultimately, the debate surrounding Boukreev's actions on Everest highlights the nuanced nature of mountaineering and the diverse perspectives it elicits.
Despite the disagreements, Boukreev's enduring legacy as a mountaineer and his commitment to the mountains remain undeniable.
FAQs: Anatoli Boukreev
Below are some of the most frequently asked questions regarding Anatoli Boukreev.
1. Was Anatoli Boukreev ever found?
Anatoli Boukreev's body was never found. On January 4, the deaths of Boukreev and Sobolev were confirmed by a search team comprising Sherpas and Kazakh climbers (Rinat Khaibullin, Surgey Oucharanko, Andrey Molotov, and Dimitri Muravyov) after searching the avalanche area.
2. What happened to Anatoli Boukreev?
During a winter ascent of Annapurna in Nepal in 1997, Boukreev tragically lost his life in an avalanche. His memoirs were subsequently edited by his companion, Linda Wylie, and published in 2002 under the poignant title "Above the Clouds: The Diaries of a High-Altitude Mountaineer."
3. How many people did Boukreev save?
Boukreev saved three people on Everest. The events of the rescue served as the inspiration for his part in the 2015 film "Everest," directed by Baltasar Kormákur.
4. What is the climb by Anatoli Boukreev about?
"The Climb" by Anatoli Boukreev is a compelling and candid chronicle of unwavering determination, featuring interviews with the majority of the surviving climbers, medical staff, Sherpa guides, and bereaved families who witnessed the tragic events.