Andy Harris, a guide for Rob Hall's Adventure Consultants group, found himself in a tragic situation during the 1996 Mount Everest Disaster. Despite the possibility of his survival, he made the decision to go back and assist his colleagues who were in danger. Andy's helpful nature, characterized by his unwavering willingness to aid others, ultimately led to his untimely demise on May 11th, 1996.
The death of Harris stands as one of the most heart-wrenching events of the entire expedition. Despite embarking on building a house with his fiancée, the magnetic pull of the mountain was too strong for him to resist. Whenever there was a need for volunteers or assistance with customers, Harris was someone to rely upon.
This blog looks at Andy Harris' life, and what happened to him during the 1996 disaster.
Who Was Andy Harris?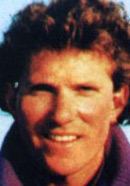 Andrew Michael Harris NZBS, also known as Andy Harris, was a respected New Zealand mountain guide. Born on September 29, 1964, he tragically lost his life during the 1996 Mount Everest Disaster. Harris played a crucial role as one of the guides for Adventure Consultants' 1996 Everest expedition, led by Rob Hall. Despite it being his inaugural endeavor to reach the summit, Harris brought with him a wealth of climbing expertise acquired through extensive experience in New Zealand.
At the time of his death, Harris was living with his parents, Ron and Marry Harris, his older brother, David Harris, and his girlfriend Fiona McPherson, who was a physician. Harris and McPherson were residing together and were in the process of building a home in the hills outside of Queenstown. In his earlier years, Harris attended Francis Douglas Memorial College located in New Plymouth.
During the winter seasons, Harris used his skills as a helicopter skiing guide. He also made significant contributions as a field leader for the New Zealand Antarctic Study Program (NZARP) from 1987 to 1992. In this role, he led scientists in conducting archaeological studies in Antarctica during the summer months. Additionally, he accompanied climbers in the majestic Southern Alps of New Zealand.
In 1985, Harris achieved a remarkable feat by successfully ascending Chobutse, a formidable peak standing at 6,690 meters near Everest. Furthermore, he offered valuable assistance to McPherson in a medical clinic situated in Pheriche during the autumn of 1994. The primary objective of the clinic was to provide treatment for high altitude sickness-related ailments.
The 1996 Everest Expedition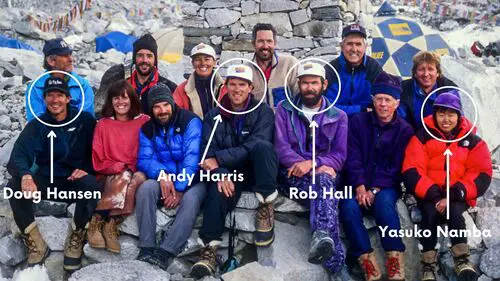 The 1996 Everest expedition led by Adventure Consultants comprised three guides, namely Rob Hall, Mike Groom, and Andy Harris, along with eight clients: Frank Fischbeck, Doug Hansen, Stuart Hutchison, Lou Kasischke, Jon Krakauer, Yasuko Namba, John Taske, and Beck Weathers.
Even before reaching Base Camp, Harris faced a series of gastrointestinal attacks while staying at the lodge in Lobuje. Despite being advised to stay for another night at Lobuje, Harris chose to proceed to Base Camp with the rest of the team on April 8, 1996. During a climb on May 8, Harris was unexpectedly struck in the chest by a boulder approximately the size of a small television. Although shaken by the impact, Harris persevered in his ascent. However, he later reflected on the fortunate realization that had the boulder struck his head instead, survival would have been impossible.
In the early hours of May 10, the Adventure Consultants expedition embarked on their summit attempt from Camp IV, situated atop the South Col.
The Disappearance of Andy Harris
Around 1:12 p.m., Harris, Anatoli Boukreev, and Krakauer successfully reached the summit of Everest and began their descent. During the descent, Krakauer requested Harris to turn off his oxygen to conserve it. Harris complied, but unintentionally turned the oxygen dial to its maximum setting.
Later on, Harris inspected oxygen canisters near the Southeast Ridge and mistakenly claimed they were all empty, despite the fact that they were not. It is speculated that Harris may have been experiencing hypoxia, which could explain some of his irrational behavior. However, this theory has never been proven.
Upon their return to Camp IV, Krakauer, potentially affected by the effects of hypoxia, believed he had encountered Harris on the ridge above the camp. Krakauer recalled seeing Harris fall over the ridge toward the camp, then stand up and stagger back in the direction of the camp. Meanwhile, Krakauer took a longer route back to the tents but informed others at the camp that Harris had safely returned. It was only months later, during an interview with Martin Adams, a client of Mountain Madness, that Krakauer realized the climber he encountered was actually Adams and not Harris.
The following morning, on May 11, after a search of the camp, the climbers at Camp IV realized that Harris was missing.
The Tragic Fate of Andy Harris: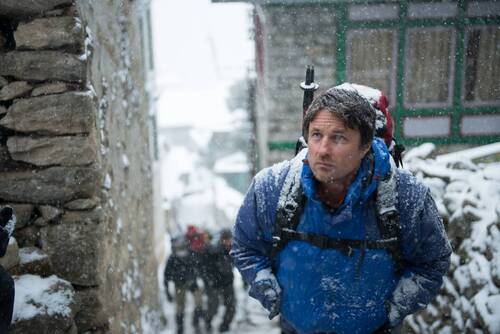 After surviving the devastating disaster, Krakauer felt compelled to share his firsthand experience by penning a magazine article and eventually a book on the events that occurred. Reflecting on the tragedy, Krakauer openly acknowledged his own responsibility for not recognizing Andy Harris's weakened state and irrational behavior, resulting from the effects of high altitude and oxygen deprivation. He candidly stated that his own, "actions – or failure to act – played a direct role in the death of Andy Harris."
Several days later, Harris's ice axe and jacket were discovered near the body of Rob Hall. Prior to his demise, Hall had mentioned that Harris had been in his company but was now missing. It is highly probable that Harris ventured to aid Rob Hall and Doug Hansen when they became stranded at higher elevations as the storm intensified. However, the fate of Harris remains a mystery as his body was never recovered.
The Memorial for Adventure Consultants' Crew on Everest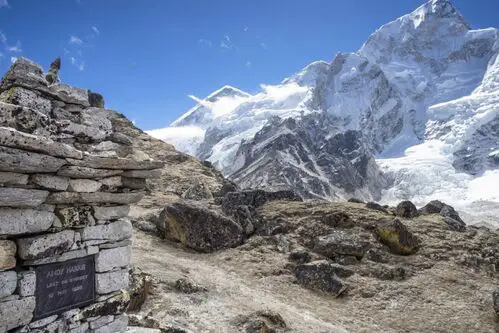 A memorial was erected a short distance from Gorakshep, in the direction of Everest Base Camp, to honor the fallen members of the Adventure Consultants' team who tragically lost their lives during the expedition. This memorial stands as a tribute to Andy Harris, Rob Hall, Doug Hansen, and Yasuko Namba, serving as a solemn reminder of their enduring spirit and the sacrifices they made on their journey.
Honoring Andy Harris
In recognition of his remarkable contributions, the New Zealand Geographic Board bestowed the honor of naming a peak at Victoria Land, Antarctica, after Andy Harris. This distinguished summit, known as Harris Peak, resides amidst the notable Mount Hall and Ball Peak, names that bear significance to Harris's legacy.
In 1999, Harris was awarded the New Zealand Bravery Star, a testament to his unwavering bravery and selflessness. Furthermore, his alma mater held a special tribute to commemorate his indomitable spirit and enduring impact.
The portrayal of Andy Harris in the 2015 film Everest was brought to life by actor Martin Henderson, immortalizing Harris's legacy on the big screen.
FAQs: Andy Harris on Everest
Below are some of the most frequently asked questions regarding Andy Harris the mountaineer.
1. What happened to Andy Harris on Everest 1996?
Andy Harris was feeling the affects of hypoxia when he attempted to assist Rob Hall and Doug Hansen who were caught in the storm. It is believed that while providing assistance, Any Harris fell off Everest and died in 1996.
2. What happened to Andy Harris into thin air?
Andy Harris (1964-1996) served as a guide on Adventure Consultants who Jon Krakauer was a member. Tragically, Harris went missing during a severe storm while attempting to aid Rob Hall and Doug Hansen. Despite extensive efforts, his body remains unrecovered, leaving the precise circumstances of his passing shrouded in uncertainty. Speculation suggests that he may have tragically fallen near the summit of the mountain.