Robert Edwin Hall, a notable New Zealand mountaineer, met a tragic fate while leading a Mount Everest expedition in 1996. Alongside a fellow guide and two clients, Rob Hall lost his life during the climb. Becoming one of the most famous dead bodies on Mount Everest.
The expedition was immortalized in Jon Krakauer's renowned book, "Into Thin Air," and later depicted in the 2015 film "Everest." At the time of his death, Rob Hall had achieved an impressive feat of conquering Everest's summit five times. A record unmatched by any other non-Sherpa mountaineer of that era.
The blog discusses the well known climber of Mount Everest, Robert Edwin Hall. Including who he was, his climbing history, and his final days on Everest. Additionally, I present my take on Rob Hall through my research on the events that unfolded on Everest that day.
Quick Facts About Rob Hall on Everest:
Rob completed the Seven Summits in 1990
Founded Adventure Consultants in 1991 with Gary Ball
Rob Hall Pioneered the concept of commercial guiding on Everest for amateur climbers in 1992
Hall and Adventure Consultants led 19 clients to the summit of Mount Everest without a single fatality
Rob Hall was part of the 1996 Everest disaster
Hall's last words were "Sleep well my sweetheart. Please don't worry too much" which were to his wife
Rob Hall died at the age of 35 on Everest in May of 1996
Rob Hall was one of eight climbers that died during the 1996 Everest Disaster
Who was Rob Hall?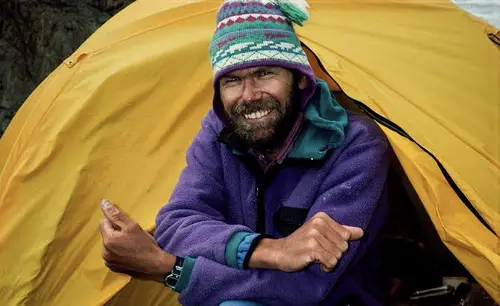 Rob Hall, was born on January 14, 1961, in Christchurch, New Zealand and was a prominent figure in mountaineering. Growing up in the scenic surroundings of the South Island, at the base of New Zealand's Southern Alps, Hall developed a natural affinity for climbing from a young age. Even in his early teens, it was evident that he had found his calling in life. At the age of 16, Hall decided to leave school and embark on a career with Alp Sports, a small outdoor company in New Zealand, where he worked as a production manager and designer.
As time went on, Hall's ambitions grew, and he continually sought out new and exciting challenges. By the time he reached 21, he had already accomplished remarkable feats in the Himalayas, such as being the second person to ascend the North Ridge of Ama Dablam in 1980 and Numbur Himal in 1981.
In New Zealand, Hall completed the first winter ascent of the Caroline Face on Aoraki, the highest peak in the country. These early achievements showcased Hall's remarkable skillset in mountaineering.
Rob Hall's List of Major Climbs (1990-1996)
Here's a list of mountains summited by Rob Hall during the year 1990 to 1996:
| | |
| --- | --- |
| Year of Ascent  | Major Climbs |
| 1990 | Seven Summits (The Bass List) |
| 1992 | K2 attempt (Scott Fischer, Edmund Viesturs and Charley Mace helped Hall to save his partner Gary Ball from edema) |
| 1992 | Mount Everest |
| 1993 | Dhaulagiri Summit. Hall reached 7,300 with Gary Ball and Veikka Gustafsson. However, Ball passed away on the mountain due to edema |
| 1993 | Summited Everest with his wife, Jan Arnold |
| 1994 | Mount Everest, Lhotse, K2, Cho Oyu, Makalu |
| 1995 | Cho Oyu  |
| 1996 | Mount Everest (died while descending from the summit) |
Rob Hall's mountaineering accomplishments
Rob Hall Conquers The Seven Summits in 1990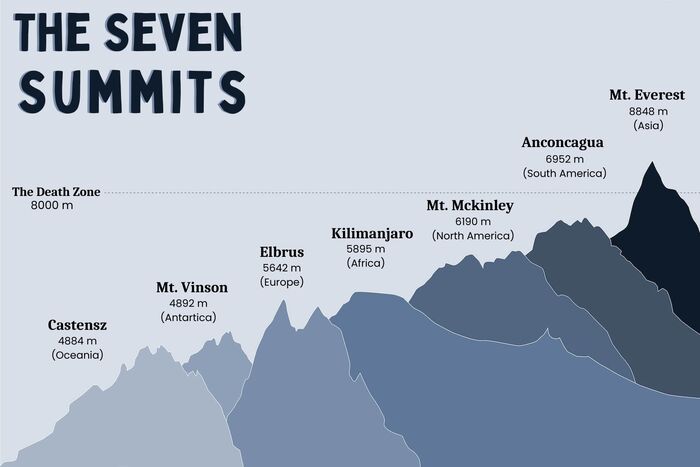 In 1989, Rob Hall crossed paths with Gary Ball marking the beginning of one of the most esteemed climbing partnerships in modern history.
The concept of the "Seven Summits" coined by Dick Bass emerged as a mountaineering challenge in 1981 when he coined the term. It took him a total of four years to complete the challenge, which entailed scaling the highest peaks on each of the seven continents.
This list comprises of Everest in Asia, Aconcagua in South America, Mt Mckinley (Denali) in North America, Kilimanjaro in Africa, Elbrus in Europe, Kosciuszko in Australia, and Vinson in Antarctica.
While other mountaineers had completed the Seven Summits, Hall aspired to elevate the endeavor to unprecedented heights. He aimed to complete the challenge within a time frame of seven months, dedicating one month to each peak. Hall and Ball would start with Everest, widely regarded as the most challenging ascent on the list. 
Their successful ascent of Mount Everest in 1990 was a groundbreaking moment, with the pinnacle of their achievement broadcast live from the summit via satellite phone to New Zealand's prime-time television. On 12th December, just seven months from when they started the Seven Summits, the duo conquered Mount Vinson in Antarctica.
Their accomplishment set a speed record at the time and etched their names into the chronicles of New Zealand's climbing folklore. The record solidified their status as legends in the realm of New Zealand mountaineering.
Rob Hall and Gary Ball's Partnership: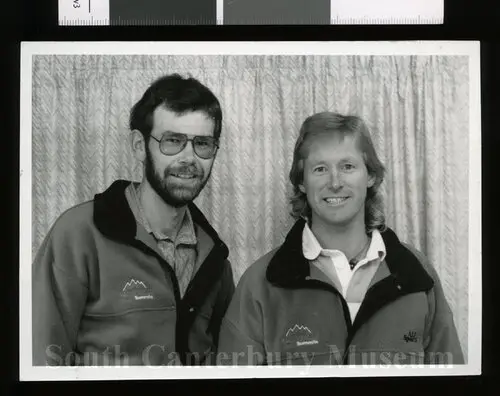 After conquering the Seven Summits in 1990, Rob Hall and Ball found themselves showered with praise and sponsorships. However, the life of a sponsored climber and athlete began to wear on them. The pressure to continuously push the boundaries in climbing to maintain his status and influence weighed heavily on Hall.
In addition to his triumphs as a mountaineer, Hall also pursued a career in the outdoor equipment industry. Following a successful stint at Alp Sports, he joined the ranks of Macpac Wilderness Ltd, the foremost outdoor brand in New Zealand. Four years later, fueled by his natural talent for planning, organizing, and executing ideas, Hall took a leap of faith and established his own company under the name 'Outside.'
In 1991, Hall and Gary Ball decided to form 'Hall and Ball Adventure Consultants.' Recognizing the value of their skills in the emerging field of high-altitude guiding, the climbers ventured into a new chapter of their careers.
The Start of Adventure Consultants:
In 1991, Rob Hall partnered with Gary Ball to form 'Hall and Ball Adventure Consultants.' Recognizing the value of their mountaineering skills in the growing industry of high-altitude guiding, they conducted their first guided expedition the following year, successfully reaching Everest. Subsequent expeditions included Aconcagua and Mount Vinson, and a return to Everest in 1993. But this time he celebrated the summit with his wife, Jan Arnold, and clients.
Later in the same year, Hall and Ball embarked on a personal expedition to Dhaulagiri, the seventh highest peak in the world. As they reached an altitude of 24,000 ft, preparing for a final push towards the summit, Ball began displaying symptoms of altitude sickness. Despite their efforts, Ball tragically succumbed to pulmonary edema within 24 hours. Hall made the heart-wrenching decision to lower Ball's body into a deep crevasse just above base camp, later admitting to the press, 
"Letting go of that rope was one of the most difficult things I've ever had to do."
Determined to carry on despite the immense loss, Hall chose to continue guiding without his partner, shortening the name of their outfit to 'Adventure Consultants.'
The 1996 Everest Disaster Unfolds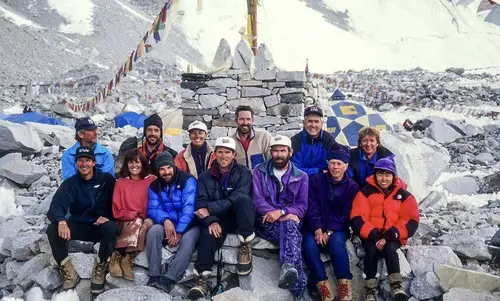 By 1996, Rob Hall had already led three successful Everest missions and 19 clients to the summit of Everest, with no fatalities. Clients who wanted the best chance of summiting Everest would join Adventure Consultants and Rob Hall. With them all paying upwards of $65,000 to climb Everest.
Hall's guiding approach prioritized safety over summit ambitions. In 1995, he demonstrated his rational decision-making by turning clients back near the summit due to hazardous snow conditions, solidifying his competence in the mountains.
Rob Hall's Adventure Consultant 1996 expedition comprised of eight clients and three guides, though only five would eventually attempt the summit. Among Hall's clients were three Americans – Jon Krakauer, Doug Hansen, and Beck Weathers, as well as Stuart Hutchison, Lou Kasischke and Japanese climber Yasuko Namba. The expedition proceeded smoothly for weeks until the last few hours, when a series of misfortunes unfolded. All which resulted in May 10-11th becoming known as the 1996 Mount Everest disaster – one of the deadliest events in Everest's history.
Rob Hall's Deadly Decision on Everest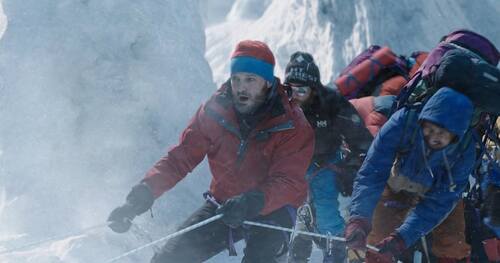 On May 10, the climbers embarked on their summit push, but their climb took an unfortunate turn. Beck Weathers suffered from impaired visibility due to UV exposure and past corneal surgery, resulting in snow blindness. To ensure Weathers' safety, Hall made the difficult decision to proceed with the other clients, leaving Weathers to await their return. With the summit within reach, the expectation was for the climbers to reconvene and descend together after a few hours.
As Hall's group pressed onward, they encountered an unexpected hurdle—there were no fixed lines at the Hillary Step. This required Hall to take on the responsibility of installing the lines himself. The necessity of fixing the lines created a bottleneck at the mountain's summit, further delaying their summit attempt.
Despite the challenges, the climbers pressed on. However, the extra time took a toll on their energy levels, especially affecting Doug Hansen. Hansen began showing signs of exhaustion as he neared the summit.
When Ang Dorje encountered Doug Hansen around 3:00 pm at the Hillary Step, he ordered him to descend, however Hansen refused and continued. Out of supplementary oxygen and exhausted, Doug continued towards the summit, forcing Rob Hall to stay behind to provide assistance to the climber.
Rob Hall's Final Stand on Everest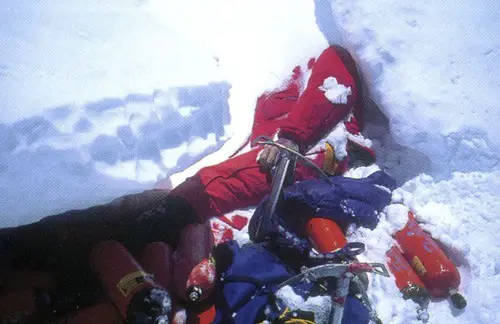 Rob Hall's group successfully reached the summit but faced a daunting challenge as they began their descent. The time had surpassed 3 p.m., and Doug Hansen's condition deteriorated, displaying severe exhaustion.
In a twist of fate, the mountain unleashed a violent snowstorm. Hansen, already depleted of energy, could no longer continue. As the remaining guides and clients continued their descent, Hall decided to stay with Hansen, refusing to abandon his client.
Tragically, Hansen succumbed to the harsh conditions shortly thereafter, while Hall prepared to bivouac near a col just below Everest's South Summit. The blizzard struck around 5 pm, accompanied by winds of nearly 150 miles/ hour and near-zero visibility. Despite the treacherous storm, It is believed that Andy Harris, another Adventure Consultants guide, had tried to return back to Rob Hall and Doug to provide assistance. However Harris's body was never found.
Hall's final moments on the South Summit
Twelve hours elapsed before the first communication reached base camp, close to 5 a.m. Hall relayed the distressing news that the fellow guide who had reached him was now missing. He possessed a limited supply of oxygen, but his mask's regulator had frozen over, making it unusable. By 9 a.m., he managed to fix it, but the harsh reality set in—his frostbitten hands and feet left him incapable of descending the mountain.
He called his wife, via base camp, on a satellite phone and was able to get a message to her. His last words were: 
"Sleep well my sweetheart. Please don't worry too much."

Rob Hall's final words
Shortly after the call, Rob Hall died on the slopes of Everest due to Hypothermia. Hall's body was found on 23 May by David Breashears and other mountaineers from the IMAX expedition that was filming Everest. Rob Hall's body still remains just below the South Summit.
Notable Deaths During the 1996 Disaster
The mountain witnessed several other tragedies that day adding to the overall number of casualties:
Yasuko Namba, the oldest woman to have summited Everest at the time, died during the descent in the midst of the blizzard.
Three Indian climbers lost their lives on the North Ridge during the same night. Including Green Boots (Tsewang Paljor)
Scott Fischer, the lead guide of the Mountain Madness expedition, succumbed during the descent after reaching the summit at 3:45 p.m. It is suspected that altitude sickness, exacerbated by the blizzard's impact, contributed to his tragic fate.
Andy Harris: A guide for Rob Hall. Who died while attempting to help Rob and Doug towards the summit.
Doug Hansen: A client of Rob Hall. Known as the mailman.
Tribute to Rob Hall on Mount Everest
In 2004, a team of 31 Nepalese Sherpas embarked on a mission from Kathmandu to retrieve the bodies of several climbers, along with multiple tons of litter. During the ascent, it becomes nearly impossible for climbers to recover the fallen bodies of their comrades. Exhausted and overwhelmed by the death zone above 8,000 meters, they lack the strength to lower the immobile, frozen remains. Consequently, climbers that have died are left in their final resting place, often for eternity. Regrettably, there are around 200 bodies frozen on Everest's slopes.
While some of these bodies are inaccessible, there are others situated closer to the primary route, making the descent more feasible. The presence of these bodies not only poses a haunting experience for future climbers but also violates Nepalese laws and cultural customs. Namgyal Sherpa, the leader of a cleanup expedition stated the following:
"Leaving the deceased on the mountain is not acceptable. Moreover, the mountain serves as a vital water source,"

Namgyal Sherpa
However, for Jan Arnold, Hall's widow, she wished for her husband's body to remain on the mountain—a place he would have chosen as his final resting site she said. Secluded from the main route, Hall's body rests frozen below the South Summet, forever serving as a tribute to that fateful day.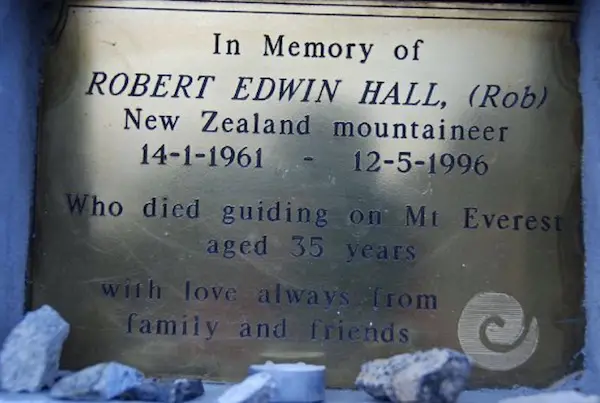 In addition to leaving Hall's body on Everest, in 1999 he was posthumously awarded the New Zealand Bravery Star for his actions on Everest. Moreover, a memorial was erected for the Adventure Consultant climbers that died. Close to Gorakshep towards the Everest Base Camp, a memorial was built for: Rob Hall, Andy Harris, Doug Hansen and Yasuko Namba.
The Internationally Covered Tragedy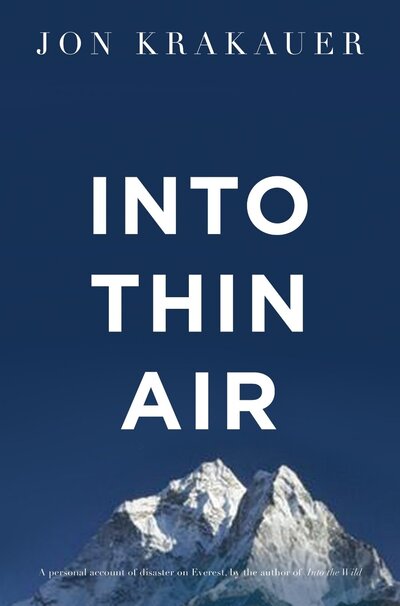 The tragic incident gained significant global attention, largely due to the reporting of Jon Krakauer, an American journalist working for Outside Magazine. Krakauer later penned a bestselling book titled Into Thin Air, which sparked debates within the mountaineering community.
Some climbers argued that Krakauer, lacking personal experience on 8,000m peaks, overstepped his bounds in criticizing the decisions of seasoned experts. Others viewed Krakauer's analysis as a fair examination that challenged the notion of an unquestionable "expert halo" surrounding leaders in the field.
Into Thin Air is one of my favorite books! You can support our website by buying it from our Amazon Affiliate link here: Into Thin Air!
Other media coverage about Rob Hall's death on Everest:
Into Thin Air: Death on Everest, a TV movie on the 1996 Everest disaster.
The series "Seconds From Disaster" published an episode about the 1996 incident and explores Rob Hall's Ordeal in "Into The Death Zone".
Neil Finn's Song "The Climber" is inspired by Rob Hall's Death.
Another documentary directed by David Breashears, who was on Everest in 1996,  "Storm Over Everest" aired on the PBS program Frontline in 2008.
"Everest" (2015) film depicts the events of the 1996 Disaster.
Rob Hall's story comes to life in the opera "Everest" by Joby Talbot which follows the major episodes of the 1996 Everest disaster.
Anjan Dutt's Song "Mr. Hall" pays tribute to Rob Hall's legacy.
My take on Rob Hall and his Death in 1996
After reading countless stories and articles about Rob Hall including reading Jon Krakauer's book Into Thin Air as well as the 2015 Everest movie, I have come to my own understanding of the events that occurred on May 10/11th 1996.
I think one of the biggest questions regarding his death, is why he allowed Doug Hansen to continue towards the summit well after the 2:00 pm turn around time. Especially after he showed his leadership skills turning around climbers that were near the summit in 1995.
One explanation for this is the emotional connection he had with Doug. Rob had become friends and a champion of Doug's cause to summit Everest. After multiple failures at reaching the summit, Rob Hall had even reduced the cost for Hansen to join another attempt. With so much emotional, and even financial investment in a person, it would have been difficult to stop him when he was so close.
However, this wasn't the only thing that led to the death of Rob Hall and others. It was also that hubris played a significant role in his demise. In a New York Times Archive titled High Exposure, the author David Breashears, noted the following:
Of all the guides, Rob had been the most outspoken about his prowess, and the most proprietary about the mountain. He had sometimes acted as if he were a part-owner of Everest, an attitude I found disturbing. Everest is many things to many people, but owned is not one of them.

David Breashears – 1999
Was the disaster related to over confidence? One can not know for sure, but as Hall encountered more and more obstacles he continued to work to solve them and move up the mountain. After all of the issues, including having no fixed ropes on the Hillary Step, the climbing team was well passed the turn around time – something that Rob Hall was well aware of, and was adamant about sticking too throughout his career.
Over confidence led the team further up the mountain and towards disaster, while more cautious climbers like Breashears decided to turn around on that fateful day.
FAQs: Rob Hall's Death
Below are some of the most frequently asked questions regarding Rob Hall's death on Mount Everest.
1. What were Rob Hall's last words?
Stranded on the mountainside following Hansen's demise, Hall maintained communication with base camp and his wife. His last words, "Please don't worry too much," was widely quoted. Tragically, Hall succumbed to exposure on the South Summit on May 11.
2. How old was Rob Hall when he died?
Rob Hall was 35 years old when he died.
3. What was the worst Everest disaster?
May 10, 1996, marked a devastating storm on Mount Everest, claiming the lives of eight climbers in the deadliest single-day tragedy. Renowned author Jon Krakauer, who was among the climbers, penned the compelling and widely acclaimed book "Into Thin Air" in 1997, shedding light on the harrowing event.