Standing at an altitude of 29,032 feet, Mount Everest proudly reigns as the tallest peak in the world. Beyond its remarkable stature, it bears a somber title: the highest graveyard known to mankind. Which is now the resting place of famous dead bodies on Mount Everest, or the Rainbow Valley as it has come to be known.
Everest has and will continue to be a sought after challenge for would be adventurers. However, this also means that the death toll on the mountain will continue to grow. Records more recently of people dying on Everest have become more robust, but that has not always been the case.
With hundreds still frozen on Everest, let's look at nine of the most famous people who have died on Everest.
How Many Bodies Remain on Everest?
Recent history bears witness to the mountain's toll, with over 300 climbers having succumbed to its treacherous slopes. Astonishingly, approximately two-thirds of those unfortunate souls still remain entwined with Everest's unforgiving embrace. As one of the chilling Mount Everest facts, the current estimate suggests that around 200 bodies serve as a permanent testament to the mountain's unyielding power.
The climbing community is acutely aware of the perils that await them on the tallest mountain in the world. It boasts a designated zone dubbed "The Death Zone of Everest," and it's unfortunate victims have achieved worldwide recognition, immortalized with names like Sleeping Beauty and Green Boots. Yet, despite the challenges Everest presents, some people remain undeterred. In fact, tourism and mass group expeditions to the mountain are steadily gaining popularity.
Since 2020 alone, climbers have made over 10,800 attempts on the mountain, as meticulously documented by the Himalayan Database, which tracks all known expeditions to the Everest. For many, conquering Everest represents the ultimate test of personal fortitude and climbing prowess. For others, it is the fulfillment of a lifelong aspiration or cherished dream. 
9 Famous Dead Bodies On Mount Everest
As climbers from around the world embark on the perilous journey to conquer the world's highest peak, a silent memorial emerges in the form of the famous dead bodies that rest upon its slopes.
1. Green Boots: Tsewang Paljor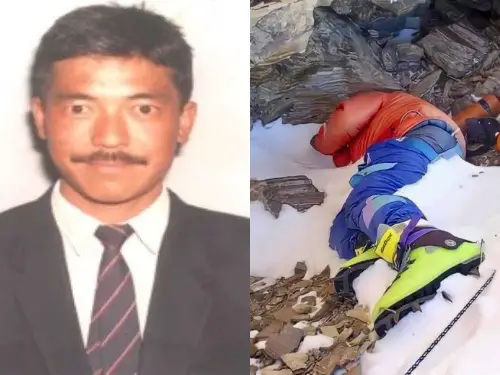 One of the most intriguing and notable figures among the famous dead bodies on Mount Everest remains the enigmatic climber known as "Green Boots." Positioned along the Northeast Ridge route, Green Boots has become a haunting symbol of the mountain's unforgiving nature.
In 1996, Tsewang Paljor, a climber from India, embarked on his expedition to try and summit Mount Everest. Unfortunately, he met is demise on the Northeast Ridge of the mountain, and now is a landmark for climbers as they make their summit bid.
2. Sleeping Beauty: Francys Arsentiev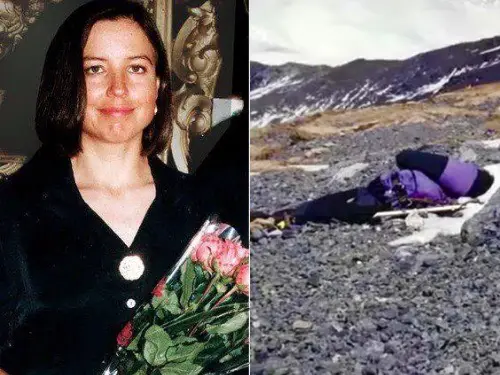 In 1988, Francys and Sergei Arsentiev embarked on an ambitious Everest ascent. Francys, aiming to be the first American woman to climb without oxygen, reached the summit alongside her husband. Tragically, they were not able to make their way back down the mountain. 
During their descent towards Camp 6, Francys and Sergei became separated. Sergei searched for Francys but received news that she couldn't continue. He then went back to search for her, however, they both lost their lives on the mountain, with Francys Arsentiev becoming known as "Sleeping Beauty". It took a year to discover Sergei's body because he had slipped and fallen down the mountain.
3. Rob Hall: 1996 Everest Disaster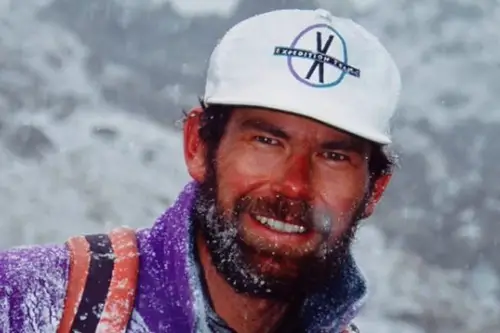 The 2015 film "Everest" vividly portrays the captivating tale of renowned mountaineer Rob Hall, who had etched his name among the world's most celebrated climbing athletes. Alongside his trusted companion Gary Ball, Hall had accomplished the feat of conquering the Seven Summits Challenge, scaling the highest peaks on each continent.
However, fate dealt a cruel hand to Hall during the ill-fated 1996 Mount Everest disaster. Leading an expedition up the mountain in early May, a chain of unfortunate events unfolded.
Tragically, Hall, along with his fellow expedition member Doug Hansen, succumbed to the relentless forces of nature. Additionally, several climbers from different expeditions met their demise on the same day. This has come to be known as the most deadly incident in Everest's history.
4. Scott Fischer: 1996 Everest Disaster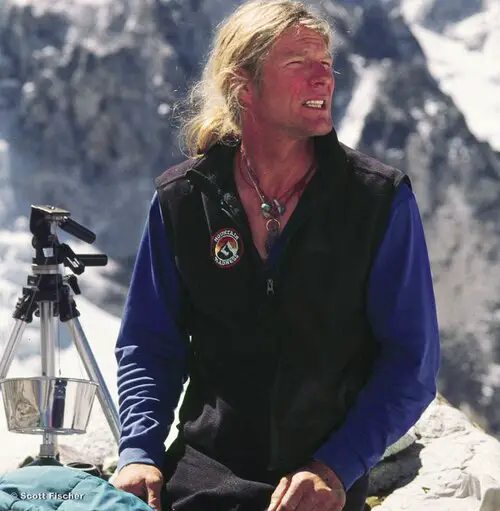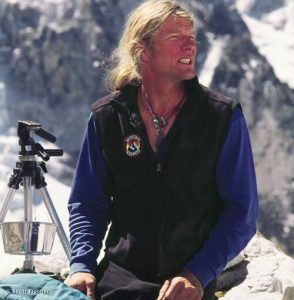 The devastating storm of 1996 claimed another well renowned climber as well, that of experienced mountaineer Scott Fischer. Leading his Mountain Madness group on Everest, Fischer demonstrated his remarkable skill by reaching the summit. However, during his decent, exhaustion began to plague him. 
Recognizing the urgency of the situation as the storm descended upon them, Fischer selflessly made the difficult decision to send his expedition team ahead, knowing that his own deteriorating condition would hinder their progress. Tragically, it was during the relentless storm that Fischer ended up dying due to hypothermia and lack of oxygen.
5. George Mallory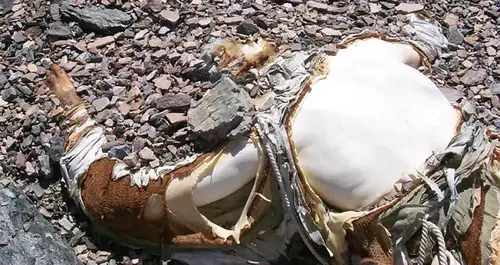 George Mallory, a prominent figure in Everest exploration, embarked on bold expeditions during the early 20th century, significantly influencing the mountaineering community. In both 1921 and 1922, he attempted ascents of Mount Everest but fell short of reaching the summit on both occasions.
Undeterred by previous setbacks, Mallory returned in the 1924 British Mount Everest expedition with an unyielding resolve to triumph over the majestic peak. Sadly, it was during this fateful expedition that Mallory and Andrew 'Sandy' Irvine were last spotted, departing Camp IV on June 8. Mallory's fate remained shrouded in mystery until 1999 when an expedition stumbled upon his long-lost remains. Whether Mallory ever stood upon the summit of Everest remains a mystery to this day.
6. David Sharp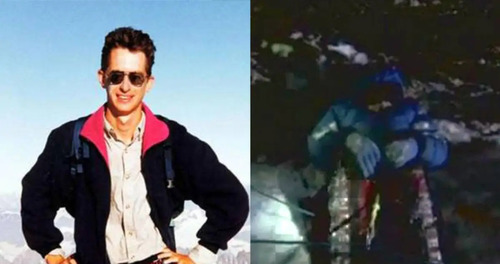 In 2006, David Sharp set out to conquer Mount Everest. The exact details surrounding his climb remain a mystery. However, many believe that Sharp accomplished the extraordinary feat of solo summiting Everest. However, the truth of his achievement remains unresolved as he passed away during his descent.
Tragically, Sharp's life came to a tragic end on the slopes of Everest. Taking a break in Green Boots' cave, he met the same fate as numerous climbers before him. He succumbed to freezing temperatures, and his body huddled just a few feet away from the infamous Mount Everest landmark.
Sharp's demise ignited a moral discussion regarding the ethics within the Everest climbing community. In stark contrast to Green Boots' solitude during his passing, an estimated 40 or more individuals crossed paths with Sharp on that fateful day. Yet none extended aid or paused during their ascent.
7. Hannelore Schmatz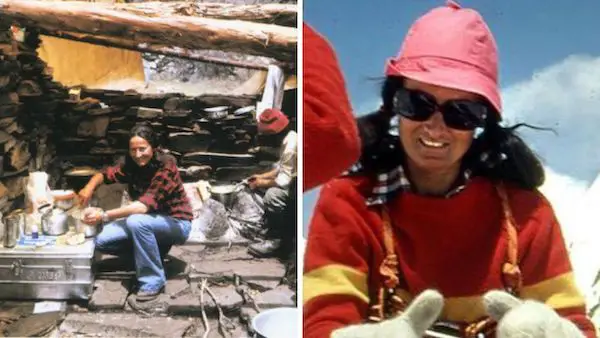 Exhaustion claimed Hannelore Schmatz's (the German Woman) life on Everest. Climbing alongside her husband, Gerhard, they separated into different groups to complete their journey. Hannelore's group successfully reached the summit but faced harsh weather conditions, prompting their descent.
On October 2, 1979, Hannelore Schmatz and her climbing partner, Ray Genet, set out for their summit attempt. They reached the South Col and successfully established their high camp. However, during their final push towards the summit, they encountered treacherous weather and dwindling oxygen supplies.
After reaching the summit of Mount Everest, Schmatz and Genet began their descent. Unfortunately, deteriorating weather conditions forced them to spend a night in the open near the South Summit.
Exhausted and suffering from frostbite, Schmatz succumbed to the extreme conditions. Another expedition discovered her body in 1980, still in a sitting position, frozen in the same location where she had collapsed.
8. Shriya Shah-Klorfine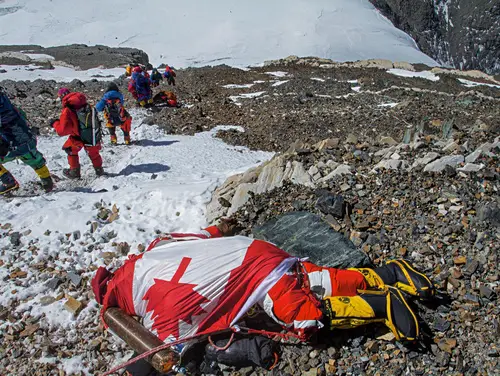 In the tragic year of 2012, Shriya Shah-Klorfine became one of the twelve climbers to lose their lives on Everest, marking one of the deadliest years since the infamous 1996 disaster. Despite successfully reaching the summit, Shriya's prolonged stay to capture the awe-inspiring moment on camera consumed excessive amounts of precious oxygen.
During her descent, exhaustion took its toll on Shriya, and her journey came to a somber end at an altitude of 26,246 ft. For a while, her lifeless body adorned with the Canadian flag remained on the mountain, a poignant symbol of her national identity. Eventually, her remains were recovered and brought to Base Camp.
9. Babu Chiri Sherpa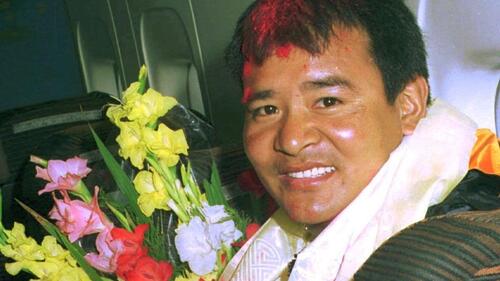 Babu Chiri Sherpa was a renowned Sherpa mountaineer from Nepal. He scaled the summit of Mount Everest an incredible ten times, holding the world records for spending 21 hours on the summit without oxygen and completing the fastest ascent in 16 hours and 56 minutes.
In 2001, Babu Chiri Sherpa embarked on his eleventh Everest expedition with the intention of making another summit attempt. Tragically, on April 29, while capturing photographs near Camp II (6,500 m), he tragically fell into a crevasse, resulting in his untimely death. In addition to his mountaineering achievements, he aspired to build schools in Nepal, leaving behind a legacy of courage, philanthropy, and inspiration.
Where Are The Famous Dead Bodies on Mount Everest Located?
In the image below, I have marked the elevation, as well as the year that the most famous deaths have occurred on Everest.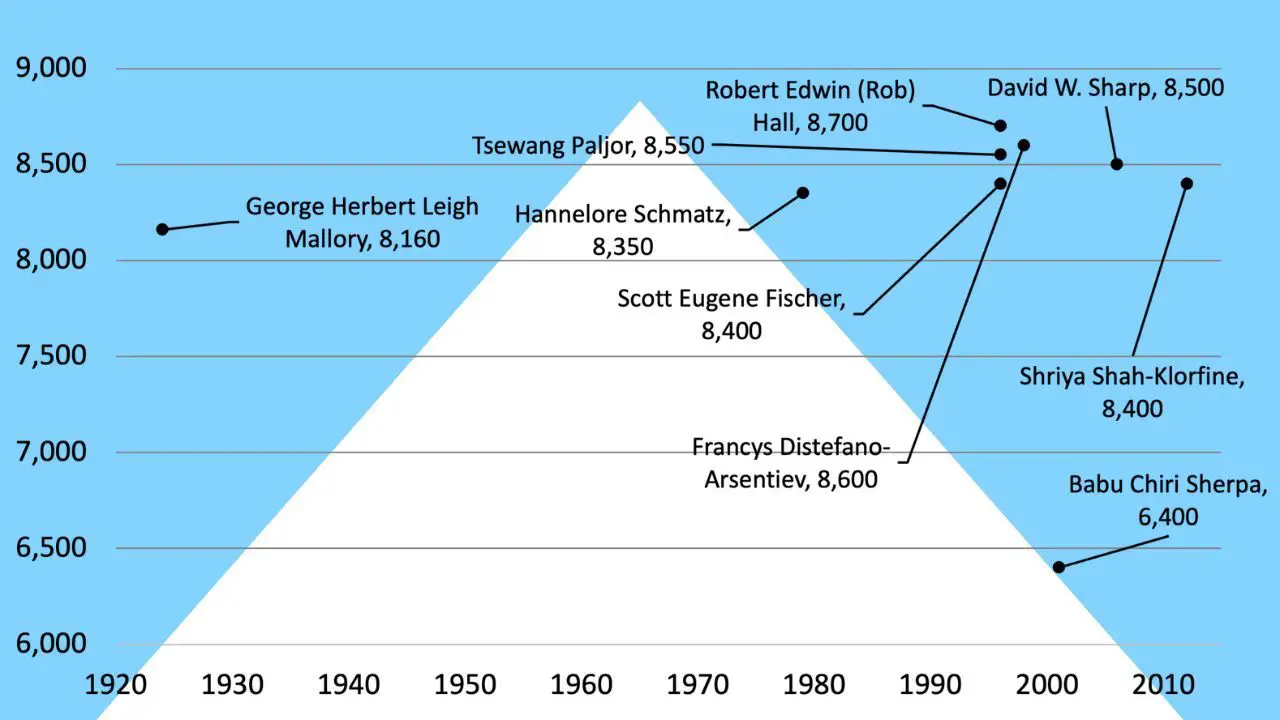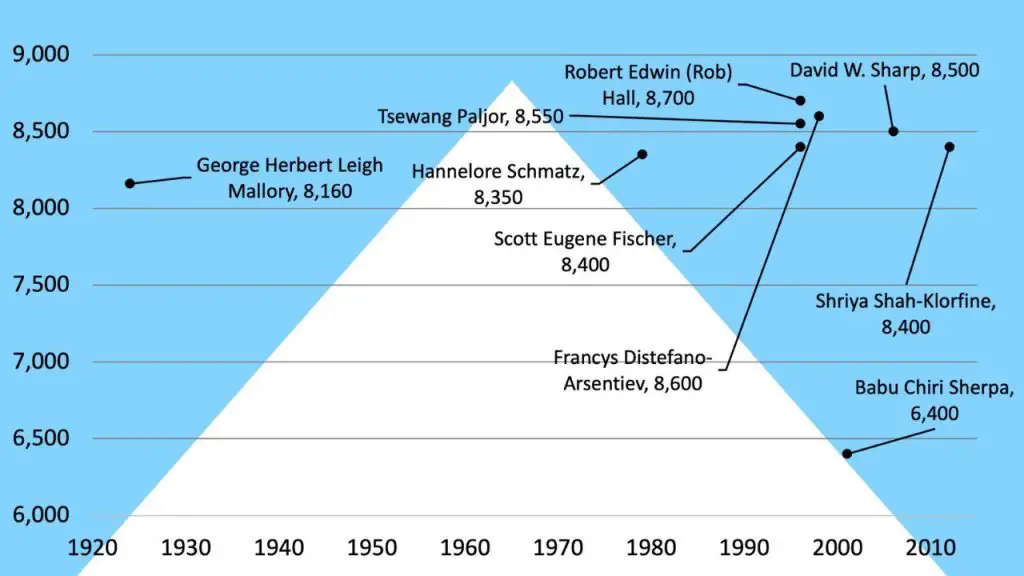 Who Are The Most Famous People That Have Died on Everest?
The table presents a list of the most famous people who have died on Mount Everest:
| Climber's Name | Year | Elevation | Nationality | Cause of Death |
| --- | --- | --- | --- | --- |
| George Herbert Leigh Mallory | 1924 | 8160 | UK | Fall |
| Hannelore Schmatz | 1979 | 8350 | W Germany | Exhaustion |
| Tsewang Paljor | 1996 | 8550 | India | Exposure/Frostbite |
| Robert Edwin (Rob) Hall | 1996 | 8700 | New Zealand | Exposure/Frostbite |
| Scott Eugene Fischer | 1996 | 8400 | USA | Exposure/Frostbite |
| Francys Distefano-Arsentiev | 1998 | 8600 | USA | Exposure/Frostbite |
| Babu Chiri Sherpa | 2001 | 6400 | Nepal | Crevasse |
| David W. Sharp | 2006 | 8500 | UK | Exhaustion |
| Shriya Shah-Klorfine | 2012 | 8400 | Canada | Exhaustion |
Famous Dead Bodies Everest: Year, elevation and cause of death and climber's nationality
Even though gear and equipment continue to improve, more and more people are meeting their demise on Everest. If you ever wanted to know how thats possible, check out my blog covering why do people keep dying on Everest.
Why Are Dead Bodies Left on Everest?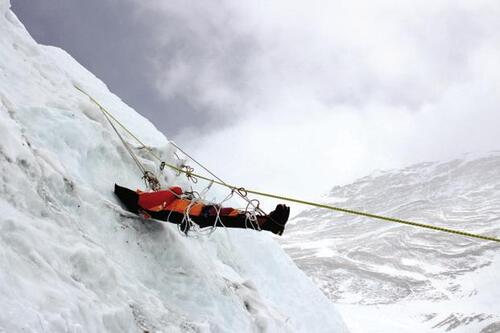 The inherent dangers associated with Everest pose tremendous challenges for body retrieval. A task that is often considered extremely dangerous and exorbitantly expensive. Retrieving bodies located above Camp 2, positioned at a daunting altitude of 21,000 feet, is impossible via helicopter. Instead, a team of rescuers or Sherpas must undertake the mission to excavate the frozen remains and carry down the body down. The expenses associated with such a demanding expedition can soar beyond $70,000.
Due to the exorbitant costs involved and the extreme risks faced by the retrieval team, only a handful of bodies ever depart from Everest. Moreover, a significant number of mountaineers express a preference for their final resting place to be on the mountain itself.
The challenging circumstances surrounding death on Everest include the financial burden and perilous nature of body recovery. These factors contribute to the prevailing reality that most deceased climbers will forever remain on the mountain.
FAQs: Famous Dead Bodies on Everest:
Below are some of the most frequently asked questions regarding famous dead bodies on Mount Everest
1. What is the most famous death on Mount Everest?
Tsewang Paljor aka "Green Boots" is one of the most famous deaths that occurred on Mount Everest. Known for his distinctive neon-colored boots, met his untimely end on Everest's Northeast Ridge in 1996. Since that fateful day, his lifeless body has remained frozen in a state of eternal preservation upon the mountain's formidable slopes.
2. Is Sleeping Beauty still on Everest?
Francys Arsentiev, known as "The Sleeping Beauty of Everest," tragically lost her life on May 24, 1998, while descending from the summit of Mount Everest. As the first American woman to conquer Everest without the aid of oxygen, Francys etched her name in the history books. Hailing from Honolulu, Hawaii, she embarked on her fateful journey, forever leaving a legacy on the world's tallest mountain.
3. What is the most tragic Mount Everest deaths?
May 10, 1996, witnessed a harrowing storm on Mount Everest, claiming the lives of eight climbers. This devastating event stands as the deadliest single-day tragedy in the history of the mountain, forever etching a somber chapter in Everest's chronicles.
4. Are bodies removed from Everest?
Retrieving a body from Everest requires a team of skilled rescuers or Sherpas capable of extracting frozen corpses and carrying the additional weight down the treacherous mountain. Such expeditions can exceed $70,000 in cost! Due to the exorbitant expenses and immense risks faced by the retrieval teams, only a limited number of bodies are able to be recovered from Everest's unforgiving slopes.
5. Who is the dead queen of Everest?
Francys Arsentiev (January 18, 1958 – May 24, 1998) achieved the remarkable feat of becoming the first American woman to summit Mount Everest without the use of bottled oxygen on May 22, 1998. Tragically, her life was lost during the descent.