Shriya Shah-Klorfine, a name that resonates with determination, resilience, and the pursuit of one's dreams. Born with an indomitable spirit and an unwavering drive for adventure, Shriya carved her path to greatness in the face of countless challenges. Hailing from a diverse background and armed with an unyielding passion for mountaineering, she etched her name in history as a Canadian mountaineer and one of the famous dead bodies on Mount Everest.
Although she summited Everest, her death caused a great deal of controversy, as she was considered an unskilled climber, with limited prior experience. This blog discusses just that, and how the tragedy of Shriya Shah-Klorfine summit push unfolded.
Who is Shriya Shah-Klorfine?
Shriya Shah-Klorfine, a Nepal-born Canadian woman, met an unfortunate fate while descending from the summit of Mount Everest in 2012. Born on January 11, 1979, Shriya's life was marked by a series of significant events that shaped her journey.
At the age of 10, tragedy struck when Shriya's father passed away unexpectedly. In the wake of this loss, Shriya, along with her mother and siblings, relocated to Mumbai, India. It was there that Bikram Lamba, a Toronto business consultant with ties to her family, extended his helping hand. Claiming to have previously advised the late Indian Prime Minister Indira Gandhi, Lamba facilitated their enrollment at the prestigious Cathedral and John Connon School, an esteemed private institution in Mumbai.
Lamba's connection to Shriya's grandfather, dating back to their days in Nepal, solidified their acquaintance. Through his assistance, Shriya and her family found support and stability during a challenging period in their lives.
Shriya Shah-Klorfine's Early Life:
During her teenage years in Mumbai, Shriya faced heartbreaking tragedies. First, her older brother died in a car crash, and then her mother passed away suddenly. She went back to Kathmandu briefly to study at Tribhuvan University. When she was 21, she got a job as an assistant purser on a cruise ship.
It was on that cruise ship that Shriya met Bruce Klorfine, a talented pianist from Richmond Hill, Ontario. Bruce had been playing music on cruise ships entertaining passengers with his piano skills and performing with famous people like Kathie Lee Gifford and John Davidson for some time. Despite their differences in age, religion (Bruce was Jewish, Shriya was Hindu), they felt a strong connection.
In 2002, Shriya tied the knot with the Canadian pianist, embarking on a life journey filled with love, dreams, and uncharted horizons. Regrettably, this decision strained her relationship with her older sister, the sole remaining close relative in her life. Consumed by anger, her sister stopped talking to her. 
Shriya's life changed drastically as she followed her heart and pursued a life with Bruce. Their love story defied expectations and brought together two people from different backgrounds.
Shriya Shah-Klorfine's Quest To Summit Mount Everest:
In the autumn of 2011, Shriya started planning for her Mount Everest summit bid. Despite her limited mountaineering experience, which consisted of a trekking vacation in Nepal reaching an altitude of 3,500 meters a few years prior, Shriya embarked on rigorous training. Devoting six hours a day for training, she engaged in martial arts classes and joined a rock-climbing gym.
To further build her endurance, Shriya would shoulder a 20-kilogram backpack and embark on long walks through the hilly sections of her North Toronto neighborhood. Occasionally, she used to travel west to the Niagara Escarpment for hiking adventures.

In the same period, Shriya launched a website, www.myeverestexpedition.com, where she showcased edited photos of herself against the majestic snowy backdrop of Mount Everest. The website proudly declared her objective of becoming the first Canadian woman of South Asian origin to conquer Mount Everest.
In her warm welcome message, she expressed her deep-rooted dream and passion to accomplish something significant for her country. Her message resonated with a resolute belief that nothing is impossible, even stating that the word "impossible" itself declares "I'M POSSIBLE."
Financial Struggle To Fund The Everest Dream
Shah-Klorfine chose a relatively new guiding company called Utmost Adventure Trekking for her climb. The cost of the climb was between $36,000 and $40,000, which was considered lower compared to what other guide firms charged. When additional expenses like airfare and equipment were factored in, the total cost came to approximately $100,000. 
To gather funds, Shah-Klorfine sought donations through her website, and organized a few fundraising events, but unfortunately, they didn't generate much money, and in some cases, resulted in losses. Consequently, she had to take out a second mortgage on her home to finance her expedition.
Shriya Shah-Klorfine's Everest Triumph and Risky Descent:
Shriya Shah-Klorfine achieved her long-cherished dream on May 19, 2012, at 2:30 in the afternoon Nepal time. Upon her arrival at base camp on April 12, she joined a line of more than 500 climbers and guides making their way up the steep mountainside. The 2012 season was marked as one of the deadliest since 1996, with approximately 11 fatalities occurring throughout the season.
Ascending about 1,000 meters in 18 hours, Shriya had been one of the last to leave Camp 4, the final staging area before the summit push. In the thin air above 8,000 meters, known as the death zone, even the slightest movement requires immense effort. While conquering Everest's summit is an extraordinary feat, time spent at the top is often brief, due to freezing temperatures and the need to accommodate others.
During her ascent Shriya encountered Ganesh Thakuri on his way down. Ganesh was the managing director of Utmost Adventure, at the South Summit. Despite being past the generally recognized safe window and Thakuri's warnings about her climbing abilities, Shriya was determined to reach the top. Although clients of Utmost Adventure agree to follow their guides' advice, enforcement becomes challenging at 8,700 meters. 
Shriya Shah Klorfine's Death On Everest: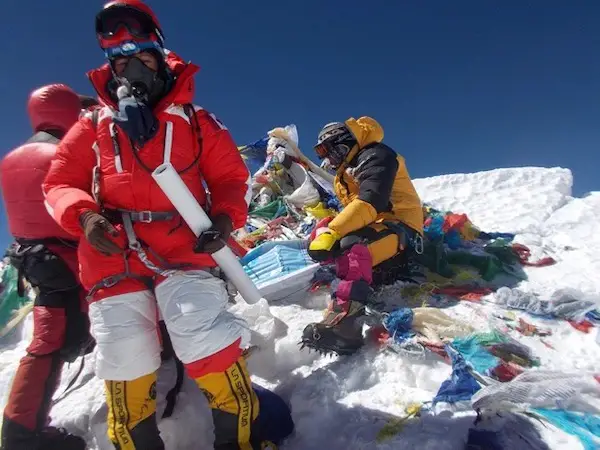 After summiting the mountain, the descent didn't go as planned for Shriya. She was walking much slower than the others and reached a point where she could barely stand. Her speech was slurred, and she seemed disoriented. As darkness fell, the Sherpas took turns supporting her, but when she couldn't move on her own anymore, they had to push and pull her towards the rock chutes. It had been almost 24 hours since she started, and she had already consumed nine bottles of oxygen. To make matters worse, the weather had turned unfavorable.
The trouble became evident the following afternoon when Rishi Raj Kadel, the expedition manager from Utmost, called Bruce at home to inform him that Shriya was missing. The exhausted and hypothermic Sherpas had returned to Camp 4 without her. At dawn, a search party was organized.
The devastating news of her death arrived just after midnight in Toronto. Unable to move her frozen body and concerned about the difficulty and danger of retrieving it, the would-be rescuers took a photo to confirm her identity. Underneath her parka, she wore a red sweater with a maple leaf.
In addition to Shriya Shah-Klorfine, there were eight more fatalities on the south side and two on the north side during that season. Among them were four individuals who lost their lives on the same day.
Shriya tragically passed away at the age of 33, approximately 250 meters (820 feet) away from Camp 4 on the South side of the mountain. The day following her passing, climber Leanne Shuttleworth discovered Shriya Shah-Klorfine's body. 
Shuttleworth and her father, who were climbing together, had to maneuver around Shah-Klorfine's body since she was still attached to the climbing line. Her remains remained on the mountain for approximately ten days before they could be brought down. A helicopter was used to retrieve the body from an altitude of over 8,000 meters. On July 8, 2012, a memorial service was held in Toronto, Canada, to honor and remember Shriya.
Everest's Deadly Legacy: Shriya Shah-Klorfine
On the mountain, there is growing tension between professional climbers and tourists. The problem is not only that inexperienced climbers are causing congestion, but also that they often lack awareness of traditional alpinist etiquette. At base camp, Shriya had displayed a large banner for her expedition, expressing her desire to make Canada proud and raise funds for Toronto's Hospital for Sick Children. Next to her tent, she had a huge photo of herself with outstretched arms in front of Everest, but it was clear that the image had been computer-generated.
Since the first foreign expedition in 1922 by George Mallory and team, Everest's death toll has passes 300. The mountain's harsh environment seems to claim victims without discrimination, regardless of experience, age, or skill level. Most fatalities occur above 8,000 meters during the descent from the summit, particularly among climbers who reach the peak after 10 a.m in an area known as the Rainbow Valley.
The overall death rate among those who ascend above base camp is only one percent. Among those who successfully reach the summit, it rises to about 3.5 percent. The question remains whether such a small risk is worth undertaking. While Everest is still regarded as one of the most remote and formidable challenges on Earth, the reality is far less glamorous.
FAQs: Shriya Shah-Klorfine
Below are some of the most frequently asked questions regarding Shriya Shah-Klorfine on Everest.
1. How did Shriya Shah-Klorfine die?
Shriya Shah-Klorfine, a Canadian woman born in Nepal, died during her descent from the summit of Mount Everest in 2012 due to exhaustion, and lack of oxygen.
2. What were Shriya Shah-Klorfine last words?
Shriya Shah-Klorfine last words to her sherpa guides were 'save me'.
3. How old was Shriya Shah-Klorfine when she died?
Shriya Shah-Klorfine was 33 when she died during her descent from the summit of Everest.