Babu Chiri Sherpa, from Nepal, left an indelible mark on the world of adventure and exploration. His extraordinary achievements and unwavering spirit continue to inspire climbers and adventurers across the globe. Known for spending 21 hours on the summit of Everest without sleeping. And for holding the record for the fastest ascent of Everest in 16 hrs 56 minutes. It was a tragedy when he lost his life on the mountain he loved in 2001.
Falling in a crevasse, while taking photos around camp II, he is now one of the most famous dead bodies on Mount Everest. In this article, we delve into the remarkable life and enduring legacy of Babu Chiri Sherpa.
Babu Chiri Sherpa's Early Life and Passion for Mountaineering:
Born and raised in the picturesque Khumbu region of Nepal, Babu Chiri Sherpa grew up surrounded by the awe-inspiring grandeur of the Himalayas. Influenced by the rich Sherpa culture and traditions, he developed an unyielding passion for mountaineering from an early age. The lure of the mountains and the call of adventure were firmly embedded in his soul.
Prior to pursuing mountaineering as a profession, Mr. Chhiri, like many Sherpas, was engaged in yak herding and potato farming. Living at the base of the Himalayas, Sherpas have gained recognition for their exceptional mountaineering abilities. Historically, they primarily engaged in yak herding and trade until Nepal's borders opened to tourism in 1950. Their endurance and deep understanding of the mountains have elevated them to the status of expert guides and dependable porters.
Babu took full advantage of his heritage, and developed an early passion for mountaineering at the age of just 13. When he began helping skilled porters as an assistant around Everest.
Mount Everest: The Beginnings of Greatness
Babu officially began his career as a climber at the age of 16 when he procured his first job as a trekking porter. During his initial experience as a porter, Chhiri undertook the challenging task of ascending the Ambhu Labtsa pass. Displaying remarkable skills and endurance in 1985, he successfully reached the summit of Mera Peak (6,472 m) within a mere four hours. Subsequently, Babu secured employment as a porter for Everest expeditions. Steadily progressing in his mountaineering journey, and eventually achieving the extraordinary feat of conquering Mount Everest on ten separate occasions.
In 1989, he achieved a notable feat by guiding a Russian team to the top of Mount Kanchenjunga, the third-highest peak in the world. Within a year, he accomplished the remarkable feat of conquering Mount Everest. Demonstrating his extraordinary abilities, he became the sole individual in 1995 to reach the peak twice within a span of only 14 days.
Babu Chiri Sherpa's Breakthrough Achievements: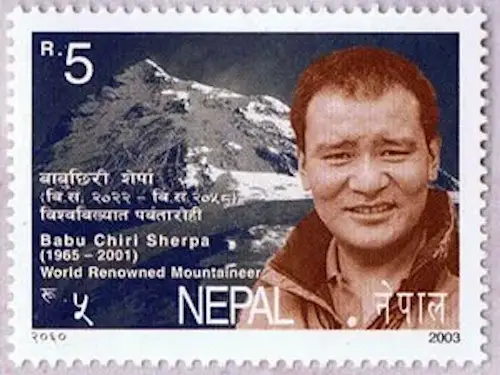 Beyond his initial conquest of Everest, Babu Chiri Sherpa continued to push the boundaries of mountaineering. In 1999, he embarked on a groundbreaking expedition without supplemental oxygen, defying the limits of human endurance. 
On May 6, 1999, Chhiri Sherpa accomplished an extraordinary feat by spending an astounding 21 hours on the summit without bottled oxygen. Becoming the first person to do so. While most climbers merely pause briefly at the peak for a customary photograph, Babu defied convention with his prolonged stay all while not sleeping.
Additionally, his incredible speed ascending Everest left the world in awe. He set a new world record, which crushed the previous record at 20 hours for the fastest time to ascend Everest. What usually takes climbers 3-4 days, he made the fastest ascent of Everest in 16 hours and 56 minutes.
Babu Chiri Sherpa summited Everest 10 different times. They happened on the following days:
October 6, 1990
May 22, 1991
October 10, 1993
May 14, 1995
May 26, 1995
May 23, 1996
May 21, 1997
May 6, 1999
May 26, 1999
May 21, 2000
Contributions to the Sherpa Community and Local Development: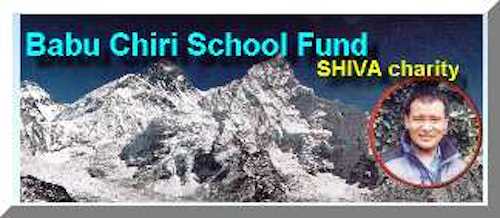 Babu Chiri Sherpa's success was not limited to personal achievements and on Everest. He dedicated himself to improving the lives of Sherpas and the development of the Khumbu region. Whereas, while growing up, he never received formal education as there were no schools in his village or region.
Recognizing the importance of education, healthcare, and environmental conservation, he founded the Babu Chiri Sherpa Foundation. Through his foundation, he spearheaded initiatives that provided crucial support to the Sherpa community and contributed to the sustainable development of the region.
The Nepali government also acknowledged his life and contributions to Nepal. The Babu Chiri Memorial Museum and a dedicated statue were officially unveiled on September 25, 2005, by the Crown Prince on behalf of the Royal Nepali Government.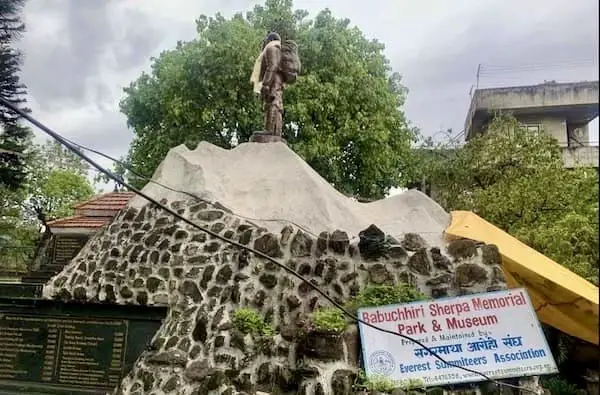 Constructed by the Everest Summiteers Association (ESA), the museum and statue were made possible through financial contributions from the government, local businesses, social organizations, and individuals. The museum is located in Til Ganga, Kathmandu.
The Tragic End of Babu Chiri Sherpa on Everest: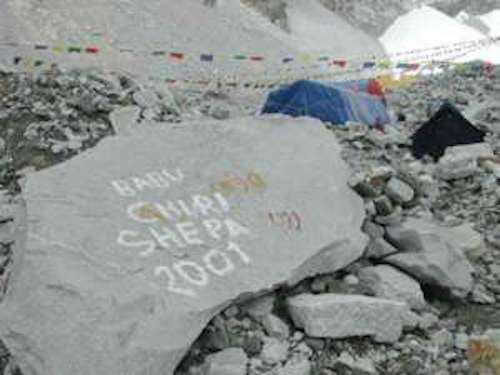 Regrettably, Babu Chiri Sherpa's illustrious journey came to a tragic end during a fateful Everest expedition in 2001. 
In 2001, Chiri committed to his eleventh Everest expedition, eagerly preparing for another attempt to reach the summit. However, tragedy struck on April 29 when he tragically fell into a crevasse while in the vicinity of Camp II (6,500 m). It is believed that he was capturing photographs at the time of the accident around the edge of the camp, as he fell into an unknown crevasse.
Babu's death remained unknown throughout the day until around dinner time when fellow climbers realized he had not returned. Fellow climbers at Camp II retraced his steps, and came across the crevasse he fell into around midnight. Unfortunately, the fall some 30+ meters down resulted in the death of Babu Chiri Sherpa.
As the sun rose on the following day, two Sherpas embarked on a descent into the crevasse aided by a group of twelve climbers offering support from the surface. Their task was arduous: meticulously clearing blocks of ice surrounding Babu's body. Working within the confines of a narrow 80cm gap, the two climbers tenaciously secured the remains of Babu to a rope after two hours of painstaking effort. Once secured, the body was carefully raised to the surface.
Over the course of the next eight hours, approximately sixty Sherpas collaborated in a collective endeavor to transport the body down the mountain. They skillfully maneuvered through expansive crevasses, negotiated the treacherous icefall, and finally arrived back at Base Camp. Despite the immense challenges they faced, their unwavering dedication and teamwork ensured the safe passage of Babu's body.
Babu Chhiri Sherpa's Legacy on Everest Lives On: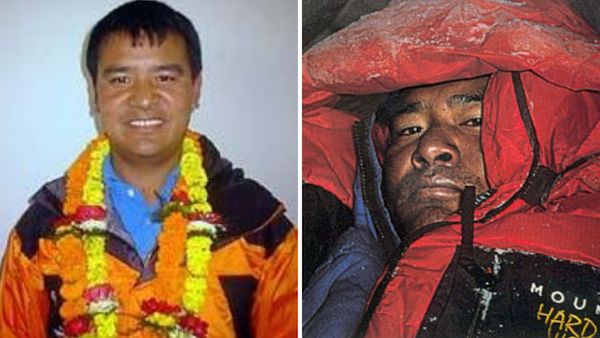 Babu Chiri Sherpa is a famous sherpa, well known for his achievements and triumphs on Everest. But his major accomplishments in life came in the form of his development work and philanthropy. Coming from a village and time in Nepal that had limited to no access to formal education, he dreamed of building schools in his region.
Driven by the passion to provide formal education to his six daughters, Babu set out to build a school for them. Using his 'Sleep on Mt. Everest Summit' project he raised money to accomplish his dream. Although his dream was eventually fulfilled, Everest eventually took his life.
At the age of 33, Babu Chhiri Sherpa, lost his life at Camp II. His legacy will continue to live on through his efforts to develop the Khumbu region of Nepal, and for his records of ascending Everest in the fastest time, as well as his 21 hours spent on Everest's summit with no supplemental oxygen.