In 1924, Andrew Irvine and George Mallory set out to summit the world's highest peak, Mount Everest. However, their endeavor took a dark turn as they mysteriously vanished while approaching the summit. 
However, during their climb, Andrew 'Sandy' Irvine and partner Mallory went missing on the northeast ridge of the mountain. It is still a mystery whether they made it to the summit before they died. In 1999, Mallory's body was discovered, but Irvine's body and his camera were never found.
Early Life of Andrew Irvine
"My face is perfect agony. Have prepared 2 oxygen apparatus for our start tomorrow morning."

∼ Last entry in the diary made by Andrew Irvine on the North Col on June 6, 1924.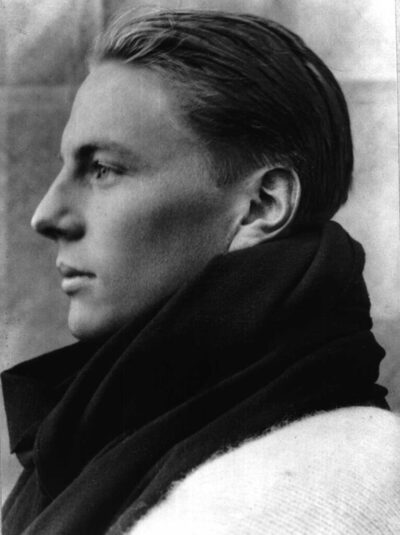 Andrew Irvine grew up in Birkenhead, Cheshire, with his parents, William Fergusson Irvine and Lilian Davies-Colley, and five siblings. His family had Scottish and Welsh roots from his father's side, while his mother came from an old Cheshire family. Sandy Irvine had notable relatives, including journalist Lyn Irvine, pioneering surgeon Eleanor Davies Colley, and political activist Harriet Shaw Weaver.
Irvine, an engineering student at Merton College, University of Oxford, possessed exceptional rowing skills and was a valued member of the University's rowing team. However, his talents extended beyond rowing. As he demonstrated remarkable abilities during the Merton College Arctic Expedition to Spitsbergen. Which offered conditions comparable to those of Mount Everest.
Expedition leader Noel Odell, a renowned climber who would later become intertwined with Irvine's and Mallory's disappearance in 1924, took notice of Sandy Irvine's capabilities.
Impressed by the young man, Odell recommended him to the Mount Everest Committee as a potential member for the upcoming 1924 British Mount Everest expedition. It was largely due to Odell's endorsement that Andrew Irvine was chosen to join the third British Mount Everest expedition. General Bruce affectionately referred to him as "our experiment" since Irvine had no previous experience in high-altitude mountain climbing.
Andrew Irvine's Mountaineering Journey
In 1923, Irvine participated in the Merton College Arctic Expedition to Spitsbergen, where he showcased exceptional skills and abilities. During the expedition, he reunited with Noel Odell, who he previously encountered in 1919 on the Welsh mountain, Foel Grach. Irvine had surprised Odell by reaching the mountain's peak on his motorcycle while they were climbing it on foot. Impressed by the 21-year-olds capabilities, Odell recommended him to join the upcoming third British Mount Everest expedition. Odell believed that Andrew Irvine possessed the qualities of a "superman" that the team needed.
The 1924 Mount Everest British Expedition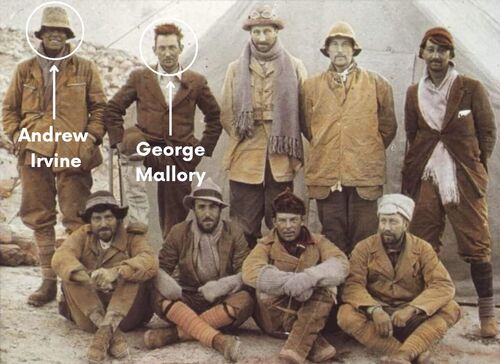 On February 29, 1924, Irvine embarked on a journey to the Himalayas from Liverpool aboard the SS California. Accompanying him were three other members of the expedition, including George Mallory.
During the expedition, Irvine played a significant role in enhancing the expedition's oxygen sets, which were professionally designed. His modifications greatly improved their effectiveness, reduced weight, and increased durability. In addition, he took charge of maintaining various equipment, such as cameras, camp beds, and primus stoves.
Irvine's resourcefulness, friendly nature, and tireless work ethic earned him admiration and respect from his older colleagues.
In early June, the team made two unsuccessful attempts to reach the summit. They had one final opportunity before the summer monsoon arrived, bringing heavy snowfall and making further climbing dangerous. Mallory surprised the expedition members, when he chose the 22-year-old with limited experience, over the older and more seasoned climber, Noel Odell. Andrew Irvine's proficiency with the oxygen equipment undoubtedly played a significant role in Mallory's decision. However, there has been ongoing debate about the precise reasons behind Mallory's choice.
Andrew Irvine and Mallory's Everest Attempt:  
On June 6, Andrew Irvine and Mallory embarked on their ascent. By the following day, they established a final camp at 8,168 meters (26,800 feet), preparing for their last push to the summit. The exact time of their departure on June 8 remains unknown. However, the available evidence suggests that their start was not as smooth or early as Mallory had anticipated.
Odell, who played a supporting role, reported seeing them at 12:50 pm, much later than expected. He observed them ascending what he believed to be the Second Step of the North East Ridge. Noting that they were making good progress towards the top. However, over the years, there has been significant controversy regarding which of the Three Steps Odell actually spotted the pair climbing.
Whether the two climbers reached the summit has never been confirmed. They never returned to their camp and perished somewhere high on the mountain. The discovery of Mallory's body in 1999 – one of the most famous dead bodies on Mount Everest – which exhibited a severe rope injury around his waist, suggests that the two were roped together when they fell. Irvine's body, unfortunately, has yet to be found.
The Discovery of Andrew Irvine's Ice Axe: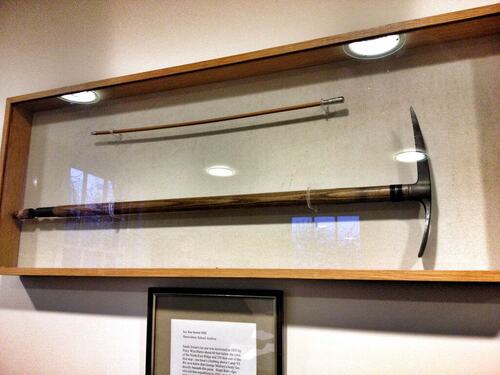 In 1933, Percy Wyn-Harris, a member of the fourth British Everest Expedition, made a significant discovery. Nine years after Mallory and Irvine disappeared, he found an ice axe at approximately 8,460 meters (27,760 feet). The axe was located about 20 meters (66 feet) below the ridge and 230 meters (750 feet) before the First Step. It was lying loose on smooth brown rock slabs, covered with loose pebbles, despite not being particularly steep.
The ice axe bore the name of a Swiss manufacturer, matching those supplied to the 1924 expedition. Since Mallory and Irvine were the only climbers to have reached such heights along the ridge, it was concluded that it was Andrew Irvine's ice axe.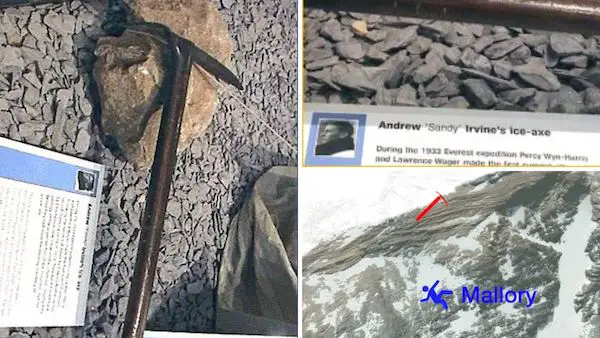 Hugh Ruttledge, the leader of the 1933 expedition, speculated that the ice axe marked the spot of a fall. Theorizing that it was either accidentally dropped or intentionally placed down to have both hands free to hold the rope. Noel Odell, who was the last person to see the climbers during their ascent in 1924, offered a different explanation. He suggested that the ice axe might have been left there on the way up, with the intention of collecting it on the return journey. He concluded that the prevailing rock conditions for the remaining climb would not have needed an ice axe.
In 1963, a distinct triple nick mark on a military swagger stick, found among Andrew Irvine's belongings, was found to match a similar mark on the shaft of the ice axe. This finding strongly suggested that the ice axe belonged to Andrew 'Sandy' Irvine.
The Recovery of The Oxygen Cylinder: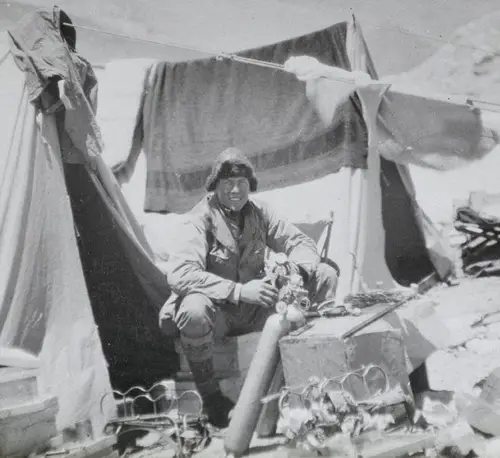 In May 1991, another important discovery was made. A 1924 oxygen cylinder was found at an elevation of approximately 8,480 meters (27,820 feet). This location was about 20 meters (66 feet) higher and 60 meters (200 feet) closer to the First Step than where the ice axe was found in 1933. 
Given that Mallory and Irvine were the only climbers on the northeast ridge in 1924, this oxygen cylinder provided evidence of the minimum altitude they must have reached during their final ascent. The oxygen cylinder was recovered in May 1999.
Key Sightings in the Search for Andrew Irvine on Mt. Everest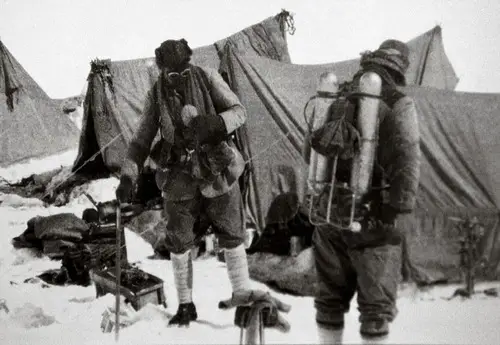 1. Wang Hong-bao's sighting of Andrew Irvine's Body
In 1979, during a Sino-Japanese reconnaissance expedition to the north side of Everest, Ryoten Hasegawa, the Japanese leader, had a brief conversation with Chinese climber Wang Hong-bao. Wang recounted his sighting from the 1975 Chinese Everest Expedition. Where he claimed to have seen the body of an "English dead" at 8,100 meters (26,600 feet). According to Wang, the man appeared to be peacefully asleep at the base of a rock, dressed in old-fashioned clothing that was decayed and crumbling. Wang indicated an injury by poking his finger into the man's cheek. Unfortunately, Wang passed away in an avalanche the following day, preventing further information gathering.
Additional confirmation of this sighting came from a conversation in 1986 between American Everest historian Tom Holzel and Zhang Junyan, Wang's tent-mate from the 1975 expedition. Zhang mentioned that Wang had returned from a short excursion, describing encountering a "foreign mountaineer" at 8,100 meters.
Wang's sighting in 1975 played a crucial role in the eventual discovery of Mallory's body 24 years later. However, Wang's description of the body with a "hole in the cheek," does not match that of Mallory's body. Mallory was found face down with his head mostly buried in scree. Moreover, he had a golf ball-sized puncture wound on his forehead. There are two possible explanations. Either Wang actually saw Andrew Irvine's body. Or Wang discovered Mallory face up and turned the body over to provide a simple burial.
In 2001, during the second Mallory and Irvine Research Expedition, the location of Wang's 1975 campsite was identified. A thorough search was conducted in the surrounding area, confirming that Mallory's body was the only one in that vicinity.
2. Xu Jing's Glimpse of Irvine's Body on Everest:
In 2001, Eric Simonson, leader of the 1999 Mallory and Irvine Expedition, and German researcher Jochen Hemmleb, who inspired the expedition, traveled to Beijing for an interview. They met with survivors from the 1960 Chinese Everest expedition. Which was the first expedition to return to the north side since the British attempts of the 1920s and 1930s.
During the meeting, Xu Jing, the deputy leader of the expedition, recounted a remarkable sighting. As he descended from the First Step, Xu spotted a lifeless climber lying on his back, with his feet facing uphill, nestled in a slot within the rock. It was believed that he saw Sandy Irvine's body on Everest.
However, the sighting was brief, and Xu was struggling during his descent. While he vividly remembered seeing the body, he was uncertain about its precise location.
3. Sighting of Irvine by Wang Fu-chou:
In 1965, Wang Fu-chou, a member of the 1960 Chinese expedition, delivered a lecture at the headquarters of the USSR Geographical Society in Leningrad. During his presentation, he shared a remarkable statement: "At an altitude of approximately 8,600 meters, we discovered the body of a European." When asked how he could be certain that the deceased individual was European, Wang simply replied, "He was wearing braces."
Quest for Answers: The Search for Andrew Irvine on Everest
In 2010, a team known as the Andrew Irvine Search Committee, led by Holzel, conducted a search for Sandy Irvine. They used a composite of aerial photographs taken in 1984 by Brad Washburn and the National Geographic Society. They identified a potential object located around 8,425 meters (27,641 feet), which was less than 100 meters (330 feet) from the ice-axe location. The object appeared to align with Xu's description of a body lying in a rock slot with the feet pointing toward the summit.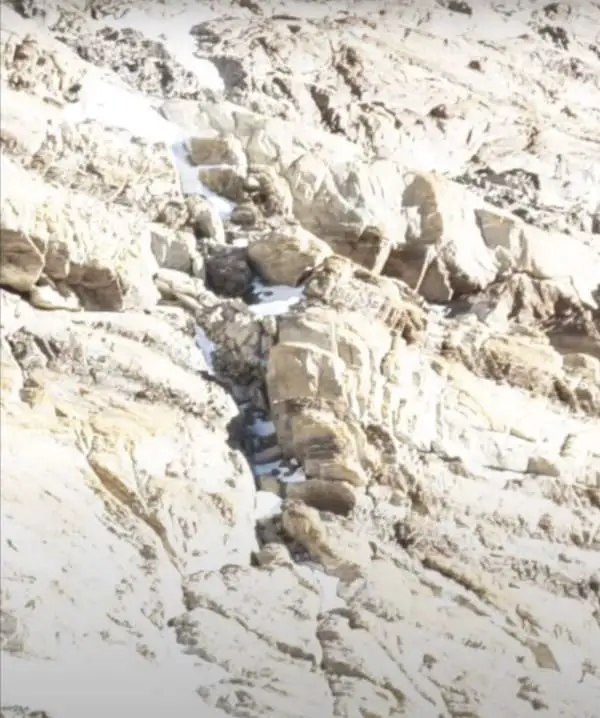 In December 2011, Holzel organized a new expedition set to explore the upper slopes of Everest, with the aim of investigating this potential object. Conducting the expedition in winter was expected to yield less snow on the upper slopes, increasing the chances of locating Irvine and the camera that it is hoped he carried.
In 2019, Mark Synnott led a team to investigate the 'crevice' identified by Holzel as a possible resting place for Irvine. However, they discovered that it was merely an optical illusion. Synnott later reported on the possibility that the 1975 Chinese expedition might have encountered both Irvine and the camera.
Controversies Around Mallory and Irvine's Everest Expedition
The Everest expedition of Mallory and Irvine has remained shrouded in controversy and speculation. Did they conquer the summit before their tragic disappearance? What were the motivations behind their choices and strategies? 
Questions arise regarding the composition of the teams, the use of oxygen, and the unconventional route they planned to take. Debates continue to swirl around their decisions, the role of expedition leaders, and the perceived conflicts within the team. As the mysteries persist, the controversies surrounding Mallory and Irvine's fateful Everest expedition capture the imagination and fuel ongoing discussions among adventurers and historians alike.
The information below has been derived from the entries found in Irvine's diary, as presented in Julie Summers' touching portrayal of her grand uncle. The preliminary team formations and the blueprint for the summit endeavor were clearly influenced by Mallory. This influence was prominently displayed during a meeting held around April 21, 1924, where Mallory's distinct mark was evident in the decisions and plans that were made.
Preparations For The Everest Expedition in 1924:
The initial plan involved Odell and Bruce leading the way to establish Camp V, while other teams would set up two additional camps at 26,500 feet and 27,300 feet. The first attempt without oxygen would be carried out by Norton and Somervell, while Mallory and Irvine would make the oxygen-assisted attempt. Odell, Bruce, Hazard, and Beetham were designated as reserves.
Undoubtedly, Irvine felt a sense of satisfaction in joining Mallory for the oxygen-assisted attempt, as Mallory had recognized in Irvine the necessary knowledge and skills required to reach the summit. This is further supported by Irvine's diary. The diary explicitly dismisses the controversy surrounding his inclusion as a last-minute choice made by Mallory.
Additional Notes Gathered From Irvine's Journal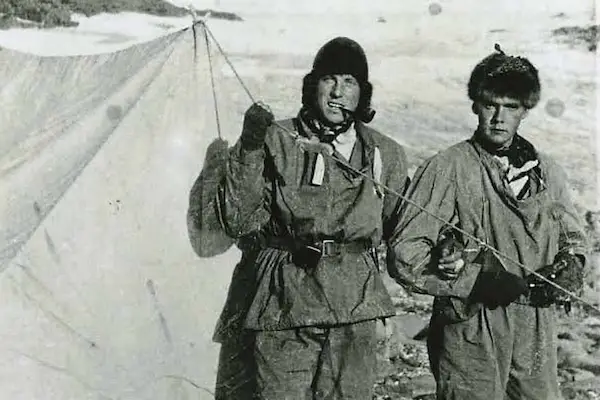 On June 2, as Mallory descended from Camp V to Camp IV following his unsuccessful oxygen-free summit attempt, he appeared disheartened and lost in thought. While Norton and Somervell continued their ascent for the second official summit attempt of 1924, Mallory made an unexpected move. Instead of joining them, he descended further to Camp III to prepare for a surprising third attempt. This time, Mallory reverted to his original plan of utilizing oxygen and bringing Andrew Irvine with him.
By the evening of June 4, Mallory, accompanied by Sandy Irvine and a group of 15 porters carrying most of their usable oxygen supplies, returned to the North Col. They presented Norton with a new and final summit attempt.
With Norton occupied on his own summit bid, Mallory took charge and executed his original plan. He incorporated Irvine and the use of oxygen, viewing them as essential to finally reach the summit. Mallory's organization of the oxygen-assisted climb within 48 hours, followed by its presentation to Norton as a done deal on June 4, was crucial in making their attempt possible.
Even today, little is known about the radical decision of Mallory and Irvine to take a different route to the summit. Which deviated from the traditional British approach of ascending the terraces of the "Yellow band" and staying below the ridge crest on the North face. Instead, they aimed to cross the "Great Couloir" and ascend the final pyramid on the North face itself to reach the summit.
Andrew Irvine: The Mystery of Where is Sandy Irvine!
Mallory and Irvine embarked on a groundbreaking venture by ascending to the North East Ridge as quickly as possible. From there, they traced the crest of the ridge, following the captivating "skyline" all the way to the summit. Their innovative route diverged from convention, representing a bold and unprecedented approach to reaching the peak.
However, this ultimately may have cost them their lives. Even though Irvine's ice axe, George Mallory's body and an oxygen cylinder have been found, there is still much mystery around the 1924 expedition.
Until the location of Andrew Irvine's body is discovered, along with his camera, we may never know if the two climbers reached the summit of Everest or not!
FAQs: Andrew Irvine on Mount Everest
Below are the frequently asked questions about the British climber, Andrew Irvine:
1. Has Andrew Irving been found on Everest?
Andrew Irvine's body has never been found. In 1933 his ice axe was found, and in 1999 George Mallory's body was found. However, there is no information about where Irvine's body is on Everest.
2. What is the theory of George Mallory and Andrew Irvine?
One theory suggests that George Mallory and Andrew Irvine might have gotten separated during the dark. Or that Irvine became sick due to the high altitude, while Mallory kept going by himself.