Noel Ewart Odell FRSE FGS was a notable English geologist and mountaineer. In 1924, he served as the oxygen officer on the renowned Everest expedition, during which George Mallory and Andrew Irvine tragically lost their lives in their attempt to reach the summit. Remarkably, Noel Odell resided above 23,000 feet (7,000 m) for a period of two weeks, and he successfully ascended to altitudes of 26,800 feet (8,200 m) and beyond, all without the aid of supplementary oxygen.
This blog looks at the life of Odell, his achievements, as well as him being the last person to see Mallory and Irvine alive.
Who was Noel Odell?
Noel Odell (December 25, 1890 – February 21, 1987) was an accomplished British mountaineer and geologist who is best known for his involvement in the 1924 British Everest Expedition. As a member of the team, he reached an altitude of about 8,320 meters (27,300 feet) during their summit attempt on Mount Everest to provide support to George Mallory and Andrew Irvine.
Odell's most significant contribution to the expedition came when he witnessed a brief sighting of Mallory and Irvine, the two climbers who famously disappeared on the mountain. Odell's sighting sparked enduring mysteries and debates about whether they reached the summit before their disappearance. Beyond his Everest expedition, Noel Odell made several notable contributions to geological research and had a distinguished career in academia.
Noel Odell's Life:
Noel Odell is well known for his involvement in early Everest Expeditions. But he also was part of both World Wars, and was one of the first people to climb Nanda Devi. The following sections recount Odell's extraordinary life.
Noel's Early Life:
Noel Odell, born in St Lawrence, Isle of Wight, was the son of Rev Robert William Odell and Mary Margaret Ewart. He received his education at Brighton College and the Royal School of Mines, Imperial College, and went on to earn a doctorate (PhD) from Cambridge University.
An accomplished rock climber, Odell became a member of the Alpine Club in 1916. He gained fame for his solo first ascent in 1919 of Tennis Shoe on the Idwal Slabs in Snowdonia. In addition, Odell's achievements extended to international climbs, as he was the first to successfully ascend Odell Gully in the Huntington Ravine of Mount Washington, New Hampshire during winter. Today, the gully bears his name in recognition of his pioneering accomplishment.
Moreover, ​​in 1920, Odell participated in an expedition to climb Mount McKinley (now known as Denali) in Alaska, marking the beginning of his career in mountaineering. Despite encountering various challenges, the expedition provided valuable experience and further fueled Odell's enthusiasm for exploring high-altitude peaks.
Noel Odell on Everest in 1924: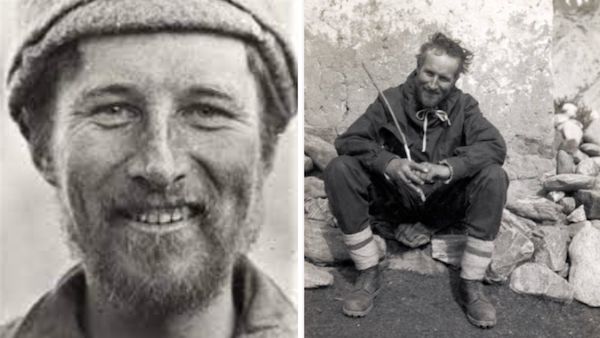 On June 8, 1924, George Mallory and Andrew 'Sandy' Irvine made a daring attempt to scale Mount Everest using the Northeast Ridge route. A sharp-eyed observer, Noel Odell, reported seeing them at 12:50 p.m. as they climbed one of the significant "steps" on the North-East ridge, specifically "the last step but one from the base of the final pyramid," and he noted that they were making impressive progress towards the summit.
However, to this day, there is no concrete evidence to confirm whether they successfully reached the summit or even surpassed the major Second Step. Tragically, they never returned from their expedition and lost their lives on the mountain. As the last person to see them alive, Odell's sighting became a critical piece of the puzzle.
Noel Odell's first Report of Mallory and Irvine
Noel Odell's first report regarding Mallory and Irvine's summit push appeared in the "Everest Dispatches" on June 14, by expedition leader, Edward Norton. It was titled ("Mr. Odell's Story", Alpine Journal, vol. 36, 229, November 1924, p. 221-225) and read as follows:
"The entire summit ridge and final peak of Everest were unveiled. My eyes became fixed on one tiny black spot silhouetted on a small snow-crest beneath a rock-step in the ridge; the black spot moved. Another black spot became apparent and moved up the snow to join the other on the crest. The first then approached the great rock-step and shortly emerged at the top; the second did likewise. […] The place on the ridge referred to is the prominent rock-step at a very short distance from the base of the final pyramid."
Where did Odell Actually See Mallory and Irvine?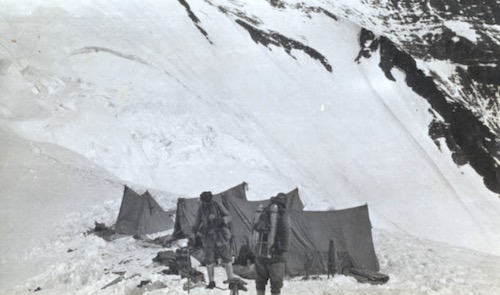 The varying accounts and interpretations of Noel Odell's observations during the fateful 1924 British Mount Everest Expedition have generated considerable interest and debate. Specifically, questions arise regarding Odell's sighting of the two climbers, and whether he could have accurately identified the three steps – First, Second, and Third – from his vantage point.
While monitoring Everest and the climbers, Noel Odell's primary objective was to ascend from Camp V to Camp VI in support of Mallory and Irvine's expedition. As a skilled climber and geologist, he had an additional task of conducting a geological survey during the ascent. Just before 12:50 PM, while climbing a small crag, Odell spotted the figures that have since fueled so much speculation.
Unfortunately, precise information about Odell's exact location at the time of observation remains elusive, and it is unlikely to ever be definitively determined. The only clues available suggest that Odell intended to take a circuitous route to Camp VI, indicating that he might have diverted from the North Ridge proper. Based on the time it took him to reach the crag and Camp VI, it is estimated that his viewpoint was about an hour away from Camp VI, potentially situated on the North Face rather than the North Ridge.
Despite the uncertainties, the enduring mystery surrounding Mallory and Irvine's fate continues to captivate the mountaineering community and historians alike. The elusive nature of Odell's observations only adds to the intrigue, leaving us to ponder what he might have truly witnessed from his enigmatic vantage point that day.
Achievements during Odell's Life: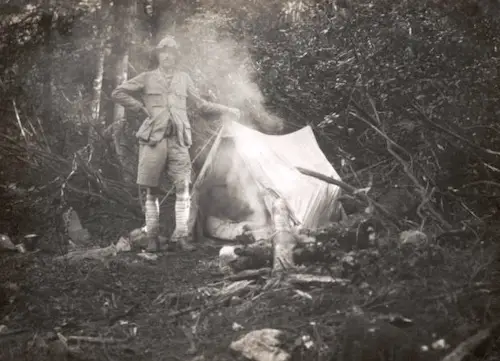 During 1936, Noel Odell achieved a remarkable feat alongside Bill Tilman when they successfully reached the summit of Nanda Devi, which held the distinction of being the highest mountain ever climbed at that time until 1950. Additionally, in 1938, Odell returned to Mount Everest, this time as part of an expedition led by Tilman.
Beyond his mountaineering accomplishments, Noel Odell led a colorful and diverse career. He served with the Royal Engineers in both World Wars, demonstrating his commitment to service. Additionally, he made valuable contributions as a consultant in the petroleum and mining industries, showcasing his expertise in geology. His knowledge was also imparted to students as he taught geology at prestigious universities worldwide, including Harvard and Cambridge. At different points in time, he held positions as Professor of Geology at the University of Otago in New Zealand and Peshawar University in Pakistan.
In recognition of his significant contributions to the field of geology, Noel Odell was elected as a Fellow of the Royal Society of Edinburgh in 1944. His proposers for this prestigious honor were Sir James Wordie, George Tyrrell, Sir Arthur Trueman, and John Weir. This accolade solidified his standing as a respected and accomplished figure in both the scientific and mountaineering communities.
Noel Odell – The last person to see George Mallory and Andrew Irvine:
Noel Odell's life was one of extraordinary achievements, both in the world of mountaineering and beyond. His daring ascents on Nanda Devi and Mount Everest, along with his significant contributions to geology, cemented his legacy as a pioneer in exploration.
The iconic 1924 British Mount Everest Expedition, during which he made a crucial sighting of George Mallory and Andrew Irvine, remains an enduring mystery that captivates mountaineers and historians to this day.
Beyond the mountains, Odell's diverse career as a soldier, consultant, and educator showcased his unwavering passion for knowledge and adventure. His impact extended across continents, teaching at esteemed institutions and receiving recognition from the esteemed Royal Society of Edinburgh. His contributions will continue to inspire generations to come, leaving an indelible mark on the annals of mountaineering and geological studies alike.