Henry Bradford Washburn Jr. (June 7, 1910 – January 10, 2007) was a notable American explorer, mountaineer, photographer, and cartographer. He played a pivotal role in the establishment and transformation of the Boston Museum of Science. From 1939 to 1980, he served as its director, and subsequently, from 1985 until his passing, he held the title of Honorary Director through a lifetime appointment.
Upon his arrival, at the age of 29 in 1939, Washburn found the New England Museum of Natural History, located in Boston's Back Bay area, in a state of disrepair. It only had a collection largely consisting of decaying stuffed animals. Over the course of his tenure until 1980, Washburn undertook significant efforts to revitalize the institution. 
Under his leadership, the museum underwent a massive transformation, resulting in its reemergence as the distinguished Boston Museum of Science. This remarkable re-development positioned the museum as one of the foremost establishments of its kind.
Early Life of Henry Bradford Washburn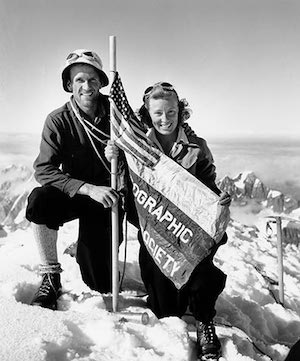 Born in Cambridge, Massachusetts, Henry Bradford Washburn Jr. had a family background closely tied to academia and photography. His father served as the dean of an Episcopal theological college. His mother, Edith, nurtured his interest in photography from an early age. At the age of 13, Edith gifted him a box Brownie, which marked the beginning of his photographic journey.
Even before receiving his first camera, Washburn already displayed a strong affinity for the outdoors. At the age of 11, he successfully scaled Mount Washington in New Hampshire's White Mountains. This early expedition ignited his passion for climbing and the mountains. Notably, his experiences on Mount Washington prompted him, at the age of 16, to publish his first guidebook for climbers. Illustrated with his own photographs, this guidebook marked the inception of his engagement in documenting his climbing endeavors.
During the summer, Washburn embarked on an alpine adventure with his parents. Scaling iconic peaks like the Matterhorn, Mont Blanc, and Monte Rosa, he expanded his climbing repertoire and gained valuable experience in the European mountain landscape. By the time he turned 19, Washburn joined seasoned guides Georges Charlet, Alfred Couttet, and André Devouassoux. They pioneered first ascent of a new route on the north face of the Aiguille Verte near Chamonix.
During this period, he caught the attention of George Putnam, who published Washburn's account of his initial Alpine endeavors. He published the first entry in a trilogy of accounts about his youthful achievements, titled "Among the Alps with Bradford" (1927). Demonstrating his unique approach, Washburn even utilized aircraft to capture aerial photographs of the mountains he ascended.
Bradford Washburn: A Pioneer of American Mountaineering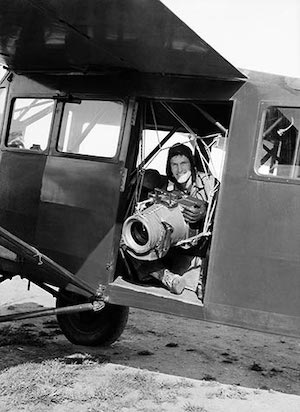 By the time he attended Harvard, Washburn had already achieved legendary status in American climbing circles. In 1929, he gained membership in the prestigious Groupe de Haute Montagne due to his remarkable ascent of the Verte. Shortly thereafter, he was also admitted to the Explorers' Club in New York. 
During his time at Harvard, he joined a select group of five climbers, including Bob Bates, who would significantly influence American mountaineering in the mid-20th century. Notably, writer Christian Beckwith observed that their exemplary conduct throughout their lives was equally noteworthy.
In 1937, Washburn and Bob Bates embarked on a remarkable mountain expedition, achieving the first ascent of Mount Lucania in the Yukon. At just over 17,000 feet, it stood as the highest unclimbed peak in North America at the time. They initially described their epic journey, filled with numerous hardships, in a modest manner, and over time, it faded from collective memory. It wasn't until the publication of David Roberts's narrative, "Escape from Lucania" in 2002. Nearly 70 years later, that this extraordinary adventure was brought back into the spotlight.
Over a span of thirty years, Bradford Washburn emerged as a prominent figure in exploratory mountaineering. He extensively explored the Alaskan peaks, amassing a wealth of photographs, maps, and invaluable experience, which he later utilized to create his books. Washburn's profound expertise enabled him to challenge the claims put forth by Frederick Cook and his daughter Helen in a book.
The Photographer Who Climbed Mountains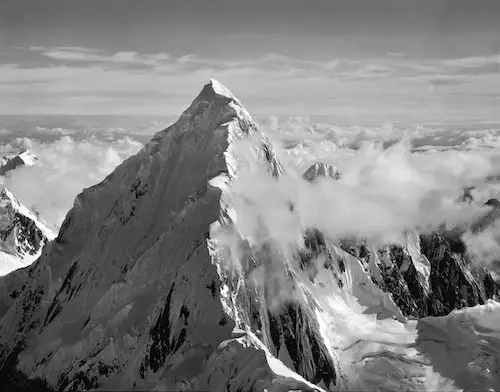 Despite his numerous expeditions, Bradford Washburn considered himself primarily a photographer rather than a climber. He modestly acknowledged his ability to capture images of unclimbed terrain, often suggesting routes that others would subsequently explore, a fact that Alaskan mountaineers recognized. However, this description somewhat understates Washburn's exceptional talent. At its peak, it rivaled that of his close friend of four decades, renowned photographer Ansel Adams.
Washburn's photographic process often involved strapped into the back of a lightweight aircraft, navigating through turbulent mountain winds. In these challenging conditions, he would position his 53lb Fairchild K-6 camera in freezing temperatures. The outcomes of his efforts were breathtaking landscapes. They appeared composed, downplaying the nature of their creation, yet perfectly conveyed Washburn's profound admiration for the terrain.
Some of his work has been featured in the 1963 exhibition at New York's Museum of Modern Art. However, Washburn's vast library of 15,000 photographic negatives remained largely unknown beyond the climbing community. It wasn't until Tony Decanaes initiated exhibitions of Washburn's work at his Panopticon Gallery in 1990. A wider audience began to appreciate the depth and artistry of Washburn's photography.
A Visionary Leader of the Boston Museum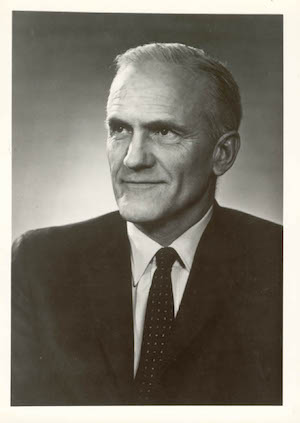 Bradford Washburn was characterized by his self-confidence and boundless enthusiasm. While some perceived him as single-minded, this quality was indispensable during his tenure at the Boston Museum. His ambitious vision included raising substantial funds and constructing facilities in the Charles River basin. His aim was to captivate and educate America's youth.
Washburn successfully consolidated various fields of knowledge under one roof at the museum, seamlessly integrating natural history, physical and applied sciences, along with medical science. Additionally, he curated a planetarium replete with hands-on exhibits, a testament to his personal commitment to fostering engagement with innovative ideas and concepts.
Bradford Washburn's Expedition to Mount Lucania in 1937
In 1937, Bradford Washburn embarked on an expedition to ascend Mount Lucania, 17,147 feet (5,226 m) in the Yukon region. Achieving this feat required Washburn and his climbing partner, Robert Bates, to reach the Walsh Glacier (2,670 m above sea level). To facilitate their journey, Washburn enlisted the services of the renowned Alaskan bush pilot, Bob Reeve.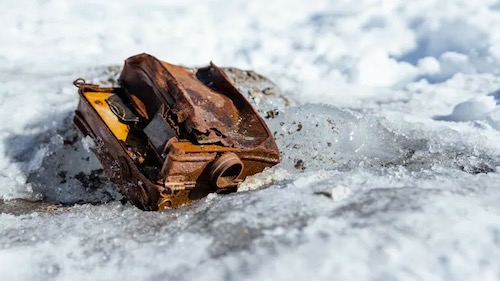 Utilizing the ski-equipped Fairchild F-51 aircraft, several successful trips were made to transport supplies to the glacier's landing site without incident in May. However, upon landing with Washburn and Bates in June, the plane unexpectedly sank into unseasonal slush. In a remarkable display of determination, Washburn, Bates, and Reeve dedicated five days of strenuous effort to extricate the aircraft. Eventually, Reeve managed to get the airplane airborne by shedding all excess weight. He also utilized the assistance of a smooth icefall with a steep drop.
Following the plane's departure, Washburn and Bates continued their expedition on foot, eventually making the first ascent of Mount Lucania. Given Reeve's inability to return to the glacier with his aircraft, Washburn and Bates made the difficult decision to leave behind or discard a 900-pound (410-kilogram) cache of supplies. Remarkably, this cache was rediscovered and recovered in 2022, shedding new light on their historic expedition.
Creation of a Topographic map of Everest:
Bradford Washburn's efforts to create a detailed map of Everest were a lengthy and complex task. It took three and a half years from the acquisition of the aerial photographs to complete the map.
During the 1980's Washburn was part of scientific team engaged with National Geographic to create the best topographical map of the Everest region. In order to do this Bradford used planes with special windows attached as well as satellite imagery.
In1979 discussions began with NASA, after Washburn realized the importance of their imagery from space. Bradford obtained stereopictures of the Everest region from two space-shuttle flights. The Columbia's flight in December 1983 provided some of the most important cloudless, high-quality pictures.
The photos were analyzed by experts in Zurich, who compared them with old maps and established a ground-control network. After thousands of hours of work on the printing plates, and names of the locations and mountains, the maps were extensively reviewed by Nepal, China, and Tibet.
Despite changing the entire team midway, they completed the initial step on schedule and under budget. The final manuscript was published in September 1988.
Honors: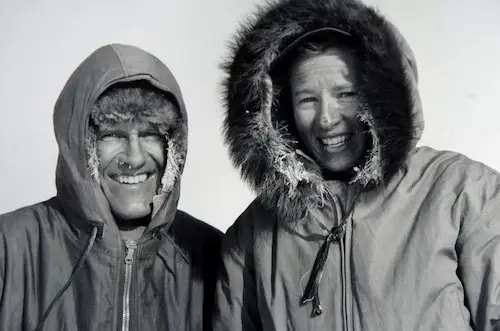 A list of awards received by Bradford Washburn:
In 1956, the American Academy of Arts and Sciences elected Bradford Washburn as a fellow.
Throughout his illustrious career, Washburn accumulated numerous awards, including nine honorary doctorates.
In 1979, he was honored with the Gold Medal of the Royal Scottish Geographical Society in recognition of his "outstanding contributions to cartographic research."
The National Geographic Society recognized both him and his wife, granting them two awards. In 1980, they received the prestigious Alexander Graham Bell Medal, and in 1988, the Centennial Award.
In 1998, the Royal Geographical Society presented him with the Cherry Kearton Medal and Award.
In 1994, Washburn received the King Albert Medal of Merit from Belgium's King Albert Foundation. This honored his leadership in the ambitious project to create a new large-scale map of the world's highest peaks, spanning from 1982 to 1991.
The Bradford Washburn American Mountaineering Museum
The Bradford Washburn American Mountaineering Museum (BWAMM) dedicates itself to celebrating the world of mountaineering, science, art, and the dissemination of knowledge. All of these aspects reflect the legacy of Bradford Washburn.
This museum is a collaborative effort between the American Alpine Club, the Colorado Mountain Club, and the National Geographic Society. Established on February 16, 2008, BWAMM is located in Golden, Colorado. It is a hub for enthusiasts and adventurers keen to learn the rich history and diverse aspects of mountaineering and the natural world.