Reinhold Andreas Messner, born on 17th September 1944, is a renowned Italian mountaineer, explorer, and author hailing from South Tyrol. Messner accomplished the incredible first solo ascent of Mount Everest, and with Peter Habeler, achieved the first ascent of Everest without the use of supplemental oxygen. A true pioneer, he became the first climber to conquer all 14 peaks over 8,000 meters (26,000 ft) above sea level during his Everest expedition, and notably, he achieved this remarkable feat without relying on supplementary oxygen.
In addition to his mountaineering triumphs, Messner demonstrated his spirit of adventure by crossing Antarctica and Greenland without snowmobiles or dog sleds. He further pushed his limits by undertaking a solo crossing of the challenging Gobi Desert.
Unsurprisingly, Messner is widely regarded as the greatest mountaineer of all time, having pushed the boundaries of human capability in the world of climbing. Beyond his mountaineering career, Messner has delved into politics, serving as a member of the European Parliament for north-east Italy, representing the Federation of the Greens from 1999 to 2004.
As an accomplished author, he has published over 80 books detailing his experiences as a climber and explorer. His contributions to the literary world have been recognized with various awards, such as the 2nd Piolet d'Or Lifetime Achievement Award in 2010 and, in 2018, he was jointly honored with Krzysztof Wielicki with the Princess of Asturias Award in the category of Sports.
The Early Days of Reinhold Messner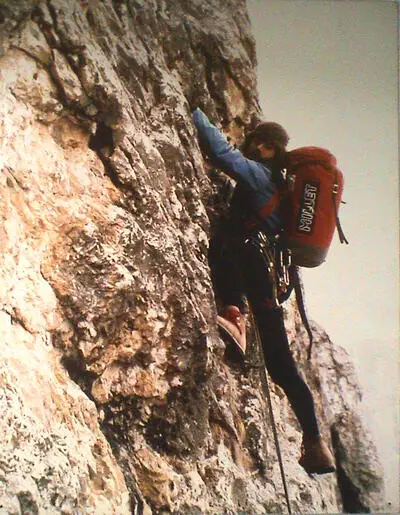 Messner's birth took place in St. Peter, Villnöß, a village near Brixen in South Tyrol, Northern Italy. Although his family spoke German, they settled in this Italian region. According to his sister, his birth was difficult, as he was born a large baby during an air raid.
His parents were Maria (1913–1995) and Josef (1917–1985). During World War II, Josef was drafted into the German army and served on the Russian front. After the war, he worked as an auxiliary teacher until 1957 when he took on the role of the local school director. Messner was one of nine children, and grew up in modest circumstances.
From a young age, Messner developed a passion for climbing, exploring the Alps, and falling in love with the Dolomites. His father, though strict and occasionally stern, played a significant role in nurturing this passion. At the age of five, his father guided him to his first summit, setting the stage for a remarkable climbing journey ahead.
At the young ages of 13 and 11, Messner and his brother Günther embarked on their climbing journey together. As they entered their early twenties, their skills soared, and they gained recognition as some of Europe's finest climbers and eventually one of the most famous Everest Climbers.
From the 1960s onward, Messner drew inspiration from Hermann Buhl and became a leading advocate of alpine-style mountaineering in the Himalayas. This approach involved using exceptionally lightweight equipment and minimizing external assistance. Messner firmly believed that the conventional expedition style, often referred to as "siege tactics," was disrespectful to nature and the mountains. His passion for preserving the sanctity of these natural wonders fueled his dedication to the alpine style, setting him apart as a pioneer in this daring approach.
Mountaineering Career of Messner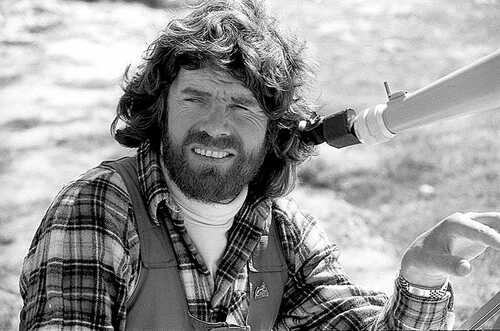 Prior to embarking on his first significant Himalayan expedition in 1970, Messner had already established a reputation through his remarkable achievements in the Alps. Between 1960 and 1964, he led an impressive tally of more than 500 ascents, with the majority of them taking place in the Dolomites. In 1965, he conquered a new, challenging direttissima route on the north face of the Ortler.
The following year, he achieved further milestones by ascending the formidable Walker Spur on the Grandes Jorasses and reaching the summit of Rocchetta Alta di Bosconero. In 1967, he made history with the first ascent of the northeast face of the Agnér and accomplished the first winter ascents of the Agnér north face and Furchetta north face.
Continuing his pursuit of firsts, 1968 saw Messner achieving noteworthy accomplishments, including scaling the Heiligkreuzkofel middle pillar and the direct south face of the Marmolada. The following year, he embarked on an Andes expedition, where he and Peter Habeler achieved the first ascent of the Yerupaja east face up to the summit ridge, followed by the first ascent of the 6,121-meter-high (20,082 ft) Yerupaja Chico a few days later. Additionally, he achieved the first solo ascent of the Droites north face, the Philipp-Flamm intersection on the Civetta, and the south face of Marmolada di Rocca. These triumphs solidified his status as one of the most esteemed climbers in Europe.
In 1970, Messner received an invitation to join a significant Himalayan expedition aiming to conquer the unclimbed Rupal face of Nanga Parbat. This expedition marked a pivotal moment in his life but also turned into a tragic success. While both Messner and his brother Günther reached the summit, Günther tragically lost his life during the descent of the Diamir face.
Reinhold himself suffered the devastating consequence of severe frostbite, resulting in the amputation of seven toes. His decision to continue the climb with the less experienced Günther drew significant criticism. The events surrounding this expedition were later depicted in the 2010 movie "Nanga Parbat" directed by Joseph Vilsmaier, based on Messner's own account.
A Trailblazing Journey Through Mountains and Beyond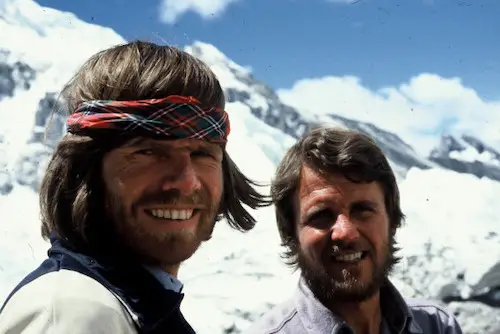 Messner and Peter Habeler were renowned for their swift ascents in the Alps, such as the Eiger North Wall via the standard route in just 10 hours and Les Droites in 8 hours. However, it was his 1975 first ascent of a new route on Gasherbrum I that truly astounded the climbing world, taking an unprecedented three days, an accomplishment unheard of at that time.
During the 1970s, Messner fervently advocated for climbing Mount Everest without the use of supplementary oxygen, emphasizing that he would do it "by fair means" or not at all. In 1978, he and Habeler achieved this extraordinary feat by reaching the summit of Everest without supplemental oxygen, defying the expectations of doctors, specialists, and fellow mountaineers who believed it to be impossible. He later repeated this feat, accomplishing the first solo summit of Everest from the Tibetan side in 1980, during the monsoon season.
In addition to these exceptional climbing achievements, Messner accomplished a solo ascent of the Diamir face of Nanga Parbat in 1978. Notably, in 1986, he became the first person to conquer all fourteen eight-thousanders, mountains over 8,000 meters above sea level.
Messner's adventurous spirit extended beyond the mountains as he crossed Antarctica on skis alongside explorer Arved Fuchs. He chronicled his experiences in more than 80 books, with a quarter of them being translated into various languages. His impact on mountaineering and exploration was also captured in the 1984 film "The Dark Glow of the Mountains," directed by Werner Herzog.
Beyond his adventures, Messner ventured into politics, serving as a Member of the European Parliament for the Italian Green Party (Federazione dei Verdi) from 1999 to 2004. He was also instrumental in the establishment of Mountain Wilderness, an international NGO dedicated to preserving mountains around the world.
In 2004, he completed a remarkable 2,000-kilometer (1,200 mi) expedition through the challenging Gobi Desert. Subsequently, in 2006, he founded the Messner Mountain Museum, leaving a lasting legacy that celebrates and honors the world of mountains.
Unprecedented Expeditions: Messner Conquers All 14 Peaks without Supplemental Oxygen
Messner's unparalleled achievements in mountaineering set him apart as the first person to conquer all fourteen eight-thousanders in the world without relying on supplemental oxygen. Remarkably, each of his ascents secured a position within the first 20 successful climbs for every individual mountain. His extraordinary list of conquests includes: 
Year
Peak
Remarks
1970
Nanga Parbat (8,125 m/ 26,657 feet)
Messner and his brother Günther achieved the first ascent of the unclimbed Rupal Face and completed the first traverse by descending along the unexplored Diamir Face.
1972
Manaslu (8,163 m/ 26, 781 feet)
Messner accomplished the first ascent of the unclimbed South-West Face and made history with the first ascent of Manaslu without the use of supplemental oxygen.
1975
Gasherbrum I (8,080 m/ 26,510 feet)
Messner and Peter Habeler achieved the groundbreaking first ascent without supplemental oxygen.
1978
Mount Everest (8,848 m/ 29,029 feet), Nanga Parbat (8,125 m/ 26,657 feet)
Messner and Peter Habeler accomplished the historic first ascent of Everest without supplementary oxygen. Additionally, Messner achieved a significant milestone on Nanga Parbat. He became the first to complete a solo ascent of an eight-thousander starting from the base camp. During this climb, he established a new route on the Diamir Face, a feat that remains unmatched to this day.
1979
K2 (8,611 m/ 28,251 feet)
Messner ascended the Abruzzi Spur partially in alpine style, accompanied by Michael Dacher.
1980
Mount Everest (8,848 m/ 29,029 feet)
Messner achieved the historic first solo ascent without supplemental oxygen, making his way from base camp to the summit during the monsoon season. During this climb, he also established a new route on the North Face of Everest.
1981
Shishapangma (8,027 m/ 26,335 feet)
Ascent with Friedl Mutschlechner.
1982
Kangchenjunga (8,586 m/ 28,169 feet), Gasherbrum II (8,034 m/ 26,358 feet), Broad Peak (8,051 m/ 26,414 feet)
– Messner and Friedl Mutschlechner charted a new route on Kangchenjunga's North Face, utilizing partial alpine-style techniques.For the ascents of Gasherbrum II and Broad Peak, Messner teamed up with Sher Khan and Nazir Sabir, achieving success on both mountains.
– In an extraordinary feat, Messner became the first person to conquer three 8000-meter peaks in a single season.However, he faced challenges during a winter attempt on Cho Oyu, resulting in an unsuccessful summit bid.
1983
Cho Oyu (8,188 m/ 26,864 feet)
Messner, accompanied by Hans Kammerlander and Michael Dacher, achieved a remarkable ascent on a partially new route.
1984
Gasherbrum I (8,080 m/ 26,510 feet), Gasherbrum II (8,034 m/ 26,358 feet)
Messner and Hans Kammerlander accomplished the groundbreaking first traverse of two eight-thousanders without returning to base camp.
1985
Annapurna (8,091 m/ 26,545 feet), Dhaulagiri (8,167 m/ 26,795 feet)
Messner and Hans Kammerlander achieved the historic first ascent of Annapurna's unclimbed North-West Face together.
1986
Makalu (8,485 m/ 27,838 feet), Lhotse (8,516 m/ 27,940 feet)
Messner, along with Hans Kammerlander and Friedl Mutschlechner, conquered Makalu. Additionally, Messner achieved the ascent of Lhotse with Hans Kammerlander. Messner made history as the first person to successfully climb all 14 eight-thousanders.
Table showing a list of mountains climbed by Messner between the year 1970-1990
List of Mountains Climbed by Reinhold Messner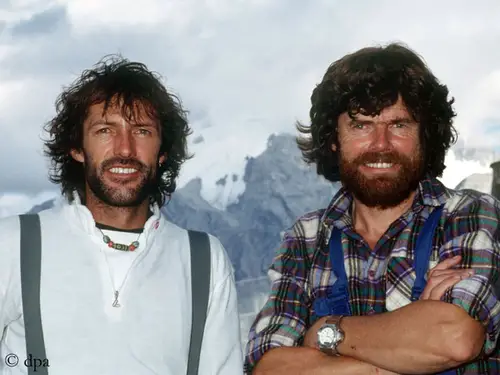 Over the course of his mountaineering career, Messner achieved numerous extraordinary accomplishments, becoming the first person to scale all fourteen eight-thousanders, the world's highest peaks. This list highlights the mountains conquered by Messner, showcasing his unparalleled dedication, courage, and determination in conquering some of the most challenging summits on the planet.
Nanga Parbat: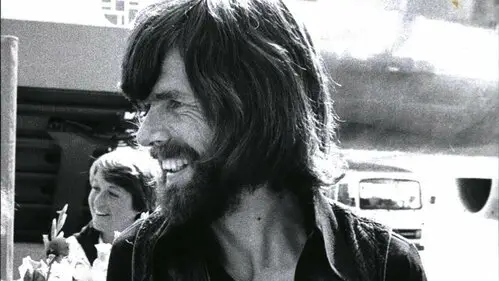 Nanga Parbat was a significant mountain in Reinhold Messner's climbing journey. He undertook a total of five expeditions to this peak. In 1970 and 1978, he successfully reached the summit, with the latter ascent being a remarkable solo achievement. However, in 1971, 1973, and 1977, his attempts to conquer Nanga Parbat were not successful.
The 1971 expedition held a poignant purpose, as Messner's primary objective was to search for his brother's remains, making it a deeply personal and emotional journey.
Rupal Face 1970:
In 1970, Messner participated in the Nanga Parbat South Face expedition, led by Karl Herrligkoffer. The team's goal was to conquer the unclimbed Rupal Face, considered the world's highest rock and ice face. Messner's brother, Günther, was also part of this expedition.
On 27th June, Messner, anticipating worsening weather conditions, decided to embark on the climb alone from the last high-altitude camp. Surprisingly, Günther followed and caught up with him before they reached the summit. As the day wore on, darkness descended, forcing them to make an emergency bivouac shelter without essential equipment like tents, sleeping bags, and stoves.
The events that unfolded after their summit achievement led to prolonged legal disputes and conflicts among former expedition members, remaining unresolved to this day. What is known is that both Reinhold and Günther Messner descended the Diamir Face, marking the first traverse of Nanga Parbat and the second traverse of an eight-thousander (after Mount Everest in 1963). However, tragedy struck during the descent, and Günther lost his life on the Diamir Face, while Reinhold survived but suffered severe frostbite.
The exact circumstances surrounding Günther's death remain uncertain, as he and Reinhold became increasingly separated during their descent. Reinhold attributed his brother's passing to an avalanche, but the precise time, location, and cause of the tragedy remain a mystery.
In June 2005, following an unusual heat wave on the mountain, the body of Reinhold Messner's brother was discovered on the Diamir Face. This finding provided support for Messner's account of how Günther had passed away during the tragic expedition.
The dramatic events surrounding the expedition were adapted into the film "Nanga Parbat" (2010) by Joseph Vilsmaier, primarily based on the memories of Reinhold Messner. Notably, the other former members of the expedition were not involved in the film's production. Upon its release in January 2010, the movie faced criticism from other team members, who felt that it presented only one side of the story.
Due to severe frostbite, particularly affecting his feet, resulting in the amputation of seven toes, Messner's rock climbing ability was affected after the 1970 expedition. Consequently, he shifted his focus to higher mountains with more icy terrains.
Solo Climb in 1978:
On 9th August 1978, following three previous unsuccessful expeditions, Messner achieved success once more as he reached the summit of Nanga Parbat via the Diamir Face.
Manaslu:
In 1972, Messner achieved a significant ascent on Manaslu, conquering the then-unknown south face of the mountain, for which there were no existing pictures at the time. During the climb, he was accompanied by Frank Jäger, who unfortunately had to turn back before reaching the summit. After Messner successfully reached the top, the weather abruptly changed, enveloping the area in heavy fog and snow.
In the challenging conditions, Messner initially lost his way on the descent. However, he ventured into the storm and managed to find his way back to the camp. Waiting for him were Horst Fankhauser and Andi Schlick, while Jäger's cries were heard from the camp. Despite their efforts to locate him that evening, Fankhauser and Schlick also encountered difficulties and sought shelter in a snow cave. Tragically, Schlick disappeared during the night, and only Fankhauser returned.
The expedition had to endure the loss of two climbers, leading to criticism directed at Messner for allowing Jäger to descend alone.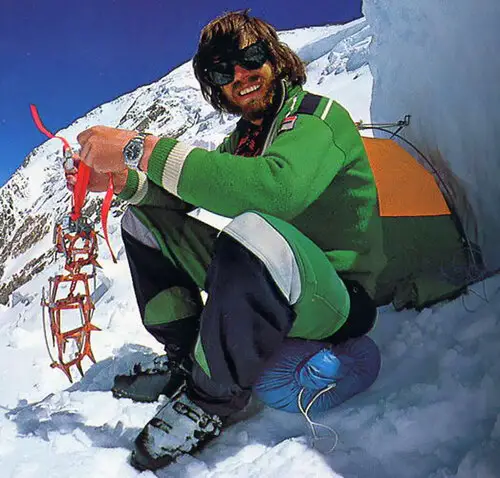 Gasherbrum I:
Alongside Peter Habeler, Messner achieved a second ascent of Gasherbrum I on 10th August 1975, making him the first person to climb more than two eight-thousanders. This ascent marked the first time an eight-thousander was scaled using alpine style climbing. Until then, all fourteen 8000-meter peaks had been summitted through expedition-style approaches. Hermann Buhl had earlier advocated a "West Alpine Style" resembling "capsule" style, with a smaller group relying on minimal fixed ropes.
In 1984, together with Hans Kammerlander, Messner accomplished a double ascent, climbing both Gasherbrum I and Gasherbrum II without returning to base camp—a feat never before achieved. Once again, they used alpine style, without pre-located stores or assistance.
During this adventure, filmmaker Werner Herzog accompanied the climbers along the arduous 150-kilometer (93 mi) approach to base camp, capturing extensive interviews with them about their motivations for the climb. 
The journey to summit both peaks and return to camp spanned a week, after which Herzog interviewed the climbers again. His documentary, "The Dark Glow of the Mountains," included footage shot by the two climbers using portable cameras during the expedition. The film was released the following year, capturing the essence of their mountain pursuits.
Mount Everest:
While Tenzing Norgay and Edmund Hillary became the first person to climb Mount Everest in 1953, on 8th May 1978, Messner and Habeler became the first men to conquer Everest without the aid of supplemental oxygen. Prior to this groundbreaking ascent, there had been debates and doubts about the possibility of such an accomplishment. 
Both Messner and Habeler were part of an expedition led by Wolfgang Nairz, following the southeast ridge to the summit. The team also included Reinhard Karl, who became the first German to reach the summit with the use of supplemental oxygen.
Two years later, on 20th August 1980, Messner once again stood atop the world's highest mountain, this time in a remarkable solo climb without supplementary oxygen. For this daring ascent, he chose the northeast ridge as his route to the summit. 
During the climb, Messner navigated above the North Col in the North Face, traversing the challenging Norton Couloir—an unprecedented path to the summit. He decided on this route spontaneously during the ascent, opting to bypass the exposed northeast ridge. Notably, Messner did not establish a camp on the mountain before undertaking this remarkable solo feat.
K2:
In 1979, Messner planned to climb K2 on a new direct route through the South Face, which he called the "Magic Line." His team consisted of six climbers: Italians Alessandro Gogna, Friedl Mutschlechner, and Renato Casarotto; Austrian Robert Schauer; and Germans Michael Dacher, journalist, Jochen Hölzgen, and doctor Ursula Grether. Unfortunately, Ursula Grether got injured during the approach, and Messner and Mutschlechner had to carry her to Askole.
Because of the risk of avalanches on the original route and the time they lost on the approach, they decided to climb via the Abruzzi Spur instead. They used fixed ropes and set up high-altitude camps, but they didn't have any special equipment for carrying heavy loads or use bottled oxygen. On 12 July, Messner and Dacher successfully reached the summit, but the weather worsened afterward, and the other members of the team couldn't make it to the top.
Read more: Fatal Tragedy of the 2008 K2 Disaster
Shishapangma:
While attempting a solo ascent of Everest in Tibet, Messner took the opportunity to explore Shishapangma. A year later, together with Friedel Mutschlechner, Oswald Oelz, and Gerd Baur, he established a base camp on the north side of Shishapangma. 
Despite facing harsh weather conditions, on 28th May, Messner and Mutschlechner successfully reached the summit, and their climb even involved ski mountaineering at certain stages.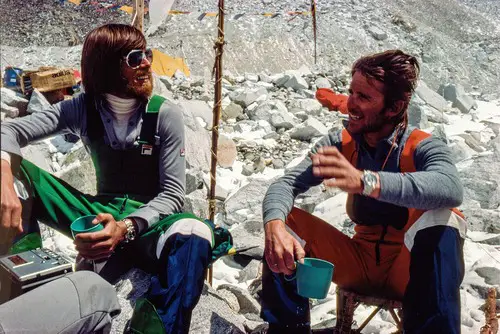 Kangchenjunga:
In 1982, Messner aimed to achieve a remarkable feat by becoming the first climber to scale three eight-thousanders in a single year. His plan was to climb Kangchenjunga first, followed by Gasherbrum II and Broad Peak.
For the ascent of Kangchenjunga, Messner opted for a new variation of the route up the north face. However, the large amount of snow slowed down their progress significantly. Additionally, the challenging nature of the climb compelled Messner and Mutschlechner to use fixed ropes for support. Despite the difficulties, on 6th May, they successfully reached the summit. Unfortunately, during the climb, Mutschlechner suffered frostbite in his hands, and later, his feet were affected as well.
On the descent, while bivouacking, the tent tore away from both Messner and Mutschlechner. To add to the challenges, Messner fell ill with an amoebic liver abscess, which left him weak and debilitated. Nevertheless, with Mutschlechner's assistance, he managed to make it back to the base camp.
Gasherbrum II:
After successfully climbing Kangchenjunga, Mutschlechner had to return to Europe for frostbite treatment, and Messner needed some rest. This led to a change in their plans, and they couldn't climb the three mountains as initially intended. 
Messner later recovered from his amoebic liver abscess and proceeded to Gasherbrum II, but the new routes they had planned to use weren't feasible, mainly because his climbing partners, Sher Khan and Nazir Sabir, were not strong enough. Nevertheless, despite facing a storm, all three climbers managed to reach the summit on 24th July. During the ascent, Messner discovered the body of a missing Austrian mountaineer, whom he buried two years later during the Gasherbrum I – Gasherbrum II traverse.
Broad Peak:
In 1982, Messner achieved his third eight-thousander by scaling Broad Peak. He was the only person with a permit to climb this mountain at the time. On his journey, he encountered Jerzy Kukuczka and Wojciech Kurtyka, who had permits for K2 but illegally climbed Broad Peak due to its geographic proximity. 
Initially, Messner didn't mention this encounter in his accounts, but later, he acknowledged it. On 2nd August, Messner met up with Nazir Sabir and Khan again, and they successfully reached the summit. They swiftly moved to Broad Peak after their Gasherbrum II ascent. They followed a variation from the normal route at the beginning of their climb.
Cho Oyu:
During the winter of 1982–83, Messner attempted the first winter ascent of Cho Oyu. However, he had to turn back around 7,500 meters (24,600 feet) due to heavy snow masses. 
This expedition marked his first collaboration with Hans Kammerlander. A few months later, on 5th May, Messner, Kammerlander, and Michael Dacher reached the summit via a partially new route.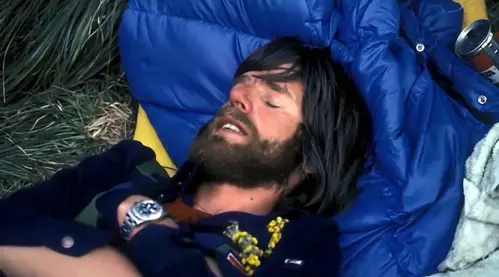 Annapurna:
In 1985, Messner successfully reached the summit of Annapurna, taking a new route on the northwest face with Kammerlander on 24th April. Reinhard Patscheider, Reinhard Schiestl, and Swami Prem Darshano were also part of the expedition but did not reach the summit. 
During Messner and Kammerlander's ascent, they faced adverse weather conditions, and during the descent, they required assistance from the other three expedition members due to heavy snowfall.
Did you know that one of the deadliest mountain disaster was the 2014 Annapurna Disaster that killed 43 people?
Dhaulagiri:
Messner had attempted Dhaulagiri in 1977 and 1984 but was unsuccessful. However, in 1985, he finally reached the summit. Climbing alongside Kammerlander, they followed the normal route along the northeast ridge and reached the summit in a heavy storm after only three days of climbing on 15th May.
Makalu:
Messner made four attempts to climb Makalu, but the first two in 1974 and 1981 on the South Face of the southeast ridge were unsuccessful. He also tried to achieve the first winter ascent of Makalu in 1985-1986 via the normal route, but this venture also did not succeed. The first successful winter ascent of Makalu was accomplished by Denis Urubko and Simone Moro in February 2009.
In 1986, Messner returned to Makalu and succeeded in reaching the summit using the normal route, along with Kammerlander and Mutschlechner. Although they had turned back twice during this expedition, they finally made it to the summit on their third attempt on 26th September. 
Tragically, during this expedition, Messner witnessed the death of Marcel Rüedi, who had previously climbed eight eight-thousanders. Rüedi was on his way back from the summit when he disappeared, and his life was lost despite the efforts of Messner and other climbers to find him.
Lhotse:
Facing strong winds in the summit area, Messner and Kammerlander had to overcome challenges during their ascent of Lhotse. To achieve their goal before winter, they decided to take a direct helicopter flight from the Makalu base camp to the Lhotse base camp.
With this accomplishment, Messner became the first person to climb all eight-thousanders. Following this feat, he decided not to pursue climbing any more eight-thousanders. In 1989, he led a European expedition to the South Face of a mountain, aiming to conquer the unclimbed face. However, Messner himself chose not to participate in the ascent.
The Seven Summits: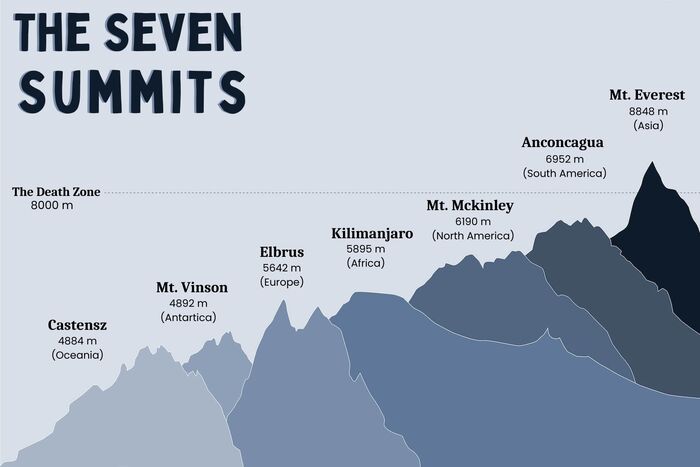 In 1985, Richard Bass introduced the Seven Summits challenge, climbing the highest peaks of each of the seven continents. Messner proposed an alternative list (the Messner or Carstensz list), replacing Mount Kosciuszko with Indonesia's Puncak Jaya, or Carstensz Pyramid (4,884 m or 16,024 feet). 
The Messner list is considered more challenging from a mountaineering perspective. Climbing Carstensz Pyramid requires an expedition-like approach, while ascending Kosciuszko is a relatively easy hike. Pat Morrow became the first person to complete the Messner list in May 1986, and Messner himself followed suit by climbing Mount Vinson in December 1986, becoming the second person to achieve this milestone.
World First Records of Messner
Reinhold Messner holds a significant place in the Guinness Book of Records, boasting nine world-first achievements, all classified as "World's Firsts" or "Historical Firsts." These extraordinary feats are the highest category of any Guinness World Record, denoting that the ownership of these titles never expires. 
First ascent of Manaslu without supplementary oxygen
First solo summit of Everest
First ascent of Everest and K2 without supplementary oxygen
First ascent of the top three highest mountains without supplementary oxygen
First 8,000-meter mountain hat-trick
First person to climb all 8,000-meter mountains without supplementary oxygen
First person to climb all 8,000-meter mountains
First ascent of Everest without supplemental oxygen
First ascent of Gasherbrum I without supplementary oxygen
Reinhold Messner: A Mountaineering Legend and Inspirational Pioneer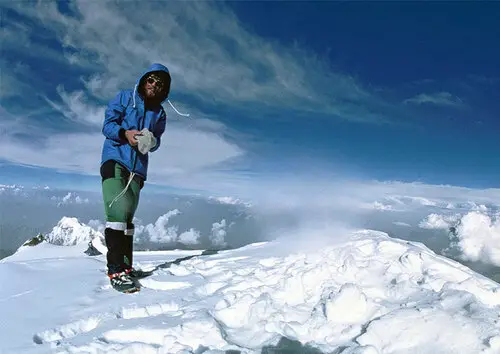 Reinhold Messner's legacy in the world of mountaineering is nothing short of extraordinary. His indomitable spirit, unwavering determination, and exceptional mountaineering skills have led him to achieve numerous world-first records and conquer some of the most challenging peaks on the planet. 
Messner's pioneering ascents without supplementary oxygen have redefined the boundaries of human endurance and exploration in the high-altitude realms. Beyond his mountaineering accolades, he has also been an avid explorer, author, and advocate for mountain conservation. 
Throughout his career, Messner has inspired countless individuals to reach for the summits of their dreams and embrace the spirit of adventure. His remarkable accomplishments will continue to inspire generations of mountaineers and adventurers, cementing his status as one of the greatest and most influential figures in the history of mountaineering.