Sir Edmund Percival Hillary, KG, ONZ, KBE (20 July 1919 – 11 January 2008), was a distinguished individual from New Zealand. Renowned as a mountaineer, explorer, and philanthropist, he is celebrated for his achievement on the 1953 British Mount Everest Expedition. When he and Sherpa Tenzing Norgay became the first climbers to conquer the summit of Mount Everest. This endeavor was accomplished as part of the ninth British expedition to Everest, led by the esteemed John Hunt.
Prior to the historic Everest expedition, Hillary was actively involved in mountaineering pursuits. In 1951, he participated in the British reconnaissance expedition to Everest, and in 1952, he attempted an ascent of Cho Oyu, though it was not successful.
Throughout his life, Hillary received numerous honors, including the prestigious Order of the Garter bestowed upon him in 1995. When he passed away in 2008, New Zealand paid tribute to Edmund by honoring him with a state funeral. Recognizing the legacy Hillary left behind as an exemplary figure of courage, determination, and humanitarianism.
This blog recounts the incredible life of Edmund Hillary, and him becoming the first person to summit Everest.
Edmund Hillary's Early Life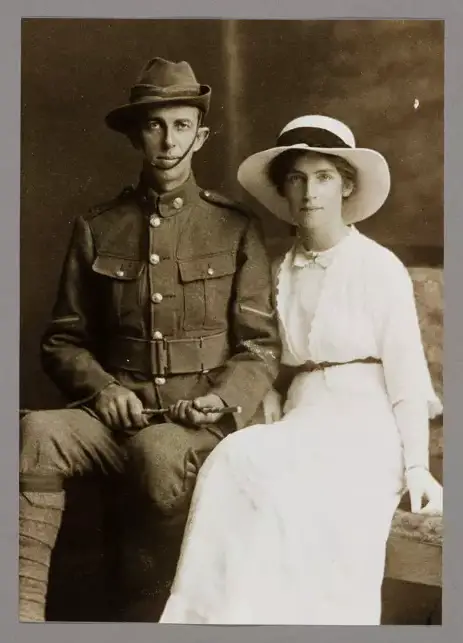 Hillary, born on 20 July 1919 in Auckland, New Zealand, was the son of Percival Augustus (1885–1965) and Gertrude (1892–1965). His father, Percy (pictured to the left), had served in the 15th Regiment during the Gallipoli campaign. However, he was discharged from the Army in 1916 due to medical reasons. After his return to New Zealand, he married Gertrude.
Edmund's grandfather, Edmund Raymond Hillary (b. 1836), originally from Lancashire, England, immigrated to northern Wairoa in the mid-19th century and worked as a watchmaker. He married Annie "Ida" Fleming from Ireland, and they had four children. Edmund's maternal great-grandparents, the Clarks, hailed from Yorkshire.
In 1920, the family relocated to Tuakau, situated south of Auckland, after Percy was allocated eight acres of land there as a returned soldier. Percy, who had been a journalist before the war, became the founding editor of the weekly Tuakau District News and pursued beekeeping as an apiarist. Edmund had a sister named June (born 1917) and a brother named Rex (born 1920).
Edmund received his early education at Tuakau Primary School. He completed primary school at the age of 11, two years ahead of schedule, and at Auckland Grammar School, he achieved average marks. His mother, desiring a quality education for him, ensured he attended a "good school," which required him to commute by train and cycle to Tuakau station before 7 am and return home after 6 pm—a daily journey of one hour and 40 minutes each way. This routine persisted for 3½ years until the family moved to Remuera, Auckland in 1935, where he spent his final four years at Auckland Grammar School.
During his early years, Edmund was smaller than his peers and reserved, finding it challenging to enjoy extracurricular activities due to the long commute. However, he experienced a growth spurt and reached a height of 6 feet 2 inches (188 cm), which, coupled with taking up boxing, boosted his confidence and helped him overcome his shyness.
The Journey of an Aspiring Climber and Apiarist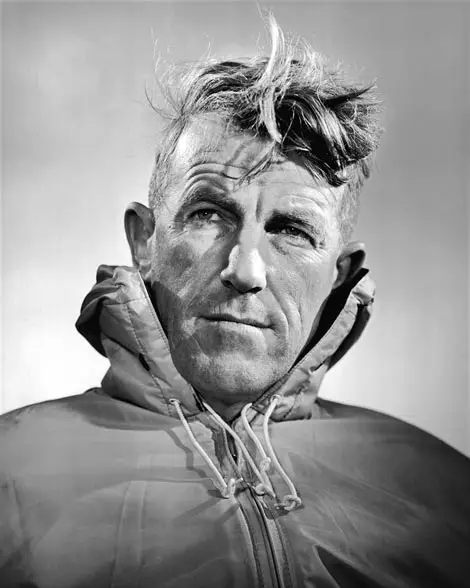 At the age of 16, his interest in climbing was sparked after a school trip to Mount Ruapehu in 1935. Following the trip, he found himself more drawn to tramping and exploring the outdoors than focusing on his studies, expressing a strong desire to explore the world. Continuing his education at Auckland University College, he joined the Tramping Club during his time there. However, after two notably unsuccessful years attempting to study mathematics and science, he decided to abandon formal education altogether.
Subsequently, he embarked on a journey as an apiarist, working alongside his father and brother Rex.
Their apiary involved attending to 1,600 hives, handling thousands of 90 lb (41 kg) boxes of honeycomb, and enduring 12 to 100 bee-stings on a daily basis. While his summers were dedicated to beekeeping, he redirected his focus to climbing during the winter months. Additionally, his father played a role in editing the journal "The N.Z. Honeybee," while his mother, Gertrude, gained recognition for her expertise in breeding and selling queen bees.
In 1938, Edmund attended a talk by Herbert Sutcliffe, who advocated a life philosophy called "Radiant Living". Inspired by the principles, the entire family became foundation members, and his mother even took up the role of secretary in 1939. He later joined Sutcliffe in Gisborne, working as his assistant, and in 1941, he sat for examinations to become a teacher of Radiant Living, achieving a perfect 100% pass mark. For his test lecture, he spoke eloquently on the topic of "Inferiority – cause and cure." 
Reflecting on his five-year association with the movement, he acknowledged the positive impact it had on him, stating that he learned to speak confidently from the platform, think more openly about important matters, and mingle effortlessly with diverse groups of people. The tenets of Radiant Living encompassed healthy eating, exemplified by the salads his sister June brought for lunch while at university, and an embrace of pacifism. His enthusiasm for the outdoors further blossomed, and he joined the Radiant Living Tramping Club, finding a deepened love for nature in the Waitākere Ranges.
In 1939, he achieved a significant milestone by completing his first major climb, successfully reaching the summit of Mount Ollivier, located near Aoraki/Mount Cook in the Southern Alps. The pursuit of climbing not only brought him closer to the mountains but also forged lasting friendships. Notably, Harry Ayres and George Lowe became "the first real friends I'd ever had," further enriching his life through their shared passion for exploration and mountaineering.
Edmund Hillary's Journey in the World War II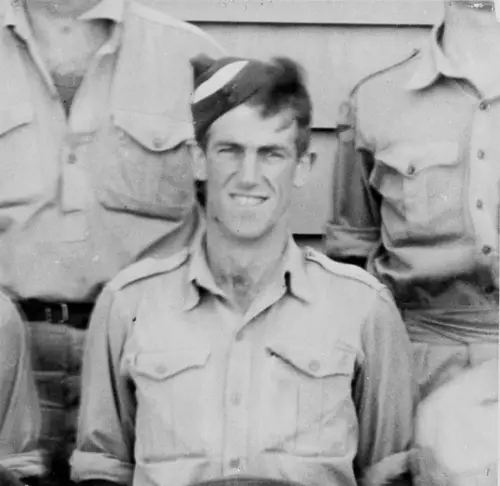 When World War II occurred, Hillary sought to join the Royal New Zealand Air Force (RNZAF), but he ultimately withdrew his application, explaining that he was "troubled by [his] religious convictions." However, as the Japanese threat in the Pacific escalated and conscription measures were introduced in 1943, he reconsidered his decision and enlisted in the RNZAF as a navigator. He served first in No. 6 Squadron RNZAF and later in No. 5 Squadron RNZAF, where he operated on Catalina flying boats.
During his time in the military, Hillary was deployed to Fiji and the Solomon Islands in 1945. Tragically, he suffered severe burns in an unfortunate accident during his service in the Solomon Islands.
The Mountaineering Journey of Edmund Hillary
In January 1948, Edmund Hillary and a group of climbers undertook the challenging ascent of the south ridge of Aoraki/Mount Cook, New Zealand's highest peak. During the same year, he displayed remarkable courage and compassion in a demanding rescue mission on La Perouse, forming a deep bond with fellow climber Norman Hardie.
In 1951, Hillary joined a British reconnaissance expedition to Everest, under the leadership of Eric Shipton, to assess the mountain's feasibility for future attempts. His thirst for adventure led him to be a part of the triumphant British expedition in 1953, during which he and Tenzing Norgay achieved the historic first ascent of Mount Everest.
Continuing his pursuit of challenging climbs, in 1952, Hillary, along with George Lowe, embarked on another expedition as part of a British team led by Shipton, aiming to conquer Cho Oyu. Despite facing obstacles on the Nepal side, the determined duo crossed the Nup La pass into Tibet and successfully reached the old Camp II on the northern side, where previous expeditions had established their camps.
1953 Everest Expedition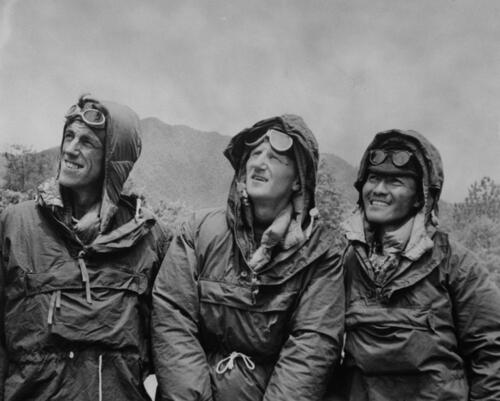 In 1949, access to the traditional climbing route to the summit of Everest, controlled by Chinese authorities in Tibet, was closed off. Subsequently, Nepal restricted climbing permits, permitting only one or two expeditions per year. A Swiss expedition, including Tenzing Norgay, made an attempt to reach the summit in 1952. However, unfavorable weather conditions and issues with oxygen sets forced them to turn back when they were merely 800 feet (240 meters) from the summit.
In the same year, Edmund Hillary received the exciting news that he and George Lowe had been invited to join the 1953 British attempt on Everest, organized by the Joint Himalayan Committee. Without hesitation, they gladly accepted the invitation. Initially, Eric Shipton was appointed as the expedition leader, but he was later replaced by John Hunt. 
While Hillary had some objections to the change, he quickly recognized and admired Hunt's remarkable energy and determination. Hunt then requested Hillary and Charles Evans to join him, forming a small, three-man planning group for the expedition. In his writings, Hunt expressed his trust and confidence in this select team:
"Hillary's testing in the Himalayas had shown that he would be a very strong contender, not only for Everest, but for an eventual summit party. When I met Shipton last autumn I well remember his prophesying this – and how right he was. Quite exceptionally strong and abounding in a restless energy, possessed of a thrusting mind which swept away all unproven obstacles, Ed Hillary's personality had made an imprint on my mind, through his Cho Oyu and Reconnaissance friends and through his letters to me."

John Hunt
Hillary and Tenzing's Journey to Everest's Summit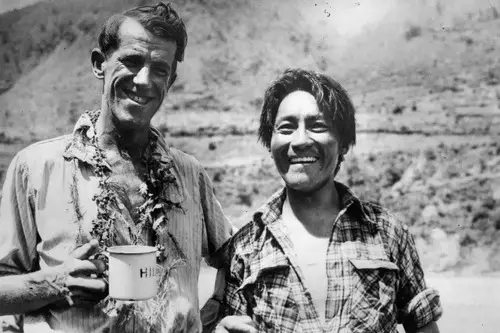 Hillary had initially hoped to climb with Lowe as his partner for the ascent. However, expedition leader John Hunt decided to form two separate teams: Tom Bourdillon with Charles Evans, and Hillary with Tenzing Norgay. With this new arrangement, Hillary realized the importance of establishing a strong and productive friendship with Tenzing. He was well aware of Tenzing's remarkable personal ambition, which surpassed that of any Sherpa he had encountered before.
The Hunt expedition was a massive endeavor, consisting of over 400 people, including 362 porters, 20 Sherpa guides, and a staggering 10,000 pounds (4,500 kg) of baggage. Lowe took charge of preparing the Lhotse Face, an immense and steep ice wall, for the climbers' ascent. Meanwhile, Hillary took on the task of forging a path through the perilous and ever-changing terrain of the Khumbu Icefall, an icy labyrinth filled with crevasses and seracs, posing significant challenges to the climbers.
In March 1953, the expedition established its base camp, and with slow progress, they eventually set up the final camp at the South Col, located at an altitude of 25,900 feet (7,890 m). On 26 May, Tom Bourdillon and Charles Evans ventured on the climb, yet they were compelled to turn back due to Evans's failing oxygen system. Remarkably, they reached the lower South Summit, coming just 300 vertical feet (91 m) from the elusive summit. Following this setback, expedition leader John Hunt made the decision to assign Edmund Hillary and Tenzing Norgay the task of attempting the final ascent.
The pair faced challenges due to adverse weather conditions, including heavy snow and wind, which forced them to spend two days at the South Col acclimatizing. On 28 May, with the invaluable support of George Lowe, Alfred Gregory, and Ang Nyima, Hillary and Tenzing began their climb. They camped at 27,900 feet (8,500 m) that night, while their support team descended the mountain. The next morning brought an unexpected setback when Hillary discovered that his boots had frozen solid outside the tent. Determined to proceed, he spent two hours thawing them over a stove. Eventually, with 30-pound (14 kg) packs on their backs, they set out for the decisive summit attempt.
The ultimate challenge that lay ahead was the daunting 40-foot (12 m) rock face, later to be known as the "Hillary Step." This final obstacle demanded every ounce of their strength and courage as they inched their way closer to the peak that had captured the dreams of so many climbers for centuries.
Hillary and Tenzing's Historic Summit and Honors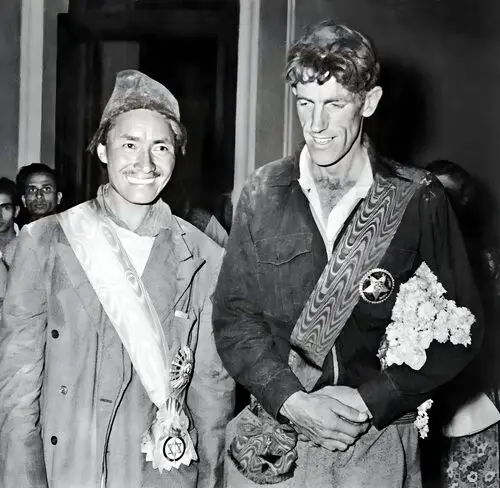 In his 1955 autobiography, Tenzing Norgay recounted that Edmund Hillary took the momentous first step onto the summit of Everest, and he followed closely behind. At precisely 11:30 am, they triumphantly reached the pinnacle of Everest, standing at an awe-inspiring altitude of 29,028 feet (8,848 meters)—the highest point on Earth.
Their time at the summit was relatively brief, lasting about 15 minutes. While Hillary took a photograph of Tenzing proudly posing with his ice-axe, there is no image of Hillary himself; Tenzing's autobiography mentioned that Hillary politely declined to be photographed. Nevertheless, they took photos looking down the majestic mountain, capturing the view from the summit.
As part of their offerings, Tenzing left chocolates at the summit, and Hillary placed a cross that had been given to him by John Hunt. The descent was made challenging by drifting snow that obscured their tracks. The first person they encountered on their way down was George Lowe, a member of their expedition team. In a triumphant declaration, Hillary exclaimed to Lowe, "Well, George, we knocked the bastard off."
Upon returning to Kathmandu a few days later, they received remarkable news. Edmund Hillary had already been appointed a Knight Commander of the Order of the British Empire, and John Hunt received a knighthood as a Knight Bachelor. This news reached Britain on the very day of Queen Elizabeth II's coronation, leading the press to consider it a symbolic coronation gift. The 37 members of the expedition party were later honored with the Queen Elizabeth II Coronation Medal, which bore the inscription "Mount Everest Expedition" along the rim. 
In addition to the knighthood bestowed upon Hillary and Hunt, Tenzing Norgay, as a Nepalese citizen ineligible for knighthood, was awarded the George Medal for his exceptional achievements. King Tribhuvan of Nepal also bestowed the Star of Nepal upon Tenzing, acknowledging his extraordinary accomplishment.
Beyond Everest: Hillary's Himalayan Adventures
Following his historic Everest ascent in 1953, Hillary continued his mountaineering pursuits, conquering ten other peaks in the Himalayas during subsequent visits in 1956, 1960–1961, and 1963–1965. Notably, he achieved another remarkable feat by reaching the South Pole as the leader of the New Zealand contingent of the Commonwealth Trans-Antarctic Expedition on 4 January 1958. His team became the first to reach the Pole overland since Amundsen in 1911 and Scott in 1912, achieving this milestone through the use of motor vehicles, a groundbreaking accomplishment.
Additionally, this made him the first person to conquer both poles and Mount Everest. His determination and accomplishments earned him a well-deserved spot on Time magazine's list of the 100 most influential people of the 20th century.
In 1960, Hillary orchestrated the 1960–61 Silver Hut expedition in collaboration with Griffith Pugh. During this expedition, Pugh demonstrated that Mount Everest could be ascended without supplemental oxygen by undergoing an extensive period of acclimatization, residing at 20,000 feet (6,100 m) for six months. Although the expedition lasted for ten months, Hillary remained with the team for five months.
The Silver Hut expedition also undertook a quest to search for the legendary abominable snowman, commonly known as the Yeti. While no evidence of such creatures was discovered, they did find footprints and tracks, which were later determined to have been caused by other factors. 
During the journey, Hillary visited remote temples where relics believed to be "Yeti scalps" were held. After bringing back three of these relics, scientific analysis revealed that two were from bears, and one was from a goat antelope. Reflecting on the expedition, Hillary concluded, "The yeti is not a strange, superhuman creature as has been imagined. We have found rational explanations for most yeti phenomena."
You can read more about the Yeti in our Mystery of the Himalayas blog!
Hillary's Endless Pursuit of Adventure
In 1962, Edmund Hillary made a notable appearance as a guest on the television game show "What's My Line?," where he managed to stump the panel consisting of Dorothy Kilgallen, Arlene Francis, Bennett Cerf, and Merv Griffin with his intriguing identity. In 1977, Hillary embarked on a jet boat expedition titled "Ocean to Sky," journeying from the mouth of the Ganges River to its source.
Between 1977 and 1979, he served as a commentator aboard Antarctic sightseeing flights operated by Air New Zealand, providing unique insights and perspectives to passengers on these extraordinary journeys. It is worth noting that Hillary was initially scheduled to guide the ill-fated Flight 901, but due to prior commitments, he had to withdraw, later sparing him from the tragic incident.
In 1985, Hillary accompanied Neil Armstrong in a small twin-engined ski plane on a daring flight over the Arctic Ocean, ultimately landing at the North Pole. This extraordinary achievement solidified Hillary's legacy as the first person to stand at both poles and conquer the summit of Everest, a remarkable accomplishment that inspired a generation of explorers and gave rise to the renowned "Three Poles Challenge."
In January 2007, Hillary made another unforgettable journey, traveling to Antarctica as part of a delegation commemorating the 50th anniversary of the founding of Scott Base—a significant event that celebrated New Zealand's enduring presence and contributions in the icy continent.
List of Honors and Recognition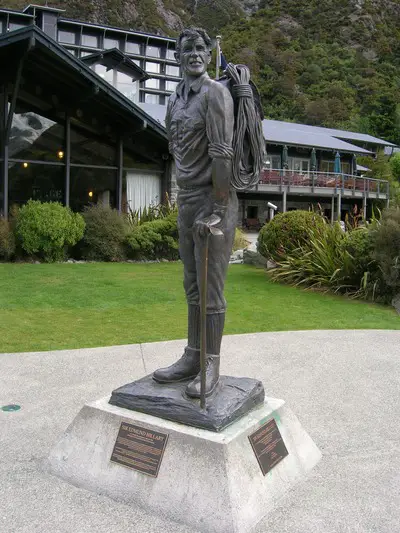 On 6 June 1953, Edmund Hillary was granted the prestigious title of Knight Commander of the Order of the British Empire, and also received the Queen Elizabeth II Coronation Medal in the same year, recognizing his monumental achievement of conquering Mount Everest.
On 6 February 1987, he was honored as the fourth appointee to the Order of New Zealand, a testament to his enduring contributions to his homeland.
In 1958, he was bestowed with the Polar Medal for his significant role in the success of the Commonwealth Trans-Antarctic Expedition. 
In 1960s, he was recognized with the rank of commander of the Order of Sports Merit of France, further attesting to his global impact as an adventurer and athlete.
In 1953, the Kingdom of Nepal honored him with the esteemed Order of Gorkha Dakshina Bahu, 1st Class.
In 1975, he received the Coronation Medal, celebrating a lifetime of achievements.
The year 1995 marked another illustrious milestone in Hillary's life when he was appointed as a Knight Companion of The Most Noble Order of the Garter on 22 April, an esteemed recognition of his exceptional contributions and distinguished character. 
Subsequently, on 17 June 2004, he was presented with the Commander's Cross of the Order of Merit of the Republic of Poland, a tribute to his extraordinary accomplishments beyond his homeland.
In 2008, the Government of India bestowed upon him the prestigious Padma Vibhushan, the country's second highest civilian award, acknowledging his lasting impact on the world of exploration and adventure.
On the 50th anniversary of the first successful Everest ascent, the Nepalese government commemorated the event by granting honorary citizenship to Hillary during a special Golden Jubilee celebration in Kathmandu. This honor marked the first time a foreign national received such recognition, a symbol to Hillary's enduring connection with the people of Nepal.
Edmund Hillary's legacy was further cemented by his portrayal on New Zealand's $5 note since 1992, making him the only living individual, who was not a current head of state, to be featured on a New Zealand banknote. Demonstrating his humility and attachment to his homeland, he insisted that the backdrop for his portrait be Aoraki/Mount Cook, a symbol of his deep-rooted New Zealand identity, rather than Mount Everest, the iconic peak he conquered.
Annual Reader's Digest polls from 2005 to 2007 named Hillary as "New Zealand's most trusted individual."
Patron of the Sir Edmund Hillary Outdoor Pursuits Centre for 35 years, a New Zealand charity close to his heart
A 2.3-meter (7.5 ft) bronze statue of Hillary erected outside The Hermitage Hotel at Mount Cook Village, unveiled by Hillary himself in 2003.
Various streets, institutions, and organizations both in New Zealand and abroad named after him, such as the Sir Edmund Hillary Collegiate in Otara, established by Hillary in 2001.
Two Antarctic features named after Hillary: the Hillary Coast, a section of coastline south of Ross Island and north of the Shackleton Coast, and the Hillary Canyon, an undersea feature in the Ross Sea, acknowledged in the General Bathymetric Chart of the Oceans by the International Hydrographic Organization.
Personal Life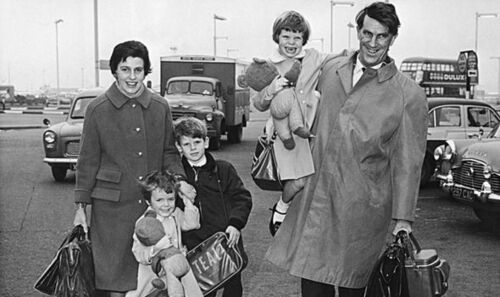 Edmund Hillary married Louise Mary Rose (1930–1975) on 3 September 1953, shortly after successfully ascending Everest. He admitted being terrified of proposing to her and sought the help of her mother to propose on his behalf. Together, they had three children: Peter (born 1954), Sarah (born 1956), and Belinda (1959–1975).
Tragedy struck the family on 31 March 1975 when Louise and Belinda lost their lives in a plane crash (1975 Royal Nepal Airlines Pilatus PC-6 Porter crash) near Kathmandu airport while en route to meet Hillary in Phaphlu, where he was helping to build a hospital.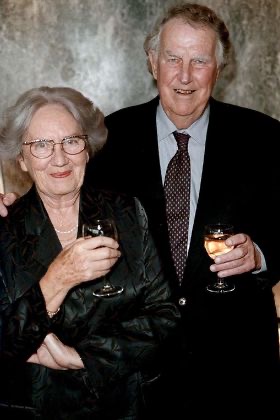 In 1989, Edmund Hillary married June Mulgrew, the widow of his close friend Peter Mulgrew, who had tragically died in Air New Zealand Flight 901 in 1979.
His son Peter Hillary followed in his father's footsteps and became a climber, successfully summiting Everest in 1990. In May 2002, Peter joined an expedition celebrating the 50th anniversary of the first Everest ascent, and Jamling Tenzing Norgay (son of Tenzing, who had passed away in 1986) was also part of the expedition.
Edmund Hillary's Humanitarian Legacy
After conquering Everest, Edmund Hillary dedicated himself to the welfare of the Sherpa people in Nepal. In 1960, he founded the Himalayan Trust where numerous schools and hospitals were constructed in the remote areas of the Himalayan region.
Beyond his work with the Himalayan Trust, Hillary took on vital roles in other organizations. As the Honorary President of the American Himalayan Foundation, a U.S. non-profit body, he actively contributed to enhancing the ecology and living conditions in the Himalayas, further extending his influence across international borders.
Additionally, he served as the Honorary President of Mountain Wilderness, an esteemed global NGO committed to safeguarding mountains worldwide. Hillary's involvement in these organizations showcased his profound commitment to environmental conservation and humanitarian causes, leaving a profound legacy in the realm of mountain preservation and community development.
Political Involvement 
Hillary actively supported the Labour Party during the 1975 New Zealand general election and participated in the "Citizens for Rowling" campaign. However, his involvement in this campaign was perceived as hindering his nomination as governor-general, leading to the appointment of Keith Holyoake in 1977.
In 1985, Hillary assumed the role of New Zealand High Commissioner to India, concurrently serving as High Commissioner to Bangladesh and Ambassador to Nepal. He was stationed in New Delhi for four and a half years, fostering diplomatic relations between the countries.
Moreover, in 1975, Hillary served as a vice president for the Abortion Law Reform Association of New Zealand, advocating for pro-choice rights across the nation. Additionally, he took on the role of patron for REPEAL, an organization dedicated to repealing the restrictive Contraception, Sterilisation, and Abortion Act of 1977.
Publications
Here is a list of the books written by Edmund Hillary:
| Title | Year | Co-Author |
| --- | --- | --- |
| High Adventure | 1955 | N/A |
| East of Everest – An Account of the New Zealand Alpine Club Himalayan Expedition to the Barun Valley in 1954 | 1956 | George Lowe |
| No Latitude for Error | 1961 | N/A |
| The New Zealand Antarctic Expedition | 1959 | N/A |
| The Crossing of Antarctica: The Commonwealth Transantarctic Expedition, 1955-1958 | 1958 | Vivian Fuchs |
| High in the Thin Cold Air | 1962 | Desmond Doig |
| Schoolhouse in the Clouds | 1965 | N/A |
| Nothing Venture, Nothing Win | 1975 | N/A |
| From the Ocean to the Sky: Jet Boating Up the Ganges | 1979 | N/A |
| Two Generations | 1984 | Peter Hillary |
| View from the Summit: The Remarkable Memoir by the First Person to Conquer Everest | 2000 | N/A |
A table showing a list of books published by Edmund Hillary
Farewell to a Legend
On 22 April 2007, while visiting Kathmandu, Hillary experienced a fall, leading to his hospitalization upon returning to New Zealand.
Tragically, on 11 January 2008, he passed away due to heart failure at Auckland City Hospital. In response to this profound loss, flags were lowered to half-mast on public buildings throughout New Zealand and at Scott Base in Antarctica. Prime Minister Helen Clark expressed her condolences, recognizing Hillary's death as a significant loss to the nation.
On 21 January, a solemn ceremony took place at Holy Trinity Cathedral, Auckland, where Hillary's casket was placed to lie in state. A state funeral was conducted on 22 January 2008, after which his body was cremated. Following his wishes, on 29 February 2008, the majority of his ashes were scattered in Auckland's Hauraki Gulf. The remaining ashes were sent to a Nepalese monastery near Everest, while the original plan to scatter them on the summit was later canceled in 2010.
Posthumous Honors and Tributes: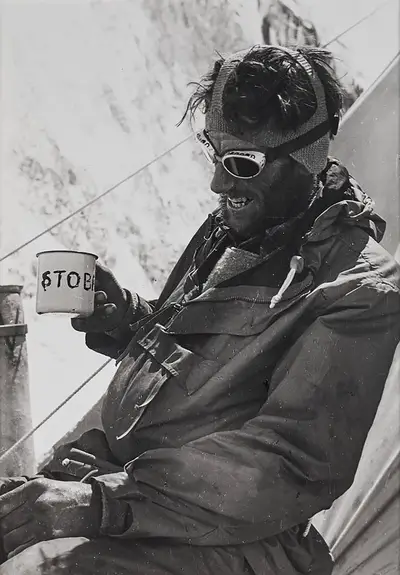 Following Edmund Hillary's passing, numerous tributes were bestowed upon the legendary mountaineer. In Nepal, Lukla Airport was renamed Tenzing–Hillary Airport in recognition of their efforts to promote its construction.
A service of thanksgiving was held at St George's Chapel at Windsor Castle in April 2008. Attendees included Queen Elizabeth II, New Zealand dignitaries, and members of Hillary and Tenzing Norgay's families. Gurkha soldiers from Nepal stood guard outside the ceremony, symbolizing the respect and admiration they held for these iconic figures.
In October 2008, it was announced that future rugby test matches between England and New Zealand would be played for the Hillary Shield, commemorating his enduring impact on both countries.
To honor his dedication to youth development, the Duke of Edinburgh's Award in New Zealand was renamed "The Duke of Edinburgh's Hillary Award" in 2009, perpetuating his legacy in nurturing the aspirations of young adventurers. Additionally, in November 2008, New Zealand Post issued a commemorative set of five stamps, celebrating the remarkable life and achievements of Edmund Hillary, ensuring that his memory and contributions will continue to inspire generations to come.
Calls for enduring tributes to Edmund Hillary have been met with the "Summits for Ed" tribute tour, organized by the Sir Edmund Hillary Foundation. This touching tour spanned from Bluff in the South Island to Cape Reinga in the North Island, covering 39 towns and cities along the way. In each location, school children and the public united to climb significant hills or sites as a show of respect for Hillary. Additionally, people were invited to bring special rocks or pebbles, which would be included in a memorial at the base of Mt Ruapehu, near the Sir Edmund Hillary Outdoor Pursuits Centre. Donations raised during the tour sponsored young New Zealanders on outdoor courses, with over 8,000 individuals participating in the "Summit" climbs between March and May 2008.
To further commemorate Hillary's legacy, the song "Hillary 88" by the New Zealand duo The Kiwis stands as the official world memorial song for Hillary, carrying the endorsement of Lady Hillary.
A Legacy of Exploration and Impact
Several lasting tributes have been dedicated to Edmund Hillary. One notable tribute is the "Summits for Ed" tribute tour organized by the Sir Edmund Hillary Foundation. This four-day track, known as the Hillary Trail, winds through the picturesque Waitākere Ranges along Auckland's west coast. The trail, opened in 2010, encompasses 39 towns and cities, inviting school children and the public to climb significant hills or sites in their areas to honor Hillary's legacy. Notably, participants were encouraged to bring special rocks or pebbles with personal significance, which would be included in a memorial at the base of Mt Ruapehu, near the Sir Edmund Hillary Outdoor Pursuits Centre. The tour raised funds to sponsor young New Zealanders on outdoor courses, and over 8,000 people took part in the "Summit" climbs between March and May 2008.
In addition to the tribute tour, a tribute song called "Hillary 88" by the New Zealand duo The Kiwis became the official world memorial song for Hillary, with Lady Hillary's endorsement. This touching musical homage resonated with many who admired Edmund Hillary's remarkable accomplishments.
Beyond these musical and outdoor tributes, several geographic features have been named in his honor. Notably, the South Ridge of Aoraki / Mount Cook, New Zealand's highest mountain, was renamed Hillary Ridge in 2011, commemorating Hillary's pioneering ascent with a small group of climbers in 1948. In September 2013, the Government of Nepal proposed naming a mountain in Nepal as Hillary Peak, recognizing his contributions to the region.
Even in the realm of astronomy, Hillary's legacy reached new heights. The New Horizons mission to Pluto, conducted on 14 July 2015, discovered a mountain range on the distant planet, which was officially named Hillary Montes (Hillary Mountains) by the International Astronomical Union.
Moreover, his commitment to environmental preservation and mountain conservation was celebrated through the creation of the Sir Edmund Hillary Mountain Legacy Medal in 2003. This medal, with Hillary's approval, honors individuals who have made remarkable contributions to conserving culture and nature in mountainous regions. Hillary's influence extended beyond New Zealand's borders. A bronze bust of Hillary, crafted by Ophelia Gordon Bell circa 1953, is displayed at the renowned Te Papa museum in Wellington, New Zealand.
In recognition of his remarkable achievements and global impact, the Sir Edmund Hillary Archive was added to the UNESCO Memory of the World archive in 2013. The archive, currently held by Auckland War Memorial Museum, preserves a wealth of historical records chronicling Hillary's extraordinary life and endeavors.
Lastly, a pilot immigration program in New Zealand, called the Edmund Hillary Fellowships, operated from 2016 to 2020. This program awarded 3-year Global Impact Visas to individuals seeking to create, support, and incubate ventures and models that promote positive global impact from New Zealand. Over 250 of the 400 allocated visas were granted before the pilot's closure, highlighting the enduring influence of Edmund Hillary in fostering change and connection worldwide.
Edmund Hillary: A Legacy of Courage and Impact
Sir Edmund Hillary, a symbol of human spirit and determination, has left an unforgettable impact on the world. His pioneering mountaineering feats, unwavering dedication to the Sherpa community, and global conservation efforts have touched the lives of many.
As we reflect on his remarkable journey, may we continue to draw inspiration from his legacy. Sir Edmund Hillary's name will forever be etched in the tapestry of human exploration, as the first to summit Everest.