Eric Earle Shipton, CBE, was an English mountaineer renowned for his adventures in the Himalayas. Born on 1st August 1907 in Ceylon (present-day Sri Lanka), his father, a tea planter, passed away when Eric Shipton was just three years old. Following this unfortunate event, his mother took him to London for his education.
Eric Shipton is well known for the various Everest expeditions he was a part of. Of which, helped mold the 1953 expedition that put the first people on the top of Mount Everest.
This blog looks at Shipton's life, as well as contribution to mountaineering and Everest.
Eric Shipton's Life:
Shipton may be most known for his mountaineering achievements. However, he had a long and robust life full of experiences. He even wrote a great deal of literature regarding his life. The section below recounts his life from his early years till his death in the 1970s.
1. Early Life:
At the age of eight, Eric's educational journey faced an obstacle when he failed the entrance exam for Harrow School. Subsequently, his mother made the decision to enroll him in Pyt House School, located in Wiltshire. It was during his early adolescence, at the age of 15, that Eric had his first encounter with mountains when he embarked on a trip to the Pyrenees alongside his family.
The following summer, Eric ventured to Norway with a close friend from school, sparking further interest in climbing. So much so, that he began dedicating himself to serious climbing endeavors over the next year after returning home.
2. Shipton's Involvement in WWII:
Shipton's climbing life had to be put on hold as WWII unfolded. Amidst the war, Shipton took on significant responsibilities. Initially, he was appointed as HM Consul in Kashgar, situated in western China, where he served from 1940 to 1942. After a short stint back in England, he was then assigned to Persia, where he worked as a "Cereal Liaison Officer" for a duration of 20 months from 1943 to 1944.
Following his time in Persia, Shipton's journey led him to Hungary, where he became an attaché to the British Military Mission. During this position he took on the responsibility of an "agricultural adviser" throughout the remainder of the War.
3. Eric Earle Shipton after the War:
In 1946, Shipton returned to Kashgar, assuming the role of Consul General. During a visit from his climbing partner, Bill Tilman, they ventured to scale Muztagh Ata, an impressive peak standing at 7,546 meters, successfully reaching its broad summit dome. The following year, in 1947, Shipton embarked on a journey of exploration, leading to the discovery and naming of "Shipton's Arch." This period in Kashgar provided him with opportunities to explore other captivating Central Asian mountains.
In 1951, as part of the Mount Everest reconnaissance, Shipton became the first Western explorer to venture into the Rolwaling Himal. During his explorations in the Barun gorge, he bestowed the name "Island Peak" upon a striking mountain in the region. Later, during the 1951 Everest expedition, Shipton and Dr. Michael Ward captured photographs of what could have been the elusive Yeti (Abominable Snowman).
Shipton's belief in the effectiveness of small, focused expeditions, rather than large military-style "sieges," was steadfast. As a result, he relinquished the leadership of the 1953 Everest expedition, along with Andrew Croft, in favor of Major John Hunt. Expressing his emotions, he wrote, "I leave London absolutely shattered."
In the years between 1953 and 1957, Shipton took on various roles, including working as the Warden of the Outward Bound Mountain school in Eskdale until his marriage with his wife, Diana, faced challenges. He engaged in farming activities, received the prestigious CBE award, and in 1957, led a group of students from the Imperial College of Science on an expedition to the awe-inspiring Karakoram region.
4. Final Years of Eric Shipton's Life:
During the final decade of his life, Shipton embraced a nomadic lifestyle, embarking on numerous journeys around the world. To sustain himself, he relied on giving lectures and serving as a distinguished guide. In 1969, he completed the second volume of his autobiography, titled "That Untravelled World."
Shipton's thirst for exploration took him to various corners of the globe. He ventured to the captivating Galapagos Islands, the rugged terrains of Alaska, the vast landscapes of Australia and New Zealand, the vibrant lands of Rhodesia and Kenya, the breathtaking landscapes of Chile, and the enchanting realms of Bhutan and Nepal.
While staying in Bhutan in 1976, Shipton's health deteriorated. Upon his return to England, he was diagnosed with cancer, which ultimately took his life in March 1977. As per his wishes, he was cremated in Salisbury, and his ashes were scattered in Fonthill Lake in Wiltshire.
Below are a list of honors he received during his life.
Honors Received:
Patron's Medal of the Royal Geographical Society, 1938
RSGS Livingstone Medal, 1951
CBE for contribution to the conquest of Everest, 1957
President of the Alpine Club, 1964–1967
Tallest peak in Tierra del Fuego, Monte Shipton (2,469 Meters) commemorates his work in Patagonia
In addition to the honors he received, Eric Shipton had countless mountaineering highlights between 1922–1973. Wikipedia has a great roundup of all of his accomplishments; if you are curious on seeing them check them out here.
The Beginning of Eric Shipton as a Mountaineer: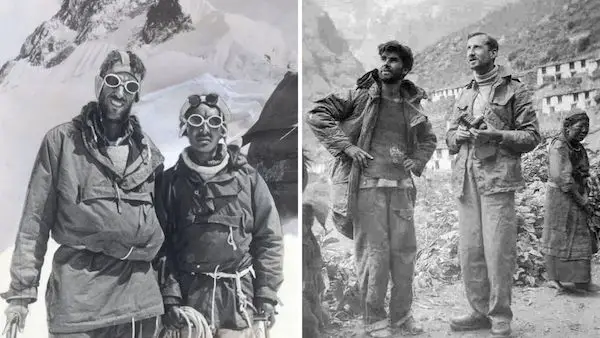 In 1928, Eric Earle Shipton embarked on a new endeavor as a coffee grower in Kenya. During his time in Kenya's European community, he crossed paths with two future climbing partners, Bill Tilman and Percy Wyn-Harris. Together with Wyn-Harris, he successfully conquered the twin peaks of Mount Kenya.
In 1931, alongside Frank Smythe, Shipton achieved another milestone by being among the first climbers to reach the summit of Kamet, which stood at 7,756 meters, making it the highest peak conquered at that time.
Throughout the 1930s and beyond, Shipton played a vital role in numerous Mount Everest expeditions, starting with Hugh Ruttledge's in 1933, followed by the 1936 expedition. In 1935, he led his first Mount Everest expedition, which also marked the first for Tenzing Norgay. Shipton's pioneering efforts continued with the iconic 1951 Mount Everest expedition, where the renowned route over the Khumbu Glacier was mapped out.
In 1934, together with Bill Tilman, Shipton made yet another significant discovery by finding the access route to the Nanda Devi sanctuary through the challenging Rishi Ganga gorge. Their expedition, carried out on a shoestring budget, persisted in the Kumaon-Garhwal mountains throughout both pre- and post-monsoon periods, setting a record for single-expedition achievements that remains unparalleled to this day.
Eric Shipton's Involvement in Everest Expeditions: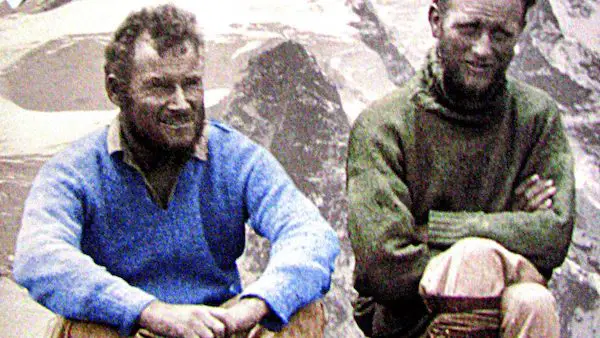 Shipton played a significant role in several Mount Everest expeditions. His dedication and expertise in the field of mountaineering made him an invaluable asset in both the planning and execution of the expeditions. Below are some of the Everest expeditions that Shipton was involved in, and his pursuit of conquering the world's highest peak.
1. 1933 Mount Everest Expedition:
He was a part of the 1933 British Mount Everest expedition led by Hugh Ruttledge. Though the team did not manage to reach the summit, they made significant progress in reconnaissance and surveying, laying the groundwork for future attempts.
2. 1935 Mount Everest Expedition:
Shipton's leadership abilities were recognized, and he was appointed as the leader of the 1935 Mount Everest expedition. This historical endeavor marked the first-ever attempt with Tenzing Norgay. Despite facing numerous challenges, the team made substantial progress and contributed crucial data for future expeditions. 
Additionally, during Eric Shipton's Mount Everest Expedition in 1935, he also made an interesting discovery.
Discovery of Maurice Wilson's Body:
The body of Maurice Wilson, the English airman who embarked on a daring solo mission to fly from Heston to India in 1933, with the ambitious goal of crash-landing a plane on Everest and subsequently summiting it, was found by Eric Shipton.
The discovery took place just above Camp 3 on the mountain. Beside his body, a notebook and a roll of film was found. In a solemn ceremony, the reconnaissance party and Shipton buried him in a nearby crevasse and erected a cairn to mark his final resting place.
3. 1951 Mount Everest Expedition:
In 1951, Eric Shipton led the pioneering British Mount Everest expedition, aiming to uncover a viable route to the summit. This expedition proved to be instrumental in charting the now-famous route over the Khumbu Glacier and through the Khumbu Icefall.
4. Why was Eric Shipton not part of the 1953 Everest Expedition?
Despite Eric Shipton's significant contributions and leadership in previous Everest expeditions, he was not part of the 1953 British Everest Expedition, which ultimately led to the historic first successful ascent of Mount Everest by Sir Edmund Hillary and Tenzing Norgay.
The decision to exclude Shipton from the 1953 expedition was a matter of controversy and debate. One of the primary reasons was his strong belief in the efficacy of small, lightweight, and flexible expeditions, which was in contrast to the large and well-funded "siege-style" approach favored by the British authorities for the 1953 expedition.
Major John Hunt was chosen as the leader of the 1953 expedition, and he held a more conventional view on the organization and logistics of the venture. As a result, Hunt opted for a larger expedition with more extensive support and resources, which meant that Shipton's approach was not aligned with the plans. These decisions ultimately resulted in Shipton stepping away from the expedition.
Eric Shipton's Legacy and Impact on Everest Exploration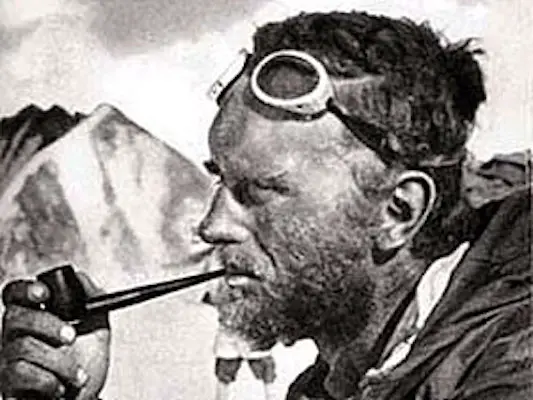 Eric Shipton's influence on Everest exploration extended far beyond his own climbing years. His commitment to exploring lesser-known routes and his openness to different perspectives shaped the mountaineering community's future. His work and contributions continue to inspire generations of climbers, and his name remains synonymous with the spirit of adventure and the pursuit of the unexplored.
Though Shipton may not have stood on the summit of Everest himself, his legacy lives on through the achievements of those who followed in his footsteps. The spirit of exploration and the quest for conquering Everest continues to be a testament to his indelible impact on the world of mountaineering.
FAQs: Eric Shipton on Everest
Below are some of the most frequently asked questions regarding Eric Shipton, his life, and involvement on Mount Everest.
1. What happened to Eric Shipton?
During his stay in Bhutan in 1976, Eric Shipton fell seriously ill. Upon his return to England, he was diagnosed with, and sadly,  lost his life in March 1977. As per his wishes, Shipton was cremated in Salisbury, and his ashes were scattered on the waters of Fonthill Lake in Wiltshire.
2. When did Eric Shipton climb Mount Everest?
Shipton made three endeavors to conquer the summit of Everest, engaging in expeditions during the years 1933, 1936, and 1938. Additionally, he took charge of two reconnaissance expeditions on the world's highest peak in 1935 and 1951.
3. Did Eric Shipton find Yeti?
After the publication of Shipton's photographs showing the mysterious footprints, numerous expeditions were launched in the Himalayas and Central Asia with the aim of determining the existence of the creature responsible for them. Despite exhaustive efforts, not a single piece of evidence was discovered to substantiate the existence of the Yeti.

You can read more about the Yeti account on our Mystery of the Himalayas blog!