Sandy Hill Pittman was a survivor of the 1996 Mount Everest Disaster. When Sandy Hill Pittman reached the highly coveted summit of Mount Everest around 2:30 P.M. on May 10, she didn't waste any time celebrating, despite it being a goal she had been pursuing throughout her entire life.
She was the 34th woman to accomplish this feat. She has also climbed the highest mountains on each continent, a total of seven, making her the second American woman to do so. Additionally, Sandra has worked as a fashion editor and has written books.
This blog recounts Sandy Hill Pitman's life, and her involvement during the 1996 Everest tragedy.
Sandy Hill Pittman's Personal Life
Sandy grew up in Los Gatos, California. Her father had a successful business renting portable toilets to construction sites. She attended UCLA for her education and later moved to New York for her first job as a buyer at the now-closed Bonwit Teller. Through a connection at Mademoiselle magazine, she secured her second job as the Merchandising Editor. After some time, she advanced to become the Beauty Editor at Brides magazine.
In 1986, Hill took on the role of president at a division of RJR Nabisco called "In Fashion," where she produced television shows focused on fashion and style. Among them was Fashion America, the pioneering program that showcased fashion commentary, videos, and runway footage, making it the first of its kind on television. Hill has also contributed as an editor for Vogue and Condé Nast Traveler, in addition to writing feature articles for various other publications.
After a short-lived marriage to Jerry Solomon, who was studying at Columbia University and involved in the sports business at the time, Hill divorced him before reaching the age of 23. In July 1979, Hill tied the knot with Robert Pittman, the co-founder of MTV and a prominent media executive. At the time of their meeting, Pittman worked as a Radio DJ and Program Director of WNBC in New York. They have a son named Robert T. "Bo" Pittman. However, the couple ended their marriage in 1997, and Sandy Hill received a settlement of $20 million from Pittman.
During her Mount Everest expedition in April 1996, Hill crossed paths with snowboarder Stephen Koch, and they subsequently lived together in New York until 1997. In 1998, Hill enrolled at the Columbia Graduate School of Architecture, Planning, and Preservation in New York to pursue studies in architectural preservation and restoration. She successfully graduated in 2000.
Hill took her vows once again in April 2001, marrying commodities trader Thomas Dittmer. The couple purchased a ranch and vineyard in the Santa Ynez Valley. However, their relationship encountered difficulties, leading Hill to file for divorce in 2008. 
Chasing Dreams and Conquering Mountains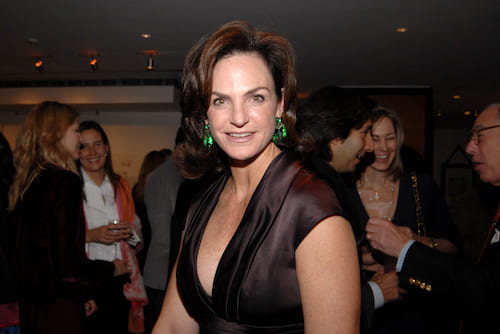 At 41 years old, Sandy Hill Pittman had a lot riding on her Everest expedition compared to other climbers who had paid a hefty sum of $65,000 to conquer the world's highest peak. Years before, she had grown tired of her life as a socialite married to Bob Pittman, a man of considerable wealth (estimated worth over $40 million). 
In search of something more fulfilling, she turned her childhood passion for mountaineering and adventure into a prominent channel for her energy and ambition. What began as a hobby—trekking in the Himalayas, horseback riding in Kenya, and kayaking in the Arctic Circle—evolved into a deep-seated passion, a sense of purpose, and an integral part of her identity.
Sandy Hill's Mountaineering Journey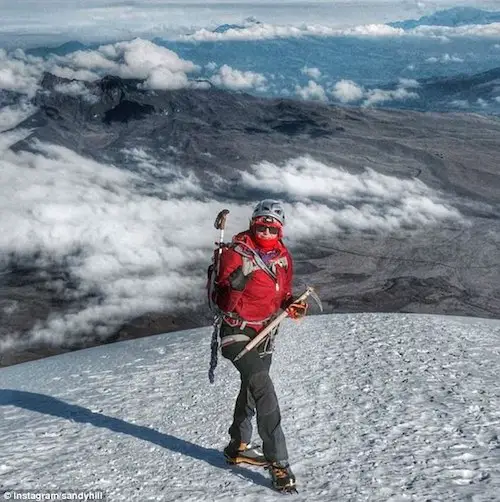 As a teenager, Hill discovered her passion for mountaineering, and at the age of 13, she successfully reached the summit of Disappointment Peak in the Teton Range. In 1992, she embarked on a remarkable journey to become the first American woman to conquer the Seven Summits—the highest peaks on each continent. 
Her determination led her to summit Aconcagua (1992), Denali (1992), Vinson Massif (1993), Mount Elbrus (1993), Mount Kilimanjaro (1993), Mount Kosciuszko (1994), and Puncak Jaya (1995). Eventually, in 1996, Hill achieved her ultimate goal by reaching the summit of Mount Everest, making her the second American woman to complete the Seven Summits challenge, following in the footsteps of Mary "Dolly" Lefever.
Before her successful ascent in 1996, Hill had made two previous attempts on Mount Everest. In 1993, she reached an impressive altitude of 23,500 feet (7,200 m) while following the traditional South Col route on a guided expedition. During this expedition, she carried a specially crafted cross necklace made by jeweler Barry Kieselstein-Cord, intending to bury it at the summit. 
However, circumstances prevented the ceremonial act from taking place. In 1994, she raised significant corporate sponsorship of $250,000 from Chesebrough-Ponds for an expedition to climb the challenging Kangshung Face of Everest. She was joined by her film production partner at the time, filmmaker David Breashears, as well as climbers Alex Lowe, Barry Blanchard, and Steve Swenson. Unfortunately, their attempt was thwarted due to the high risk of avalanches above 25,000 feet.
The 1996 Mount Everest Disaster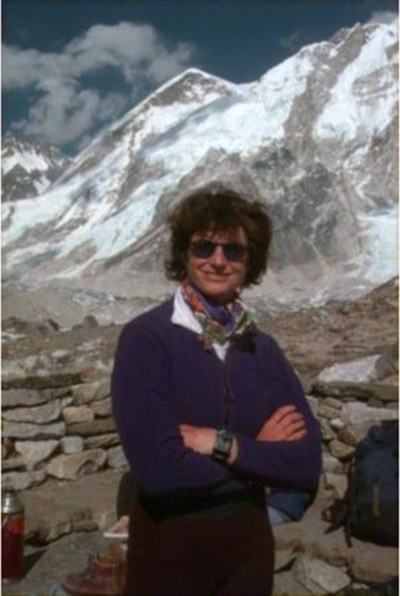 Scott Fischer, a 40-year-old professional guide and co-founder of Seattle-based trekking company Mountain Madness, organized Pittman's team. Accompanied by three guides and seven Sherpas, Fischer led eight clients (two of whom turned back) on the Southeast Route, which he humorously referred to as "the yellow brick road" due to its popularity among wealthy amateurs. It's worth noting that despite the route being chosen by 600 successful summiters, it has also claimed the lives of 142 individuals.
Prior to their summit attempt, Fischer's team spent a month at Base Camp, a bustling tent city situated at an elevation of 17,600 feet. From there, they undertook hikes to higher altitudes, acclimatizing their lungs and clearing over two tons of trash left behind by previous trekkers who flock to the mountain. 
Pittman, described by Mountain Madness as a "competent climber," performed admirably and contributed her fair share to the team, as reported by Fischer. In fact, she boasted more experience than some members of other expeditions, showcasing her capabilities on the mountain. 
During her third attempt to conquer Mount Everest, Sandy Hill Pittman entered into an agreement with NBC Interactive Media. The agreement involved streaming regular journalistic updates from Base Camp to school children in the United States. To facilitate this communication, Pittman relied on specific technology, including a laptop computer and a hefty 20-pound satellite phone. While the phone was taken up to Camp IV, situated at a high altitude on the mountain, it failed to function properly in that location.
10 May 1996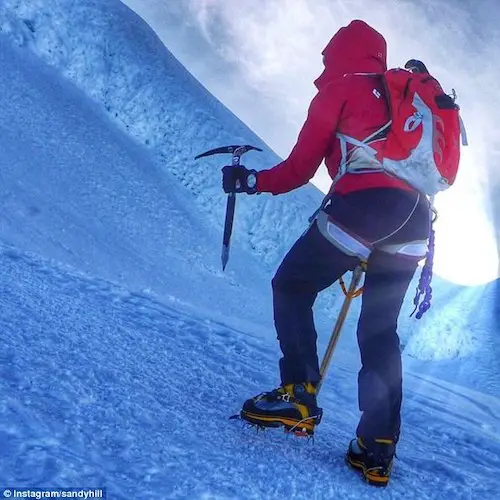 Around 2:30 pm, Sandy Hill reached the summit of Mount Everest and celebrated with fellow climbers, exchanging high fives. As they began descending from Hillary Step, Lopsang Jangbu Sherpa had guided Hill with a short rope for approximately five to six hours during the initial ascent. After a grueling 18 hours, Neal Beidleman, one of the Mountain Madness guides, accompanied Hill and her teammates, including Tim Madsen and Charlotte Fox, in the search for their camp.
During the descent, Hill's crampons got entangled in the ropes. Beidleman paused to ensure the well-being of the group and noticed Fox administering dexamethasone to Hill as requested. Beidleman then asked Lene Gammelgaard, a teammate, to exchange oxygen tanks with Hill since Gammelgaard had more oxygen remaining and was capable of walking unaided. 
While making their way towards the South Col, Hill and the others slid down the fixed lines. Once they reached the bottom, they joined Mike Groom, a guide from Adventure Consultants, and his clients Yasuko Namba, who Beidleman had assisted down the lines, and Beck Weathers, who hadn't reached the summit due to poor eyesight but had been waiting for the return of Adventure Consultant's Rob Hall. Klev Schoening from Mountain Madness and two Sherpas were also part of the group.
With a severe storm causing disorientation, they found themselves uncertain of the correct direction to proceed. In this challenging situation, they huddled together in the snow, seeking shelter and support. Lacking oxygen, the climbers found themselves in a dire situation. The biting windchill drove temperatures to a bone-chilling 100 degrees below freezing, causing them to experience uncontrollable shivering due to hypothermia. The gravity of the circumstances was clear – if anyone were to lose consciousness, the outcome would be fatal.
Sandy Hill Pitman Survived The Storm
As midnight approached, the storm gradually subsided, revealing a sky dotted with stars. Schoening, Gammelgaard, and Beidleman ventured towards camp, unaware that they were merely a quarter-mile away. Despite their proximity, exhaustion had taken its toll, leaving them gasping for breath as they collapsed by the tents at 1:30 A.M. Beidleman informed Anatoli Boukreev, a robust Russian guide who had grown up in the Ural Mountains, about the danger of the others. Boukreev, a renowned climber who had returned from the summit hours earlier, wasted no time and immediately set out to help. However, the storm had intensified once again, resulting in zero visibility. After an hour of battling the elements, Boukreev reluctantly turned back. Dehydrated and trembling uncontrollably, Beidleman and Schoening struggled to provide accurate directions.
Meanwhile, Fox and Pittman had reached a point of despair. As Fox later recounted, after enduring 30 grueling hours, they had run out of water and their frozen food offered no sustenance. They resigned themselves to what seemed like the inevitable. Fox shared, "Sandy and I believed this was the end, and we simply curled up, waiting for death." In contrast, Madsen maintained a more determined mindset, urging them to keep going. He encouraged them to beat Pittman's back, rub her arms, and keep their legs moving. Fox, however, resisted, expressing her desire to be left to her fate, believing that no one would come to their rescue.
After a 30-minute search, Boukreev caught sight of a light and heard Madsen's cries for help. Acting swiftly, he provided Pittman with oxygen, leaving Madsen in her care, and guided Fox back to camp, covering the quarter-mile distance in 40 minutes. Exhausted but determined, Boukreev attempted to rally other climbers for assistance, but to no avail. Undeterred, he ventured back into the storm alone. When he reached Madsen, he administered oxygen and urged him to stand up and walk. Pittman tried to do the same, but her strength failed her. Boukreev vividly remembers talking to her, urging her to draw on her inner strength and keep pushing forward.
The Thin Line Between Life and Death:
After safely settling Pittman and Madsen in the tents, Boukreev, the robust Russian climber known for his indomitable spirit and refusal to use supplemental oxygen, reached his limits. Exhaustion overcame him, preventing him from returning to search for the remaining climbers. Tragically, Namba, tragically succumbed to the harsh conditions mere yards away from where Fox and Pittman had sought shelter. Weathers, discovered buried beneath a blanket of snow, had been left for dead. However, by some miraculous turn of events, he awakened from his near-coma state and managed to stumble back into camp.
The following morning, when Beidleman received the devastating news about Namba, he was overwhelmed by a profound sense of guilt. Overwhelmed by sorrow, he wept for a full 45 minutes. Beidleman and Boukreev had summoned every ounce of their strength to rescue their clients, but tragically, no one had been able to save Namba. The weight of this reality weighed heavily upon them, a symbol of the immense challenges and unforgiving nature of their surroundings.
Loss In The 1996 Everest Expedition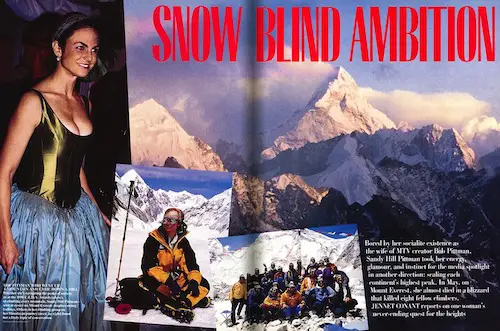 The survivors, having endured a grueling ordeal, found themselves spent and seeking refuge in the tents at the South Col, positioned at an elevation of 26,100 feet. While they had escaped major harm, Fox suffered frostbite on her big toes, while the others battled mild snow blindness and minor frostbite on their faces and hands. Exhausted and grappling with the effects of high altitude, they knew they needed to descend to lower ground as soon as possible. On the journey, Beidleman administered another dose of dexamethasone to Pittman.
The following day and night were marked by tension and unease as they regrouped at Camp 3. It was at this very spot, three days prior, that a Taiwanese climber tragically slipped over the mountain's edge, signaling the beginning of their harrowing ordeal. Pittman had documented in her journal the haunting echoes of the climber's screams as he plummeted into a deep crevasse. Haunted by the memories, the survivors pressed on with their treacherous descent. 
Between Camp 3 and Camp 2, a Sherpa was struck unconscious by a falling rock. Nonetheless, they persevered, finally reaching Base Camp on Monday, May 13. It was there that they learned the heart-wrenching account of Rob Hall's final satellite call to his pregnant wife in New Zealand before he bid farewell, awaiting his fate in a crevasse near the summit. Additionally, three Indian climbers (which included Tsewang Paljor, the "Green Boots") on the north side of the mountain had also lost their lives.
The following morning, May 14, they trekked to Pheriche, the town located below the base camp. From there, Hill, Fox, and Madsen departed via a chartered helicopter, heading to Kathmandu.
That fateful night claimed the lives of eight individuals, giving rise to some of the most famous dead bodies on Mount Everest. The tragic disaster garnered significant attention, leading to numerous magazine articles and interviews with the survivors. 
Controversy Of Sandy Hill:
Jon Krakauer, who had been assigned to climb with a separate expedition and report on the commercialization of Everest, as well as the increasing presence of inexperienced wealthy clients, later expanded his article from September 1996 in Outside Magazine into a book titled "Into Thin Air" (1997). It is worth noting that Hill and the other climbers possessed prior climbing experience, countering any notion that they lacked the necessary skills. In response to negative assertions, Hill took to various media platforms to defend herself and her teammates. 
In an interview with Newsweek, she emphasized their cohesive teamwork, stating, "We behaved like a team at all times." However, due to her prominent media presence before the climb, Hill felt she was unfairly stereotyped as a wealthy New Yorker, which she believed led to an oversimplified and negative portrayal of her character.
In a 2006 interview with Outside magazine, Hill staunchly defended Boukreev's actions on Everest while criticizing the media, as well as various authors and journalists who reported on the disaster. She expressed her belief that much of the information presented in 1996 was biased, sensationalized, and exaggerated, describing it as thrilling fiction rather than genuine journalism.
Recognizing Boukreev's heroism, the Alpine Club bestowed upon him an award. Boukreev himself shared his personal account of the events in the book "The Climb: Tragic Ambitions on Everest" (1997). The book served as a response, at least in part, to Krakauer's narrative, in which Krakauer had blamed the tragedy on Boukreev, Hill, and a select few others.
FAQs: Sandy Hill Pittman
Below are some of the frequently asked questions about Sandy Hill Pittman:
1. What is Sandy Pittman doing now?
Following her divorce, Hill has found her home in Venice, California, where she resides with her two beloved dogs and a pet bird. Remaining true to her adventurous spirit, she remains an avid explorer, indulging in activities such as surfing and scaling volcanoes. In the 2015 film "Everest," English actress Vanessa Kirby brings Hill's captivating persona to life on the screen, portraying her character with remarkable talent.
2. What is the true story of Sandy Hill Pittman?
Sandra Hill, born on April 12, 1955, is a woman of many talents. She is a socialite, mountaineer, author, and used to work as a fashion editor. Sandra faced a challenging event in 1996 when she survived a dangerous incident on Mount Everest. Prior to that, she had achieved two significant milestones: becoming the 34th woman to reach the summit of Mount Everest and being the second American woman to conquer all Seven Summits.