Lopsang Jangbu Sherpa (May 5, 1971 –  September 25, 1996) was a distinguished mountaineering guide, climber, and porter from Nepal. He is most prominently recognized for his role as the climbing Sirdar during Scott Fischer's Mountain Madness expedition to Mount Everest in the spring of 1996. 
Tragically, the expedition was marred by a severe storm that resulted in the loss of eight climbers from multiple teams. Marking one of the most catastrophic incidents ever recorded on Everest.
Despite controversy surrounding his actions during the 1996 expedition, Lopsang earned a good reputation within the mountaineering fraternity. His accomplishments included reaching the summit of Everest four times in four years.
Regrettably, Lopsang's life was cut short due to a fatal avalanche in September 1996. This unfortunate event transpired while he was participating in another Everest expedition, aiming for what would have been his fifth successful ascent of the peak.
Lopsang Jangbu Sherpa's Mountaineering Achievements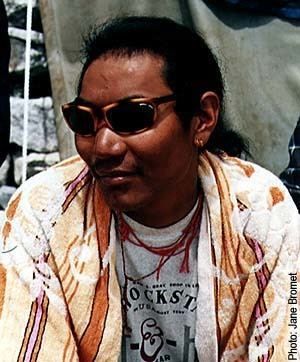 Apart from his involvement in the ill-fated 1996 Everest Disaster, Lopsang Jangbu Sherpa held an esteemed position as a seasoned porter and guide. Boasting an impressive array of Himalayan mountaineering accomplishments, including:
Successfully reached the summit of Mount Everest as part of the Nepali Women's expedition in the spring of 1993.
Conquering Cho Oyu while accompanying a Japanese expedition in the fall of 1993.
Attaining Camp 4 on Mount Everest during a Japanese expedition in the winter of 1993.
Summiting Mount Everest with the Sagarmatha Environmental expedition in the spring of 1994.
Summited Broad Peak as a member of the Scott Fischer party in the summer of 1995.
Reached the summit of Mount Everest with the New Zealand expedition, led by Rob Hall, in the spring of 1995.
Summited Everest with Scott Fischer's Mountain Madness in the spring of 1996, spending approximately 3 hours on the summit.
Remarkably, Lopsang managed to conquer Mount Everest on four separate occasions within the span of just four years, all without the assistance of supplementary oxygen. Throughout his career, he served as a climber and guide under the leadership of both Rob Hall and Scott Fischer. Tragically, these two expedition leaders met their fate on Everest during the catastrophic events of May 10, 1996.
The Spring of 1996: History's Most Dangerous Everest Disaster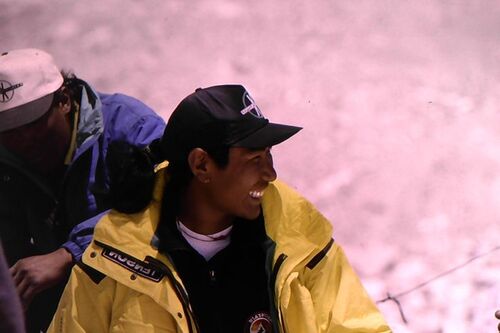 By 1996, Lopsang Jangbu Sherpa had earned a reputation as an adept and skilled climber, further solidified by his involvement in guiding numerous successful expeditions alongside Rob Hall. Scott Fischer of Mountain Madness, was planning a guided commercial expedition to Mount Everest for the spring of 1996. Having known about Lopsang's accomplished track record, Fischer made the decision to enlist his expertise. Entrusting him with the role of Sirdar to lead the Sherpas and provide assistance to clients throughout the Everest expedition.
During the 1996 spring and fall Everest climbing season, fifteen climbers lost their lives on the mountain. Marking the most fatal year in the history of Everest. Alarmingly, the 11th of May alone accounted for eight of these tragic fatalities. This disaster garnered widespread attention, sparking debate regarding the commercialization of Everest mountaineering.
Everest Controversy: Roles of Guides & Climbers Amidst Debate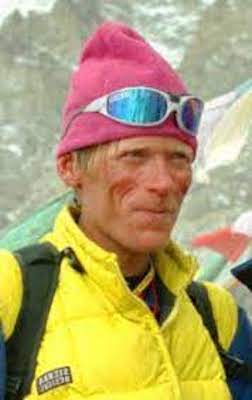 Journalist Jon Krakauer, commissioned by Outside magazine, found himself a participant in the 1996 expedition as well. Subsequently, he penned the bestselling book "Into Thin Air" (affiliate link) which recounted his personal encounter. Anatoli Boukreev, Mountain Madness guide, faced criticisms from Krakauer and responded with a co-authored counter-narrative titled "The Climb."
Scrutiny was also directed at Lopsang Jangbu Sherpa during the summit ascent. Prior to the summit bid on May 10, Lopsang carried an unusually substantial load of equipment, which encompassed even "30 pounds of other member's personal gear." Accounts revealed that he provided close assistance to Sandy Pittman, a socialite from New York. Moreover, some climbers also noted that he was physically pulling her up the mountain.
Lopsang subsequently clarified that such decisions were his own, and were undertaken to support team member who encountered difficulties. Addressing the events of the fateful summit endeavor, Lopsang acknowledged experiencing episodes of vomiting and fatigue. 
Krakauer interpreted these symptoms as signs of overexertion, to which Lopsang responded, "I have been over 8,000 meters many times, each time I vomit. It is just something I do. It means nothing. I have done it on all successful expeditions, when leading or following. I did it at camp I, II, etc. For me, it has nothing to do with altitude sickness."
Challenges and Tragedies: The Fateful Events of the 1996 Disaster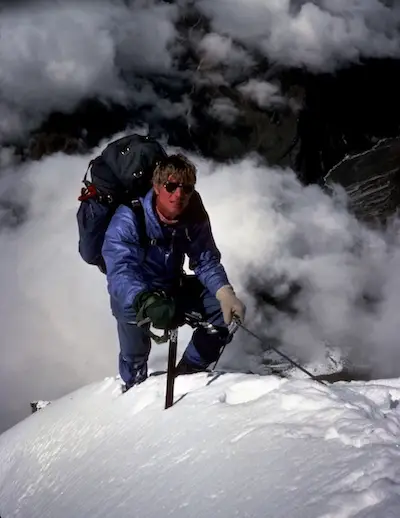 On the afternoon of May 10th, and with deteriorating weather conditions, Scott Fischer reached Lopsang Jangbu Sherpa, who was near the summit. Fischer and Lopsang initiated their descent, while simultaneously Rob Hall and Doug Hansen commenced their ascent towards the summit. 
Lopsang, having accompanied Fischer downwards, awaited Hall and Hansen's successful summit completion. After ensuring their safety, Lopsang rapidly descended to assist Fischer, who seemed to be facing difficulties. Lopsang Jangbu went on to assist Fischer by physically aiding him in moving from the South Summit until further progress became impossible. 
They were joined by Makalu Gau from the Taiwanese expedition also affected by the storm. Together, they endured hours of waiting until Fischer urged Jangbu Sherpa to leave him and descend alone. Subsequently, Gau was rescued by fellow Sherpas. Whereas Fischer, displaying signs of hypothermia, and ill-equipped with mittens, made no further progress. He eventually succumbed to the elements on the upper reaches of Everest.
Death of Lopsang Jangbu Sherpa
During the autumn of 1996, Lopsang Jangbu Sherpa resumed his role as a guide on Everest, this time in service of a Japanese expedition. However, tragedy struck on September 25, 1996, when a substantial avalanche cascaded down the southeast ridge route. This incident occurred between Camp III at the uppermost part of the Lhotse face and Camp IV at the South Col of Everest.
The devastating avalanche claimed the lives of Lopsang Jangbu Sherpa, his fellow Sherpa guide Dawa, and a French climber, Yves Bouchon. At the age of 25 Lopsang lost his life doing what he loved in the mountains. Sadly, however, his career was cut short, which many believed would be one of the most impressive Sherpa careers ever.