Gau Ming-Ho, also known as Makalu Gau, draws his name from the fifth highest peak in the world, Makalu. He is from Taiwan and has made his mark as a proficient mountaineer. Notably, he led the Taiwanese expedition to Mount Everest during the ill-fated 1996 Mount Everest catastrophe.
Born in 1949 within the vicinity of the Rui Fang coal mine in Taipei County, Makalu Gau's father worked in the coal mining industry. He completed his education at Zhong Yuan University with a focus on Construction and Building. Then began on a professional journey by joining Zhong Xing Engineering Company. 
Makalu Gau's affinity for mountain climbing became evident after his successful ascent of the 1,120 meter Seven Star Mountain in the outskirts of Taipei City. This achievement marked the inception of his lifelong dedication to the world of mountaineering.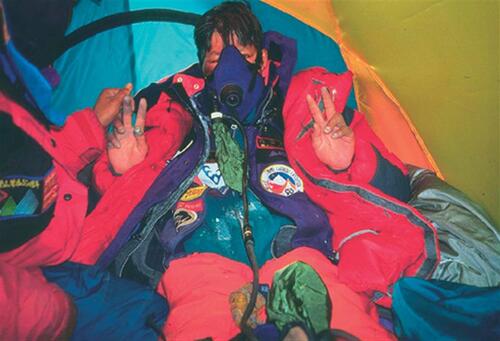 Mountaineering Achievements of Makalu Gau
An Overview of Makalu's Remarkable Mountaineering Journey:
1973: Makalu began his high mountain climbing journey in Taiwan, marking the initiation of his mountaineering endeavors.
1981: He achieved a significant milestone by conquering the Yushan Eastern peak's north wall. This accomplishment led to the establishment of a climbers' club.
1982: Makalu's exploration continued as he scaled the glacier wall using the Korean Seolaksan approach. He also climbed the Tapachien Mountain's north-western wall.
1983: Makalu pursued mountain-climbing training in the North Alps of Japan, refining his techniques and expertise.
1984: His quest for knowledge led him to the National Skiing and Mountain Climbing School in Chamonix, France. He delved into advanced learning and studied the iconic Mt Matterhorn.
1985: Makalu's journey took him to the renowned Yosemite National Park in California, where he focused on rock-climbing. Subsequently, he returned to Mt Matterhorn in Switzerland to further challenge himself.
1988: Venturing to South America, he achieved a monumental feat by conquering the Andes' Mt Aconcagua, Argentina.
1989: His dedication to improvement led him to undergo mountain training in Japan. Additionally, he set his sights on Nun Peak (7,135 m) in India.
1991: Continuing his Himalayan conquests, Makalu climbed India's Mt Saser Kangri, (7,672 m). He also summitted the world's sixth-highest peak, Oyu (8,201 m) in Tibet.
1992: Makalu's expedition extended to North America and climbed Alaska's Mt McKinley (6,913 m). His determination led him to the pinnacle of mountaineering as he conquered the world's highest peak, Mount Everest.
1995: Makalu returned to North America, successfully scaling Alaska's Mt McKinley once again.
1996: Makalu undertook the journey up the south slope of Mount Everest.
1999-2000: His Himalayan endeavors persisted as he ventured into Tibet's highlands, embracing the rigorous terrain and elevated altitudes.
2001: Makalu's determination led him to the summit one of the most dangerous peak in the world, K2.
2002: He explored diverse mountain ranges, including Cang Mountain, Yu Long Snow Mountain, and Mei Li Snow Mountain in Yun Nan. His journey also took him to Mountain Deity RenBoChi, also known as Kailash (6,638 m) in Tibet.
2003: Makalu's exploration persisted with his ascent of Mei Li Snow Mountain and Yu Long Snow Mountain in Yun Nan. He also ventured to the base camp of Mount Everest in Nepal, further solidifying his connection with this iconic peak.
2004: His mountaineering conquests extended to China's Xinjiang region, where he scaled Tianshan Mt Bogda (5,565 m) and Mt Tomur (7,443 m).
2005: Makalu's relentless pursuit of the mountaineering frontier led him to Xingjiang's Kunlun Mountain, where he climbed Qong Muztag (6,920 m).
Involvement in the 1996 Everest Disaster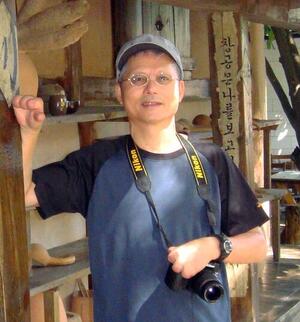 On the 10th of May 1996, Gau achieved a significant milestone by successfully reaching the summit of Mount Everest. His accomplishment was shared with fellow climbers from the Mountain Madness and Adventure Consultants expeditions. However, the ascent was overshadowed by a series of unfortunate events that unfolded on that fateful day. Like numerous other climbers, Gau surpassed the planned 2 pm turnaround time. This ultimately exposed him to the blizzard that claimed the lives of eight of his fellow climbers.
Over a span of more than a month, he guided his team from the base camp to Camp III, allowing them the necessary time to acclimatize to the altitude. Recognizing the significance of morale, Gau formulated a tactical approach involving two teams to make a joint assault on the summit.
Gau and Chen Yu-nan, identified as the most promising candidates for success, were designated as the vanguard for the initial ascent. Their achievement, Gau believed, would provide a motivational boost to the second team. On the 9th of May, as the ascent neared, Gau and Chen readied themselves for the journey to Camp IV, situated at an altitude of 8,000 meters. 
Tragically, while Chen was going to relieve himself outside of their tent one night, he slipped and fell 80 feet down the slope. Although initial signs suggested minimal injuries, Chen wisely opted to remain behind for recuperation. Consequently, Gau, accompanied by three Sherpas, pressed forward to Camp IV. Upon his arrival at Camp IV, Gau heard that Chen opted to retrace his steps to Camp II and, unfortunately, had lost his life during the descent. 
Surviving the Storm: Makalu Gau's Descent from Mount Everest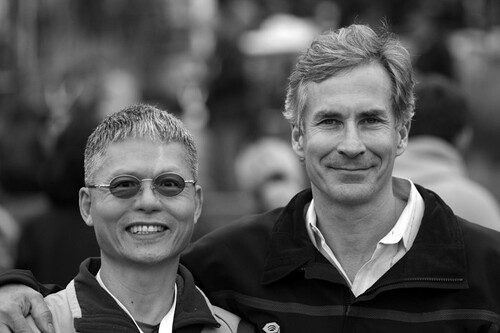 After descending from the summit for about four hours, a snowstorm struck the mountain. The storm obscured the path back to Camp IV, making it difficult for the teams to maintain their vision and connection. Unfortunately, Gau found himself separated from the rest of the climbers, cut off from communication due to the storm's fury. 
In an attempt to seek assistance, two Sherpas, who could navigate more swiftly on the mountain, ventured out, but didn't return. Gau's headlamp lost power, leaving him with a choice: attempting to navigate the trail himself, risking a fall, or seeking shelter.
As time stretched on to twenty hours since he began his descent, Makalu Gau's situation became increasingly dire. His clothing zippers froze solid, his hands grew numb from the cold, and his communication equipment became useless. Even his lighter proved futile in the face of relentless high winds. 
Aware that falling asleep could lead to freezing, Gau engaged in a battle against fatigue, repeating "Don't sleep! Don't sleep" to himself. He resorted to lying on his side to minimize exposure, but the mountain's incline caused him to gradually slide downhill. To maintain balance and prevent further sliding, Gau had to continuously roll and adjust his position. Depleted of oxygen and overwhelmed by exhaustion, Gau was incapable of proceeding further down the mountain.
Makalu Gau's Remarkable Rescue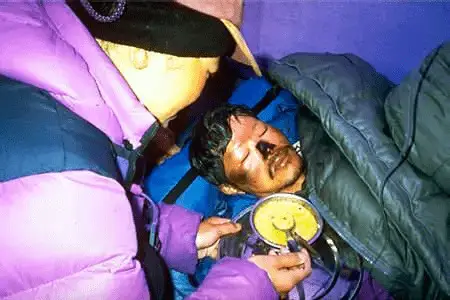 On the second day, a reduction in snowfall and wind provided relief, prompting a Sherpa team led by Tenzing Nuri to initiate a rescue mission. Gau, battling numbness in his legs, required assistance. A rope was secured around Gau, and he was carefully guided along the uneven mountainside until he reached Camp IV. 
At Camp IV, Makalu realized he was in dire condition. Todd Burleson and Pete Athans, despite halting their own summit attempt, ascended from lower camps to the South Col, aiming to rescue Gau and Beck Weathers. Supported by fellow climbers, Burleson and Athans guided Makalu down to Camp II in the Western Cwm. Here, climbers from multiple expeditions provided medical aid while awaiting a helicopter rescue.
Recognizing the complexities of transporting the injured climbers through the challenging Khumbu Icefall, those at Camp II anticipated challenges ahead. Yet, in an unprecedented feat, Colonel Madan K.C. of the Nepal Army Air Force conducted the highest helicopter rescue in Mount Everest's history. He landed the helicopter at 19,800 ft. which resulted in the successful airlifting of both Makalu and Beck off the slopes of Everest. However, Weathers gave up his seat so Gau could be evacuated first.
Subsequently, Gau learned the devastating truth that this very incident had claimed the lives of esteemed climbers of global repute, including Scott Fischer.
What Happened to Makalu Gau?
After enduring a hospital stay that spanned over 10 months, Makalu Gau underwent a series of extensive amputations due to the severe frostbite he had suffered. These amputations resulted in the loss of all his fingers, his feet, and even part of his nose. However, medical intervention and plastic surgery played a pivotal role in his recovery journey. 
Among the significant amputations was that of his leg. The devastating effects of frostbite led to the necessity of removing his front ends of both soles, along with parts of his heel. This unfortunate outcome resulted in diminished support during walking. Grafting pieces of flesh from each arm onto the corresponding foot was employed to craft new soles. 
Makalu Gau's Recovery Journey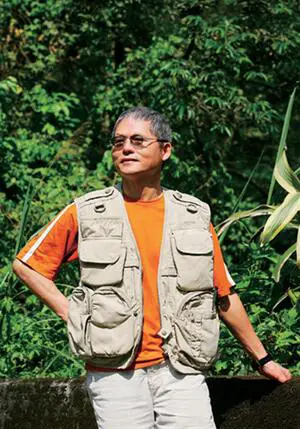 Following an extensive year of rehabilitation, Makalu Gau embarked on a journey to Taiwan's Mt. Hohuan. During this expedition, he discovered that he still possessed the capacity to navigate high altitudes effectively. Reconnecting with the mountains invoked an overwhelming sense of joy in Gau. This rekindled enthusiasm led him to make a significant decision in 1998 – the aspiration to revisit Tibet.
His return to Tibet was a blend of vehicular and on-foot travel. Gau's journey brought him back to the base camp of Everest, positioned at an elevation of 5,340 meters above sea level. While his foot mobility remained significantly restricted, his spirit endured, proving that his resilience transcended physical limitations.
Gau, who humorously identifies himself as "blood type M (for mountain)," not only triumphed over the world's tallest peak but exhibited even greater courage and unwavering determination post accident. His life journey has been a testament to conquering barriers, and he continues to dedicate himself to surmounting limitations that come his way.