Lhakpa Tenzing Sherpa (Apa Sherpa), is a Nepalese mountaineer who is best known for summiting Everest 21 times. Apa faced adversity early in life after his father's untimely passing. However, despite the challenges, he embraced his responsibilities and embarked on a journey that would make him one of the most famous climbers to summit Everest.
Scaling Everest an impressive 21 times and leading groundbreaking expeditions, Apa's determination, environmental consciousness, and advocacy for education have left a mark on the mountaineering community.
The Life of Lhakpa Tenzing Sherpa: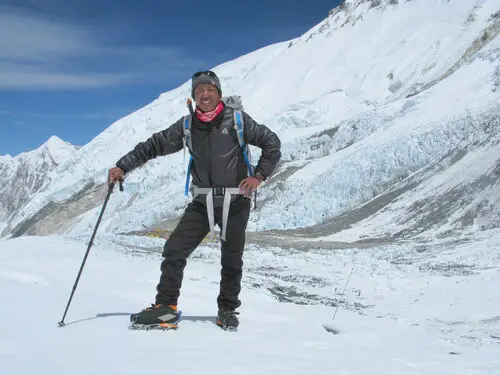 Apa Sherpa (Lhakpa Tenzing Sherpa), is a renowned Sherpa from Nepal, affectionately known as "Super Sherpa" and the "Tiger of the Himalaya."  Until 2017, he shared the record for the most successful ascents to the summit of Mount Everest with Phurba Tashi Sherpa – at 21 times.
One of his most significant achievements was during The Eco Everest Expedition in May 2011 when he reached the summit of Mount Everest for the 21st time. After this accomplishment, he decided to retire from climbing, fulfilling a promise he made to his wife to stop after 21 ascents. Apa's first successful summit of Everest was in 1990.
When asked about his decision to stop at 21 ascents, Apa explained that his family's happiness and concerns were the most important thing. The inherent risks of Mount Everest made them anxious every time he embarked on a climb. Thus, he believed that 21 summits were a fitting point to conclude his extraordinary mountaineering journey.
As of 2017, Apa, Phurba Tashi, and Kami Rita Sherpa jointly held the world record for the most successful Mount Everest summits. However, in 2018, Kami Rita Sherpa surpassed this record, leaving Apa in a shared second place for this incredible achievement.
However, when it comes to danger, Apa estimates that he has traversed the treacherous Khumbu Icefall approximately 1000 times. Additionally, he almost joined the ill-fated 1996 Everest expedition led by Rob Hall.
Early Life of Apa Sherpa:
Born on January 20, 1960, in Thame, a village nestled in the Everest region of Nepal, close to the Chinese border, Lhakpa Tenzing Sherpa faced challenging circumstances early in life, as his father passed away when he was only 12 years old. The death of his father thrust Apa into the responsibility of caring for his family, which included his mother, two sisters, and three younger brothers.
To support them, he had no choice but to leave school and seek employment as a porter for mountaineering expeditions. In 1985, Apa embarked on his journey as a climber, initially, serving as a kitchen boy and porter for various mountaineering groups. Despite his dedication and hard work, he was not given the opportunity to attempt a summit until 1990.
Personal Life of Lhakpa Sherpa: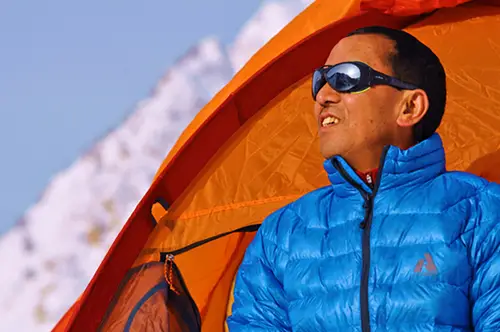 In 1988, Apa married Yangjin, who subsequently had two sons, Tenjing and Pemba, and a daughter named Dawa. Tragically, they lost a fourth child in 2004. Seeking better educational opportunities and business prospects, Apa, with the support of his friend Jerry Mika, relocated his family to the United States in December 2006. They now reside in the Salt Lake City area of Utah.
During his time away from mountain expeditions, Apa is employed at Diamond Mold, a company specializing in precision machining and injection molding based in Salt Lake City, Utah. Apa also served as the Sirdar, for numerous high-altitude expeditions. With the exception of 1996 and 2001, he successfully reached the summit every year from 1990 to 2011. Notably, in 1992, he achieved the summit twice.
Having accomplished the remarkable feat of climbing Everest 21 times, he decided to retire in 2011. Despite his new home, he maintains strong ties to Nepal and frequently travels back to the country. In 2009, he took on the role of co-founder for The Apa Sherpa Foundation, an organization dedicated to advancing education and promoting economic development in Nepal.
The Apa Sherpa Foundation is devoted to enhancing education and economic development in Nepal. Despite working as a guide for many years, he is determined to offer young people alternative career options. Following a tragic avalanche in 2014 that claimed the lives of 16 Sherpas, Apa voiced his concern about the risky nature of mountain guiding and portering, emphasizing the importance of education as a means to provide a choice for the younger generation.
Apa Sherpa Foundation: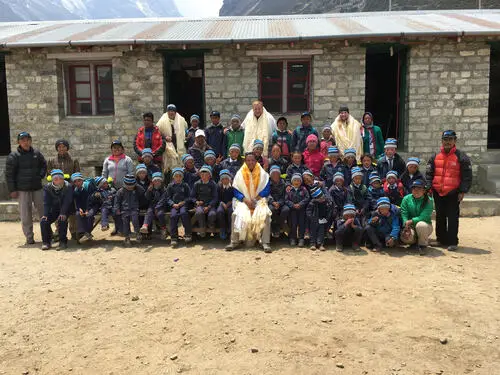 Overcoming the challenges of poverty, Apa strived to obtain even a modest education during his youth. He toiled relentlessly to support his family in the face of economic hardships and because of this works to offer the next generation the opportunities he never had.
The Apa Sherpa Foundation stands as a testament to Apa's enduring legacy, dedicated to laying the strong foundations of progress, starting from his home village of Thame, Nepal, and extending outward from there.
Understanding the transformative power of education and experience, the foundation believes that individuals equipped with these tools can lead strong families, communities, and, ultimately, nations. Embracing all initiatives, projects, and groups aligned with this goal, the Apa Sherpa Foundation wants to empower future generations, ensuring that the spirit of Apa's journey lives on in the lives of countless others.
Lhakpa's Work on Climate Change: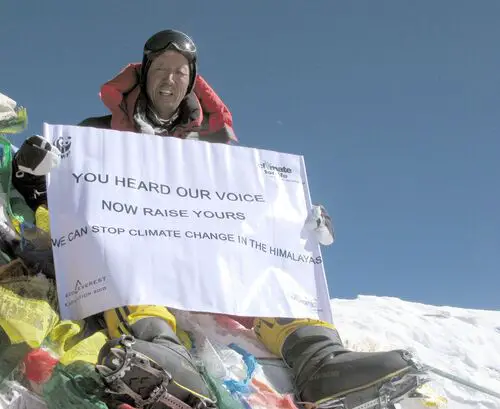 During his 19th expedition, Apa and his team spent around thirty minutes at the summit of the mountain, where they unfurled a banner with a powerful message: "Stop Climate Change". Not only did they accomplish their mission of reaching the peak, but they also displayed their commitment to environmental responsibility by bringing down an impressive five tonnes of trash from Everest. Including debris from a crashed helicopter, tin cans, and climbing equipment.
Tragically, this expedition was marred by the loss of a dear friend and fellow Sherpa, Lhakpa Nuru, who was swept away in an avalanche on May 7, 2009, and sadly did not survive.
Lhakpa Tenzing Sherpa Summited Everest 21 Times:
Apa achieved an impressive 21 successful summits of Mount Everest. For a time, Apa held the world record with his 21 ascents of Everest, sharing the feat first with Phurba Tashi and later with Kami Rita Sherpa. However, in 2018, Kami Rita Sherpa surpassed this record by completing his 22nd ascent on May 16th. Apa nows stands at third place for the most ascents of Everest.
The dates of Lhakpa's 21 ascents are as follows:
| Everest Ascent | Date |
| --- | --- |
| 1 | May 10, 1990 |
| 2 | May 8, 1991 |
| 3 | May 12, 1992 |
| 4 | October 7, 1992 |
| 5 | May 10, 1993 |
| 6 | October 10, 1994 |
| 7 | May 15, 1995 |
| 8 | April 26, 1997 |
| 9 | May 20, 1998 |
| 10 | May 26, 1999 |
| 11 | May 24, 2000 |
| 12 | May 16, 2002 |
| 13 | May 26, 2003 |
| 14 | May 17, 2004 |
| 15 | May 31, 2005 |
| 16 | May 19, 2006 |
| 17 | May 16, 2007 |
| 18 | May 22, 2008 |
| 19 | May 21, 2009 |
| 20 | May 22, 2010 |
| 21 | May 11, 2011 |
Lhakpa Tenzing Sherpa's Everest Ascent Dates
Apa Sherpa was the First to Complete the Great Himalayan Trail:
In April 2012, Apa accomplished an extraordinary feat by leading the first expedition to conquer the Great Himalaya Trail. A challenging 1,700-kilometer (1,050-mile) trek spanning the entire length of the Nepalese Himalayas. Widely regarded as one of the world's most difficult treks. The Great Himalaya Trail presented formidable obstacles that Apa and his team overcame.
In January, Apa and his three companions embarked on the Climate Smart Celebrity Trek, an expedition with a twofold mission: promoting tourism and raising awareness about the impact of climate change. Their journey commenced from the foot of Mount Kanchenjunga, the world's third-highest peak, in the east, and concluded at Nepal's border with Tibet in the west—an impressive accomplishment achieved 20 days ahead of schedule. The trail led them through some of the planet's most rugged terrains, ascending beyond heights of 6,000 meters (19,600 feet).
Throughout their trek, the adventurers encountered mountain communities heavily dependent on subsistence farming, and they witnessed firsthand the devastating effects of climate change on these vulnerable populations.
Apa Sherpa's Legacy and Accomplishments on Everest: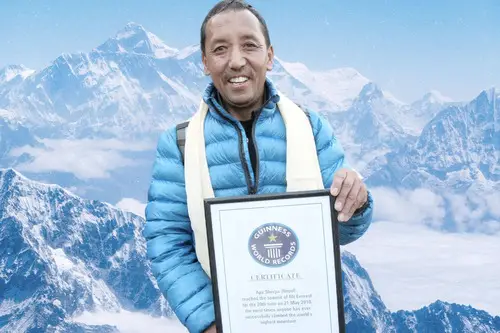 Apa's legacy on Mount Everest extends far beyond his astounding record of 21 successful summits. His dedication to environmental conservation and commitment to providing opportunities for education in Nepal have earned him admiration both on and off the world's highest peak.
Lhakpa Tenzing Sherpa has inspired countless aspiring climbers. By instilling in them the values of perseverance, respect for nature, and the importance of empowering future generations. Lhakpa Tenzing Sherpa's contributions to mountaineering serve as a shining example of the strength of Nepali Sherpas. As well as their passion to provide better lives to children in their villages.