Sherpas are highly esteemed as elite mountaineers and local experts, particularly in the Himalayan region. Some of the most famous sherpas in mountaineering history have earned international recognition for their remarkable achievements on the world's highest peaks. They played a crucial role in supporting early explorers in conquering the mountains. Moreover, they are indispensable guides at extreme altitudes, most notably during expeditions to Mount Everest. 
In contemporary usage, the term "Sherpa" has evolved to refer to virtually any guide or climbing support hired for mountaineering expeditions in the Himalayas, irrespective of their ethnic background. This expanded meaning has led to the term becoming a colloquial synonym for a guide or mentor in various contexts.
Famous Sherpas, such as Tenzing Norgay, enjoy global recognition within the climbing and mountaineering community. They are esteemed for their remarkable resilience, expertise, and extensive experience in navigating treacherous high-altitude environments. Research has shown that Sherpas' exceptional climbing abilities is partly attributed to genetic adaptations developed through generations of high-altitude living.
14 of the Most Famous Sherpas
Sherpas on Mount Everest have emerged as the linchpin of high-altitude climbing, providing invaluable support to climbers from across the globe in their quest to conquer the summit. To acknowledge their remarkable contributions in mountaineering, here is a list of some of the most renowned Sherpas.
1. Ang Tharkay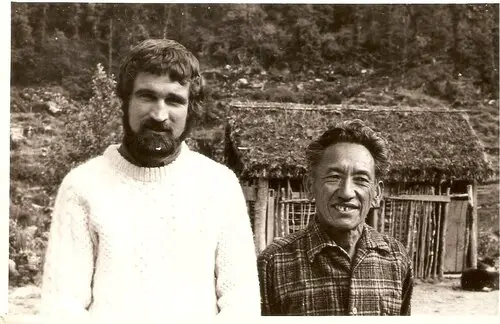 Ang Tharkay, celebrated as one of the most famous Sherpas, played vital roles as both a Sherpa and Sirdar in numerous Himalayan expeditions. Eric Shipton Regarded him as "beyond question the outstanding Sherpa of his era," Ang Tharkay made a significant contribution by introducing Tenzing Norgay to the world of mountaineering.
In 1931, Ang Tharkay received his first opportunity to join the German expedition to Kanchenjunga. Then, he joined the 1933 British attempt on Everest where he earned recognition as one of the "Tigers". Eric Shipton, subsequently selected him as the de facto leader (sirdar) for the 1934 and 1936 Nanda Devi exploration.

In 1937, Ang Tharkay served as the sirdar for Shipton's extensive survey of 1,800 square miles (4,700 km2) of Karakoram territory north of K2. He was the sirdar on the 1938 Everest expedition and for the 1950 French Annapurna expedition alongside Maurice Herzog and Louis Lachenal.
During the 1950s, Ang Tharkay worked as a sirdar on expeditions to Cho Oyu (1952), Dhaulagiri and Nun (1953), Makalu (1954), and successfully summited Kamet (1955).
2. Tenzing Norgay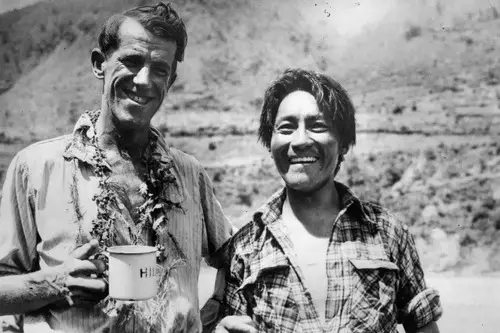 Tenzing Norgay, one of the most famous Sherpas, made history when he and Edmund Hillary became the first individuals to reach the summit of Mount Everest. They were part of the 1953 British Mount Everest Expedition. Norgay's significant achievement earned him a place on Time magazine's list of the 100 most influential people of the 20th century.
At just 20 years old, Tenzing Norgay took part in his first Everest expedition during the 1935 British Mount Everest reconnaissance expedition. It was led by Eric Shipton. Throughout the 1930s, Norgay served as a high-altitude porter in three British attempts to ascend Everest from the northern Tibetan side, including the 1936 expedition with John Morris. 
3. Phurba Tashi Sherpa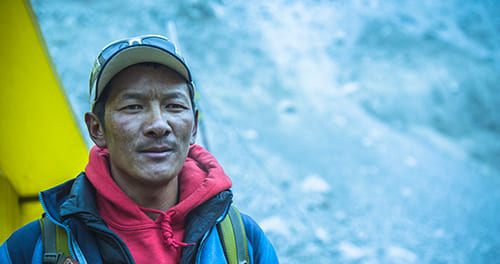 Phurba Tashi Sherpa Mendewa is renowned for his impressive record of ascents on major Himalayan peaks. His accomplishments include 21 successful summits of Mount Everest, five on Cho Oyu, two on Manaslu, and one each on Shishapangma and Lhotse. For many years, he has been a trusted companion of New Zealander Russell Brice, a pioneer in commercial mountaineering on Everest.
In May 2013, Phurba Tashi achieved his 21st summit of Mount Everest while working with Kishan Rai Mountain Experience, matching the record previously held by Apa Sherpa. He was among the record holders for the number of Everest summits in 2017. However, the record was subsequently broken in 2018 by Kami Rita Sherpa.
4. Apa Sherpa (Lhakpa Tenzing Sherpa)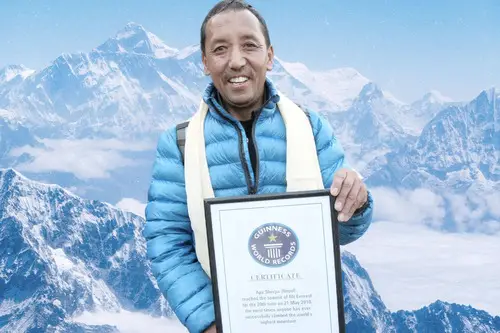 Apa Sherpa, originally named Lhakpa Tenzing Sherpa and affectionately known as "Super Sherpa," is a distinguished Nepalese mountaineer. He held the record, alongside Phurba Tashi, for the most ascents to the summit of Mount Everest by any climber until 2017. In May 2011, during The Eco Everest Expedition, Apa accomplished his 21st Mount Everest summit. His first successful ascent of Everest was in 1990, with his final summit in 2011.
Apa had the privilege of meeting Edmund Hillary multiple times and shared an expedition with Hillary's son, Peter Hillary, in 1990, marking their inaugural summit. Notably, Apa estimates that he has traversed the Khumbu Icefall approximately 1,000 times during his climbing career. He also shares that he came close to joining Rob Hall's ill-fated 1996 Everest expedition.
5. Kami Rita Sherpa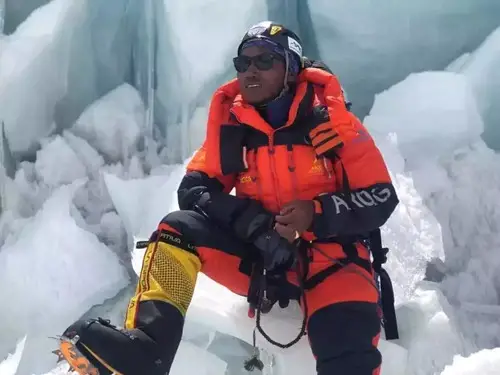 Kami Rita Sherpa, a highly accomplished guide, has held the prestigious record for the most ascents to the summit of Mount Everest since May 2018. His incredible journey reached its highest point when he climbed for the 28th time on May 23, 2023. He beat his previous record set just six days before on May 17, 2023. 
His dedication to conquering towering heights extends beyond Everest. He has also amassed the record for the most 8,000-meter summits, with an astounding 38 in total. This impressive tally includes conquering Cho-Oyu on eight occasions (in 2001, 2004, 2006, 2009, 2011, 2013, 2014, and 2016), Lhotse once in 2011, and K2 once in 2014.
6. Mingma Sherpa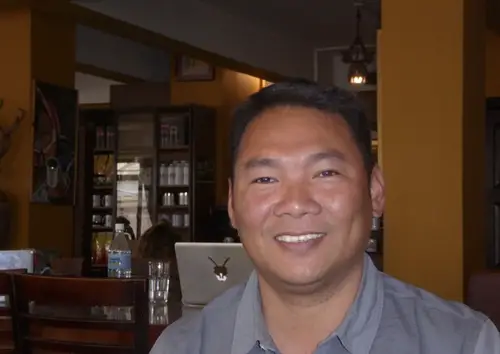 Mingma Sherpa became the first person in Nepal and the entire South Asian region to ascend all 14 highest peaks on his initial attempt on May 20, 2011, making him one of the famous Sherpa climbers. Mingma, along with his brother Chhang Dawa Sherpa, holds the Guinness World Records for being the world's first two brothers to successfully summit all 14 eight-thousanders.
Their extraordinary journey was marked by using supplementary oxygen only on the four highest mountains among the eight-thousanders. They achieved this monumental feat without any sponsorship. Initially, Mingma climbed nine of the eight-thousanders while working as a Sherpa guide, and then temporarily pursued work in Japan. However, in 2009, he returned to Nepal to complete the ascent of the remaining five eight-thousanders.
7. Lhakpa Gelu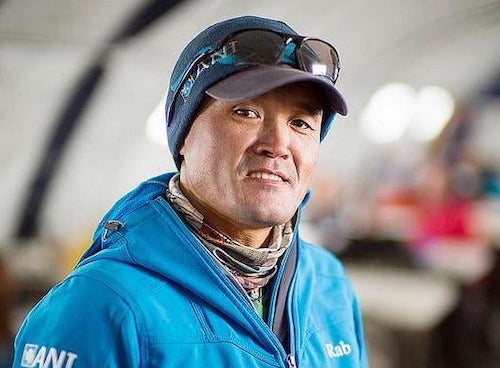 Lhakpa Gelu holds the world record for the fastest ascent of Mount Everest. He completed the climb in just 10 hours, 56 minutes, and 46 seconds making him one of the fastest and most well known Sherpas on Everest. This remarkable achievement took place during his tenth successful summit of the world's tallest mountain. In 2003, Gelu served as the climbing Sardar for the "Jubiläums Expedition Mt. Everest 2003." It was a 12-member expedition led by Eckhard Schmitt, a 56-year-old mountaineer from Schaftlach, Germany.
Additionally, in 2007, Lhakpa climbed Everest to raise funds for an elementary school in his hometown in Nepal, aiming to raise awareness of the invaluable contributions made by the Sherpa people to Himalayan mountaineering.
8. Ang Rita Sherpa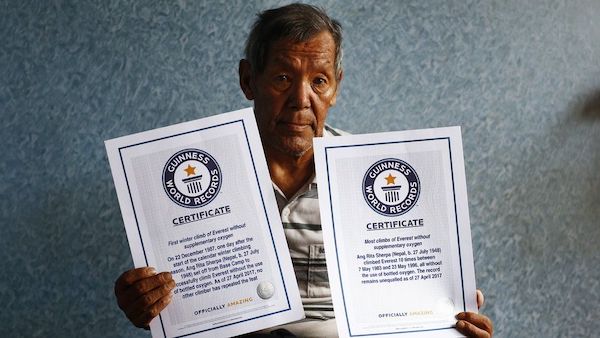 Ang Rita Sherpa, widely known as the "Snow Leopard," achieved a remarkable series of milestones in mountaineering. Between 1983 and 1996, he scaled Mount Everest ten times, all without the use of supplemental oxygen. His sixth ascent marked a historic achievement, setting the world record for the most successful climbs of Mount Everest, a record that he later surpassed on his tenth climb.
While others may have reached Everest more times, Ang Rita Sherpa retains the record for the most ascents without the aid of supplemental oxygen. Additionally, he accomplished the groundbreaking achievement of the first winter ascent of Everest without relying on supplementary oxygen in 1987.
In 2017, Ang Rita's was officially acknowledged by Guinness World Records, as the sole person to have scaled Mount Everest ten times without the use of bottled oxygen—a record that continues to stand unbroken. Among the ranks of famous Sherpas, Ang Rita Sherpa's unparalleled accomplishments have left an enduring mark on the world of mountaineering.
9. Pasang Lhamu Sherpa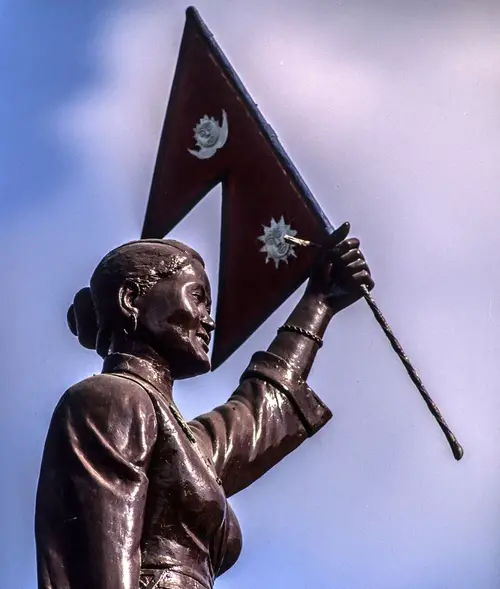 Pasang Lhamu Sherpa became the first Nepalese woman to conquer Mount Everest. After three previous attempts, she finally reached the summit via the Southeast Ridge route on April 22, 1993. 
To honor her achievement, numerous tributes were made, including:
Life-size statue at Bouddha
The issuance of a postage stamp in her name
Renaming Jasamba Himal to Pasang Lhamu Peak
Designating a special strain of wheat as Pasang Lhamu wheat by the Ministry of Agriculture
Established the Pasang Lhamu Memorial Hall in Dhulabari, and naming the 117 km Trishuli-Dunche road the Pasang Lhamu Highway.
10. Temba Tsheri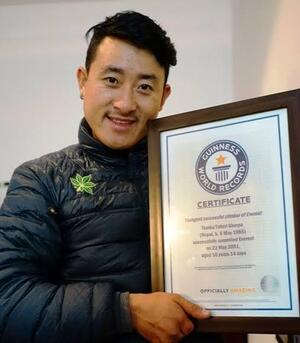 On May 23, 2001, at just 16 years old, Temba Tsheri Sherpa made history by becoming the youngest individual to reach the summit of Mount Everest. Despite the significant challenge, Temba persevered, even after losing five fingers to frostbite during a previous attempt from the south side in 2000. 
His successful ascent came from the north side (Tibet) of Mount Everest in 2001. He accomplished this while climbing with the International Everest Expedition.
11. Lhakpa Tsheri Sherpa
Lakpa Tsheri Sherpa is one half of a Nepali duo that earned the title of "People's Choice Adventurers of the Year 2012." In April 2011, Lakpa Tsheri and Sano Babu Sunuwar embarked on the extraordinary "Ultimate Descent," a three-month odyssey. 
During this epic journey, they not only scaled Everest but also paraglided down the mountain before venturing on a kayaking expedition through Nepal and India, ultimately reaching the Indian Ocean.
12. Pasang Lhamu Sherpa Akita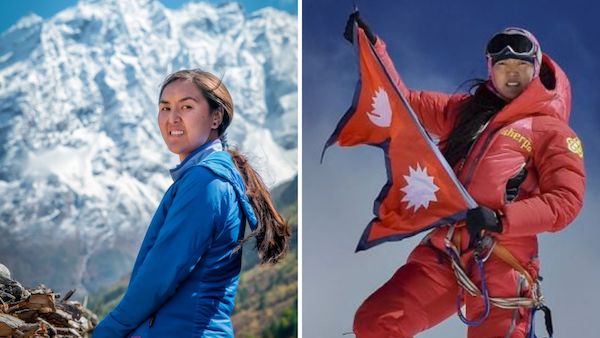 Pasang Lhamu Sherpa Akita, born in 1984, is a distinguished Nepali Sherpa mountaineer. She is the first woman in Nepal to attain the prestigious title of mountaineering instructor. Moreover, she stands as one of the pioneering Nepali women to conquer the summit of K2.
Her commitment and adventurous spirit led to her being honored with National Geographic's People's Choice "Adventurer of the Year" in 2016. Additionally, she received the esteemed 45th International Alpine Solidarity Award in Pinzolo, Italy.
Pasang Lhamu's climbing also include peaks like Yala Peak, Ama Dablam, Lobuche, Imja Tse, and Aconcagua. Her expertise and passion for mountaineering have transcended Nepal's borders. She has also guided mountaineering expeditions in the USA, Argentina, France, and Pakistan. 
13. Lhakpa Sherpa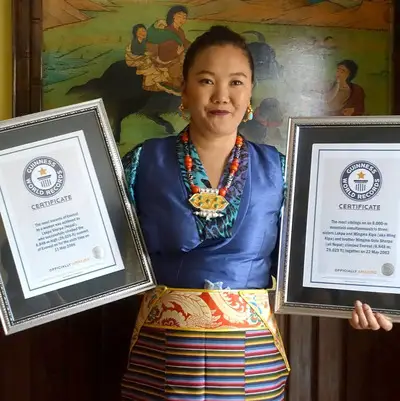 Lhakpa Sherpa holds the world record for the most ascents by a woman, making her one of the most famous sherpas of Nepal. She has conquered Everest ten times, with her latest climb funded through a successful crowd-funding campaign in May 2022. 
In 2000, she became the first Nepali woman to both ascend and descend Everest. By 2007, she had summited Everest six times, and her husband achieved nine summits. Lhakpa was also honored as one of BBC's 100 Women in 2016. She also completed her seventh summit of Mount Everest from Tibet that same year.
14. Babu Chiri Sherpa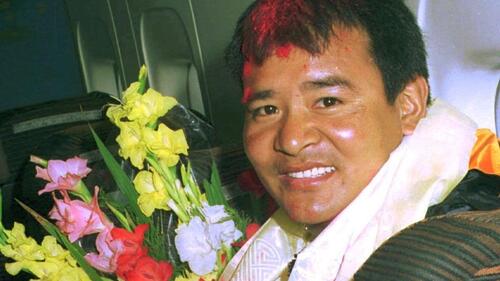 Babu Chiri Sherpa, one of the most famous Sherpas achieved the remarkable feat of reaching the summit of Mount Everest ten times and set two world records on the iconic mountain.
One of his notable records is spending 21 hours on the Everest summit without the use of auxiliary oxygen. Additionally, he accomplished the fastest ascent of Everest, completing the ascent in just 16 hours and 56 minutes.
Babu Chiri Sherpa's journey into mountaineering began at the age of 16 when he secured a job as a trekking porter. On his very first assignment as a porter, he conquered the Ambhu Labtsa pass. His passion for climbing led him to summit Mera Peak (6472 m) in a mere four hours in 1985. Over time, he transitioned into portering for Everest expeditions, ultimately achieving the summit of Everest ten times.